Magento/Magento 2 SEO
To rank at the top of Google search results, increase product visibility and earn clicks & sales, you need to implement a well-planned SEO campaign.
From an SEO standpoint, Magento is quite a challenging eCommerce solution. Especially, when it comes to duplicate content issues, indexation, stiemaps, URL rewriting, cross linking and some other SEO aspects.
In this article, we'll highlight the key Magento 2 SEO areas, and tell how to optimize them for better site visibility.
Magento 1 and Magento 2 are packed with a bunch of SEO features out of the box. Below, we'll briefly describe the default SEO functionality for both versions of the platform.
Magento robots.txt and meta robots
Robots.txt and meta robots tell the search engines which site pages should be indexed and which should be ignored. Thus, you can reduce duplicate content issues and hide technical data (e.g. reports or core files) from unwanted indexation. That will help you secure your site data and plus, a well-planned indexation contributes into your overall SEO success.
By default, there is no robots.txt file in Magento. So you have to install it yourself. Read this article to get Magento 2 robots.txt and meta robots installation instructions.
Magento .htaccess file
The .htaccess file is used to control how your visitors interact with your store. For example, you can require a password for specific pages, block visitors by their IPs, block offline browsers, set server timezone, etc.
Magento comes with an .htaccess file by default, but it's not optimized for SEO and misses a number of important things. Preventing attempts to hack this file requires understanding of how Apache works. Read this article for detailed instructions on Magento 2 .htaccess and Apache settings.
Magento redirect
If you skip this aspect of store optimization, your visitors are likely to end up on a '404 - not found page', which can cost you a big amount of lost sales. By default, the older versions of Magento utilize a 302 'temporary' redirect. In order to make the most out of your link value, it's better to use a 301 redirect. You can either do it with the built-in redirect system or resort to some 3d party extensions.
Magento 2 allows you to easily make 301 and 302 redirect (without editing an .htaccess file).
Go to
Marketing -> URL rewrites -> Add New
: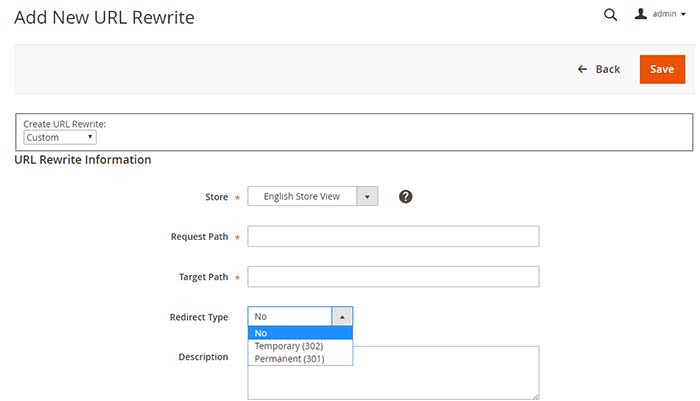 Magento meta tags
Basically, there are 3 types of meta data:
Meta-title is visible to users/search engines and displayed in the title bar of the browser. The best SEO practice is to use keywords you want to rank for (e.g. 

you product name / category of products name / your company/brand name) at the beginning of the Meta Title.
Meta-description - is a text section you see under the Title. This meta tag holds little value for SEO rankings, its main purpose is to improve website click-through-rate. Meta Description informs searchers what a Web page is about, thus letting them get an idea of what content they may find there when they proceed there from the search results. If you leave it blank, Google will automatically create its own description using some of your site content.
Meta-keywords. Google and other search engines don't take meta keywords into account, this aspect doesn't matter when calculating website rankings. However, it is still used by search engines when categorizing Web pages.
To add/edit/remove meta tags data, you need either to manually do that for every single page, (which is a sort of a monkey business); use the default values for the whole site (which is nonsense) or.... get a meta tags extension (the best option) that will automate the process.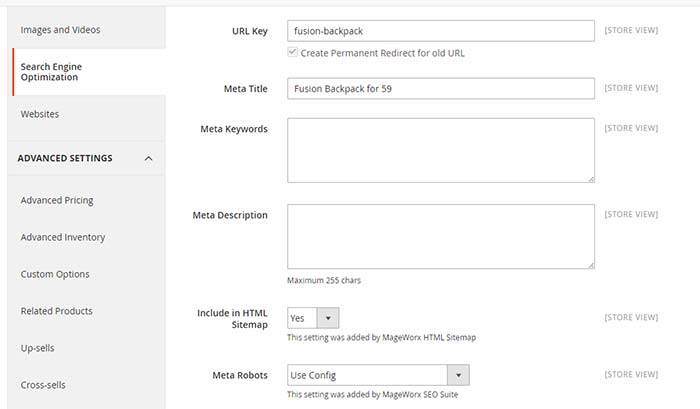 Magento rich snippets
Rich Snippets is a great way to make your SEO strategy more efficient, by making your site look visually attractive in Google search. As a result, you can improve CTR by up to 40% and eventually raise sales.
There are different rich snippet elements you can implement on the site: breadcrumbs, star ratings, video thumbnails, price, category, etc. By default, Magento 2 is equipped with basic markup data tools. Additionally, you can enhance this functionality with Magento 2 seo extension.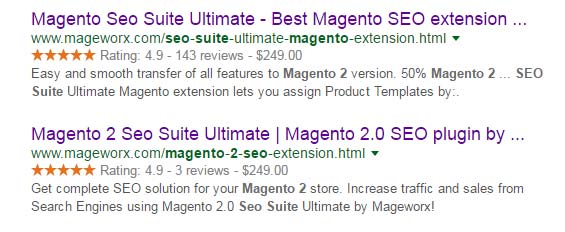 Read this article about Magento 2 Rich snippets.