Ultimate Sales Boost extension for Magento 2

Ultimate Sales Boost extension for Magento 2
URGENCY, SCARCITY, AND TRUST BUILDER
Gallery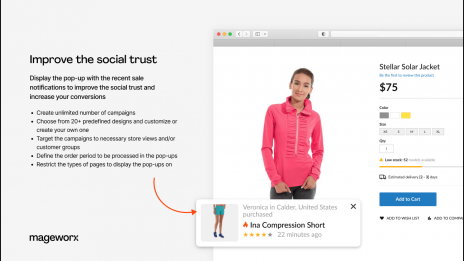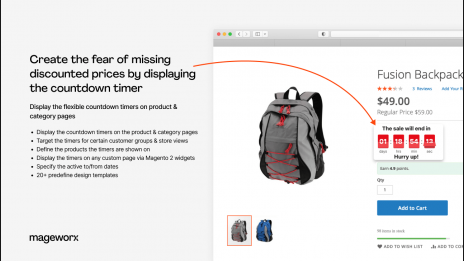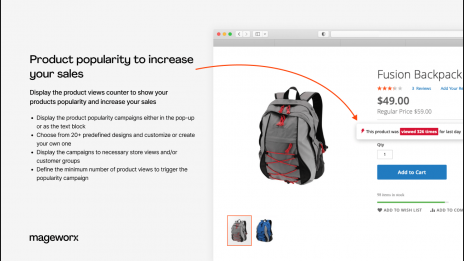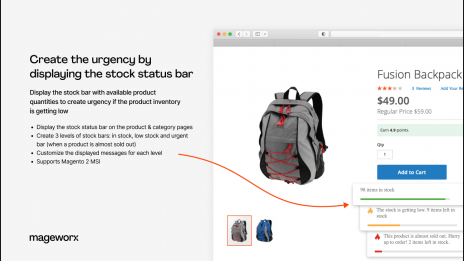 Magento Compatibility
CE 2.3.x - 2.4.x; EE 2.3.x - 2.4.x
Comes with
Lifetime access to the source code
1 year of free updates and support
No subscriptions
Extensible. Customizable. Developer-friendly
Composer installation for easier extensions installation and management
No overwriting the core classes unless unachievable within a functionality
Unencrypted code for hassle-free editing if required by your clients
Extensions' code implementation following Magento's recommended best practices
Popup/text notifications
Recent sales notifications are a proven way to inform online visitors about other buyers' activities. This marketing tool allows you to achieve two main goals: confirm interest in an offering by other site visitors and convince hesitant shoppers to convert.
With the Ultimate Sales Boost Magento extension, you can enable social proof campaigns on the product, category, and CMS pages and thus boost shop online sales. You will be able to:
Product countdown timers
Urgency is widely used in marketing campaigns to increase engagement and boost conversion. As when an offer is scarce, it is perceived as more valuable
The countdown timer lets you well visualize the urgency and drive actions.
With the sales boost maker, store admins can integrate countdown timers on product pages quickly. The module enables you to:
Products popularity
Connectivity is one of the most common buying motivators. The commonality and the feeling of being a part of something larger, help shoppers experience relatedness with the community. And displaying that other site visitors are also interested in a product helps trigger the desire to proceed with a purchase.
The Ultimate Sales Booster enables you to:
Stock status display
During flash sale campaigns precisely, another effective tactic to create urgency is to show your site visitors stock levels if an item is close to selling.
With the module, you can display a progress bar with stock levels on product and category pages and search results.
Ultimate Sales Boost for Magento allows you to:
Rules and restrictions
Successful marketing campaigns require flexibility. The boost sales extension allows creating both simple and complex conditions to develop, use and test various marketing scenarios profitably.
With the ultimate extension, you can:
Additionally, the Ultimate Sales Booster Magento extension enables you to control who your campaigns will be visible to and specify:
Position customization
With the knowledge of how visitors interact with your website pages, the right placement of sales-boosting elements can determine their level of effectiveness.
The sales-boosting extension for Magento 2 allows you to:
Templates gallery
Unique, responsive, and fully customizable design templates for sales boost campaigns can come in handy even for brands with a team of designers on the board.
Our ultimate extension comes with the design templates gallery. It lets you launch eye-candy campaigns right off the bat, and the available variety of options guarantee there is a solution that fits in your site's look and feel.
The boost sales extension offers:
Let us know if you're missing a feature or two — we can't promise that we'll incorporate them in our future releases, but we'll be more than happy to develop them for you at an additional cost.
Request now
Product changelog
Bug fix
Fixes the issue with adding several timers to one page via widget
What's new
Adds support for Magento 2.4.6
FAQ
General questions
How can I pay for Mageworx products?
The two most common payment methods are currently accepted―credit cards (all types) and PayPal. All the payment transactions are carried out in full compliance with the security and confidentiality requirements.
Will I get a formal invoice with all details including VAT number?
Yes, after the purchase you will receive the complete invoice with all necessary details, including our VAT number etc.
How to install our Magento 2 extensions?
We offer four independent ways of Magento 2 extension installation:
What Magento editions do Mageworx extensions support?
Mageworx extensions support Magento 2 Open Source (former Community), Commerce (former Enterprise) editions including Magento 2 Commerce Cloud platform.
Mageworx Repository: how to use it?
Our own repository has been primarily intended to facilitate and speed up the process of Mageworx extensions installation and update.

In order to work with the repository, you'll need to have the Composer on the server first. This is the package manager of the PHP software that allows you to update & install scripts on your site.

Can I use one Mageworx license on multiple websites and staging/test hosts?
According to the Mageworx License Agreement, you can use one copy of Mageworx software on one Magento production installation. Thus, separate Magento installations require purchasing separate licenses.

Please mind that the extensions are not domain related, i.e., if you run each website on one Magento installation, then one license can be used. However, if you've got several websites on different Magento installations, then you would need to purchase separate licenses for each of them.

Before going live, can I test a Mageworx extension on a staging site?
Yes, you can install and set up any Mageworx extension on a test environment before making changes on your production site.
Are Mageworx extensions compatible with third-party themes?
By default, all Mageworx Magento 2 extensions are tested on three most popular themes: Luma, Ultimo, and Porto. However, some of our extensions are compatible with more 3rd party themes.

You can get in touch with our support team at [email protected] to confirm compatibility with the theme that you are currently using.
Are Mageworx extensions mobile-friendly?
In the world where 45% of purchases are completed via mobile (according to Retail Dive), we find it crucial to test and optimize all Mageworx extensions for mobile friendliness.
For how long can I get extension updates?
Extension updates are available as long as your support & updates package is active.

Purchases made before February 1, 2022, reserve the right to access our Magento extensions updates free of charge for a lifetime.
How can I get tech support?
Currently, the Mageworx Magento support team can be reached via:
How can I migrate from Magento 1 to Magento 2?
Database migration, migrating custom-built functionality and design, as well as migrating advanced SEO settings―these and other options are available within our one-stop migration service.

To get a quote, you'll need to contact our Client Relations Manager.

How can I get a refund?
We offer a 60-day money-back guarantee for Mageworx extensions that have been purchased via our site. Customer satisfaction and creating true value are our top priority!

Please note that this is except for those Magento 1 extensions that are intended to be upgraded to their Magento 2 versions within 30 days since the moment of M1 version purchase. In such a case, a refund will be applied solely to the Magento 2 extension version.

Please note that extensions purchased at Magento Marketplace are covered by the 25-day Marketplace Refund Policy.

Does Mageworx have a discount program?
Reward points, bulk & upgrade discounts―at Mageworx, we do our best to show appreciation to our new and existing customers. Joining the program is fast and easy. To start saving with us, you need to create an account.

How can I become an affiliate?
By helping Mageworx promote our extensions, you can earn up to 50% on every order. To join the affiliate program, you need to create an account on our website.
Go to "My Profile ― Affiliates", then complete and verify your affiliate profile.

Feel free to drop us a line on the Support page if you have questions.