Rich Snippets for Magento 2
Search Engine Optimization becomes more and more difficult now. It is quite challenging to show up on your website as more and more rivals are entering this fast-paced market. Attracting the targeted traffic has become one of the most important tasks for website owners these days. Speaking of eCommerce in general, and Magento 2 in particular, it is important to note that at least one element allows you to stand out from the crowd of competitors: it's the rich snippets.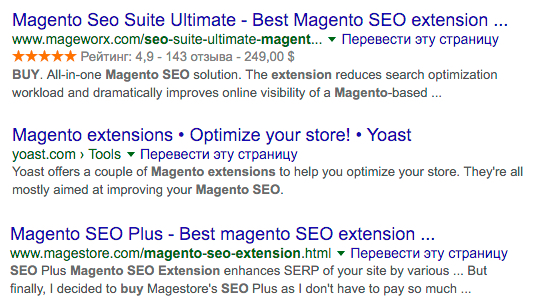 Rich Snippet is a structured data markup added to your existing HTML. in fact, these are separate tags that allow the search engines to easily process information provided on your Magento 2 store. It's pretty clear that introducing this feature out of the box is the long-awaited move by Magento developers towards better SEO results. Google confirmed that rich snippets don't affect rankings directly and, moreover, they do not guarantee that the snippets will actually appear in the search results. Nevertheless, it is quite clear that for the customer the result with the snippets looks more attractive resulting in better CTR.
Google supports several types of snippets like recipes and reviews, yet for e-commerce, the most important one is the product. You can find more scrupulous research regarding the product snippets in our blog.
These tags are automatically added to any product page:
Product name,
SKU,
Price and Price currency,
Aggregate Rating for products with reviews,
Image(s).
As you may see, adding the rich snippets functionality to the default version of the platform, is quite a giant leap for Magento 2. However, it still lacks many important features that the user may need.
Mageworx introduced the Extended Rich Snippets extension that extends the standard functionality and introduces a bunch of remarkable features:
Snippets on the category pages. The category pages can be treated as the products one. This helps the customers understand your pricing policy better and distinguish several categories according to their prices.
Breadcrumbs. Clear and precise navigation is very useful as it makes site navigation easier and leads customers directly to their targeted category. It also provides a better understanding of the website structure for the search bots.
Organization Info. This feature allows providing the customers with business information of the store owner, such as store name & description, location, social links, phone, etc. This results in the broader recognition of the store.
Twitter while Open Graph tags enrich your Facebook, Google+ and LinkedIn posts.
Once everything is set up, you can test your website appearance in the organic search via Google's Structured Data Testing Tool.
Please bear in mind that snippets' appearance in the search results may take some time as the search bots do not include this information immediately.