SEO Meta Templates extension for Magento 2

SEO Meta Templates extension for Magento 2
YOUR ULTIMATE META TAGS GENERATOR
Gallery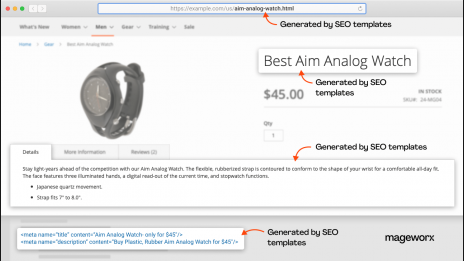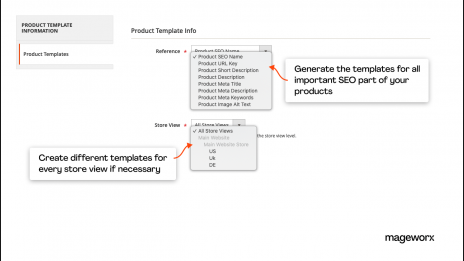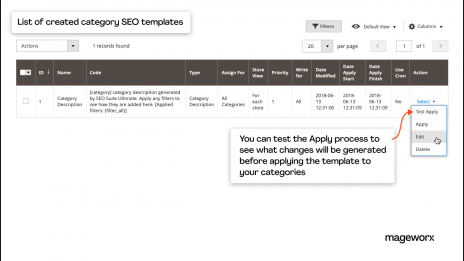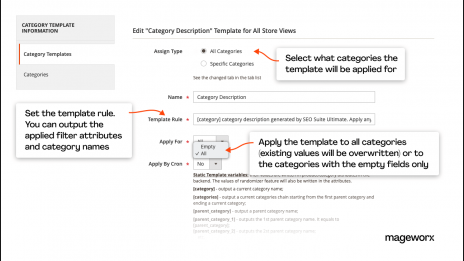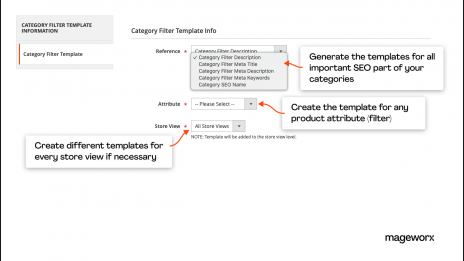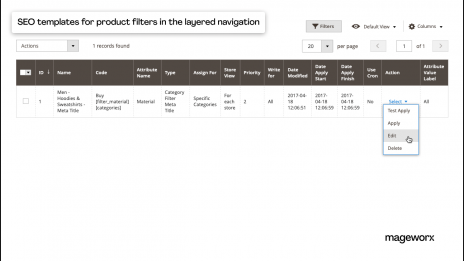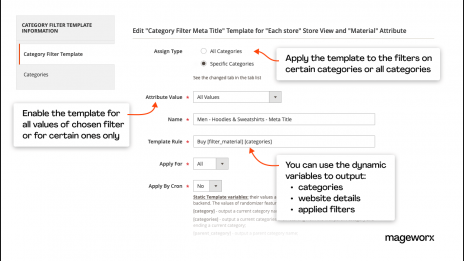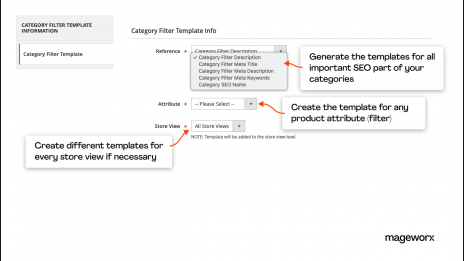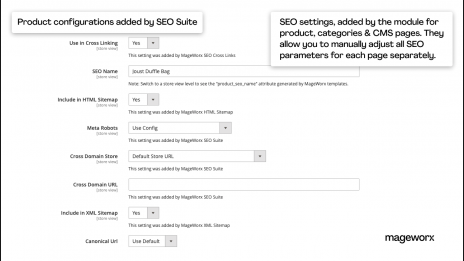 Magento Compatibility
CE 2.3.x - 2.4.x; EE 2.3.x - 2.4.x
Translations
English, German, Dutch
Comes with
Lifetime access to the source code
1 year of free updates and support
No subscriptions
SEO meta templates
Arrange massive amounts of metadata that is so important for SEO―apply SEO meta tags Magento 2 templates to make your site's product and category pages optimized for search engines.
Learn more
Meta templates customizability
Use SEO meta tags template rules to build metadata patterns following the requirements of your business. Enjoy full control over metadata display if you run stores with multiple store views.
Learn more
All-in-one SEO toolkit
Upgrade to SEO Suite Ultimate to cover all the critical aspects of SEO―Magento 2 meta tags, advanced cross-links, hreflang tags, custom SEO redirects, and so much more!
Extensible. Customizable. Developer-friendly
Composer installation for easier extensions installation and management
No overwriting the core classes unless unachievable within a functionality
Unencrypted code for hassle-free editing if required by your clients
Extensions' code implementation following Magento's recommended best practices
Product templates
Make your product pages search engine and user-friendly by optimizing all possible types of metadata. The Magento meta tags extension helps you create a template(s) and generate the following metadata in bulk:
Additionally, you can set up Magento tags templates:
Category tags templates
Ranking highly category pages made easy. With SEO category templates, you can optimize such site destinations according to the latest Google requirements and see your site climb in search results. You'll be able to:
Also, with the Magento meta tags extension, you can choose to apply category tags templates to:
Category filter templates
Our Magento meta tag extension enables you to use web pages filtered by Layered Navigation as a part of your digital marketing activities. The module lets you turn such pages into ones with SEO value. With the SEO Meta Template extension, you can:
Also, the meta keyword generator module enables you to choose a preferred category filter to apply an SEO meta tags template.
Meta tag template rules
The meta description generator extension offers a flexible mechanism for creating unique Magento tags in bulk.
You'll be able to build desired patterns of your meta tag templates and thus customize the structure and content of your metadata.
Additionally, the module enables you to specify a certain length of SEO title and description of any product or category page in your meta description templates.
Multistore support
For businesses that need to set up meta information for multiple store views, the meta tags generator allows achieving that in a couple of clicks. You will be able to assign SEO templates to:
Meta keyword generator: general settings
Besides giving you a hand in page SEO and metadata optimization, the extension allows you to:
SEO templates generation via console
To ensure even more flexibility, the meta description generator extension allows store admins to add meta via console. It can be achieved fo
Let us know if you're missing a feature or two — we can't promise that we'll incorporate them in our future releases, but we'll be more than happy to develop them for you at an additional cost.
Request now
Product changelog
What's new
Adds German and Dutch translations
What's new
Improves compatibility with PHP8.2
FAQ
Product questions
How to add meta tags in Magento?
If you are wondering, "How do I add meta description in Magento 2?", "How do I write meta keywords in Magento?", "How do I create a meta tag for SEO?", the default platform allows store admins to create custom such values for each product individually and manually.
For that, log in to your admin panel, and follow the instructions:
In the left pane, on the CATALOG tab, do one of the following:

Click Products to specify metadata for products, and then proceed to step 2.
Click Categories to specify metadata for categories, and then proceed to step 5.

To customize metadata, next to a product you wish to edit, click Edit.
Under Meta Information, fill in the fields with metadata as required.
In the upper-right corner, click Save.
On the left, click the required icon to access the full list of categories, and then click a category you want to edit.
Under Search Engine Optimization, fill in the fields with metadata as required.
In the upper-right corner, click Save.
Click here to learn more about creating a perfect SEO title and description in Magento 2.
What are the Magento 2 Meta Tags Template extensions for automatic meta tags?
Mageworx offers such an extension individually.
Otherwise, you may want to consider the all-in-one SEO Suite Ultimate that includes the SEO templates extension and other functionality that needs special attention in Magento 2.
What are the principal methods of natively improving SEO in Magento 2 projects?
To improve your organic traffic, you'll need to cover the following SEO areas that need special attention:
Set up Magento 2 Robots.txt
Eliminate duplicate content
Update XML sitemap
Optimize images
Keep metadata updated
Optimize page performance
Build backlinks
Ensure cross-linking
What are meta tags for SEO?
For SEO, these are elements in a page's HTML code that share data about a website to search engine crawlers.
What is a meta tag example?
The "title" and "description" elements can serve as a good example.
How do I put keywords in meta tags?
It's highly recommended to put targeted keywords at the beginning of SEO titles and descriptions.
Does Google use meta keywords?
No. Presently, the keywords meta tag does not have any effect on Google's search ranking.
How do I write meta keywords for SEO?
There is only one rule for writing and optimizing your meta keywords for SEO: each keyword used on a page must be relevant and reflect its content accurately.
Additionally, keyword density still matters. So make sure not to overuse keywords.
What are good meta tags?
Generally, nine tags are currently considered the most critical for SEO.
They are meta title and description, alt text tag, canonical tag, robot tags, Magento 2 social meta tags (Open Graph and Twitter cards), H1 tag, and responsive design tags.
However, the requirements for good tags from Google change dynamically. It's a must to stay informed about new algorithm update rollouts.
General questions
How can I pay for Mageworx products?
The two most common payment methods are currently accepted―credit cards (all types) and PayPal. All the payment transactions are carried out in full compliance with the security and confidentiality requirements.
Will I get a formal invoice with all details including VAT number?
Yes, after the purchase you will receive the complete invoice with all necessary details, including our VAT number etc.
How to install our Magento 2 extensions?
We offer four independent ways of Magento 2 extension installation:
What Magento editions do Mageworx extensions support?
Mageworx extensions support Magento 2 Open Source (former Community), Commerce (former Enterprise) editions including Magento 2 Commerce Cloud platform.
Mageworx Repository: how to use it?
Our own repository has been primarily intended to facilitate and speed up the process of Mageworx extensions installation and update.

In order to work with the repository, you'll need to have the Composer on the server first. This is the package manager of the PHP software that allows you to update & install scripts on your site.

Can I use one Mageworx license on multiple websites and staging/test hosts?
According to the Mageworx License Agreement, you can use one copy of Mageworx software on one Magento production installation. Thus, separate Magento installations require purchasing separate licenses.

Please mind that the extensions are not domain related, i.e., if you run each website on one Magento installation, then one license can be used. However, if you've got several websites on different Magento installations, then you would need to purchase separate licenses for each of them.

Before going live, can I test a Mageworx extension on a staging site?
Yes, you can install and set up any Mageworx extension on a test environment before making changes on your production site.
Are Mageworx extensions compatible with third-party themes?
By default, all Mageworx Magento 2 extensions are tested on three most popular themes: Luma, Ultimo, and Porto. However, some of our extensions are compatible with more 3rd party themes.

You can get in touch with our support team at [email protected] to confirm compatibility with the theme that you are currently using.
Are Mageworx extensions mobile-friendly?
In the world where 45% of purchases are completed via mobile (according to Retail Dive), we find it crucial to test and optimize all Mageworx extensions for mobile friendliness.
For how long can I get extension updates?
Extension updates are available as long as your support & updates package is active.

Purchases made before February 1, 2022, reserve the right to access our Magento extensions updates free of charge for a lifetime.
How can I get tech support?
Currently, the Mageworx Magento support team can be reached via:
How can I migrate from Magento 1 to Magento 2?
Database migration, migrating custom-built functionality and design, as well as migrating advanced SEO settings―these and other options are available within our one-stop migration service.

To get a quote, you'll need to contact our Client Relations Manager.

How can I get a refund?
We offer a 60-day money-back guarantee for Mageworx extensions that have been purchased via our site. Customer satisfaction and creating true value are our top priority!

Please note that this is except for those Magento 1 extensions that are intended to be upgraded to their Magento 2 versions within 30 days since the moment of M1 version purchase. In such a case, a refund will be applied solely to the Magento 2 extension version.

Please note that extensions purchased at Magento Marketplace are covered by the 25-day Marketplace Refund Policy.

Does Mageworx have a discount program?
Reward points, bulk & upgrade discounts―at Mageworx, we do our best to show appreciation to our new and existing customers. Joining the program is fast and easy. To start saving with us, you need to create an account.

How can I become an affiliate?
By helping Mageworx promote our extensions, you can earn up to 50% on every order. To join the affiliate program, you need to create an account on our website.
Go to "My Profile ― Affiliates", then complete and verify your affiliate profile.

Feel free to drop us a line on the Support page if you have questions.