Magento 2 Export and Import Tools
Whether you need to transfer data from your old store or backup some important information to restore it in the future – import/export functionality is what you need to resort to.
Magento 2 has an extended set of tools to run the above-mentioned tasks.
The platform allows you to import and export practically any type of store info: products data, customer information, location details and an advanced pricing settings. There are, however, some exceptions – these are bundle and downloadble products – they can't be exported or imported.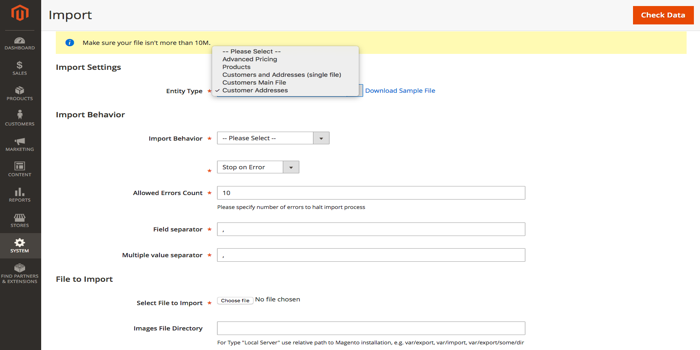 With Magento 2 you can import/export data in a standard .csv format. This format is supported by all spreadsheet and database applications. Also, you can export a sample CSV data file, add any type of your own info and then import it into Magento 2.
Note, that there is a 10 MB limit for any file exported to and imported from Magento 2. But you can extend it by modifying this value in the php.ini file that is stored on the server.
To start with, open the Admin panel of your Magento 2 store and go to the System tab. Then, select the Import or Export options depending on what procedure you perform.
In both situations, you need to specify the type of data. You can select from:
advanced pricing
products
customers main file
customer addresses
Also, you can import both the customers main file and their addresses by choosing the Customers and Addresses (single file) option.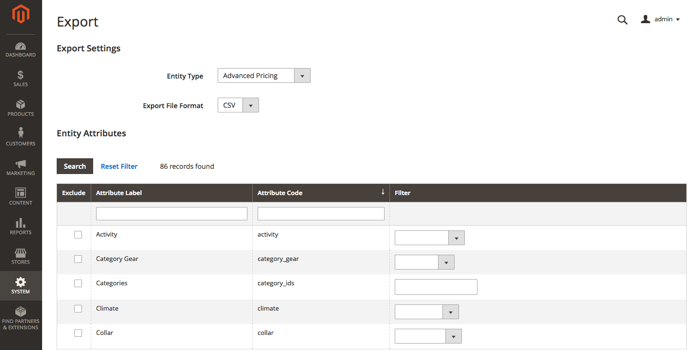 Next, you should select attributes to export OR define import parameters and select a data file. Generally, you need to configure the 'Import Behaviour' option that will be used in case of data conflicts: Add/Update, Replace or Delete the existing information.
Finally, hit the 'Check Data' button to perform the import/export operation. Also, you should check the result in the corresponding section of the admin panel.
There are no products matching the selection.