Magento 2 Image Upload
Photos are the most popular way to present products online.
Online customers usually don't possess an ability to look at a product with their own eyes, touch or try it before purchasing. That's why the importance of good product visualization couldn't be exaggerated for any eCommerce store.
There are a lot of aspects to take into consideration when making a product image.
First, a good product image should be of good quality and high resolution (but should be light enough not to slow down page load time). Second, a photo should be created in such a way that it could be possible to downscale it to a thumbnail on any product or category page. Third, shoppers should be able to examine a product from different prospectives and view its smallest details.
Magento 2 simplifies all these tasks with its build-in Photo Download Manager.
With this functionality you can attach multiple images to each product page and set one of them as the Title that will be displayed on a category page.
To attach an image you need to do the following.
Open the Admin panel of your Magento 2 store. Select the Products tab and click the Catalog option. From here, you need to select a product to add an image for. When done, go to the Images and Videos section and hit the Camera icon. Then, select an image from your computer or any other local storage.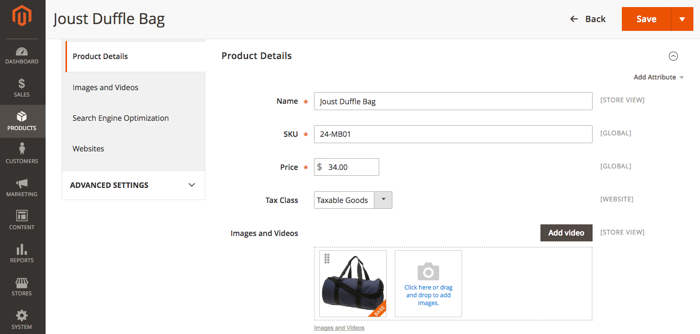 Also, you can define image order by dragging them, and delete the ones you don't need by putting it into aTrash. Note that the 1st image on the list will be automatically marked as the base one for a product.
Now, your product is ready to appear in all its glory. With quality product photos your chances for successful sales will increase manifold.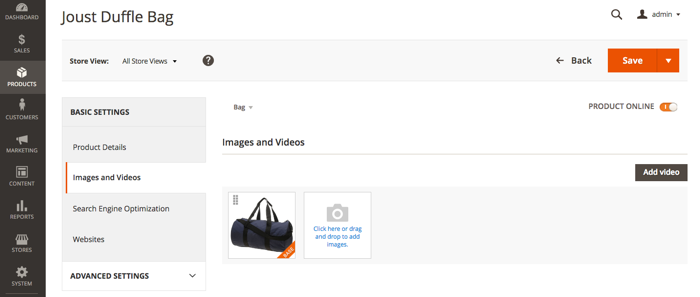 Additionally, you can go even further and diverse your products visuals with beautiful videos. Moreover, videos can show the real size of an item and its dynamic view that is impossible with static pictures.
You can use the default Magento 2 video uploader or try some 3rd party extensions created for this purpose.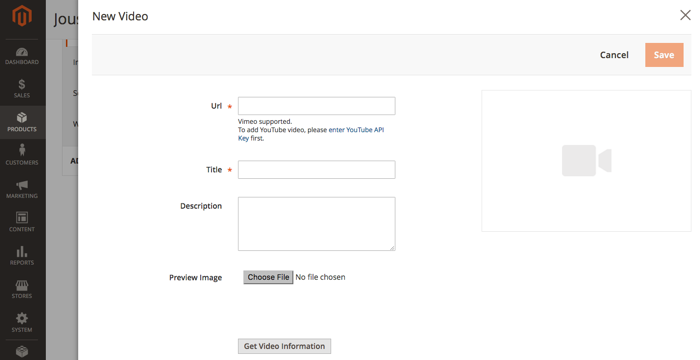 To add a video with the default Magento 2 tools, open a certain product and hit the Add Video button. Next, in the pop-up window, specify the video URL and its Title. Additionally, you can fill in the Description and a separate the Preview Image.
Also, it's possible to define a videos' role on the product page.
Add various kinds of attachments to your product pages - equip them with product videos, user guides, price lists, and any other type of useful materials of any format.