Replaces the native Magento product image gallery with a Web 2.0 feature-rich alternative.
Developed according to the official Magento programming guidelines.
Designed for the standard Magento functionality, tested on the default theme and checkout.
IMPORTANT! In case you need to adjust the extension for a custom-built checkout or theme, drop us a line.

*Note, customization is done at extra cost.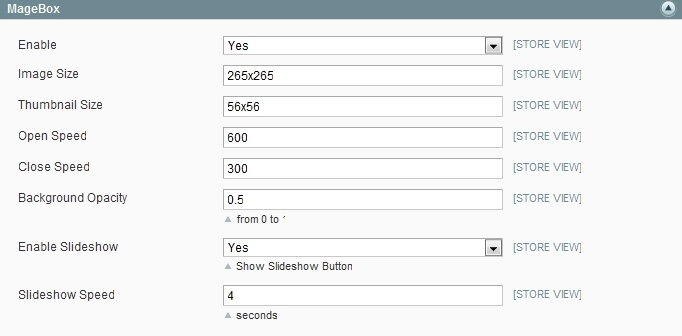 Image Gallery Magento extension lets you display your products at their best. The module replaces the default Magento product image gallery with a more advanced one.
The Web 2.0 Image Gallery is fitted with a bunch of great features and runs ever smoother than Lightbox (image gallery replacement for Magento).
Product image size settings
Thumbnail image size settings
Setting Image Open/ Close speed
Automatic slideshow option
Specify different templates for each store view.
Easy keyboard navigation (Right arrow — next image, Left arrow — previous image, ESC — close gallery)
Automatic repositioning of the image in the browser window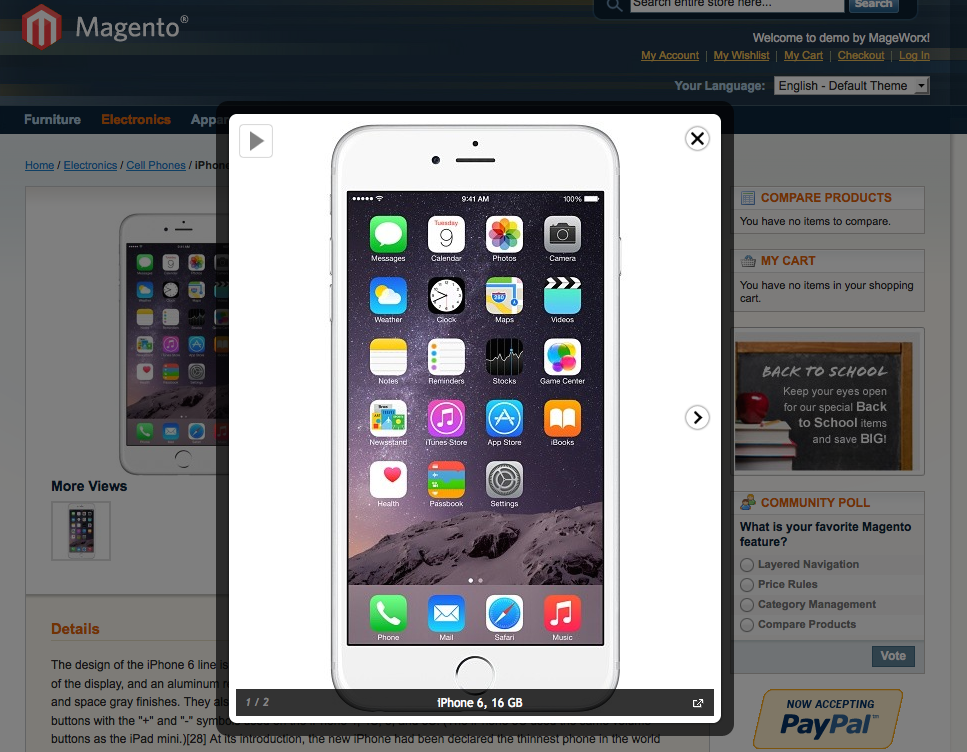 Other Features
Supports multi-languages
Free email support
100% Open Source
You May Also Like
These are the extensions you may also be interested in.
Search Suite
Sphix and Solr integration, search autocomplete and autocorrect features, advanced search settings and reports.

Explore and Buy
Store & Currency Auto Switcher
Extend your eСommerce operations with multi-site, multi-language, multi-currency and local tax compliance capabilities.

Explore and Buy
Gift Card
Increase your sales allowing your visitors to use gift cards / certificates / vouchers / coupons for purchases or as a gift for friends. A wide range of flexible gift card features.

Explore and Buy
Magento Product Image Gallery extension
Nice photo management tool. Thanks mageworx.
Fantastic extension and great service
In our Magento CE 1.9 shop we used a very advanced theme (MT_Colias) and the free lightbox extensions available were just not working with the theme. We asked Mageworx on the forehand if their extension could be implemented so that the theme's included Cloudzoom is disabled and the extension's Lightbox would be implemented without any further changes on the product detail page's design and layout.
We purchased the extension with installation service and Mageworx did a fantastic job by fulfilling all our wishes. Highly recommended extension and service! The lightbox is the best we have seen/used on a Magento shop so far...
Great extension & amazing support
This is a very simple extension but it is very slick and makes a huge difference to the look & functionality of our product pages on www.musicmatter.co.uk (take a look!).

Installation was simplicity itself, easily tackled my a Magento novice. We had a small issue getting it working due to some over eager caching on our site.

MageWorx identified and fixed the problem very quickly and very politely told us what we had done wrong. For such a low ticket module, I was very impressed with the quality of this service!

One small suggestion for improvement would be to think of a way to prevent the 'next image' arrow buttons from overlaying the image (where the image is full width with very little whitespace).

A tiny niggle with an otherwise flawless extension, easily the best gallery module I've seen for Magento!
Awesome functionality for your store.
This is without a doubt my favorite extension from MageWorx, so far. It was working instantly after installation (no file changes) and incredibly easy to configure. Make sure you check out the demo because the default configuration looks better than the one used on the MageWorx store. This is the best lightbox type script that I've come across, and surprisingly it functions and looks just as good on IE6!

Now, my other reason for writing this review is to share my high priority ;) feature requests with other MageWorx customers because together we have a better chance of getting these implemented, or maybe one of us has the jQuery knowledge to do this and can share it with the rest of us.

1. Most of us already use a lightbox type script for something or another on our sites, I for example use one to display sizing charts. It would be incredibly convenient if I could use MageBox to display my sizing charts instead of using two lightbox scripts on one page. It would decrease my http requests and make my site design much more uniform. You can manually set up an image to use MageBox by adding the class magebox_gall to it, but then your image will be added automatically to the product's MageBox gallery rotation. I don't want my customers to be scrolling through product images and then unexpectedly be shown a sizing chart, it may confuse them and would distract them from the product they may have been interested in. My example is a sizing chart, which relates pretty closely to the product, but others may want to use the MageBox for an element completely unrelated to their product.

2. I display my products media gallery images on my catalog pages, I tested MageBox on them and it worked just as expected. The MageBox is even more useful on these pages because customers can now see large images of the products very quickly without the need to go to the product page. The MageBox also looks better on these pages because it dwarfs the other images, whereas on my product pages I have a rather large image that's usually to the upper left of the MageBox. Now the current problem with the catalog pages is that all the media gallery images are being lumped together and you can scroll through every image on the page.

My proposed solution to both of these issues is that the script be modified to create these gallery "groupings" based on the object's title attributes. I believe all the media gallery images on product pages already have the same title, it's easy to set up the gallery images on catalog pages so their title attribute is the products name, and any custom element you wanted to use MageBox for you could easily set the title, ie. title="T-Shirt Sizing Chart".

Thanks for readying, and p.s. we need forums!
Product Changelog
Legend:
New Feature
Bug Fix
Version: 1.0.2(February 24, 2016)
Updates the version of jQuery to 1.5.1 to make the extension compatible with IE8 and IE9 browsers
Version: 1.0.0
Initial release