Adding a customized product options is a great way to generate bigger revenue and serve your store visitors in a better way. With Advanced Product Options Magento extension you can configure custom options for any product, manage products with complex configuration and create great deals for your customers.
Fully compatible with All Magento Security Patches.

NEW

Want to save time on configuring the extension? Check out our new service.
Easy and smooth transfer of all features to Magento 2 version.

Contact us

to get a personal 25% discount!
What is Advanced Product Options for?
Advanced Custom Options Templates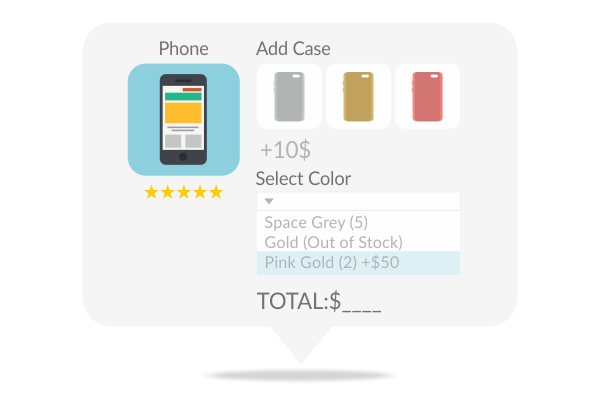 The extension lets you save tons of time when configuring advanced product options. You will no longer have to input every product option by hand — the templates fully automate the process.
With Advanced Product Options Magento extension you can easily create highly-customizable custom option templates for:
Dependent Options,
Color Swatch,
Custom Options with Images,
Custom Options Inventory, ect.
Easily manage the templates and quickly edit them according to your needs:
apply predefined custom options while editing a product,
bulk-assign a template to products,
select the default value for any custom option,
specify custom options values for each Store View,
assign options to different Store Views.
Also, you can easily duplicate custom option templates, as well as import/export them right from the Templates Grid.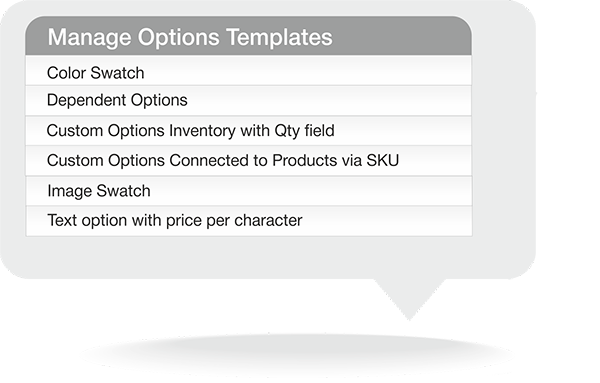 Custom Options Inventory
Managing several options of a single product can become tricky, especially when doing it manually. Custom options inventory automates the whole process of stock management, so your customers can always get products they want.
Show the quantity of custom options.
Connect custom options' inventory with the inventory of any product.
Automatically hide out-of-stock options.
Display low-stock/out-of-stock label.
Sell products that are currently not in the warehouse with the 'Allow Backorders' option.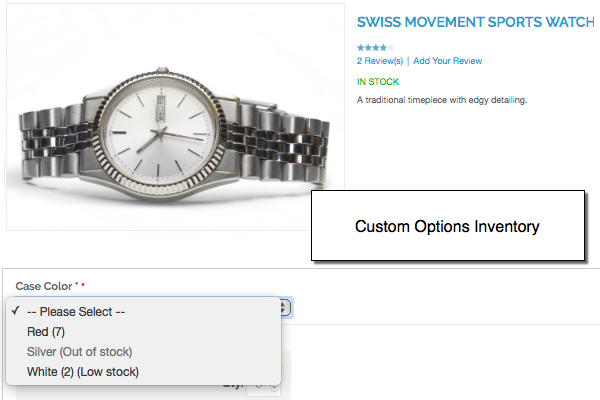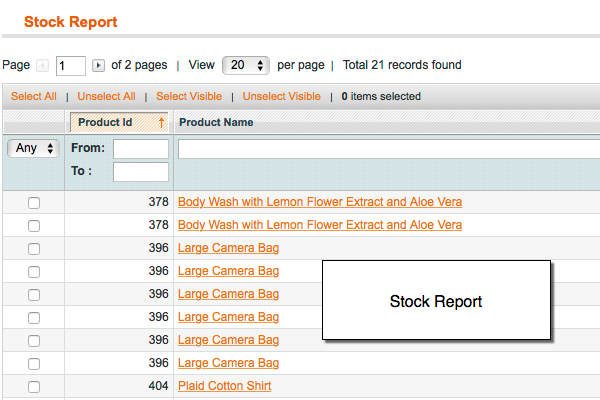 Know the product demand and never get out-of-stock. Plan your future orders, forecast sales and work out a successful marketing campaign.
A detailed Stock Report for custom options includes:
Inventory data for all custom options' values available on a site.
Updating the stock amount for one option/ a number of options in bulk.
The ability to increase/decrease the stock value by a required amount
Quick search for low-in-stock/ out-of-stock options.
Dependent Custom Options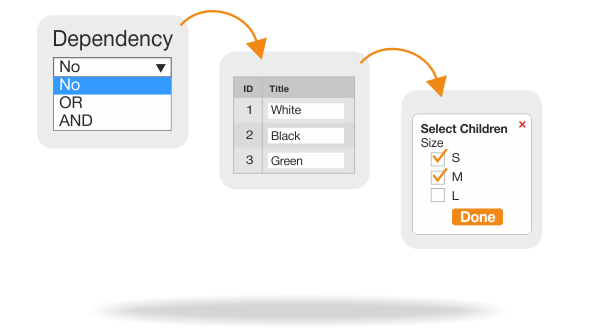 Need to display EXTRA options only when the MAIN one(s) are selected? The Options Dependency feature makes it easy to create a single product with any number of variations to choose from (e.g. materials, size, color, dimension, etc.).
OR dependency: shoppers can select the next product option only after they have picked up the main option. For example, a 'Size' option will be available only when a customer chooses the 'Color' one.


AND dependency: dependent options will be shown only when two or more options are selected.
Additionally, you can set stock availability and hide dependent options on the front-end.
Custom Options Pricing
Set and customize a cost for any custom option for a better pricing strategy:
Absolute price - replace the product's price with the custom option's price.
Special price - set promotional prices for custom option (different prices can be added for each customer group).
Tier price - offer a fixed/ percentage quantity discount .
'Starting at' prefix.

NEW

Calculating the % based on other custom options' prices

NEW

Price per Character option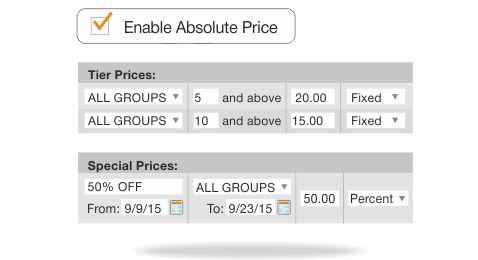 Custom Options Images/ Color Swatch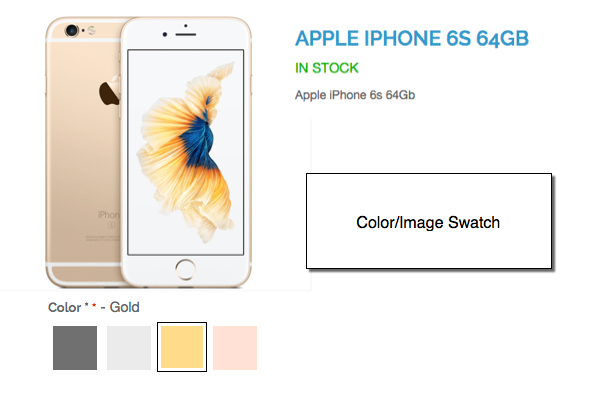 If your products can be customized with colors - image swatch option is what you need to present custom options in all their color variations.
By replacing the standard drop-down with high-quality colors, images and textures, you create the best visual experience and motivate customers to buy.
Display images instead of custom options.
Upload multiple images to one custom option.
Replace a product's image with a custom option's image.
Replace a product's gallery with the option's gallery.
Overlay image mode (e.g., you can apply a wording print design over a T-shirt image).

NEW

Title and Price for Color Swatch
Custom Options per Customer Groups
Segment your store audience and personalize custom option offers for different customer group.
Thus, you can shape your targeted pricing strategy even more and provide different product configurations for different customer groups.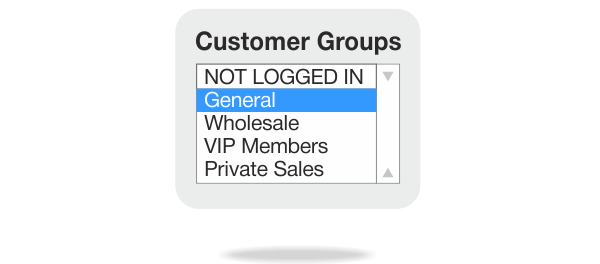 Weight and Cost for Magento Custom Options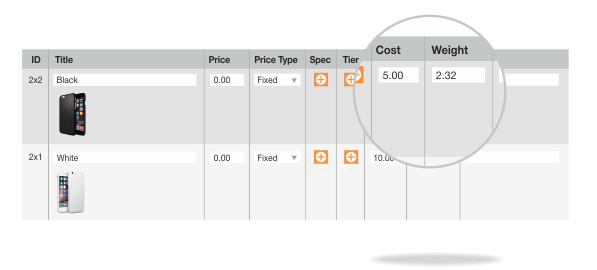 Weight is a featre for configurable product options that lets your shoppers calculate shipping costs right in the shopping cart.
Cost is a feature for configurable product options that lets you specify the most appropriate costs of your custom options to calculate your net profit correctly.
Specify Weight / Cost value for custom options.
Setup an Absolute Weight / Cost (in this case option weight / cost replaces the product's weight / cost).
Include custom option weight into shipping costs.
NEW On top of that, you can add the Universal Product Code (UPC) field for any custom option.
SKU Policy Management
The feature lets you determine how the result SKU of custom options purchased product will be formed in the order.
By default, if a custom option has a SKU, Magento adds it to the product's SKU in the order. That can trigger issues when exporting orders in the 3rd party systems. APO solves this issue.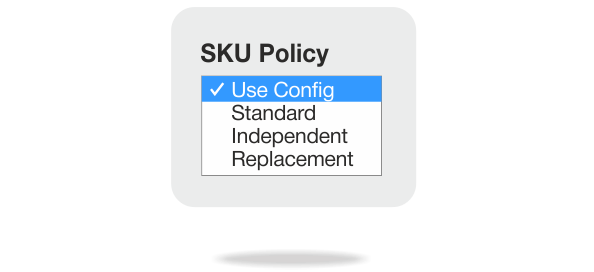 Other Features
Dynamic countdown for entered characters (used for text options in the frontend).
Specifying different DIV class for every product option.
Magento custom options import/export (you can import/export products with custom options using Magento native Import/Export functionality).
WYSIWYG for products' option description.
Selecting custom options by loading product URLs with the specific parameters (you can load product pages with different pre-selected custom options by changing custom options IDs in the URLs: http://www.site.com/product_page.html?config=11-222,22-333-444-555, where these numbers are [optionID]-[ValueID],[optionID]-[ValueID].)
"Do Not Restore Deleted Options" feature is added to the Magento product options templates.
Updating/keeping unchanged quantity of product options when updating options template.
The ability to create product options is seen in the backend only.
Adding descriptions for each option value.
Characters countdown for text product options in the frontend.
The ability to specify different values of custom product option for each Store View (You can translate an option title, an option description and a title of each option value into different languages directly in custom options templates).
Creating custom options for specific Store Views only.
Absolute prices for custom options (custom option's price will replace a product's price).
Creating product options with one-time prices (custom option's price will be added to product price only once, regardless of product qnty added to cart).
Invariable extension price - no matter how many k+ products you have.
Compatibility:
Compatible with Instant Cart.
Compatible with Extended Orders.
Compatible with Firegento MageSetup Extension for German market.
Compatible with Innoexts_StorePricing.
Compatible with Mico_Mupload.
This extension for Magento 1 is fully GDPR complaint. The software neither collects nor stores any personal users' data.
Also, the extension doesn't share any personal info with third parties, and doesn't use this data for any marketing purposes.
Comes with
FREE Updates
and Improvements

Risk-FREE
30-day Money Back
You May Also Like
These are the extensions you may also be interested in.
Advanced Product Options Configuration Service
Want to quickly and professionally configure your product options? We'll help you create custom product options templates, set product custom options dependency, custom options pricing schemes and a lot more.

Explore and Buy
File Downloads & Product Attachments
Attach any downloadable follow-up documents: a product brochure, user manual, video. All formats supported.

Explore and Buy
Multi Fees
Create additional services (fees) like Gift Card, Rush Delivery, Gift Wrap, etc. Easily charge extra (a fixed rate/ a percentage of order subtotal) and increase average order value.

Explore and Buy
Reviews of Advanced Product Options extension for Magento
We used this module on our M1 store and it was perfect for our dependent options, we are now looking forward to using the M2 version
5 years we using this extension, we really depend on this.
The extension so stable and yet so elegant solving our problem


Perfect module for a lot of custom options
We are running the module for a long time now and it is perfect :)
We recently found something weird and contacted support, they responded very quick and solved it for us.

That service is why we buy from Mageworx.
Keep doing it like this and you have a customer for life!
Great extension if you have any kind of custom products.
This extension is a must have if you have any kind of custom products. Support was super helpful when I installed another vendor's extension and it broke.
One of the Best Dependent Custom Options Extension. I had a few issues but the Support was really helpful.
Would Definitely Recommend this Extension.
Product Changelog
Legend:
New Feature
Bug Fix
Version: 4.17.11 (September 24, 2018)
Fixed product export process and PHP 7.2 compatibility
Bug fixes
Version: 4.17.10 (May 4, 2018)
Bug fixes
Version: 4.17.8 (January 12, 2017)
Fixes a problem with export of linked products (related, cross sells, up sells) in Magento 1.7.x and less
Fixes a problem with displaying the description for options of the type "Swatch" and "Multi Swatch"
Fixes a problem with displaying a special price correctly for selectable options
Fix a problem with option's tier prices if option is One-time
Fix a problem with a linked option value titles when product SKU is changed
Fix an error when creating a new product (linked option by SKU observer)
Fix an problem if option is pre-selected using "config" URL parameters when multiple values are defined
Fix an problem with the replacement SKU policy type
Code refactoring of the SKU policy functionality
Adds support of multi stocks in the Stock Report