Adding a customized product options is a great way to generate bigger revenue and serve your store visitors in a better way. With Advanced Product Options Magento extension you can configure custom options for any product, manage products with complex configuration and create great deals for your customers.
Fully compatible with All Magento Security Patches.

NEW

Want to save time on configuring the extension? Check out our new service.
Easy and smooth transfer of all features to Magento 2 version.

Contact us

to get a personal 25% discount!
What is Advanced Product Options for?
Advanced Custom Options Templates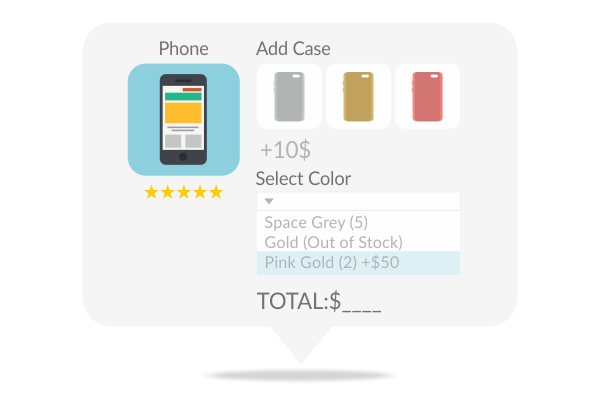 The extension lets you save tons of time when configuring advanced product options. You will no longer have to input every product option by hand — the templates fully automate the process.
With Advanced Product Options Magento extension you can easily create highly-customizable custom option templates for:
Dependent Options,
Color Swatch,
Custom Options with Images,
Custom Options Inventory, ect.
Easily manage the templates and quickly edit them according to your needs:
apply predefined custom options while editing a product,
bulk-assign a template to products,
select the default value for any custom option,
specify custom options values for each Store View,
assign options to different Store Views.
Also, you can easily duplicate custom option templates, as well as import/export them right from the Templates Grid.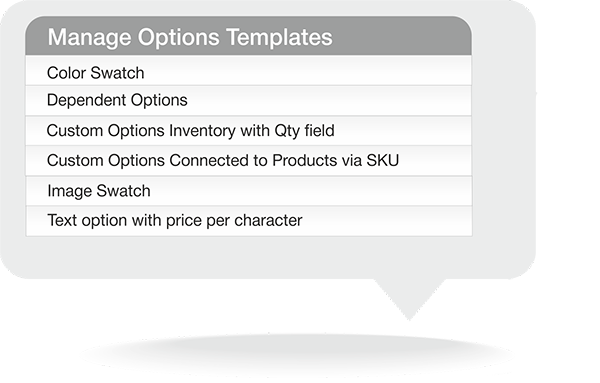 Custom Options Inventory
Managing several options of a single product can become tricky, especially when doing it manually. Custom options inventory automates the whole process of stock management, so your customers can always get products they want.
Show the quantity of custom options.
Connect custom options' inventory with the inventory of any product.
Automatically hide out-of-stock options.
Display low-stock/out-of-stock label.
Sell products that are currently not in the warehouse with the 'Allow Backorders' option.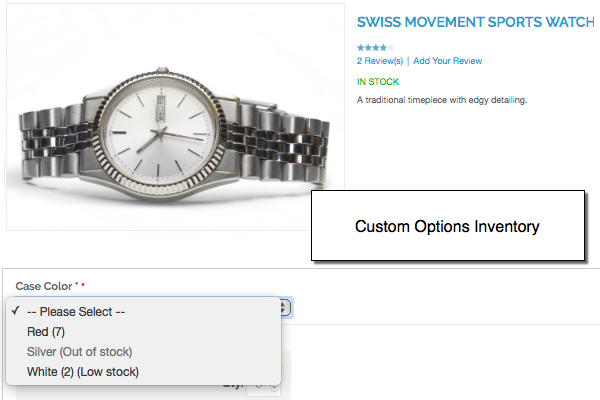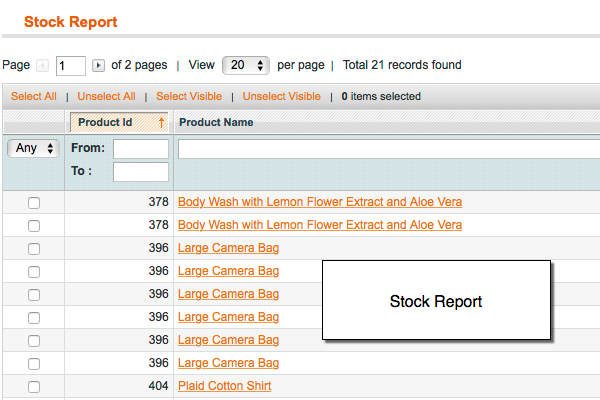 Know the product demand and never get out-of-stock. Plan your future orders, forecast sales and work out a successful marketing campaign.
A detailed Stock Report for custom options includes:
Inventory data for all custom options' values available on a site.
Updating the stock amount for one option/ a number of options in bulk.
The ability to increase/decrease the stock value by a required amount
Quick search for low-in-stock/ out-of-stock options.
Dependent Custom Options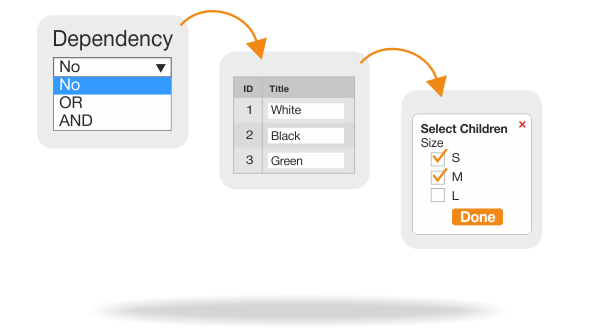 Need to display EXTRA options only when the MAIN one(s) are selected? The Options Dependency feature makes it easy to create a single product with any number of variations to choose from (e.g. materials, size, color, dimension, etc.).
OR dependency: shoppers can select the next product option only after they have picked up the main option. For example, a 'Size' option will be available only when a customer chooses the 'Color' one.


AND dependency: dependent options will be shown only when two or more options are selected.
Additionally, you can set stock availability and hide dependent options on the front-end.
Custom Options Pricing
Set and customize a cost for any custom option for a better pricing strategy:
Absolute price - replace the product's price with the custom option's price.
Special price - set promotional prices for custom option (different prices can be added for each customer group).
Tier price - offer a fixed/ percentage quantity discount .
'Starting at' prefix.

NEW

Calculating the % based on other custom options' prices

NEW

Price per Character option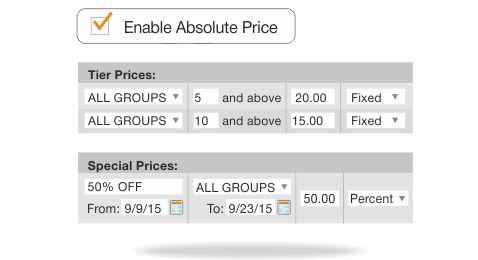 Custom Options Images/ Color Swatch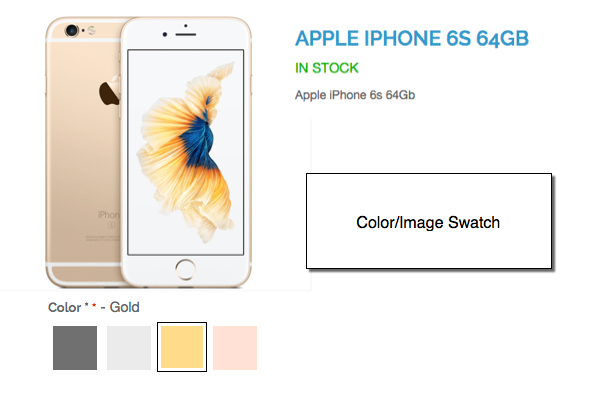 If your products can be customized with colors - image swatch option is what you need to present custom options in all their color variations.
By replacing the standard drop-down with high-quality colors, images and textures, you create the best visual experience and motivate customers to buy.
Display images instead of custom options.
Upload multiple images to one custom option.
Replace a product's image with a custom option's image.
Replace a product's gallery with the option's gallery.
Overlay image mode (e.g., you can apply a wording print design over a T-shirt image).

NEW

Title and Price for Color Swatch
Custom Options per Customer Groups
Segment your store audience and personalize custom option offers for different customer group.
Thus, you can shape your targeted pricing strategy even more and provide different product configurations for different customer groups.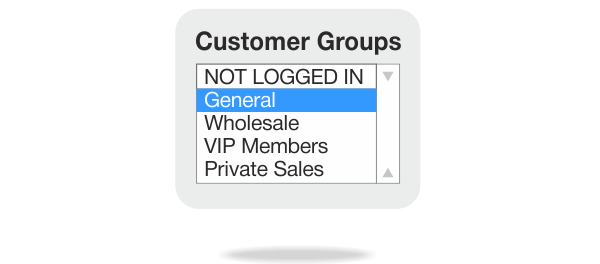 Weight and Cost for Magento Custom Options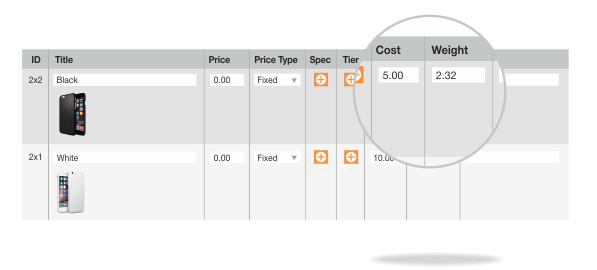 Weight is a featre for configurable product options that lets your shoppers calculate shipping costs right in the shopping cart.
Cost is a feature for configurable product options that lets you specify the most appropriate costs of your custom options to calculate your net profit correctly.
Specify Weight / Cost value for custom options.
Setup an Absolute Weight / Cost (in this case option weight / cost replaces the product's weight / cost).
Include custom option weight into shipping costs.
NEW On top of that, you can add the Universal Product Code (UPC) field for any custom option.
SKU Policy Management
The feature lets you determine how the result SKU of custom options purchased product will be formed in the order.
By default, if a custom option has a SKU, Magento adds it to the product's SKU in the order. That can trigger issues when exporting orders in the 3rd party systems. APO solves this issue.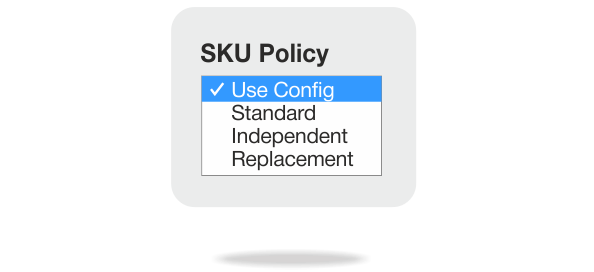 Other Features
Dynamic countdown for entered characters (used for text options in the frontend).
Specifying different DIV class for every product option.
Magento custom options import/export (you can import/export products with custom options using Magento native Import/Export functionality).
WYSIWYG for products' option description.
Selecting custom options by loading product URLs with the specific parameters (you can load product pages with different pre-selected custom options by changing custom options IDs in the URLs: http://www.site.com/product_page.html?config=11-222,22-333-444-555, where these numbers are [optionID]-[ValueID],[optionID]-[ValueID].)
"Do Not Restore Deleted Options" feature is added to the Magento product options templates.
Updating/keeping unchanged quantity of product options when updating options template.
The ability to create product options is seen in the backend only.
Adding descriptions for each option value.
Characters countdown for text product options in the frontend.
The ability to specify different values of custom product option for each Store View (You can translate an option title, an option description and a title of each option value into different languages directly in custom options templates).
Creating custom options for specific Store Views only.
Absolute prices for custom options (custom option's price will replace a product's price).
Creating product options with one-time prices (custom option's price will be added to product price only once, regardless of product qnty added to cart).
Invariable extension price - no matter how many k+ products you have.
Compatibility:
Compatible with Instant Cart.
Compatible with Extended Orders.
Compatible with Firegento MageSetup Extension for German market.
Compatible with Innoexts_StorePricing.
Compatible with Mico_Mupload.
This extension for Magento 1 is fully GDPR complaint. The software neither collects nor stores any personal users' data.
Also, the extension doesn't share any personal info with third parties, and doesn't use this data for any marketing purposes.
Comes with
FREE Updates
and Improvements

Risk-FREE
30-day Money Back
You May Also Like
These are the extensions you may also be interested in.
Advanced Product Options Configuration Service
Want to quickly and professionally configure your product options? We'll help you create custom product options templates, set product custom options dependency, custom options pricing schemes and a lot more.

Explore and Buy
File Downloads & Product Attachments
Attach any downloadable follow-up documents: a product brochure, user manual, video. All formats supported.

Explore and Buy
Multi Fees
Create additional services (fees) like Gift Card, Rush Delivery, Gift Wrap, etc. Easily charge extra (a fixed rate/ a percentage of order subtotal) and increase average order value.

Explore and Buy
Reviews of Advanced Product Options extension for Magento
5 years we using this extension, we really depend on this.
The extension so stable and yet so elegant solving our problem


Perfect module for a lot of custom options
We are running the module for a long time now and it is perfect :)
We recently found something weird and contacted support, they responded very quick and solved it for us.

That service is why we buy from Mageworx.
Keep doing it like this and you have a customer for life!
Great extension if you have any kind of custom products.
This extension is a must have if you have any kind of custom products. Support was super helpful when I installed another vendor's extension and it broke.
One of the Best Dependent Custom Options Extension. I had a few issues but the Support was really helpful.
Would Definitely Recommend this Extension.
Best extension for custom options
Using this extension quite a while now (2years or more I believe).

With over 10.000 products which all can be printed there is no other solution then this extension for our complicated price structure.
Did order a customization which saves me lots of time in my everyday work.
In this customization an in general the support is fast, kind and competent.

Thanks for the great extension, looking forward to get the same features in the Magento2 version.
Easy to create product with advance options..
Works really great! Very good support !
Very helpful extension to easily create templates for your products.
Vielen Dank für die Unterstützung. Ich bin sehr zufrieden!
I love this extension. We haven't used all features yet, but future plans we have can easily be implemented. It is a great way to implement more advanced setups of product options.
This is a must extension for my site and I have used this extension for 3+ years. Now I am planning to migrate to M2 and will purchase the M2 version for this extension.
Fantastic Extension and Reliable Support
This is best module for Advance Product Option on Magento. Support is awesome and they did site specific minor customization on free of cost. I would recommend this module on top of any magento modules for advance product options.
Love the dependent options for selecting additional product options. A must for some of the products we sell!. Thanks!
Great extension great support
This is one of the best extensions I have ever seen for Magento. it has multiple possibilities to help you as well great support team.
great support and extension
had some issues but they were very helpful and fixed them.
Great extension, but Duplicate product does not work!
Module works great, but the native "Duplicate" product button returns an SQL error when trying to duplicate products with custom options.
This is definitely a design flaw and should be fixed in next release.

Error:
1136 Column count doesn't match value count at row 1, query was: REPLACE INTO `catalog_product_option_title` SELECT NULL, 223, `store_id`, `title`FROM `catalog_product_option_title` WHERE `option_id`=222
They always help and stand behind their work! Over two years since I bought the extension and they help me fix random problems. Best support I have gotten from any magento developer.

Thank you
Fantastic Extension with Infinite Possibilities + Great Support from the Team
This is one of the best extensions I have ever seen for Magento. What's great about it : a) Very large number of options, which can be mixed and matched to create an infinite number of product possibilities, and yet, these can be presented in a clutter free way both on frontend and backend b) Minute details taken care of, like option of CSS DIV given per option, which presumably will help style everything as per need c) Slick and bug free functionality on both desktop and mobile and d) a 39 page guide on product usage!

I had some issues with my installation, and the team was kind enough to locate the problem (old PHP version) and get it resolved courteously - Thanks Alexander!

If you are looking for an Advanced Product Option extension, I would recommend, not thinking twice, and hitting that BUY button!

Cheers
Most Reliable and Complete Extension on the Market for Managing Product Options
I purchased several extensions from MageWorx and I love them all. Their support team is fantastic... even after a year of purchasing their products I receive great support on individual customized work. At Teabloom.com we integrated dozens of modules and MageWorkx is by far the best Magento Module Provider we have ever dealt with. Highly Recommended! - John Romano Founder at Teabloom.
I wanted a few small modifications that were crucial to this modules functionality on our site. Support was able to gather my changes in detail and gave a solution within 24hrs.

By far, one of the best modules in terms of magento custom options, as well as code performance.

I highly recommend reading the user guide and change logs. If you're a developer, this will be a great module to review.
Works really great! Helped us a lot, easy to use.
Beautiful Coded Extension
This Extension is beautifully coded and has lot of functionality to play with. Lot of options in the backend to work around for your product. Must say great and beautiful extension. Support is always awesome.
Extension and Support with limitless possibilities
Well, what can I say about this extension, this extension have all those features which you can ask or ever dreamed of. Previously, we were having extremely hard time in configuring custom options for each and every products of our store and on the top of that, the inventory for those custom options was not available in default Magento functionality and this is where this extension saved our life really. Now what is icing on the cake? the product images for the custom options guys, it increased the beauty for the custom options and clarity for the customer that yes they are buying what is visible in custom options.

Now lets come to the MageWorx's support: Good, Very good, Excellent, Outstanding......Yes they are there when you need MageWorx's support, you only need to create a support ticket and then bang on....... As our theme is customized so this extension was having issue in adjusting with our theme, obviously all other extension would be having such issue with any custom theme, and this is where the support of MageWorx comes in picture and action.

We have searched for such kind of extension and we came to know about 2-3 extension but this one comes top of the cart with the features you are ever looking for. Buy it. Recommended.
Site Upgrade/Updates support
The MageWorx team was great at getting our site upgraded with recent patches and extension upgrades. Service turn around was really quick and they kept us informed on issues when they arose. The staff was very knowledgeable on Magento architecture and was able to fix customization code conflicts once updates were complete. We have purchased several of the MageWorx extensions and will continue to use them in the future.
Outstanding Extension, Support Leaves Much To Be Desired
This extension is exactly what I needed to manage the complex options some of our products have. The extension works perfectly. The only issue I have is that I've needed help with learning how to use this extension and the documentation is very basic. There are no resources to provide help with creating complex dependencies. I've requested help and the answer seems to be "its easy, you should be able to figure it out". When they finally did "help", they created the options, but did not delete duplicate entries and there is no way for me to know which ones are necessary and which ones are not. So after spending a couple hours trying to figure it out, I asked for help again. The reply was "We configured the example on the product to show you how to do it... Options are duplicated on this product because you applied few templates". I did not duplicate anything. I have only tried to understand what they did and it is not self explanatory. So, if you just want to use it for simple duplication and automation, it's great. If you want to use it for complex options, I hope you're a mind reader.
This plugin solved a lot of men hours
We've search a lot for a solution like this and when we finally found it, we are very happy with it.
We had some small problems at the beginning with it because is very complex, but with help from the support team everything is working as it should.
Also congrats to the support team that helped us every time when we had a problem, also when we had problems because of our servers.
Having used OpenCart in the past, I made the switch to Magento about 2 years ago.
Whilst Magento is solid and very happy with the platform, it's this extension that is ultimately the biggest advantage to working with Magento.
For large stores with 50k + products, this extension is an absolute must have.
I simply can't imagine doing updates on product options is sets without using this extension. I'm so happy to never have to go back to the old days of reimporting CSV files when product options are updated.
I rarely give product reviews, but Mageworx is worth the praise with this extension.
Support has also been stellar...and this extension, specifically, is perhaps the most valuable and efficient asset to my sites.
After an update of the module we faced some problems because of our special configuration, we got quick and nice support and are very happy!
This extension perfectly complements what Magento is lacking when it comes to custom product options. I'm so pleased with it, even though I'm only using 10% of the possibility that it offers. I'm running a tea store on www.teasenz.com and I had trouble with setting different weight options per product such as the amount of weight as well as the possibility to add tin packaging as an option. What's also amazing is that each option can have a separate weight and SKU assigned. This really made the processing of orders more efficient, and made sure the shipping prices during checkout are accurate
-----
Very pleased. The only Magento extension provider I know that offers lifetime support and delivers on their promise. For custom work, they also charge a very reasonable fee. Recommended.
Must have extension for every Magento store
It's a great extension backed up by an even better team. These guys are very responsive and applied special customizations for my store to fit my needs. They've went above and beyond what I needed done. I have a lot of extensions and Mageworx is by far the best team I've purchased from.
Eugene was quick and efficient to help me in my query with this extension.
Himself and the team resolved the issue that I was experiencing within 5 days, in turn making my client happy and my organisation happy too.
Would highly recommend this extension and the support given
Great product & Best support ever
Great product & Best support ever
They are a 200% reliable team
We wanted this to allow personalisation of certain products. With a variety of options that can be either/or/and. Once we figured out the parent child relationship and the dependents it works a dream. We had small issue which support fixed for us quickly. Great product and great support.
------
I have a few mageworx extensions that are all excellent as is the support I have received when required.
For one week Mageworx support was looking to find the problem as product page gave error 500 when plugin was enabled. Never found the problem so extension was uninstalled.
Best $250 I've Spent in a While. Seriously.
This extension is one of the biggest time saving tools I currently use.
I can confidently say that this extension has saved me thousands of dollars. To put the figures in perspective my company has ~4,000 products, ~60% of those have a diverse set of custom options, many of which are very similar.
Creating templates is very simple (But can still handle some relatively complex scenarios) Assigning products to them is even easier.
But even better yet, applying changes can be done en-mass. After setting up a template and linking it to 400 products, I was able to make the change in one place and the rest was handled for me.
I can't stress enough how handy this tool has been for me. Personally I think this should be a Magento standard.
Finally, I want to make a special mention to the support I received when I had encountered an issue (extension conflict with Cart2Quote) The customer service was very friendly, quick to respond and more concerned with addressing my problem than trying to find a way to absolve themselves of responsibility.
(When in reality, it wasn't their responsibility to fix how their extension functions with another third party plugin that I decided to include.)
All around very pleased with my purchase and experience with Mageworx as a whole.
Keep it up guys!

---------

Great Customer Service! I recently had encountered an issue (extension conflict with Cart2Quote) The customer service was very friendly, quick to respond and more concerned with addressing my problem than trying to find a way to absolve themselves of responsibility. (When in reality, it wasn't their responsibility to fix how their extension functions with another third party plugin that I decided to include.) These guys rock!
We found this plugin for our special needs for customazation the options. We needed some support and thats was fast and good. Thanks team.
Excellent Support, Prompt Reply ! Valuable Extension !
I had a critical issue with my Magento site. I asked the support for their assistance. I received excellent support from the MageWorx specialists Eugene. Solution was provided very quickly and it was very helpful.
Great Extension, Covers many Bases
This extension does a ton of things that Magento doesn't natively support, and great customer service.
------
This extension is great, easy to use and powerful. The support is excellent, my problem was solved within minutes of opening the live chat.
Excellent Extension : Excellent Support : Looks Amazing
I was surprised how good this looked on the website, Eugene tweaked a few things for us for free, and it looks STUNNING, going to increase sales for sure.
https://www.powerbee.co.uk/battery-fairy-lights-20-led-693.html
Gone are the days of having multiple product pages, for different versions, we freed up a lot of space for category expansion.
HIGHLY recommended !
very good support quick problem solution . A+++
One of the best product options extensions
One of the best extensions we have ever used.
Performs as advertised and developer support is above and beyond.
Drop it in and fly with configurable options.

-----

Great extension. Great support. Will try again and again.
Work as intended, Support is great
The extension offers product options that goes far beyond what standard Magento offers, and it's great for our specific needs.
What set them apart though was the technical support. We ran into issues with customer group options and several other conflicts with other extensions and their support team is always fast to respond.
This particular extension gives us the ability to have a unique go-to-market strategy, and their support team gives us the confidence to know that when there is an issue, we have back-ups

------

The extension is well thought out, the functionality the Custom Option extension offer shows that they have really thought the problem through. The support team is on the case whenever we need help, which is really important for my team. Having the comfort level that we can have a go-to-market strategy with professional support is great for us.
I had a problem with my Magento compilation, but the support and assistant that I received from the MageWorx specialists was excellent. I recomend this Extension.
Lots of functionality, great support
I have bought this extension for few of our clients and it is a very good extension. I can highly recommend the extension. The support they give for this extension is very very good. I had several issues integrating the extension to the template we use and they helped with each and every one of them. Support is also very friendly.
Using Mageworx Extensions for Years.... Never Disappointed
We've use a number of MageWorx extensions on our site. I have to say they work brilliantly. On the rare occasion when we've had to ask for support we've always been satisfied. The responses are quick as are the resolutions.

We can't rate them highly enough!
My 3rd Purchase with Mageworx and they still ROCK
Since the early years of Mageworx I have purchased the Advanced Product Options from them and is amazed by how comprehensive their manual were, clean codes and amazing support. Now after 4 years and my 3rd purchase, they are still as good. Keep up the great work Mage!
Excellent Extension, Great customization with support
Great extension, lots of options with lots of flexibility. They thought of nearly everything, and were very accommodating of our additional requests. We required a bit of custom work to achieve our needs, which they provided quickly and professionally. We will use this extension again if our client's websites require it.
Also MW helped me with customization on custom theme. We used it for configurable hand made fashion. Also overlay image option is good idea and works fine.
We already use this extension for a while and so far it's a great extension. The only problem we have is that our extension have some custom made adjustments so we can't upgrade to the latest version. This means that we paid a lot of money for a great extension at that time but now it's getting outdated.
The module says what he does, does more things than originally sought.
The support has helped in the implementation of the module,
mageworx really cares about your business to the point that their highest priority is customer satisfaction.
Thanks keep it up
Really this extension has exceptional features!
Developed most of the extensions by Mageworx are very reliable and this time i have used this extension on my store and lastly i would say great extension.
-----
MageWorx support team is excellent. they understand your priority. They give quick response and developers are well knowledgeable. Keep it up Mageworx
Very useful extension - one of the main reasons we are using Magento!
We needed some help, they logged in and took care of it.
It is really a great extension
This extension is really usefull and the support works.
If you are in Brazil looking for security seal, check this web store:
http://www.imperiodasetiquetas.com.br
---------
The support is wonderfull and really works. regads.
An awesome extension that can do a lot of things!
This extension can do a lot of product configuration and custom options that you can think of. One of the many awesome features that this extension has is the ability to create multiple custom fields with maximum quantity of the sum of those fields. And those fields are configurable by a dropdown. In case you want to change the max quantity limit of the input fields you have. For example, you can use this in a donut shop. If you have a Box of 12, Box of 24, and Box of 6 donuts, and you have multiple donut flavors, this extension can automatically calculate the max quantity that you need in your box.
If you have for example 5 flavors, and you chose box of 12. Then you can choose 1 flavor each for the 4 flavors, then the last flavor will have 8pcs, for a total of 12. The extension can automatically calculate the max amount that you want.
This is also useful for a tour ticketing system if you need to gather the details of all persons included in the tour. For example there are 10 people in a specific tour that you want to book, this module will automatically display 10 input fields in your product page for you to enter the names of the 10 participants.
That's just a few complex features that this extension can do. There are mooooooore things that you can do with this for a cheap price. If you outsource it to someone else, maybe the two features above will cost you $500 to $1000 to develop. But with Mageworx's module, you can do those complex Magento stuff instantly. And their support is top notch! They know what they are doing and they do it fast! :D
Magento user since 2009 - Love this extension
I have a lot of products requiring options. My store provides custom printed work and I concurrently have setup-fees working in-tandem with options that are priced uniquely with tier pricing. I never thought I'd find this solution but I'm really pleased I did. I also sell software with licensing options. It is amazing the types of logic you can construct.
Additionally I am able to provide photographic overlays based on options chosen. Our site usability has massively improved.
On top of it all, the ability to apply custom classes to each option set allows a ton of flexibility when you are trying to layout lots of options. Most magento deployments force you into stacking all options vertically. By using these DIVs we were able to make a very usable presentation.
Developer was helpful to harmonize when extensions or themes conflicted with the extension.
------------
Magento 1.9.2.2 I have been using Magento since 2009 the Mageworx products and services are the best I've come across in that time. They are helpful and responsive. It is easy to recommend a business partner when everything is going right. But the best partners prove their value when things go wrong - because for any technology company there will be problems. I can tell you that when an issue arises, the Mageworx team are honest, responsible, prompt, and effective in their responses and the level of effort. They worked hard to set expectation and they try to understand issues from the end-user perspective. I have been very pleased with all outcomes. In fact I think if they should be charging more for such great service. The reward will most certainly be more business.
A must have for stores with many options.
We've used this extension for a few years for stores that need a lot of options.
Particularly dependent options for print sites and any that have a lot of configuring for their products or services.
We upgraded to the latest version which was at no extra cost and needed some help with customizing the way prices were calculated when quantities changed,
Support was quick and very helpful and understood the requirements.
Recommended.
---
Great support from an experienced developer. Highly Recommended.
Never was an IT-specialist but managed to install and easily configure this extension. Now I'm extremely happy with flexible product options and better goods description. My little dress-shop became very comfortable and informative!
This extension is great, no doubt. However, their support is second to none. They explained every feature to me patiently. We even scheduled a phone call for this to save time (much appreciate for this). Andrew is a very polite and professional person. It's a great to pleasure to deal with such team. THANK YOU!

Greeting from Netherlands.
I cannot express enough how happy I'm that found this extension. My client requested a very complex structure of custom options. The sku policy feature of this module made my day. It saved me hours dev time. These guys explained how this feture works very quickly and helped me to create a demo for my client before even a purchase. My client approved this purchase and everything was installed and configured within a day. Great job!!!
Great tool for managing inventory
I sell t-shirts of different colors and sizes. I was looking for a solution which won't require to create thousands of simple products to be combined into configurable items. I could not use standard custom options because of lack of features to upload images to options, make them dependent and track the inventory of sold options. Finally, this mod made my day. It perfectly solved my problem. I managed to create all necessary size options and add available colors of each size. For each added color I added available stock and I got what I needed! -> Customers can choose a size of my t-shirts, then available colors appear. From the back-end report I can track how many items of each color - size I have in stock.
Amazing tool!
Support team helped me to create the options like I needed. Thank you.
Rough Start but perfect now!
This is a perfect extension for someone who needs to build a product. Had some issues at first but support was very quick with fixing everything. Highly recommend this developer and extension!
Very powerful plugin and very helpful support many months after initial purchase
Advanced Product Options is the best plugin we have used for setting up logical/dependant product options and outcomes.

I am very impressed with the support.

Many other plugin companies out there close down their email support, but MageWorx continues to be very reliable!

Check out our live example in action:
http://www.plumplay.co.uk/create-your-own-swing-set.html

Good but needs some improvements for large stores
Great tool, but I'm finding a limit for how it imports large amounts of product SKUS.
To assign a template to a large number of products, the import is run using a php file...and it struggles on product imports over 2,000 products (if page stalls, work around this bug by refreshing screen if products don't start to import on sku based import).
What would be fantastic is for the tool to assign template sets in bulk through some other method other than a backend php file that struggles to handle bulk imports (SSH command line, CSV import for template sets?).
This constraint is purely on the tool, as I'm using a robust dedicated server to perform the tasks.
Hopefully, they consider providing some very necessary upgrades for anyone wishing to do type of work with stores with over 10,000 products.
In the meantime, I'm working around the shortcomings of the tool and creating 20 option template sets and spending 10-12 hours importing set by set...when in reality I really only need 1 import set for all my products.

Good, quick communication. The seller was quick to respond to my enquiries about the tool.
its really nice extension.
its very useful to me.
thanks for support me.
A great extension support Quick, great people, I'll buy again extension just in Megaworx
Great extension and support
This is a great extension. We sell products that come in different sizes, and I need a different price/sku per size, this extension does just that. Really straight forward and extremely easy to configure.
There was an update with this extension and I contacted them so that they can install it for me (because I don't know how), and although I bought that extensions months ago, they installed it for me for free. I received great support from Eugene. Great company that does excellent extensions + custom support. An e-commerce website is important so don't risk anything and just buy from mageworx, you will never regret it.
configurable product redefined
This extension makes magento's default configurable product logic obsolete.. and same is managed in a better way by this extension. Wish to use it for one my projects in future..
Superb Extension and Support
For additional product options this is the best extension available. Also support is excellent. Cannot recommend highly enough. Well worth the price, and it will pay for itself in extra sales and time saved through custom coding.
I need many custom options for my products with weight and cost price, and took a while to finally found this extension. Does as described and the most important thing is the support these guys give. I had a few problems with some CSS coding and they helped me even if it was theme related and not a problem caused by their extension.
Lifetime time upgrades and great and prompt support, what more would anyone want. I don't know any other developer that gives that.

The only company that I buy extensions from, because of their great extensions, also because of the great support they give and lifetime upgrades.
5 Stars Extension & Support
Almost in every extension installation we encounter bugs, sometimes it's a code conflict with the template or with other extensions.
As an eCommerce agency, it's really important to us the support we get from the extension company, Mageworx provide us with FAST & Professional support!
The product is awesome, exactly as described, we bought it cause a client of ours wanted to manage the custom options inventory and the product did exactly what we expected! But, it could have been a nightmare to get it work (as if) if Mageworx did not provide us with the brilliant support!
Mageworx, you deserve more than 5 stars! Good job!
Will definitly buy from you again in the future!
George Shufany

Mageworx, you deserve more than 5 stars! Great extension and Professional support! Good job!
Good extension, awesome support
As in many extensions here in Magento Connect, the extension is well written and work as intended. But I think what sets this one apart is the constant upgrade the developer is putting into the extension and willingness to customize functionality to fit exactly what I am looking for. The rate they charge for custom development is fair, and development time is good. It really helps gets our Magento installation to fully take advantage of how we go to market.
We particularly like inventory tracking of custom options and multi image support.

They utilize a ticket support system which eliminates a lot of questions and eliminate any follow-up on my end as they are on top of it.
If you need your site to work in this way, then this is an excellent extension.
I had to call on Mageworx support for a permissions issue and their professional team went in and fixed it without any fuss.

Ever reliable.I#m always happy to work with Mageworx.
Thank you for the great extension and helpful support!
Perfect extension and great support
If there is any problem, the mageworx team will fix it! A support like this is for me more important than anything else - it saves so much time! The extension is also written very well and you can set up complexe structures.
Excellent extension and amazing support
Advanced Product Options is great and does exactly what I need it to do.
I have 6 MageWorx extensions at the moment purely because all their extension work really well and their support is second to none.
Very easy to use. Integrates into a custom design painlessly. Customer support is also excellent. I recommend.
Excellent plugin if you use a lot or more complex custom options. Very helpful and saves a lot of time. We're using this plugin a few years now. It is worth to buy.
We recently updated the plugin. There are a lot of great new features. We had a few issues but the support fixed everything and communicated a explanation (which makes it easier to apply it at the live environment)
Free support is professional but in my opinion a little bit slow.

Great developer with a lot of experience. Professional business! Free support is good but can be a little faster.
The ultimate product options solution!
Our store is built around APO as a major part.
While we did modified it for our needs (as the developer has their own roadmap).
This is by far the best product options solution including a lot of killer features making it the most sophisticated in the market.
Highly recommended if your store is built around providing the customer configurable features/options!
Extensions that make the difference
This extension is simply fantastic! We had for our latest project very demanding requirements in terms of product options, colours, materials, shapes, descriptions, swatches and images, dependencies and many others. In addition... we needed maximum level of flexibility for multilanguage and multistore....
We couldn't believe that one extension could answer to all our requirements at once, but Mageworx's Advanced Product Options did it!
Very easy to install and configure (it's worth reading the product pdf to discover great tips and cool features ),
After few minutes of testing, our copywriters and graphic designers started to insert products with complex custom options.... Suprise, they didn't call the support hundreds of times to ask "how l do this" "how l do that"... Wow, product configuration now it's very easy and on frontend customers can fully configure in few clicks their products!

Mageworx is a great company because it has both great extensions and great support. This is the third extension we buy from Mageworx and everything works as expected or even better thanks to their great extensions and support that helps in getting the maximum results. We buy soon other extensions from them cause their powerful software and customer oriented approach is what is needed to build great e-comm shops.
Good extension to make highly configurable simple products, very good after sales assistance
This extension is very good and handy and helps to create a highly configurable product out of a simple product without the need of custom coding/developing worth a lot of money. Often needs to be adapted to custom theme but their support team was always excellent, fast and resolved all our queries and requests in very short time.
I can only recommend their products and services.
Thanks for all your assistance, keep up the good work.
This module is excellent - but sometimes it needs to be adapted to the personal theme. Support is efficient (lifetime support!!), though sometimes a bit slow.
Very easy to use. Got it up and running in about 2 minutes. Integrates into a custom design painlessly. Customer support is also excellent. I needed some extra functionality and they were able to add it fast.
Very professional and competent. Quality extension developer.
This extension is very flexible and let's us handle many new product option scenarios.
We have also found Mageworx support to be exceptional when/if required.
Recommended.
The best extension on the market
This is the most powerful extension on the market. It has thousands of features from big to small. It saved me $1600 in custom development to achieve my needs. These guys are amazing!!!
Thank you!!!!
Highly recommended.
This is the best extension on the market to manage custom options. It replaced 5 different extensions from different developers. Amazing! Their sku policy feature cannot be found anywhere else! support is friendly and rather quick.

Recommend!
Fast response to any problem I have with their products. good job mageworx
Our B2B website offers products with different case options at different quantity. That results in different weights, quantity added to cart and SKU. This extension saved us the headache of telling the cart what these results where when the customer chose a custom option.
Great support at mageworx and useful products
Extremely useful extension in allowing you to manage multiple attributes in addition to default ones, and to add options to products with their own attributes. In more than a year, needed support once and got the issue solved within minutes. Great extension and great support!
Extension is great, but support IS great too
1 year aftert purchasing this extension, I had a bug on a product page. I guess MageWorx was aware of it. I gave them all my ftp details and they fixed it perfectly. Delay was a bit long (2 weeek) but I guess they had other customers to help as well. I'd recommend trusting them anyway.
Wonderful Extension & Support
In purchasing this extension, it provided guest with easy access to options. Other than guest, it is great on the Admin side and provided us with what we needed.
In having some update and function issues, the developers were available to fix my issues and provide additional assistance.
Hopefully as time past, the support will still be exceptional and available.
Thanks Mageworx!
Inviting Treasures
Great extension, one of the best plugins to use if you have complex product types.
Especially want to focus on is the customer-specific modifications solution. I would recommend this extension, good price-performance ratio.
Great extension and best support
Extension rich of features and great staff support
Excellent Features, good support
Very pleased with this plugin, supports all the complex option relationships we require as well as some advanced image options that can be used to build up layered images reflecting the chosen options.
Had a problem with the parent/child option dependencies in our theme, so needed support from the developer. They were very responsive, performed troubleshooting on our theme code and provided a fix all within a short timeframe.
Very pleased and highly recommended.

Very useful for merchants that use a lot of custom options
I've used this extension for several clients. The fact that they can create templates and have dependent custom options with images associated with them is so useful. Custom developing all of this functionality would cost $10K+. Very thankful for this extension.
Speed up your work with Advanced Product Options
The APO extension is easy to install, and is working right out of the box. The extension is helping us to save hours of work, each week. For us, the extension is well worth its money. And if you have any questions, MageWorx is always there helping you. Their Free Life Time Support is giving us a peace of mind. Thanks guys and girls! Keep up the good work!
Best support for a great product
Advanced Product Options has to be one of the best plugins to use if you have complex product types. We had a few questions and needed some support and we have to say MageWorx has provided us the best support of all the plugins we have acquired. Thanks MageWorx, you guys are top notch. We definitely recommend this product
Excellent Extension & Excellent Support
I had a small problem with the extension earlier this month (though it turns out it was a Magento "Feature" and not the extension itself causing the problem).
MageWorx Support was excellent and actually went ahead and fixed it. Thank you!
Great product and a must for custom product options
I give this extension high marks. If your ecommerce site requires products to have a multitude of custom options, this extension is a must!
I did run into a few problems installing the extension; however although the developer support is a little slow to respond, they are certainly on top of it once they do!
Sharp product and sharp minds that developed it!
Great extension with outstanding support!
Outside of the great features this extension provides to give us a simplified configurable product type setup, the level of support we have received from the Mageworx team has been nothing short of outstanding. They are always quick to respond and provide resolutions to any issues, even though our issues where with another extension that shows custom options and not their direct extension. One of the best extension providers I have had the pleasure of dealing with along the way in our Magento journey!

No. 1 Magento extension on the market for creating complex product configurations
APO is a product that is worth 100% its price as it allows to create also very complex product configurations with little effort. It is for sure one of the most appreciated modules for the Platform present in the market. Thanks and best regards.
Superior extension superior service and support
I could not imagine what I would do without Advanced Product Options Magento Extension.
My product has over 20 options.
I have 8800 products
If your product has more than 5 options you need it.
If your have over 100 products with options you can not survive without it.

Support. You would probably do not need it, because the module is working right out of the box.
But if you need it – you get it. No doubt about it.
They made even customization for me. List of my option is too long, I ask put option on a separate tab, and they did, small adjustment, no questions asked, they made it.

Does any Magento Extension developer offers LIFE TIME extension updates, but MAGEWORX does.
You purchase extension and lifetime peace of mind.
Product Changelog
Legend:
New Feature
Bug Fix
Version: 4.17.11 (September 24, 2018)
Fixed product export process and PHP 7.2 compatibility
Bug fixes
Version: 4.17.10 (May 4, 2018)
Bug fixes
Version: 4.17.8 (January 12, 2017)
Fixes a problem with export of linked products (related, cross sells, up sells) in Magento 1.7.x and less
Fixes a problem with displaying the description for options of the type "Swatch" and "Multi Swatch"
Fixes a problem with displaying a special price correctly for selectable options
Fix a problem with option's tier prices if option is One-time
Fix a problem with a linked option value titles when product SKU is changed
Fix an error when creating a new product (linked option by SKU observer)
Fix an problem if option is pre-selected using "config" URL parameters when multiple values are defined
Fix an problem with the replacement SKU policy type
Code refactoring of the SKU policy functionality
Adds support of multi stocks in the Stock Report
Version: 4.17.7 (August 3, 2016)
Fixes the problem when SKU of a linked product was changed but it remained the same in the option
Fixes the problem with adding unnecessary "--" symbol in the result product SKU for options without SKU
Fixes an error in the function getIsQtyDecimal()
Minor bug fixes
Version: 4.17.6 (May 27, 2016)
Minor bug fix
Version: 4.17.6 (May 5, 2016)
Fixes a problem with store views, customer groups and view mode
Version: 4.17.5 (April 7, 2016)
Fixes a problem with the specific stock values not being saved for custom options
Removes a double * character for the required options on the front-end
Fixes a problem when the Qty Input was not shown on the front-end for some custom options
Code refactoring
Version: 4.17.4 (November 23, 2015)
Fixes an issue with setting a main product out of stock if the setting "Set Product Out of Stock if Required Option is Out of Stock" is enabled and custom options do not have inventory
Fixes a specific issue with tier prices
Version: 4.17.3 (November 05, 2015)
Compatibility with SUPEE 6788 Security Patch
Adds the The Universal Product Code (UPC) field to custom options
Adds the "Last Modified Date" column to the custom options templates grid
Adds the Extra field to Magento Import/Export
Fixes the issue with reseting the Qty input field in case of unselecting an option
Adds the minimum allowed value in the Qty Input field equal to 0 (prevents from entering negative values)
Fixes the issue with "Do Not Restore Deleted Options" feature
Fixes the issue of sorting in the stock report for custom options with not specified Qty
Fixes the issue with incorrect sort order of custom options
Removes the connection between two settings Enable Extra and Custom Options Inventory
Fixes the issue with Out-of-Stock Options - Hide
Fixes the issue with the "Set product if Out Of Stock if Required Opt" setting
Version: 4.17.2 (October 21, 2015)
Broken link on product page in admin panel
Installation error on databases with table prefix
Version: 4.17.1 (October 14, 2015)
Ability to specify a price for a character for text options
Ability to add custom options with prices calculated based on (base product price + custom options selected above)
Ability to display an option's value title for Swatch options on the front-end
Code refactoring
Version: 4.16.3 (September 18, 2015)
The code was moved to the community folder
Bug fixes
Note: See this article for more details.
Version: 4.16.1 (June 23, 2015)
The issue with setting a product price to 0 if an option is selected - resolved
The fatal error on stock report in specific cases - resolved
Version: 4.16.0 (June 10, 2015)
Minimum/Maximum quantities for custom options allowed for purchase
Low stock functionality
Improvements for displaying stock level of custom options on the front-end
Improvements for out of stock custom options
Moving extra features like X1 to a separate field
Minor bug fixes
Version: 4.15.0 (May 5, 2015)
Custom options stock report
Ability to update stock of custom options directly from the report (separately for each option or in bulk)
Ability to set, increase or decrease stock value of custom options from the report
Version: 4.14.6 (February 26, 2015)
Specific issue with dependent color swatches
The "None" value is added for non-required radio-button options
Version: 4.14.4 (January 21, 2015)
Incorrect prices on the dashboard with the absolute pricing enabled - fixed.
The issue with linking products with SKU=0 to options via SKU is resolved.
The issue with required dependent options of the date type is resolved.
SKU policy issues are resolved.
Version: 4.14.2 (December 22, 2014)
Incorrect prices were shown on the dashboard and in the sales reports if the absolute prices were enabled - fixed.
Version: 4.14.1 (December 11, 2014)
Option's description was not shown for radio-buttons on the front-end
Version: 4.14.0 (November 27, 2014)
Options can be assigned to store views now.
Version: 4.13.1 (October 20, 2014)
Ability to add description for option's variations (drop-down input type only)
Ability to display option's description as a tooltip on the front-end
Major fix for the issue with 65k id of the options
Minor bug fixes
Version: 4.12.3 (10/10/2014)
Bug fixes
Version: 4.12.3 (09/19/2014)
Alt attribute is added for swatch-images
Minor improvements were done for the table "customoptions/option_description"
Bug fixes
Version: 4.12.0 (09/01/2014)
Import/Export templates functionality is added
Option - template relation is added to standard import/export products functionality
Minor bug fixes
Version: 4.11.0 (08/21/2014)
Ability to use WYSIWYG for an option's description
Ability to display a description for custom options as a hint on the front-end
Bug fixes
Version: 4.10.6 (08/19/2014)
Inventory bug fixes
Version: 4.10.6 (07/29/2014)
Ability to select options using product URLs with options in them
Compatibility with DerModPro_BCP
Improvement for image replacing with cloud-zoom-gallery
Minor improvements for import/export processes
Notice is fixed when Sku-Name-Linking was used
Version: 4.10.4 (06/25/2014)
Percentage option price supports product group prices and catalog promotion prices
Bug fixes
Version: 4.10.2 (06/19/2014)
Minor improvements and bug fixes
Version: 4.10.0 (05/28/2014)
New option type "hidden" was added
Version: 4.9.5 (05/22/2014)
Bug fixes
Compatibility with Magento CE 1.9.x and Magento EE 1.14.x
Version: 4.9.1 (05/14/2014)
Back-end Only view mode is added (options will be hidden from customers)
Inventory issue is resolved
Issue with calculateOptionSpecialPrice notice is resolved
Code improvements
Version: 4.8.15 (05/07/2014)
Weight and Cost attributes are added to "Link Assigned Product's Attributes to Option" functionality.
Ability to hide dependent options of swatch type is resolved.
Version: 4.8.12 (05/02/2014)
Special and tier prices of custom options are added to import/export process
Import/export of custom options of the "file" type
Improved functionality for the "Set Product Out of Stock If Required Option is Out of Stock" setting
Bug fixes
Version: 4.8.9 (04/15/2014)
Minor improvements
Version: 4.8.8 (04/09/2014)
New setting "Set Product Out of Stock If Required Option is Out of Stock" is added
Copy options issue
Bug fixes
Version: 4.8.7 (04/04/2014)
Ability to copy separate options
Sync option's inventory within a single option improvement by using "i" feature
Improvements for out-of-stock options
Minor bug fixes
Version: 4.8.5 (03/31/2014)
Minor improvements and bug fixes
Version: 4.8.4 (03/26/2014)
Inventory bug fixes
Version: 4.8.3 (03/21/2014)
The extension doesn't allow adding new options if a server configuration is not correct.
The unnecessary "-" was added on the front-end if a swatch option was missing a title
Version: 4.8.2 (03/17/2014)
Re-order issue in some php versions
Tax issue is resolved
Version: 4.8.1 (03/13/2014)
Improvements for dynamic characters countdown on the front-end
Issue with adding new options on some languages
Tax issue in order's totals
Issue with hidden options on configurable products
Issue with price update on the front-end
Minor bug fixes
Version: 4.8.0 (03/11/2014)
Dynamic countdown for entered characters for text options on the front-end
Magento 1.4 improvements
Version: 4.7.10 (03/07/2014)
JS improvements when adding new options
Reorder supports SKU Policy
Minor improvements
Version: 4.7.8 (03/03/2014)
Errors in the system log are fixed
Version: 4.7.7 (02/27/2014)
IE7 issue for swatch options
Minor bug fixes and improvements
Version: 4.7.6 (02/25/2014)
Compatibility with Firegento MageSetup Extension for German market.
Compatibility with Innoexts_StorePricing
Bug fixes
Version: 4.7.5 (02/21/2014)
Installation process is improved (database errors are resolved)
Fatal error in options templates section on Magento 1.4.1 is resolved
Magento tier price issue in Magento 1.8.1 is resolved
Version: 4.7.4 (02/19/2014)
Dependent options are moved to Json
Issue with dependent check-boxes and Qty field is resolved
Issue with HTML tags in options' names in cart is resolved
Issue when custom options were not visible on the front-end if a product had empty options_container value is resolved
Issue with missing special and tier prices for custom options after duplicating products is resolved
Minor bug fixes
Version: 4.7.2
Design issue in the back-end is fixed
Problem with import in Magento 1.8 is solved
Minor bug fixes
Version: 4.7.1 (02/07/2014)
New feature "Do Not Restore Deleted Options" is added to the options templates
Ability to select customer groups for special and tier prices
Improvements for Image Replacement for Cloud Zoom
Improvements for option's image in cart if a thumbnail was less than 70px
JS issue in price calculation for configurable products with custom options
Minor bug fixes
Version: 4.6.4 (01/22/2014)
Fixes for Magento 1.8.1
Bug fixes
Version: 4.6.3 (12/28/2013)
Improvements for swatch options validation
Compatibility with CloudZoom
Code cleaning
Version: 4.6.1 (12/20/2013)
Ability to connect inventories of different options
Minor bug fixes
Version: 4.6.0 (12/19/2013)
Cost added for custom options
Addressed image issue when upgrading from old versions of the extension
Magento validation issue resolved
Version: 4.5.8 (12/12/2013)
SKU Linking improvement
Option image improvement
Version: 4.5.7 (12/11/2013)
Overlay mode improvements
Lightbox CSS improvements
Addressed JS error when the Dependency mode is off + a default option's value is selected
Version: 4.5.6 (12/6/2013)
The issue with hidden dependent options is resolved
Minor issues with saving templates when changing the view_mode are resolved
Version: 4.5.5
Improved dependency mode management
Bug fixes
Version: 4.5.1
New multi-dependency functionality
New "Allow Backorders and Notify Customer" feature
Improvements for dependent options
Improvements in export/import functionality
Bug fixes
Version: 4.4.7
New setting "Link Assigned Product's Attributes to Option via SKU: Price, Name" was added
Bug fixes and minor improvements
Version: 4.4.6
Compatibility with DerModPro_BCP
Import/Export issues are fixed for Magento 1.8
Refund issue using SKU_Policy + AutoInvoice is resolved
Several notices are fixed
Version: 4.4.5
Multi Overlay feature was added
Version: 4.4.4
Ability to "Allow Backorders" for out-of-stock options
New CSS class "CSS label-qty" was added for styling the Qty field for custom options on the front-end
Version: 4.4.3
Issue with options linked to products that can be backordered
Version: 4.4.2
New setting "Update Assigned Options' Stock on Save" was added
Overlay improvements
Version: 4.4.0
New Image Mode: Overlay
Bug fixes
Version: 4.3.9
Tax issue with bundle products.
Version: 4.3.8
Tier price calculation: the percent tier price is calculated based on an option's price
Bug fixes
Version: 4.3.6
"Starting at" supports absolute prices now
Tax issue with connected product via SKU is resolved
Inventory issue during the multi-address checkout is resolved
SKU Policy improvement: customers receives correct items in order emails now
Version: 4.3.4
"Keep Options on Unlink" improvement
Version: 4.3.3
Issue with pagination in products grid is resolved
Minor bug fixes with SKU Policy
Version: 4.3.2
Major improvements with SKU Policy
Bug fixes
Version: 4.3.0
ID column is added in the products grid in options templates
Swatch Multiselect option type is added
Bug fixes
Version: 4.2.1
Ability to create options visible in the back-end only
Support of Easy Zoom 1.0 - jQuery plugin
Special price of a product connected via SKU is copied to a special price of an option now
Support of Bundle products
Bug fixes
Version: 4.1.16
Percentage price of custom options supports product's tier price now.
Support of Backorders for options connected via SKU to other products.
Issue with an image of a last option in a drop-down is resolved now.
Version: 4.1.14
Support of Innoexts_AdvancedPricing
Issue with out of stock options of the swath type is resolved.
Issue with tax classes in case of using the SKU Policy is resolved.
Version: 4.1.11
Ability to pick a color using a color-palette
Bug fixes
Version: 4.1.8
Duplicate of new features issue is resolved
The issue with multiple currencies is resolved
Special price doubled a product's price. Resolved.
MAP issue is resolved
Minor bug fixes
Version: 4.1.3
Swatch functionality improved
Default Qty for un-checked options is 0 now
Issue for specific version of the php is resolved
Issue with updating a product price if tier prices were specified
Version: 4.1.0
Ability to specify color's hash codes to display color's thumbnail on the front-end
Bug fixes
Version: 4.0.0
Ability to upload multiple images to one option's value
Ability to replace a product's image with an option's image
Ability to replace a product's gallery with option's gallery
Ability to append option's images to product's gallery
New option "Apply Option SKU Policy To" is added. It allows to display custom options as single items at cart
Improved warning message in case of requested option's quantity is not available. The message "The requested quantity for "[product_name]" is not available." was replaced by "The requested quantity for "[product_name] / [option's name]" is not available.
Bug fixes
Version: 3.9.6
Tier Price support for custom options
SKU Policy setting is added
Special Price for custom options is added
Bug fixes
Version: 3.3.18
The issue with CSV import of large files
The issue with tax calculation in case of including taxes
Version: 3.3.16
Magento setting "Calculation Settings->Catalog Prices" works correctly with custom options now
Issue with x1 for different options is resolved
Version: 3.3.15
Major issue with tax classes is resolved
Version: 3.3.14
Ability to use a product's tax class for a custom option's price connected to this product via SKU
Improved behavior of taxes for custom options
Minor bug fixes
Version: 3.3.12
Ability to filter products by categories when assign a template to products
Ability to display "Starting At" label for a product price, which has custom options with prices
Version: 3.3.11
Support of FME_Csvpricing extension
The issues with file type options when editing cart products resolved
Version: 3.3.9
Minor bug fixes
Version: 3.3.7
Custom option's inventory is connected to the "Return to Stock" setting in case of refunds
Version: 3.3.6
The issue with "Is Required" setting for options templates resolved
Version: 3.3.5
Ability to assign template to products by SKU and Product IDs.
Version: 3.3.4
New column "_custom_option_div_class" added in the import/export
Version: 3.3.3
Support of Excellence_Ajax
The issue with connected Qty resolved
The issue with status and visibility of products in products grid resolved
The issue with required dependent options resolved
Version: 3.3.2
Code optimization and bug fixes
Version: 3.3.0
"Enable Option Price Linking to Product Price via SKU" setting added
Customer Groups issues resolved
Version: 3.2.0
Improved management of "in stock" status of a product in case all required options become out of stock
Version: 3.1.20
The translation issue with "Out of Stock" label
Version: 3.1.19
The sorting issue in different browsers with dependent options
The qty issue when editing orders
Version: 3.1.17
Minor bug fixes
Version: 3.1.16
Japanese locale
The issue with creating orders from the back-end
Version: 3.1.15
The issue with Magento EE gift card product type
Minor bug fixes
Version: 3.1.12
Major improvements of options' inventory
Minor JS fixes for dependent options
Version: 3.1.10
Minor bug fixes with options' inventory
Version: 3.1.8
Option's SKU and price are added in the children pop-up
The issue with option's inventory while adding products to cart resolved
Version: 3.1.7
Minor bug fixes for custom option's image
Version: 3.1.6
Minor bug fixes for the orders created from the back-end
Version: 3.1.5
Support of Mico_Mupload extension (for "file" option's type)
Minor bug fixes for the absolute price and weights
Version: 3.1.3
"Products" column is added in templates grid
Ability to import images for custom options
Version: 3.1.1
Ability to specify weight for custom options
Improved process of options to products assignment (now it works with unlimited number of products)
Added "Enable Specifying CSS Class in Option Div"
Improved Absolute Price
Support of special price
Improved functionality of options' inventory
Support of sgpsSecure extension
Improved dependent options
Added "Enable Pre-populating Text for Input Options"
Out of stock dependent issue resolved
Options for custom groups for manual creating orders issue resolved
Magento EE 1.10.0 issue resolved
Magento EE re-index issue resolved
Version: 2.9.4
The issue with options for customer groups in the back-end resolved
Magento export issue resolved
Version: 2.9.3
The issue with out of stock dependent options
Version: 2.9.2
The issue with percentage options at cart page
Version: 2.9.1
Duplicating templates with different store views
Version: 2.9.0
Calculation of minimal price fixed
Version: 2.8.9
Issues with specific images resolved
The issue with out of stock options of drop-down and check-box types resolved
Version: 2.8.8
Support of OneStepCheckout
Support of Paypal Express payment method
The issue in assigning options to products
The issue with a product's inventory in case of connected options
The issue with an order refund/cancel and an option's inventory
The issue in creating orders with dependent custom options from the back-end
Version: 2.8.7
The issue with options' prices for different store views
The issue with options' quantity in Magento 1.4.x
The issue with creating orders in the back-end
Version: 2.8.6
The issue with a product price in Magento 1.7
Version: 2.8.5
The issue with re-order feature
The issue with editing orders
The issue of JS validation when saving a custom option template
Version: 2.8.4
If a payment was unsuccessful, a stock inventory of a custom option is returned.
Minor bug fixes.
Version: 2.8.3
The issues with import/export in Magento 1.6.x
Version: 2.8.2
Minor issue when assigning options templates from a product view
Version: 2.8.1
Magento issue with special symbols in option's name
The issue with updating options templates
Version: 2.8.0
Import/Export support
The issue with updating products at cart page
The issue with updating quantity of options in IE
Version: 2.7.3
The issue with a comma separated symbol in an option's title
JS error in dependent options
Magento-specific issue (reproduced on some Magento versions only)
Version: 2.7.2
The fix for Lightbox for IE8
Several JS issues
The issue in the installation process
Improvements for dependent options in IE
Version: 2.7.1
Several notices are fixed
The issue with removing option from not default store view
The issue with lightbox for IE
Version: 2.6.0 - 2.7.0
Multi-store support for custom options templates
The issue with required options
n/a is displayed in Dependent pop-up if a children option has no title
A template was still assigned If remove all its options manually on a product level
Next button was missing in some cases in lightbox
"+" sign is removed for custom options when absolute price is enabled
Version: 2.5.1
The issue with default values of dependent options
Version: 2.5.0
Absolute prices for custom options (option's price replaces a product's price)
Compatibility with ActiveQuoteCheckout and FireCheckout extensions
The issue with required_options flag
Version: 2.4.6
Prices of options are displayed in children pop-up
Version: 2.4.5
The issue with dependent options
Version: 2.4.4
Minor bug fixes
Version: 2.4.3
The issue with options for different customer groups
Version: 2.4.2
The issue with placing orders without custom options
Version: 2.4.1
Lightbox was modified to avoid conflicts with other extensions
The issue with editing options at cart page
The issue with stock quantity of custom option when creating orders from the back-end
Version: 2.4.0
The setting to display or hide quantity for custom options at cart page
"Select All" option is added when selecting children options
Version: 2.3.6
Minor bug fixes
Version: 2.3.5
The issue with sorting in the back-end
The issue with Qty for specific custom options
Version: 2.3.4
The issue with options removal in all browsers
The issue with options in confirmation emails, orders views
Compatibility with GoMage Checkout
The error "Item qty declaration error" is fixed
Version: 2.3.3
Dependent options were re-developed to ensure their correct work
Images for custom options were re-developed to ensure their correct work
The issue with dependent options and images when editing orders
Minor bug fixes
Version: 2.3.1
Ability to specify the size of image's thumbnail for custom options
The engine for options images was totally rebuilt
The issue with png and gif images
Minor bug fixes for custom options images
Version: 2.2.7
The issue with children required custom options
Improved JS code for images
Version: 2.2.6
The option's quantity field was disabled in case of disabled "Manage Stock" setting
The issue with adding products to cart in Magento 1.4.1.1
The limit of children field is removed
Version: 2.2.5
The issue with edition of dependent options at cart page
Compatibility with IE8
The issue with adding options for default store view
The issue with missing description when duplicate options
The behavior of custom options' inventory is improved
Minor bug fixes
Version: 2.2.3
The issue with downloadable products
Conflicts with 3rd party extensions
Version: 2.2.2
Minor bug fixes
Version: 2.2.1
Ability to hide dependent custom options unless customers select parent options
Minor bug fixes
Version: 2.2.0
Dependent Custom Options
Code optimization
The issue with Chrome browser
Version: 2.1.11
The label that shows belonging to custom options template is added for options in the back-end on product view
The size of "Description" field was increased in the back-end
New process of saving custom options
Optimization of saving process
The issue with a default option's image
Conflict with "Fixed Quantities' by ZetaPrints
Version: 2.1.6
Ability to specify individual quantity for each custom option on the front-end
The filter issue in "Products" tab in the templates
Template edition issue
Duplicate product issue
Order canceling issue
The issue with out-of-stock options
The issue with configurable products
Compatibility problems with Instant Cart extension
Code cleaning
Performance optimization
The issue with the products' inventory assigned via SKU
Version: 2.0.4
The issue with "Select Visible" option
Image's issue
The options' saving process was re-build to ensure stable work in any cases
Version: 2.0.3
Magento 1.4.x bug fixes
Permission role issue
Version: 2.0.2
Minor bug fixes
Version: 2.0.1
Ability to assign custom options per customer groups
Version: 2.0
Duplicate option for option template
Default feature for a custom option
Inventory of a custom option is now connected with simple products if SKU is entered
"Out of stock" support for radio-buttons and check-box types of custom options
Compatibility with Magento 1.5.1
The issue while image uploading during the option creation
Version: 1.1.2
Quantity of custom options wasn't checked when updating products in cart
Incorrect quantity verification if this feature is disabled
Version: 1.1.1
Quantity of custom options wasn't checked when adding products to cart
Product filter didn't work In "Products" tab in case of large number of products
Version: 1.1.0
Custom Options Inventory
Custom Options Images
Custom Options Absolute pricing
Work with large number of products
Version: 1.0.3
Mass assignment to all products
Removal of last assigned product from option template
Removal of options template
Duplicate product with custom options
Version: 1.0.2
Compatibility with Magento 1.4
Possibility to specify description for custom options
Version: 1.0.1
Fixed Magento Enterprise incompatibility bug
Version: 1.0.0
Initial release