Magnify your loyalty program by introducing advanced gift card options. Let your customers conveniently buy, share and redeem gift card products whenever they want it.With this gifting extension for Magento you can also easily create and manage gift certificates, pre-generated gift codes for your campaigns, apply flexibly gift card pricing schemes, and more.
Fully compatible with All Magento Security Patches.
Easy and smooth transfer of all features to Magento 2 version.

Contact us

to get a personal 25% discount!
What is Gift Card for?
Gift Card Product Types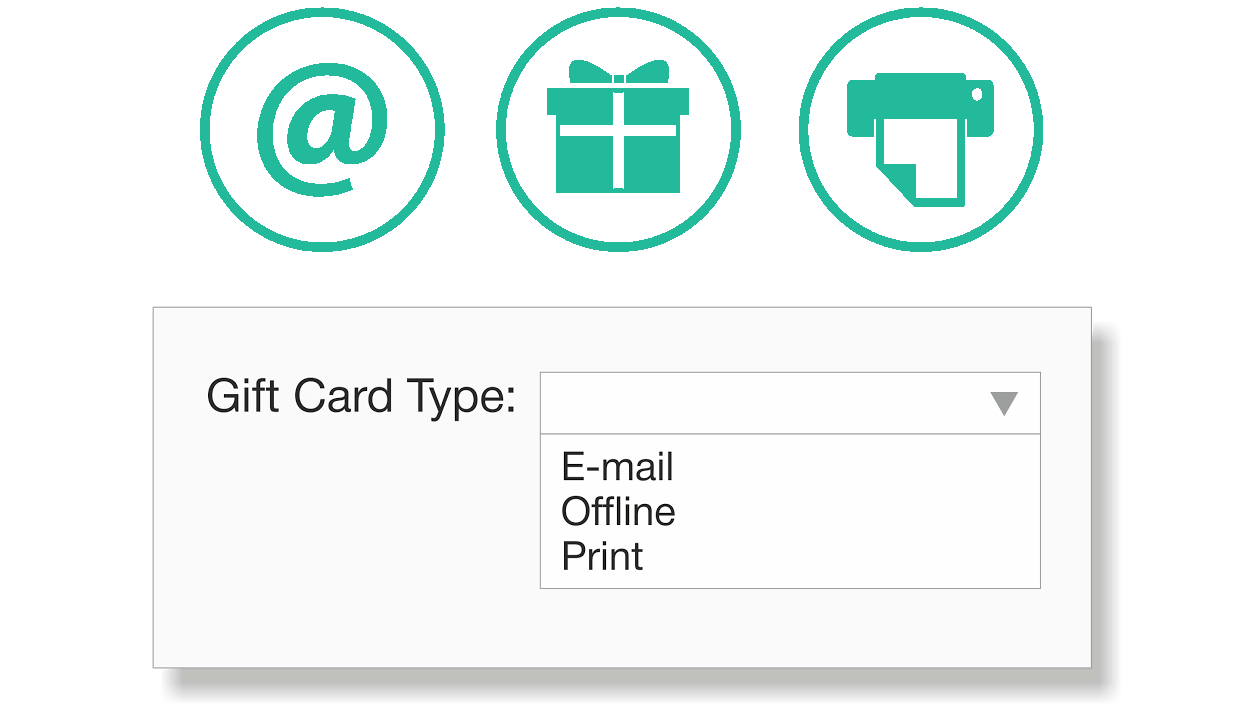 This handy Gift Card Extension lets you create both physical and virtual gift card products of 3 different types:
an email gift card
a physical offline gift card
a print gift card
Gift Card Values & Pricing Schemes
The extension lets your customers choose from 3 types of pricing schemes for your gift cards and certificates:


a fixed price with the value that can't be modified
a list of predefined prices organized in a drop-down menu
a price range where a certain gift card amount is set by a customer
NEW What is more, your customers can spend a gift card amount fully or partially and use one gift certificate multiple times.
Full Extension Back-End Control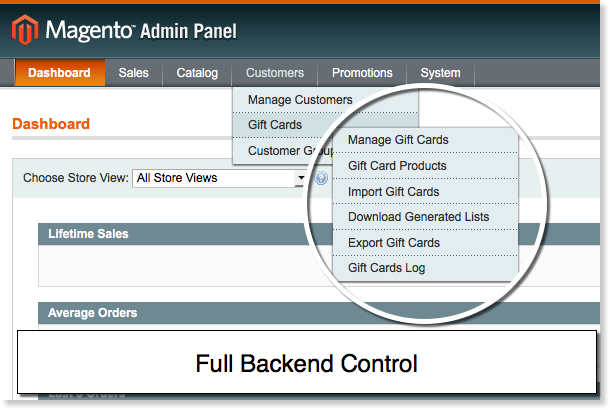 The Gift Card extension for Magento allows you to take gift products in your online store under full control:
Create and modify gift codes
Define gift card value, edit balance and set currency
Set gift card status
Enable expiration period
Add different gift cards for different store views

NEW

Export gift codes to a CSV file when generating them in bulk
Moreover, with this extension you can:
Manually apply gift cards for newly placed orders in the Admin panel

NEW

Manage all the existing gift cards

NEW

Completely refund orders that were paid with gift certificates

NEW

Get detailed statistics in the Gift Cards Log

NEW

Take full backend control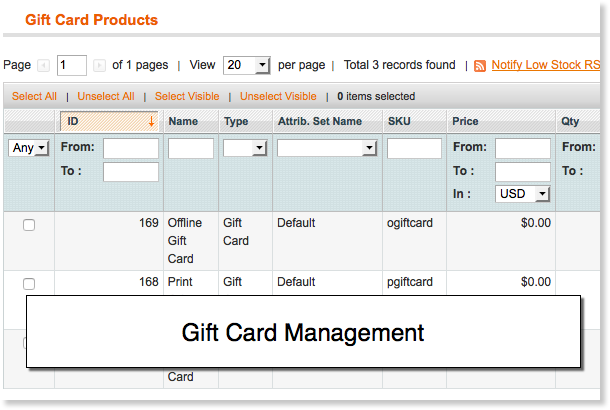 Mass-Creating Gift Card Codes

The extension allows you to generate multiple gift codes in a mouse click. All the codes created in bulk can be stored into a CSV file and then utilized for marketing and promotion purposes.
Pre-Generated Gift Codes Option
UNIQUE
This unique feature enables you to pre-generate any number of gift codes. You simply create the needed amount of codes and then sell them whenever and wherever you want.
Pre-generated codes can be used for promotional newsletters, marketing campaigns and other sales-increasing activities.
Moreover, you get a full control over the pre-generated gift cards. You can manage them and monitor their availability.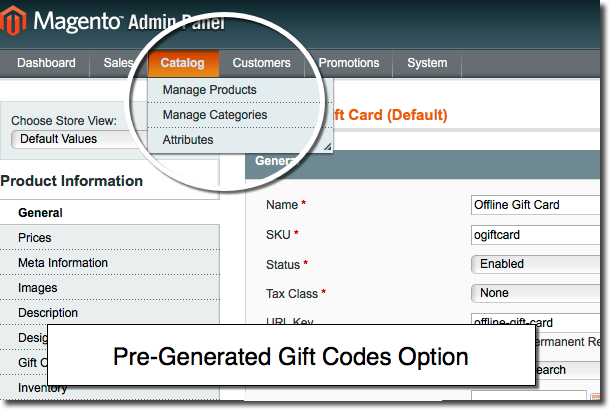 Redeeming Gift Card Codes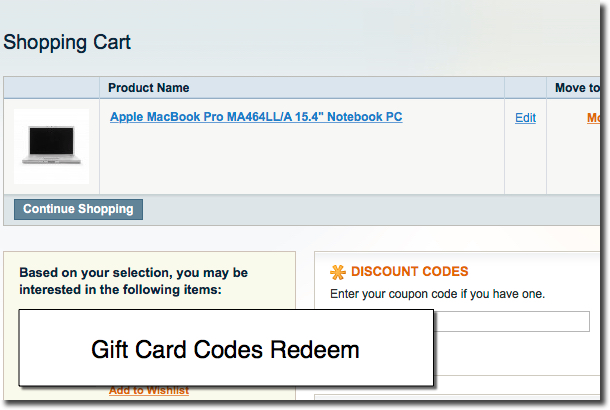 The Gift Cards extension for Magento makes the process of gift card application easy and smooth.
Card recipient can redeem gift codes in a special block that is located in the shopping cart or at the checkout page.
Gift Cards Export & Import
The extension provides you with all-inclusive toolkit to import and export gift codes. No matter, whether you need to distribute or transfer gift cards data, the Gift Cards extension can do this in a click.
You can store a list of previously generated codes into a CSV file to easily transfer them.
Moreover, the extension enables you to smoothly import gift card data from another Magento store.
Gift cards export can be processed into CSV or XML files with the ability to modify the date, card type and status.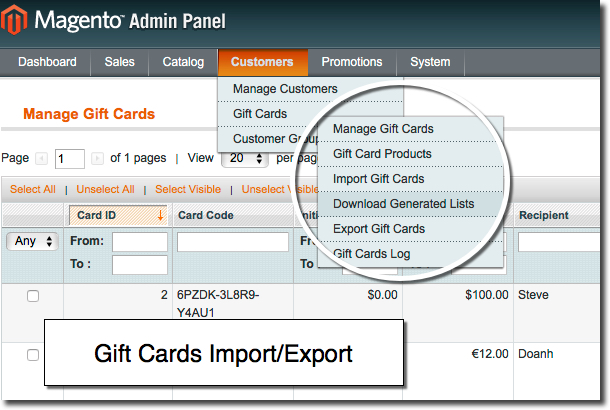 Other Features
NEW

API gift cards management: create, modify, delete and overview gift cards outside the admin panel
Registered customers and guests have the ability to redeem gift cards
Refund orders redeemed with gift cards
Customer's personal gift messages for all types of gift cards
The ability to define a gift card image
Modify shipping fees for gift cards that are send by post
*Developed in cooperation with WebTex Software, a MageWorx company.
This extension for Magento 1 is fully GDPR complaint. The software neither collects nor stores any personal users' data.
Also, the extension doesn't share any personal info with third parties, and doesn't use this data for any marketing purposes.
Comes with
FREE Updates
and Improvements

Risk-FREE
30-day Money Back
You May Also Like
These are the extensions you may also be interested in.
Loyalty Reward Points
Magento Store Credits tool. Reward tour best customers with points and retain them and motivate the profitable behavior of the new ones.

Explore and Buy
Advanced Product Options
One-of-a-kind solution for managing Magento custom options. Configure custom options for any product and more.

Explore and Buy
Reviews of Gift Card extension for Magento
Excellent expansion to attract new customers.
Excellent expansion to attract new customers. Easy to configure and works great.
Very helpful staff, always fixes every problem, months, even years later.
Wonderfull Support Life time
I bought a extension 2 years ago, and I had a problem, and MageWorx team fix the problem complete free. MageWorx team are very professional, quick and committed to their customers.
The extension is wonderful with a lot of features and Support is real Life time.
I ran into a conflict between this extension and another from a different developer. Eugene at mageworx quickly found the problem and came up with a solution. I would definitely recommend mageworx to anyone in need of extensions for Magento.
I bought some extensions in Mageworx for different projects, and always help me a lot to fix any issue. Also they are very quick to reply and professional.
If you plan to buy an extension, look first at Mageworx.
simple, easy to install and use
after fighting with some other more complicated (unnecessarily so) gift card extensions, I found this one. It's exactly what I was looking for.
The team at Mageworx has been amazing! Very professional and super fast. The were some adjustments that's needed to be done due to another extension and everything was handle very quickly. Highly recommend company!!!
Excellent extension and support
The extensions and support has been amazing - prompt replies and sorted any issues within a short period - highly recommend this company.
The extension has become a magic wand for my business. Besides great functionality - quite enjoying flexibility in setting prices - communication with the dev team is at a high level. Great dealing with you!
Support is Good and Extension is More than Awesome
The support of Mageworx is great and this extension helps to retain customers loyalty by giving them extra on festive occasions.
Very professional team, they resolved my problem with fast and excellent support.
I've come here to write that I'm impressed with excellent and extensive support of this company. I have issue with the extension at my checkout, and they fixed it within a couple of hours. Awesome app and super professional team!
I am unfamiliar with coding and was intimidated to try this extension, but found it to be well supported. Whenever I had questions, they were answered promptly and thoroughly. I highly recommend this tool for the set up , support and great user experience.
Excellent product and the support was responsive and quick to help.
Easy plugin and great customer support! I had issues installing plugin because I forgot to turn off compilation. Support responded quickly and had my gift card extension up in no time!
Best Gift Card plugin and great support
Some of the quickest and well communicated support. I've tried a few ad this has all the features I need. Easy to set up and configure.
Awesome gifting extension!
Awesome gifting extension!

Finally, I've found the gifting extension that totally suits my needs!! What I love most about the software is that it lets me sell gift codes via emails. Another cool option is that you can choose from various pricing schemes and customize gift certificates according to your needs. Perferct! I recommend this module to everyone who runs a small or medium-size magento businesses. PS Also, the support is super quick and helpful!

The most amazing customer support ever!!!
Let me give you a bit of background. I work in a store and deal with a website that was made for us. When we got the website it already had Webtex Gift Cards, but it had the regular 6 step Magento checkout. A half a year later I had Webtex merge their gift cards with a one-step checkout that I had installed. They were very quick to do it for us. Now it is like a year and half later and we changing our one step checkout (because the one we currently have has some bugs) and with no questions asked they are merging their extension with our new checkout page. There is no other company that backs their products like Webtex does. They are truly amazing!!!!!!
I highly recommend that while shopping for extensions you need looking first at the great extensions that Webtex has to offer.
This extension works great; when I first installed it one year ago, I needed help because I ran into trouble, but literally within 10 minutes, the Webtex-team solved the problem. Now, one year later, there are problems again - not caused by the extension, but by my update to MAgento 1.9.2.4. Again: Once a support-ticket was opened by me, it took 30 minutes untill everything was fixed again. This support is outstanding, I can really recommend the extension for its great functionality and of course for the outstanding support. Money very, very well spent!
Gift Card Extension ROCKS
Gotta love how great these guys are. Went above and beyond to make us happy and get their extension working flawlessly on our site.
Would recommend them to anyone looking for great ext with excellent customer service.
We inherited a Magento website from another web design company who clearly didn't have a clue what they were doing. Lots of things were broken, including this extension.
We explained the situation to Webtex who helped us to get the problems resolved very quickly.

Good one, but no design customization option
The first impression of this tool looked really promising. And indeed everything works perfect as it's described. But no space for design customization. So guys, please add this function for such design maniacs like me and it would absolutely a 5-star-tool.
Nice extension with good support
I work with mageworx since 2012. They do great extensions and help you every time you need their help. This extension is among my favorite modules. I replaced magestore module with this gifting solution because of mageworx support. It's fast and professional.

Thank you guys!

Greetings from Italy.
Works great, could not ask for any other feature. Support is top of the line. We had issue's with our custom template and their support team took care of everything.

Purchased for of my 2 stores and am happy with it!
A year ago I bought this extension on Webtex website and I now I got another one (for my new store) here.

A bunch of great features make the module "must have" for any Magento store. The ability to generate codes in bulk is really helpful, and multiple pricing schemes for gift cards is a God sent. And the support.. it's beyond any praise! These guys at MageWorx and Webtex know what merchants REALLY need!
This Gift Card is awesome!!!

The installation went smooth and the configuration was also just a pleasure. We were astonished by the number of features - especially by the pre-generated certificates functionality. Our customers always positively comment on our store gift cards. Summing up - the extension gets 5 STARS.
I installed the extension myself but it didn't work. I probably missed something. But the support team did a great job, they fixed the problem the same day! Very happy with that!
Great solution, the best support!
We used 2 different gift card extensions from other vendors but all of them had some issues and the support was slow, although developers are quite big. This extension worked out of the box and the support helped me with all my pre-sales questions very quickly. I'm happy like a kid now. Thank you!
I have been using this extension for 2 months and I was waiting for the features from recent update since my purchase date. I'm proud I was one of the first people who requested these features and magewiorx added them rather quickly. Highly recommended developer!
Nice extension with great support
What I love in these guys is that when you email them, you can be 100% sure that you will receive a prompt professional reply. Their extensions are great and this one is great as well. I'm not sure whether they sleep at all or work 24/7 but everything they do is fantastic.
I love you guys!
Works Great, Professional Installation
I am always scared of Magento Extensions, in case they break something, or the entire site, but we had numerous requests for gift cards. This worked great, and the fact that they handled the installation made life much, much easier.

Dedicated Support & Perfect Extension
I am using this extension for over 2 years, they upgrade it for me free of charge. Free means free. They have free dedicated support.
As a merchant, I am dealing with lots of support teams and magento extension providers.
Webtex team are beyond of my expectation. Knowledgeable support team, they believe on customers and take care of them very well.
I suggest this extension and dedicated support, produly for everyone.
Just try and work with Webtex team to figure out by yourself.
Amazing Product and Service! Do NOT hesitate on the price!
The first time I downloaded the product I had no issues implementing it myself - we had to redo our website and when I went to implement it again I ran into some problems. The developers took care of it and got it all up and running perfect for me, 6 months after I purchased the product! They obviously care about their customers and have long term support. Will order other extensions from them.
they provide best support... Very nice people.. and best extension..
Great Gift Card Extension!
Works as described. I had a few hiccups with it, and the developer fixed within hours. Great extension, and company.
Out of the box, this module installed fine and worked fairly well. However, we needed some tweaks in order to get Gift Cards working to our needs. Were needed it to work with our OneStepCheckout module (it works fine for Magento's default checkout).
We also ran into a few other issues, one being where we couldn't ship physical gift cards because the gift cards didn't have a weight. Another was we couldn't get the gift card redeem to appear on our mobile site template.
And lastly, there was an error message when trying to invoice an order that was partially paid for (used gift card and paid off the remainder with credit card). We contacted Alex and he pretty much fixed it all up. While they may be on the opposite ends of the globe from us, we received amazing fast support service.
Great support - even when we upgraded to a new template some time after initial purchase and install. Great attention to detail even on the really irritating "little" problems that make such a big difference.

Can't praise Alex and his team enough :-)
Excellent extension and support
This gift card extension is excellent and has helped me generate a lot of sales. On top of that, webtex has unbelievable support. Fast and reliable.
Excellent extension and excellent service!
Any problems I had with this extension were QUICKLY and EFFICIENTLY handled by tech support. It works perfectly as described. I would highly recommend it and would not hesitate to purchase another from Webtex.

This is a great gift card module - much better than the others out there - definitely just save yourself some time and get this - works great and we are very happy with this!
Re-Definition of FAST and GOOD Support
I had some troubles using this extension with my heavily customized theme.
It just took some hours to get the issue resolved with the lightning fast support of Webtex.
I can highly recommend the people @Webtex and will buy the next instance of this extension for the next shop for sure.
Thank you Alex.
Very Good Customer Service
I bought this and had trouble installing it and contacted Webtex. They quickly fixed it and it is now working perfectly.
Thanks Alex for your help
Worth It - Author Good Guy
It works, gives you a nice dropdown, 3 different methods of delivery, well worth the money for the time savings alone.
Have to say - super fast reply to questions to the author, seems like a good guy
Excellent Extension with Awesome Support
If you're looking to add a gift card functionality in your Magento store, this is the extension to choose.
It's packed with tons of useful features and configurable options, works smoothly, and installation is a painless process.
We initially started using this extension in our 1.4.1.1 Magento shop and it's been working without a hitch for over a year. Recently, we've been looking at upgrading our Magento to 1.7.0.2 and all we need was to drop WebTex an email and ask for the latest release. No questions asked, we received it within an hour of our inquiry. We had a small compatibility issue with our customized template, but got an excellent support from Alex and it was quickly resolved.
With unlimited free future updates and one of the best supports we've ever seen, this extension is a total no-brainer.
If we had one wish for a feature add, it'd be the ability to quickly see which orders the sold gift cards were applied to, but that's only tiny drop in the ocean of awesome.
Heartfelt thank you to Alex and WebTex.
Great support and extension
Got a little problem with extension and it was fixed by support just in few minutes after I filled support form.
Great extension and support!
Great extension, even better support
Can't add much to what's already been said but the module is really useful and well written and the support when needed (through a mistake on our part) was exceptionally fast and helpful.
Recommended.
Thanks Alex, This is great extension with clean code
Awesome extension, awesome support
This extension is awesome, alex is very helpful in helping out with the integration. The extension is flexible - it allows us to switch off or on multiple options. A cool feature that is added in the latest version is the bulk create option. We are thinking of running a promo on our website where we want to distribute 100 gift cards to the customers, instead of creating these gift cards one by one - we can create 100 such codes with just one click. Gift cards are better to give than coupon codes - as these cannot be misused. Very happy with this extension.
Great extension, fantastic support
I'm a programmer and I received great support from Alex during and after installation of the extension on our clients site. Appreciated!
Amazing Product and Amazing Support
A client of mine wanted their customers to have the option to send gift cards to family or friends. I found this extension and its perfect. I had a few issues with it but Alex was able to help us. They were extremely fast and very helpful!
Thanks Alex, for all your help
Thanks Alex, for all your help installing the new extensions, Wedding Registry and Gift Card, I'm a bit inexperienced in Web Development and your support is greatly appreciated.,
Regards, Gerry Browne, Dublin, Ireland
Excellent Support, Our Customers Love It
I must agree with other customers reviews, the support is number one. I've purchased over 20 extensions in the past from various suppliers. Webtex provides one, if not the best customer support. The extension works great, we had it translated to spanish with no problems. We decided to purchase "Gift Cards" also. Thank You Webtex.
Thanks a lot for a great product.
The support is also awesome.
Itay
We had a few problems with the extension due to customisations made to our installation. Webtex were very quick to reply to our enquiries and did a great job of identifying and resolving these issues for us.
Very good plug-in, great technical support!
I would gladly suggest WEBTEX to all our costumers.
I would highly recommend their solution
We use : Magento 1.5.1
When we migrated to Magento, we ran into the problem with lack of support for gift cards. We tried another vendors solution and ran into compatibility problems. I read about Webtex's solution on a forum and gave them a shot.
This package does everything it says it does and more. We needed some custom tailoring to fit our needs and Alex over at Webtex stepped up to the plate and helped us along (Even during the Thanksgiving break (for us in the States))
I would highly recommend their solution if you need a feature packed gift card solution that works well, and is supported, go with these guys.
Product Changelog
Legend:
New Feature
Bug Fix
Version: 4.3.0 (February 18, 2016)
Adds the gift cards log (all the actions with the gift cards are logged so admin can track all the changes)
Improves gift cards behavior in case of refunds
Minor user experience improvements in the back-end
Version: 4.2.0 (February 8, 2016)
Improves the user experience using partial values of gift cards during the checkout
Forbids to use gift cards to purchase gift cards
Minor bug fixes
Version: 4.1.0 (February 2, 2016)
Default currency of Magento store is pre-selected when creating a gift card now
Adds Print and Delete actions to the gift cards list
Improves the user experience for saving gift card codes to CSV while creating them in bulk
Adds the new "Manage Gift Card Products" section to manage gift card products more efficiently
Minor user experience improvements
Fixes an issue with decimal part of gift card value
Version: 4.0.4 (November 16, 2015)
Minor bug fixes
Version: 4.0.3 (November 10, 2015)
Compatible with Security Patch 6788
Version: 4.0.2 (November 03, 2015)
Minor bug fixes
Version: 4.0.0 (May 29, 2015)
Split transactions with Partial Payment option
Allow attaching a Gift Card to a specific website while making a purchase
Set expiration timespan (in days)
Access Gift Cards with API
Export Gift Cards into .csv and .xml files.
Version: 3.0.0 (January 15, 2015)
Ability to use gift cards by guests
Ability to specify Delivery date for Email Gift Cards
Ability to set shipping fees for "Send by Post Offices gift card"
Email, Print-out, Send by Post Offices gift card types available
Full Gift Cards statistic in the admin panel
Ability to import gift cards from csv file
Ability to preview gift card before buying
Ability to apply gift card amount to taxes.
Ability to check gift cards balance in My Account
Ability to gift card's orders in My Account
Using gift card with PayPal.
Ability to apply gift cards when creating an order through admin panel
Ability to print gift cards from My Account for Print Gift cards.
Currency icon in preview.
Statistic of used gift cards in My Account.
Displaying applied gift cards in the Order View
Buying Gift Cards with Taxes Incl were fixed
Displaying gift cards code in the shopping cart
Displaying gift card information in the shopping cart when buying it.
Edit gift card information from shopping cart.
Minor bug fixes.
Version: 2.0.0 (June 20, 2014)
Added the third type of gift cards: Send by Post Office. Which means that now you are able to physically send out gift +cards via classic mail
Supports multi currencies
Supports multi stores
Ability to create gift cards with fixed prices. The price is specified by store admin, who can create as many such gift cards as needed
Ability to edit the amount of gift card in the backend
Problem in the checkout when buying gift card + another products using gift card
The problem with a price range validation
Ability to use discount coupons and gift cards together
Ability for admin to preview/print all gift cards
Ability to enable/disable available types of gift cards ("E-mail Gift Card", "Print-Out Gift Card", "Send by post office")
Ability to define which image to display on the Git Card: default image or the image from the product "Gift Card.
Tax calculation when using Gift Card amount
Attach PDF version of gift card to email
Ability to apply gift cards in admin panel while creating orders for existing customers
Ability to control purchased gift cards in My Account
Ability to generate gift card codes in bulk through admin panel and export them into csv file
Ability to add/edit gift card codes manually in the admin area
Ability to configure gift card product price to be a dropdown
Ability to apply gift card amount to shipping fees.
Version: 1.0.0 (February 14, 2014)
Initial release