Magnify your loyalty program by introducing advanced gift card options. Let your customers conveniently buy, share and redeem gift card products whenever they want it.With this gifting extension for Magento you can also easily create and manage gift certificates, pre-generated gift codes for your campaigns, apply flexibly gift card pricing schemes, and more.
Fully compatible with All Magento Security Patches.
Easy and smooth transfer of all features to Magento 2 version.

Contact us

to get a personal 25% discount!
What is Gift Card for?
Gift Card Product Types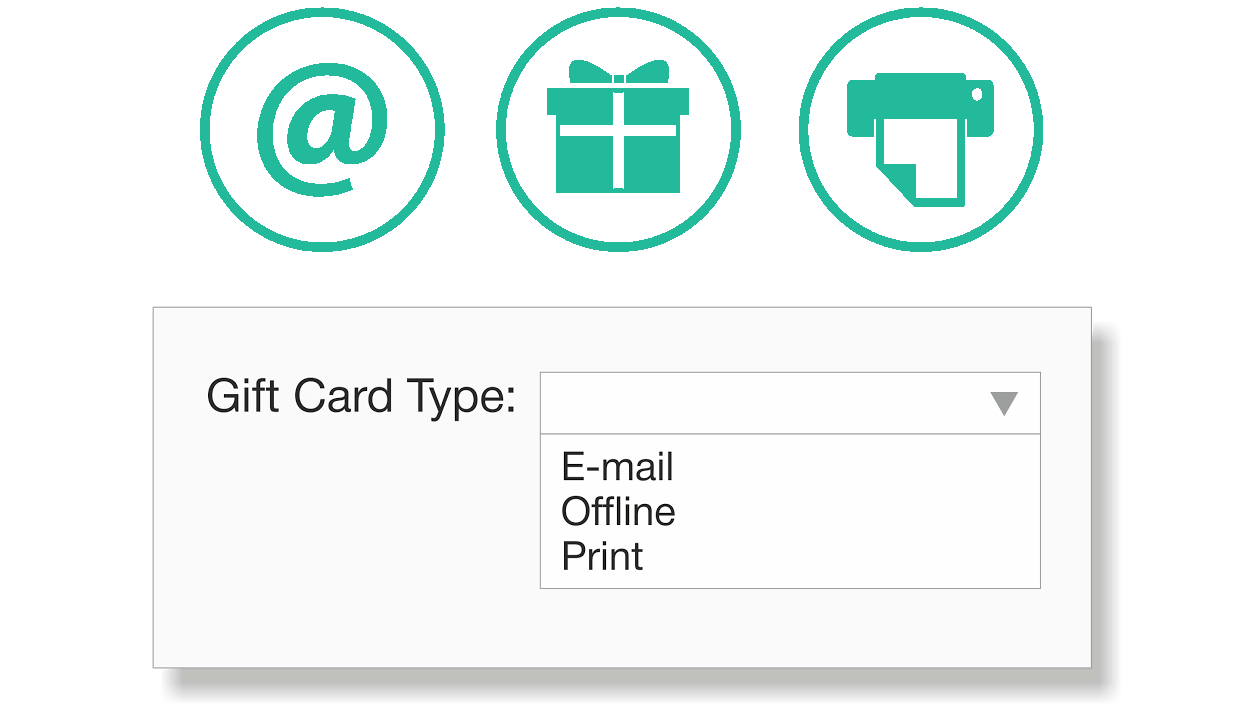 This handy Gift Card Extension lets you create both physical and virtual gift card products of 3 different types:
an email gift card
a physical offline gift card
a print gift card
Gift Card Values & Pricing Schemes
The extension lets your customers choose from 3 types of pricing schemes for your gift cards and certificates:


a fixed price with the value that can't be modified
a list of predefined prices organized in a drop-down menu
a price range where a certain gift card amount is set by a customer
NEW What is more, your customers can spend a gift card amount fully or partially and use one gift certificate multiple times.
Full Extension Back-End Control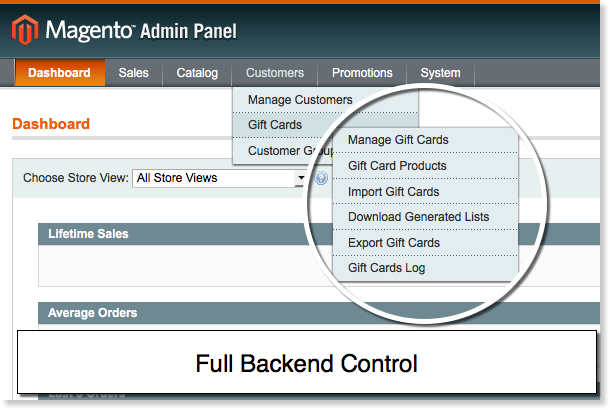 The Gift Card extension for Magento allows you to take gift products in your online store under full control:
Create and modify gift codes
Define gift card value, edit balance and set currency
Set gift card status
Enable expiration period
Add different gift cards for different store views

NEW

Export gift codes to a CSV file when generating them in bulk
Moreover, with this extension you can:
Manually apply gift cards for newly placed orders in the Admin panel

NEW

Manage all the existing gift cards

NEW

Completely refund orders that were paid with gift certificates

NEW

Get detailed statistics in the Gift Cards Log

NEW

Take full backend control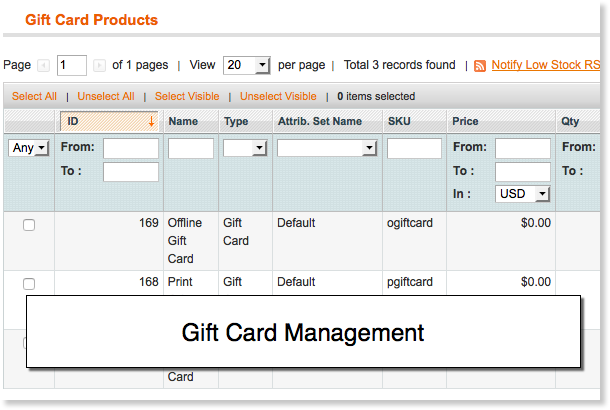 Mass-Creating Gift Card Codes

The extension allows you to generate multiple gift codes in a mouse click. All the codes created in bulk can be stored into a CSV file and then utilized for marketing and promotion purposes.
Pre-Generated Gift Codes Option
UNIQUE
This unique feature enables you to pre-generate any number of gift codes. You simply create the needed amount of codes and then sell them whenever and wherever you want.
Pre-generated codes can be used for promotional newsletters, marketing campaigns and other sales-increasing activities.
Moreover, you get a full control over the pre-generated gift cards. You can manage them and monitor their availability.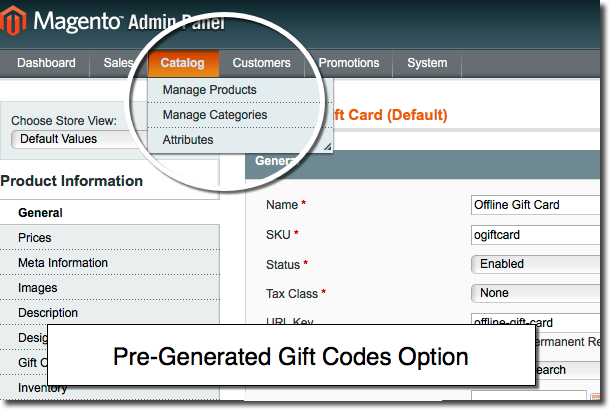 Redeeming Gift Card Codes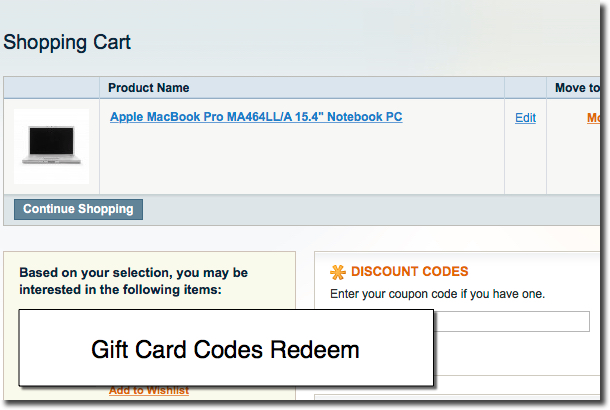 The Gift Cards extension for Magento makes the process of gift card application easy and smooth.
Card recipient can redeem gift codes in a special block that is located in the shopping cart or at the checkout page.
Gift Cards Export & Import
The extension provides you with all-inclusive toolkit to import and export gift codes. No matter, whether you need to distribute or transfer gift cards data, the Gift Cards extension can do this in a click.
You can store a list of previously generated codes into a CSV file to easily transfer them.
Moreover, the extension enables you to smoothly import gift card data from another Magento store.
Gift cards export can be processed into CSV or XML files with the ability to modify the date, card type and status.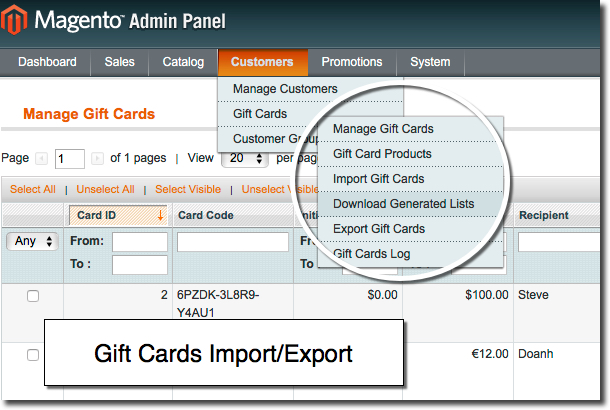 Other Features
NEW

API gift cards management: create, modify, delete and overview gift cards outside the admin panel
Registered customers and guests have the ability to redeem gift cards
Refund orders redeemed with gift cards
Customer's personal gift messages for all types of gift cards
The ability to define a gift card image
Modify shipping fees for gift cards that are send by post
*Developed in cooperation with WebTex Software, a MageWorx company.
This extension for Magento 1 is fully GDPR complaint. The software neither collects nor stores any personal users' data.
Also, the extension doesn't share any personal info with third parties, and doesn't use this data for any marketing purposes.
Comes with
FREE Updates
and Improvements

Risk-FREE
30-day Money Back
You May Also Like
These are the extensions you may also be interested in.
Loyalty Reward Points
Magento Store Credits tool. Reward tour best customers with points and retain them and motivate the profitable behavior of the new ones.

Explore and Buy
Advanced Product Options
One-of-a-kind solution for managing Magento custom options. Configure custom options for any product and more.

Explore and Buy
Reviews of Gift Card extension for Magento
Excellent expansion to attract new customers.
Excellent expansion to attract new customers. Easy to configure and works great.
Very helpful staff, always fixes every problem, months, even years later.
Wonderfull Support Life time
I bought a extension 2 years ago, and I had a problem, and MageWorx team fix the problem complete free. MageWorx team are very professional, quick and committed to their customers.
The extension is wonderful with a lot of features and Support is real Life time.
I ran into a conflict between this extension and another from a different developer. Eugene at mageworx quickly found the problem and came up with a solution. I would definitely recommend mageworx to anyone in need of extensions for Magento.
I bought some extensions in Mageworx for different projects, and always help me a lot to fix any issue. Also they are very quick to reply and professional.
If you plan to buy an extension, look first at Mageworx.
Product Changelog
Legend:
New Feature
Bug Fix
Version: 4.3.0 (February 18, 2016)
Adds the gift cards log (all the actions with the gift cards are logged so admin can track all the changes)
Improves gift cards behavior in case of refunds
Minor user experience improvements in the back-end
Version: 4.2.0 (February 8, 2016)
Improves the user experience using partial values of gift cards during the checkout
Forbids to use gift cards to purchase gift cards
Minor bug fixes
Version: 4.1.0 (February 2, 2016)
Default currency of Magento store is pre-selected when creating a gift card now
Adds Print and Delete actions to the gift cards list
Improves the user experience for saving gift card codes to CSV while creating them in bulk
Adds the new "Manage Gift Card Products" section to manage gift card products more efficiently
Minor user experience improvements
Fixes an issue with decimal part of gift card value