Engage and reward repeat customers to enhance brand experience and generate a bigger amount of sales.
Fully compatible with all Magento Security Patches.
Easy and smooth transfer of all features to Magento 2 version.

Contact us

to get a personal 25% discount!
What is Loyalty Reward Points for?
Reward Most Loyal Customers
Loyalty Reward Points Magento extension lets you provide reward points for both new and regular shoppers with internal store credits (reward points) that can be used for purchasing anything in your store.
With this Magento extension you can easily add an Internal Credit payment method, effectively manage your customers' credit funds, reward customers for special actions, set an expiration period for credits and track all credit activity with one report.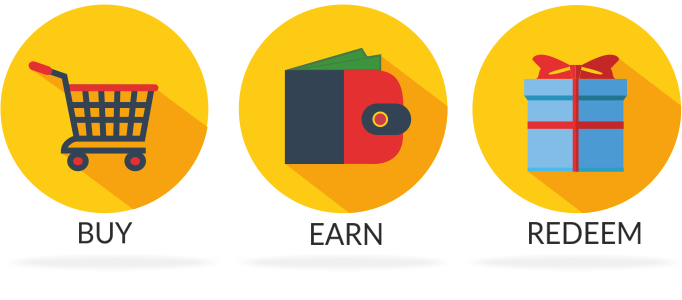 Create Unique Loyalty System in Magento Store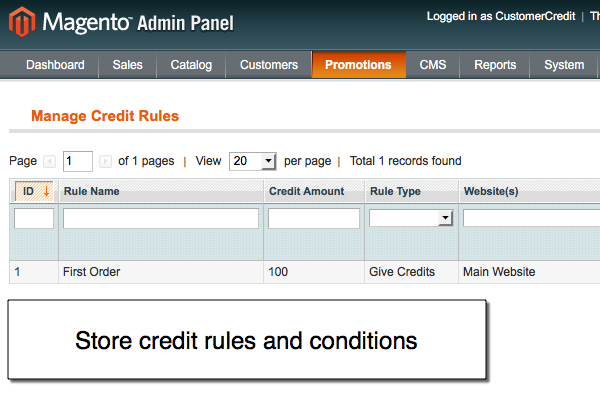 Fully automate the process of store credits addition via rewarding various types of customer actions.
Give Reward points for new customers with 'welcoming' store credits,
Congratulate customers on special occasions (like birthdays, wedding anniversaries, etc.) and present them reward points as a gift,
Give credits when customers purchase more than a certain amount,
Provide Reward points to customers for purchasing only specific products,
Grant store credits for doing certain actions (e.g. reviewing a product, signing up for a newsletter, etc.).
NEW Also, with the extension you can set flexible credit rules and conditions based on:
the # of orders the customer places in your store,
the customer's Order Total.
Plus, with Magento Loyalty Reward Points you can create rules to give a % of an order's total.
NEW On top of that, you can set adding credits either as a one-time action or add them on a regular basis.
For example, you can reward customers with 10% from an order's grand total if they purchase for $500+.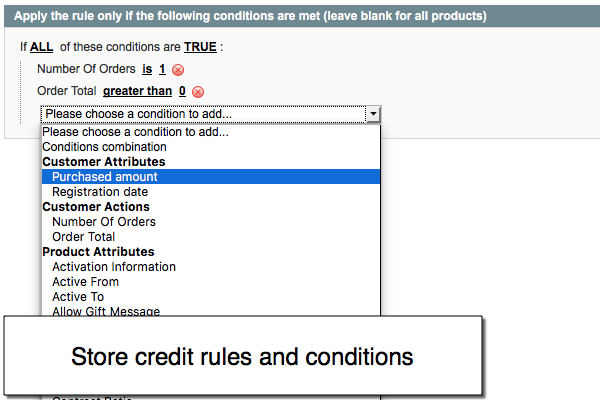 Manage Customer Credit Funds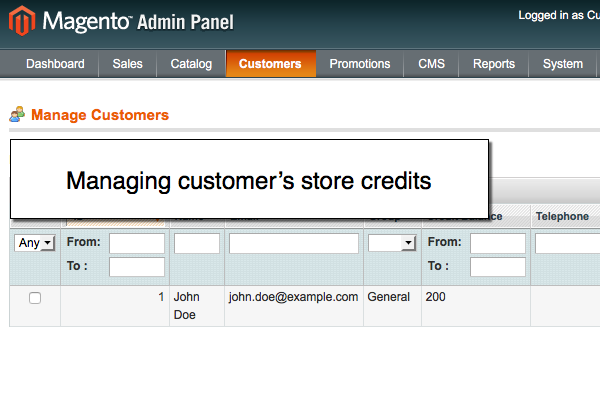 With Loyalty Reward Points extension you can efficiently manage Magento store credits for each customer or customer group:


Add or deduct internal credit funds right under the Internal Credit tab in the Customer Information section,
Check Credit Balance activity & actual Customer Balance,
Grant specific customer groups with the permission to use reward points,
Manage permissions for your staff (you can forbid specific staff roles to deal with internal store funds),
Import/Export customers' credits in a .CSV file (using Dataflow Profiles).
Also, you can use customer's external store credits while:
Creating orders manually in the backend,
Editing/ invoicing orders,
Processing refunds (you may return internal store credits instead of real funds).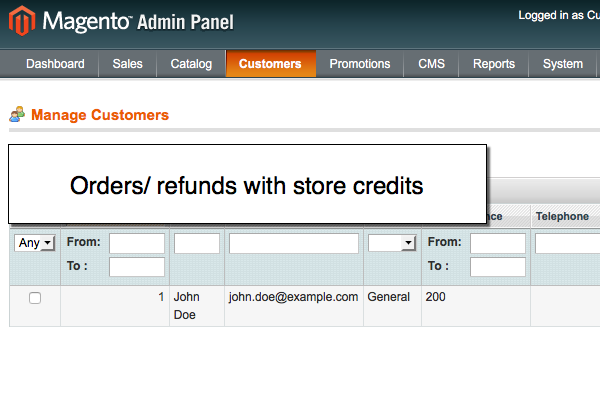 Magento Email Notifications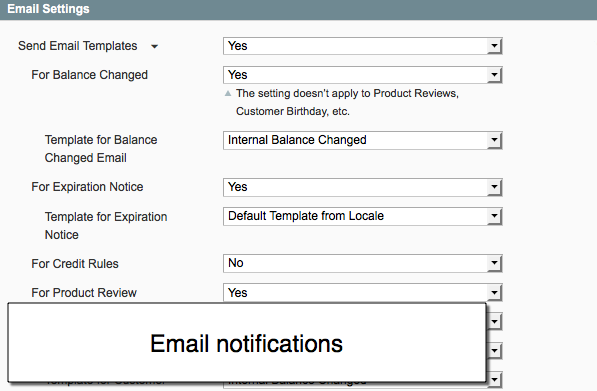 NEW Keep your customers informed! Send personalized, custom-tailored emails notifications, based on different customers' actions, such as:
product reviews,
newsletter subscription,
product tagging,
birthdays.
NEW You can assign custom email templates for each rule and different actions.
On top of that, you can notify your customers when their Store Balance gets changed or send out an expiration date notice.
Recharge Codes
With Loyalty Reward Points Magento extension you can allow your customers to refill loyalty credits on your Magento store using Recharge Codes.
Simplify the process of gift certificates/debit cards mapping with Recharge Codes generation,
Track all the Recharge Codes activity (codes usage, expiration dates),
Import/Export Codes in a .csv file

UNIQUE

Generate Recharge Codes using Magento SOAP API.

Magento Store Credits as Payment Method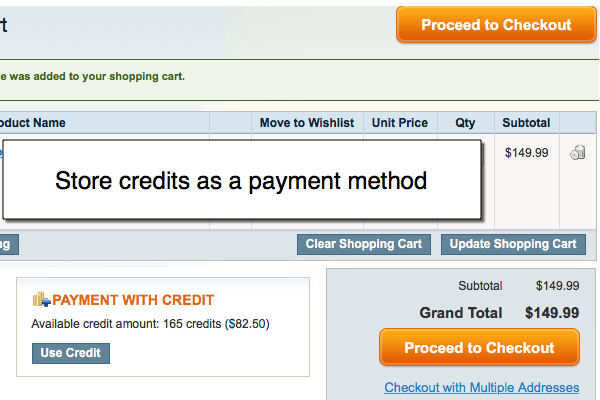 Add an Internal Credit payment method to let customers pay for any products/services using the Credit Balance funds. With the extension customers can:
Use store points to partially pay for the order,
Define the amount of loyalty points to spend,
Specify the number of store credits to spend even if the Credit Balance covers the whole order total,
Apply credits to Subtotal/ Shipping & Handling and Tax,
Use Multiple Address Checkout.
Partial payment will be automatically activated at the checkout when a customer doesn't have enough credits.
Sharing/ Selling Reward Points
Let customers share/ sell the earned reward points. This can bring you a bigger amount of active shoppers and increase the loyalty rate of your Magento store.
Customers can create credit codes for specific values of internal reward points and see when these codes are activated. The codes can be sent to anyone and used on your site at any moment later.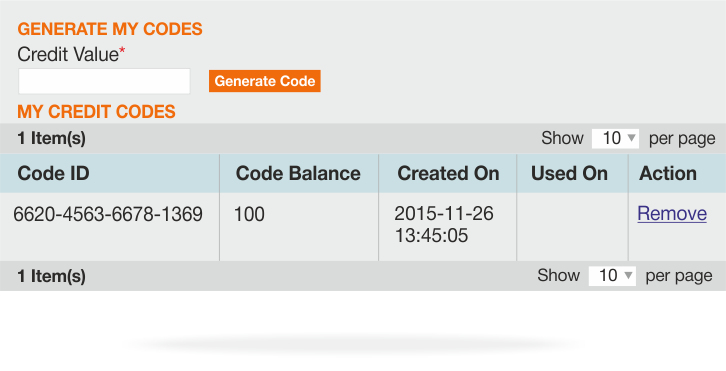 Store Credits Expiration Date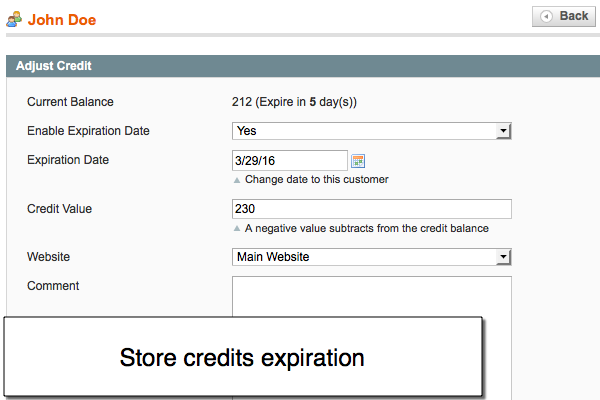 With the new Magento Loyalty Reward Points you can define when your store points get expired.
Define the default expiration period (in days),

NEW

Set the credits expiration date for all customers at once and each customer individually,
Define a period in days when customers get a credits expiration notification.
On top of that, you can update or keep unchanged the current customers' balances if the default expiration setting is changed.
Exchange Rate for Internal Credits
With Magento Loyalty Reward Points you can:
Specify the exchange rate of 1 point to 1 unit of your store base currency.
Take advantage of multi-currency set-up support. In case you have more than 1 currency allowed, the resulting sum will be converted with the consideration of your currencies rates

Store Credit Reports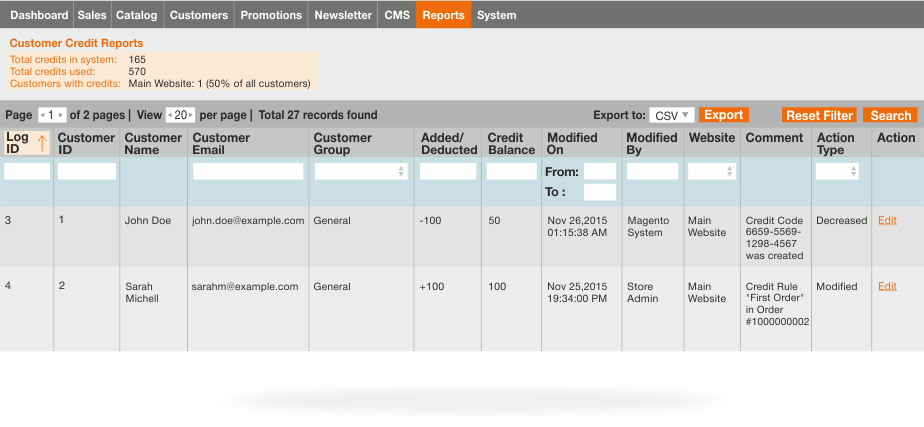 Loyalty Reward Points reports every action a customer/ store staff / the system (if you created credit rules) takes with the internal reward points. With our Magento loyalty rewards points extension you can learn:
the precise amount of store credits every customer spends on purchasing with you,
the total amount of all store credits in the system,
the number of customers who have active store credits,
the ratio of customers who use internal store credits to those who don't,
the stats on who, when and how updates store credits in your store.
This Magento extension reports on any modification made to customer's Credit Balance: you can see who modifies balances, how much internal credit funds were added or deducted, etc.
Other Features
NEW

The ability to sync store balances and internal credits (Magento EE only)
Support of Paypal Website Payments Standard, Website Payments Pro, Express Checkout,
Support of the checkout with multiple addresses (refers to multi-shipping checkout).
Compatible with:
SagePay payment method
Webtex Gift Card
This extension for Magento 1 is fully GDPR complaint. The software neither collects nor stores any personal users' data.
Also, the extension doesn't share any personal info with third parties, and doesn't use this data for any marketing purposes.
Comes with
FREE Updates
and Improvements

Risk-FREE
30-day Money Back
You May Also Like
These are the extensions you may also be interested in.
SEO Suite Ultimate
De facto standard solution for Magento SEO. Power up you site ranking potential and cut SEO workloads.

Explore and Buy
Gift Card
Increase your sales allowing your visitors to use gift cards / certificates / vouchers / coupons for purchases or as a gift for friends. A wide range of flexible gift card features.

Explore and Buy
Donations Ultimate
Support the charities you and your customers care about most. Add various donation options to your website and monitor all donation activities of your store.

Explore and Buy
Reviews of Loyalty Reward Points extension for Magento
Does what it says in the description and works well
The best way to stimulate customers with rewards.
This is a great extension for interacting with customers. The best way to stimulate customers with rewards.
Fantastic extension and so easy to set-up. I can't wait to see what happens with my loyalty program in place.
A great extension to our website to create incentives for repeat and long term loyal customers. Covers multiple aspects of customers loyalty program and is easy in use. Definitely recommend this company!!!
Nice extension to add for a loyalty campaign.
Frankly, giving reward points to customers doesn't work anymore. Who cares if they have a couple of store credits on their account?
But if you change the way you present customers with internal credits, it can make wonders, and supercharge your loyalty program. This is what I did with thiss software.
The extension helped me diversity the ways I reward my customers; also, I created tons of conditions for adding store credits and split and targeted different customers groups. All that helped me finally get reward points work for my store - the conversion rate on the whole increased by 0,7%, which is awesome for my niche. And last but not least - the spport is super quick and really helpful!
This extension is great.Lots of conditions and features. Fast and helpful support. I wish I could write about some drawbacks, but I didn't find them)

Top rated and highly recommended!
I installed this extension a few weeks ago and my customers were very excited about new loyalty features. Now I can offer internal store credit in different situations. Also I would like to thank developers for very helpful support. Five stars guys!

Amazing Product and Excellent Customer Support
The product works exactly like it it supposed too and the customer support when I had a question was amazing. Superior products and support. Keep it up.
Everything in this module works like it should for us. A big advantage of this extension is the report with each action with credits. You can track everything on your site.
Support promised to release the version 2.9 with many new features. Well, waiting...

Simple and powerful extrension with quality support
This extension is great. Works like a charm. Support team helped us to integrate it with our custom checkout free of charge!!!! I never got such support from anyone else. 5 stars, no doubt.
Looking forward to get the update to send personalized emails based on different conditions.
I bought this module mainly to add the store credit features to my store. I love the option to refund orders to credits instead of processing online refunds. It saves lots of funds indeed. The team is very friendly and technically skilled. I was surprised that my pre-sales questions were answered by their CEO :)

Highly recommend this tool and company.
I get quite a number of people that will place an order then realise they have forgot something and place another paying 2 lots of postage but they want them sent together to save on the postage, so now I don't have to raise a credit then login to to Paypal and refund them I just add the extra postage to their account for next time, much easier.
Good module with perfect support
I can recommend this extension to anyone. It combines everything you need to increase loyalty of your customers. I started to use it 2 months ago. Since then the number of returning customers increased by 10%! That's not much but I already earned more than I spent on this extension :) There are some features missing to make this the best loyalty tool on the market but the team said that these features will be available soon. If true, that would be awesome.
I ordered this extension with their installation so I cannot say how difficult to install the extension. Everything was done within a day including the adaptation to my custom design. Nice and quick work.
Great module for every store.
It's must-have extension if you need to build loyalty community around your store. Flexible conditions allow you to reward your customers for almost actions. There are some missing features to name this extension the best loyalty module. The team promised that they will add them soon.
Any way everything works as advertised.
We installed the extension and get it running in no time.
The functions integrate well into the magento interface.
No adjustmens where needed.
My recommendation!

Mageworx delivers an easy to use and straight forward working extensions.
It's a good extension for increasing loyalty of your customers. If you configure it right, you can increase the returning rate. However, I'm missing some personalization features like birthday email templates.
Support was fast and helpful. They fixed a minor issue with my checkout extension within 1 hour.

Thank you.
I started using this extension 2 years ago. Th rate of returning customers increased by 5%. That's amazing. I love the free updates from these guys! Purchased the extension 2 years ago and have the ability to update free of charge still :) That's awesome.
Support always answered quite fast and polite. Most of questions were answered in the live chat directly.

Recommend this module to everyone.
Excellent module, perfect support
This extension does amazing things. I purchased this extension for a couple of features: reward my customers for fb likes, reward customers for purchase history. Everything works just great. I used other similar extensions from different vendors but they didn't work out of the box with my checkout. Moreover, I have 10 staff working in my back-end every day and it was not possible to track who updated customers' balances. Now I can see it from one report!

THANK YOU GUYS FOR GOOD EXTENSION!
Extension is great, didn't test the support.
Purchased this extension for the ability to reward my customers for every their order. The extension works nice out of the box. I do not use drastically customized design and checkout so everything worked right after the installation and I didn't have a change to talk to their support. But I'm happy as a kid that I solved my requirement with their default package.

Thank you.
It's a great extension. It has a great features set. I used two loyalty solutions from other vendors but they failed in support and their modules almost destroyed my store. this one was installed quite easily. I was surprised when support sent a free patch for my custom checkout!
There are a number of features that can do this extension even better. The guys from mageworks promised to include them in the updates :)

This solves your Magento problems
Good Plugin with many functions.
Works perfect with Magento 1.9.1.0
Excellent Support Team
I like how the product and its developer are evolving!
We purchased the extension for one of our clients this summer. When installed, it immediately triggered a conflict with a 3rd party module. After reporting this issue to Mageworx we couldn't get a response for almost 2 weeks!! That was like a nightmare! Luckily, with great effort we managed to make Mageworx help us fix that.
But what was our surprise, when we contacted the team last night (our client needs to urgently customize the addon) and got ready-to-use solution after just 1 hour!!!
What is more, we discovered that the module received a big update and got a bundle of new, quite useful features. Fantastic!
I like the way you are changing, guys! And like that your products are getting better and better! Keep it up!
We have installed and used the extension across multiple websites and have never run into any problem or issue. It's definitely one of the most robust products of this kind on the market.
Loyalty booster has a very comprehensive set of features and lets us trigger and create very sophisticated and targeted loyalty programs.
Not to mention the company's great support - today these guys solved the issue via Live!Chat within 10 minutes! THUMBS UP!
Being in IT Operations myself I know how hard it can be to fulfill end-user expectations when it comes to support. Well ... The Mageworx support team does a fantastic job. They are very responsive and managed to fix the issue I dealt with.
This of course boosts confidence to buy other Mageworx extensions.
These guys are amazing. They built the product that works just great on my site. This extension has some features which are missing in other modules. The installation went smooth. Support fixed my design issues within 6 hours.

Thank you very much.
I'm using their v2.7.0 on Magento 1.14. It works just great. The feature to sync Magento default credits with internal credits added by their extension just awesome! The support is fantastic. They developed a new setting for me within 2 days and added it to the default package.

5 of 5 starts only!
Have been using this module in my store for 4 months and already can boast by having great results in customer retention.

The amount of return customers raised by appox. 15%, which is the BEST result I had since my store opening. That coudn't be achieved without this great product!

Great software! Well-done, MageWorx Team!!!

P.S. And I hope that you will turn your ear to users requests (see above) and make your product even better!


I hoped this extension had the feature to reward customers for invites. There is no such feature yet :( Their support was fixing a conflict with other extension within 1.5 day... I'm grateful they did this free of charge but I would appreciate if it would be faster.

Any way, you will get a nice extension with reliable support.
Waited for this extension for a while
I was so excited when I finally the extension that suits all my needs. I was looking for the ability to customers to enter custom amount of credits during the checkout and bingo - they have this feature!!!

Amazing module with great features.
Great solution but could be better
Installed this extension on my Magento 1.8. It works great and gives everything written on this page. I started to refund my orders to internal credits instead of online refunds. This keeps the funds and increase loyalty.
However, I need a feature to specify a rate for credit-base currency, because my needs require to setup not just 1 credit= 1 currency rate. That's why only 4 stars. Everything else including the support was amazing.

They promised to update their extension soon. Waiting...
Awesome extension with even better support
Their extension is much-much better than alternatives available on the market. This is my 3rd store-credit extension. Finally, I found the one I will keep on my site. This extension works perfectly. I had some issues with my custom theme and one custom payment method. Mageowks fixed all my problems rather fast (5-6 hours).

THANK YOU!!! Brilliant extension.
Great Extension and Great Support
I've used this extension for a few years now. It provides a very simple and minimal setup process. Also, every time I have needed technical support I receive a reply within 24 hours. Great extension Guys!
Product works as expected. Had a minor issue but thanks to prompt customer service resolved it right away.
Swift reaction and good support
Customer credits worked for me for 99% straight out of the box. The last 1% was customized by Mageworx. They understood my wishes and gave me a working solution overnight. I can only say that i'm looking forward to implementing more extensions from Mageworx in the near future. I recommend using customercredits as an extension. and i recommend Mageworx as a solid partner.
Great extension, great support!
We had a little bug on a Multi-Shop installation. Mageworx Support fixed it very fast. Perfect support!
These guys are the best at support and product is great! Even suggested an improvement, and they said its now in the pipeline! :) Can't go wrong with Mageworx!
Customer Credits saved me hours and hours
This module fitted the requirements for my client's store
Excellent product and support!
This product adds a great functionality to Magento. this has let us create customers with open account for large $ orders and works perfectly! We did have a small issue that the developer took care of right away for us! Superb!
We purchased the extension one month ago , and we recently found it conflict with another 3rd party extension, I contacted MageWorx Support Team, they help us slove the problem at once .
Wonderful service!
Awesome support for integration and lacks only Permission Support
Works great but lacks support for permissions in User Roles. This is sorely needed improvement!

Hope it gets implemented!
Excellent extension and great support!
We recently purchased the extension and it works very well indeed. Not only does it offer a great credit account system, but you can also use it as a reward system as well which appeals to us.

When we installed the extension there was a minor conflict with another 3rd party extension. We emailed Mageworx and they fixed the problem within 24 hours. Brilliant customer service.

Would highly recommend.
Great Support & Extension
I installed this extension after installing a one step checkout cart and proceeded to have a problem checking out with internal credit. I contacted support and the response was almost instant. They then began to troubleshoot and create a fix the next day. Great extensions and support I will definitely buy my extensions here again.
It is simple to install, simple to configure, simple to use and very useful!
We can now give credit when we create credit memos. It will be the primary usage.
Because managing coupon codes to refund customers is more complicated.
It can be also used as as a promotion tool. A clever tool, sure.
It just needs some translations!

Great Extension & Amazing Support
We installed this extension to our site that has a theme installed. We were having issues with getting the Credit Extension to appear in My Account (Due to our inexperience more than the extension!). We contact support and they logged in and fixed the issue really quickly. We have used a few extension, but the support from Mageworx is by far the quickest.

Mick

Great Product, Fantastic Service
Two things ... 1) the product is great, does just what you need it to, with sensible defaults and the source is nice and tidy. It just works.

But more importantly to me, 2) the team at MageWorx are unbelievably helpful. I am developing a module that interacts with customer credits programatically and they helped me out with some source code without hesitation. If that isn't over and above, I don't know what is. Thanks MageWorx, you made my week :).

I am a very very happy customer, and would always look to MageWorx first to see if they have a module I need.

Thanks, Simon!
Hi Guys, I'm very happy to use this extension, no setup, no trouble to install! It is great., Thank you very Much, have a great new year ;-)
Our store get more and more orders thanks to this extension. Very brilliant and works fine.
This extension is working great so far. I ran into a few problems (some related to other extensions I'm using), but the support has been great. Quick responses, and great customer service.
Gret product but more importantly Great support. contacted them a few times and gor response and help I needed. thanks
I installed Customer Credit with no difficulty; after more than a few refreshes and cache flushing, it popped up and I could not believe my eyes. It does all I need except one little thing which could become a big issue as my company grows but I am sure Mageworx team should be able to help me out by then :)
Thanks for your awesome weekend support but I hope you will work on getting rid of 2CO. They suck.

Michael
I have been waiting for an affordable version of this product for over 10 years!, no kidding. I am so excited.
Awesome Product - More Awesome Service
This has been one of the few delights i have had in purchasing a software component and also getting such amazing service.

Not only did i get a discount on their facebook page - but when i had a issue with my custom template - i was helped right away and the problem fixed within minutes.

cant get better than this - will be buying more extensions.

Great Job - Keep it up !
Nice product & prompt support
Product works well and support is very fast.
All my inquiries were replied within 15 minutes.

Thanks!
I did have a few small hiccups during the installation but i think this was because of my heavily modified magento installation. Their support was very quick to help me out even though it was a Sunday night. They actually changed some of their files to support our modified Magento installation. The code is very well written and uses div tags on everything as apposed to tables like most extension which made it very easy to style it for our site's look and feel.
As the guy above me said it should be included with default Magento installation. Keep up the good work!
This should be included with every Magento installation, a very necessary extension.

Great product with speedy support. Thank you!
Product Changelog
Legend:
New Feature
Bug Fix
Version: 2.9.5 (October 17, 2018)
Fixes an issue with customer data export
Version: 2.9.3 (April 28, 2016)
Fixes a problem with wrong order status after creating a credit memo
Fixes a bug with a blank comment in the admin area
Fixes a bug with sending email notifications
Version: 2.9.2 (April 5, 2016)
Fixes a total calculation on the checkout Payment step on the RWD theme
Fixes a problem with credit statistics calculation
Version: 2.9.1 (March 24, 2016)
Fixes typo in method name
Version: 2.9.0 (March 23, 2016)
Adds the "Number of Orders" rule condition
Removes the "First Order" rule condition (the above rule was created instead)
Adds the "Order Total" rule condition
Enables the Expiration Date per each customer
Moves the rules "Product Review", "Customer Birthday", "Newsletter Subscription" and "Product Tag" to System Configuration section
Adds the ability to assign custom email templates for each rule and different actions
Improves the user interface of the Credits Log section
Fixes an issue with taxes
Minor design issues of "My Credits" section in a customer account
Minor bug fixes
Code refactoring
Version: 2.8.0 (December 04, 2015)
Moved to community code pool
PATCH SUPEE 6285 compatibility
PATCH SUPEE 6788 compatibility
Minor bug fixes
Version: 2.7.2 (11/06/2014)
Product View Notice feature is added
Performance improvements
Bug fixes
Version: 2.7.1 (09/19/2014)
First order rule issue is resolved
Issue with credits in multi-websites is resolved
Bug fixes
Version: 2.7.0 (09/03/2014)
Ability to specify a minimal order amount which cannot be covered by internal credits
Bug fixes
Version: 2.6.3 (07/09/2014)
Magento 1.9 compatibility issues
Minor bug fixes
Version: 2.6.2 (06/25/2014)
Ability to adjust an expiration date per customer
Fix for credit calculation during the multi-address checkout
Role Permission issue is resolved now
Minor bug fixes
Version: 2.6.0 (05/19/2014)
Internal credits exchange rate
Ability for customers to use custom amount of credits during the checkout
Ability to customize email templates directly in the back-end
Multi-address checkout support
Ability to keep order grand total unchanged when using internal credits
Ability to sync store balances and internal credits (Magento EE only)
Ability to add CC to email notifications
Ability to assign templates to email notifications
Code refactoring
Bug fixes
Version: 2.5.3 (03/20/2014)
New column to display current customer balance is added to the credits report
Issue with the internal credits tab if https in customer account is enabled
Redirect to the login page from the internal credit tab if customer's session is expired
Issue with credit rules if guest proceeds to checkout
Minor bug fixes
Version: 2.5.1 (01/17/2014)
Credits logs are improved (the actions done via import and Magento API are marked accordingly)
New column "Created At" is added to the credit rules
The issues with sending out expired credits emails are fixed
The issue with credits calculation is resolved
Format of credits in emails is fixed
Minor bug fixes
Version: 2.4.2 (12/26/2013)
Installation issue is resolved
Website issue on customers grid is resolved
Version: 2.4.1 (12/20/2013)
New credit rule condition added. Now it's possible to create rules to give credits for the first order
Minor bug fixes
Version: 2.3.1
Ability to export recharge codes
Version: 2.3.0
Expire credits functionality
Staff name in credits reports
Ability to create credit rules of % type (% from order's total will be added to customer's account)
Ability to import recharge codes
Improved credit block behavior at cart page (less conflicts with custom themes)
Support for Magento API SOAP v2
Bug fixes
Version: 2.2.4
Important fix for invoice calculations with taxes being enabled.
Version: 2.2.2
Major issue when changing currencies
Version: 2.2.1
Compatibility with Paypal Direct
Version: 2.2.0
Qty dependent rules
Version: 2.1.0
Ability to generate recharge codes using Magento API
Ability to export credit reports to CSV, Excel
Ability to limit staff permissions to "Internal Credit" section of customers
Ability to specify emails to receive copy of update balance email
Ability to import a separate CSV file to update internal balances only
Ability to create credit rules to give credits for customers' birthdays
Version: 2.0.3
API issue resolved
The issue with "Internal Credits" tab in the back-end
Version: 2.0.1
The issue with combinations of conditions is resolved
Version: 2.0.0
Credit Reports (track all activities with credits at your site)
Share credits functionality (customers can share their credits with friends)
Ability to apply the internal credits to specific products only (you can allow using the internal credits to purchase specific products only)
Ability to allow using the internal credit functionality for specific customer groups (you can select customer groups, which will see the internal credit functionality at your site)
Support of Magento SOAP API (you can update or set a customer's balance via API)
Bug fixes
Version: 1.9.8 - 1.9.9
The issues with using internal credits to purchase virtual products resolved
Compatibility issue with SagePay resolved
Version: 1.9.7
Minor the issues with Paypal resolved
Version: 1.9.6
Improved mechanism for calculations of order's totals
The issue of the case when internal credit is the only available payment method resolved
Code optimization
Version: 1.9.5
The setting "Invoice Order Paid by Credit" added.
Version: 1.9.4
Partial payment via Paypal issue resolved
Magento 1.4 issue resolved
Version: 1.9.2
Ability to limit credits per websites
Minor bug fixes
Version: 1.8.1
The issue with refunds in Magento 1.7.x
Version: 1.8.0
"Hide Customer Credit on the Front-end until First Use" option
"Display "My Credit" Link in Top Menu" option
Checkout issues on Magento 1.4.0.x-1.4.1.x
Minor bug fixes for Authorize.net
Version: 1.7.9
Invoice button was missing in a customer area
Internal credits payment method was not shown in invoices
"Internal credits = 0" was in the orders paid not using internal credits
Version: 1.7.8
Tax calculation paid by internal credits improved
Version: 1.7.6 - 1.7.7
Compatibility with Magento 1.7.x
Improved behavior of partial usage of credits
Minor bug fixes
Version: 1.7.5
The issue with payment methods during the checkout
Version: 1.7.4
The issue with editing orders paid using internal credits.
Improved sorting order in payment methods on the checkout.
Version: 1.7.3
The issue with currency switching on the front-end, which caused 500 server error.
Improvements for multi-websites support.
Version: 1.7.2
Improvements for refund process if an order is 100% paid using internal credits
Version: 1.7.1
The issue when internal balance is the only one payment method available during the checkout
Version: 1.7.0
The setting "Enable Credit Columns in "Order View" Tabs" is added
"Credit" column is added in invoices and credit memos grid (do not support Magento 1.4.0.1)
Version: 1.6.0
Verification of amount of refunded credits
Orders paid by credits are invoiced automatically
"Recharge" link is hidden when recharge codes are disabled
The issue with "Zero Subtotal Checkout" payment method
The issue with incorrect amount of "Refunded Online" and "Refunded Offline"
The issue with possibility to pay using credits for Credit Units product
The errors are removed from Magento logs
Version: 1.5.1
The issues with order refund.
Version: 1.5.0
Support of Paypal Direct
The issue with time zones of dates in credits logs.
Version: 1.4.1
Minor bug fixes
Version: 1.4.0
Ability to purchase internal credits using other payment methods
Ability to select checkout attributes, the credits should be applied to (Subtotal, Shipping & Handling, Tax)
Ability to send email notification to customer when admin changes internal balance
Ability to display "Credit Balance" column in customers grid in the back-end
Ability to return credits instead of funds in case of offline refund
Ability to mark a credit rule as a one-time. It means that the rule will be applied only once for the current customer
Support of multiple addresses checkout
Ability to show a static block in "My Credit" section of a customer's area
Support of Paypal Standard, Express
Improved design of a customer's account
Support of Compilation Mode
Support of orders edition, which used credits
Many bug fixes
Version: 1.3.0
Ability to Import/Export credits
Magento 1.6.x compatibility issues
Version: 1.2.0
Auto credit refund if an order is canceled or refunded (in case a customer pays with credit)
Product attributes in conditions for automatic addition of credits
Version: 1.1.4
Orders were not returned in case of order cancellation.
Version: 1.1.3
Payment methods were shown incorrectly in case of partial payments
Version: 1.1.2
Minor bug fixes
Version: 1.1.1
Compatibility with Magento 1.5
Credits were not returned in case of manual credit memo action
Version: 1.1.0
Ability to use credits with other payment methods
Ability to create rules for automatic credits addition to customers balances based on specific conditions
Ability to choose Internal Credits when creating orders manually from Magento back-end
Version: 1.0.0
Initial release