Enrich your product, category or CMS pages with all popular types of media files: from user guides to video tutorials. Give customers the full information about your products and get an increase in conversion and engagement.
Fully compatible with All Magento Security Patches.
Easy and smooth transfer of all features to Magento 2 version.

Contact us

to get a personal 25% discount!
What is File Downloads & Product Attachments Extension for?
Attach Files in All Popular Formats
Our Magento File Downloads extension allows you to upload and instantly attach various types of downloadable files.
So you can equip your Magento store pages with the downloadable files in all popular formats: "jpg", "jpeg", "gif", "png", "bmp", "txt", "csv", "htm", "html", "xml", "css", "doc", "docx", "xls", "rtf", "ppt", "pdf", "swf", "flv", "avi", "wmv", "mov", "wav", "mp3", "zip" and whatever format you may choose.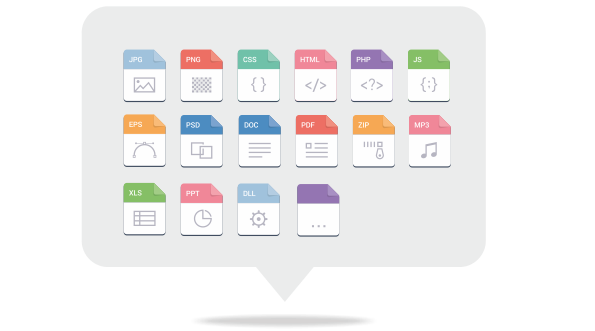 Wide Range of File Upload Options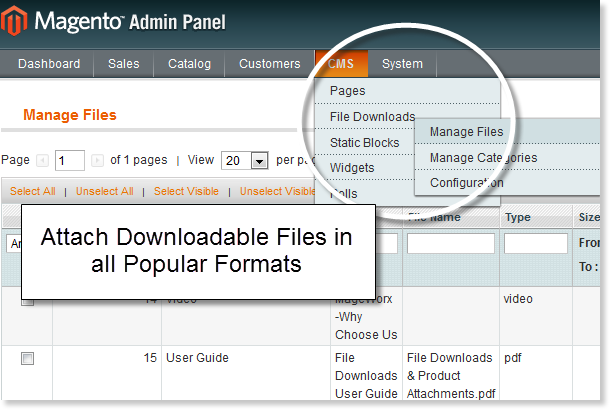 Attached downloadble file to any page of your Magento store:
Upload and attach files to either a single Magento product or a selection of products
Upload files when editing Magento products from the 'Attachments' tab
Upload files for the specific store view(-s)
Use the Magento Multi-File Upload option and simultaneously attach an unlimited number of files
Upload files using their URLs (instead of uploading files from your computer)
Import relations product-file in bulk (in a .csv format).
You can upload files to the server manually and import a .csv file (specifying relations between files & products). All the files will be uploaded to the Magento site and assigned to all the chosen products at once.


Upload files directly to your server and import them in the Magento backend. It allows you to upload files of a big size directly to the server.
Attach Files to Any Page of Your Choice
With this Magento file upload extension you can share downloadable files on literally any page of your store.
Upload files and media content to any Product Page, CMS page or Static block of your Magento store
Enable file downloads on any Category page
Show all downloadable files from a Category page
Display all downloadable files grouped by categories
Place the Magento file downloads block block anywhere on a product page
Display video content directly on a product page in a user-friendly pop-up
Display Magento file downloads in a tab on a product page
Display the number of uploads / downloads and a file size for each file in the frontend (if necessary)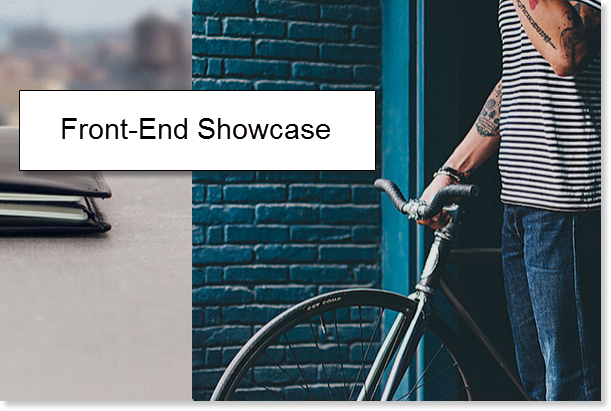 Keep All Uploaded Files Well-Organized in the Magento Backend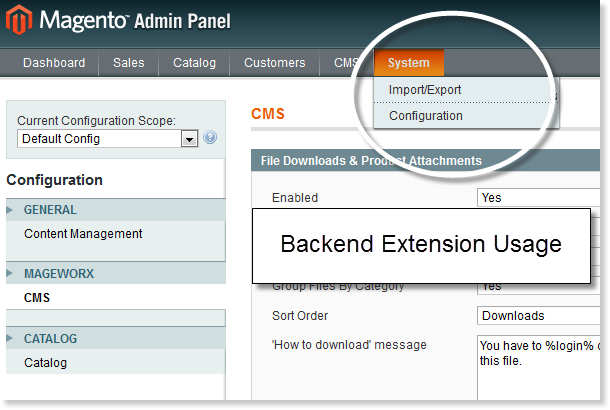 With our Magento file manager extension you can keep all the uploaded files properly structured and well-organized.
Group all the uploaded files by categories
Create/ edit/ delete file categories
Add/ edit/ delete files and assign them to products
Change the sorting order of your files (group them alphabetically, by the upload date, size, and # of downloads)
Attach links to downloadable files to the order emails (so customers could download them without the necessity to search your Magento website)
Specify the position of the downloadable files block on the store frontend
Show/ hide the # of file downloads to your customers
Manage File Permissions for Downloads
Our Magento File Upload extension lets you grant or deny access to files for different categories of site visitors. With the extension you can:
Change Magento file download permissions for all non-registered visitors (per file or globally), thus motivating them to sign up
Grant access to file downloads for specified customer group(-s) only
Limit the total number of downloads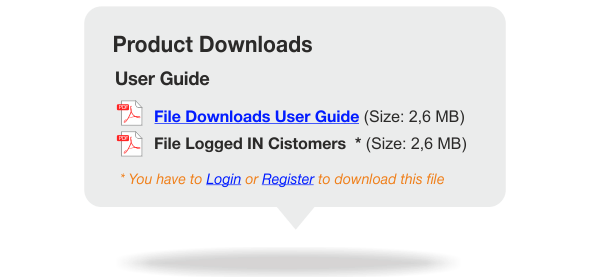 Track Magento File Downloads Stats
Use the Downloads Counter to check how many times each file was downloaded by your site visitors.
File Downloads report is generated for each customer and can be found in the Customer section in the Magento site admin panel.

Other Features
SEO value - Google indexes your files and drives extra traffic to them
Alt tag of downloadable files is filled with file name
Add downloadable files to 'New Order' emails (it's possible to decide what file should be added to emails)
The ability to limit the total number of Magento file downloads
Show a user-friendly notice when a file size exceeds the maximum allowed size on the server (if the allowed file size on your server is less then the file size you are trying to upload, you will see a notification telling which setting should be changed)
This extension for Magento 1 is fully GDPR complaint. The software neither collects nor stores any personal users' data.
Also, the extension doesn't share any personal info with third parties, and doesn't use this data for any marketing purposes.
Comes with
FREE Updates
and Improvements

Risk-FREE
30-day Money Back
You May Also Like
These are the extensions you may also be interested in.
Shipping Suite
Eliminate all shipping hassles, expand to the new markets and deliver your products with ease.

Explore and Buy
Advanced Product Options
One-of-a-kind solution for managing Magento custom options. Configure custom options for any product and more.

Explore and Buy
Search Suite
Sphix and Solr integration, search autocomplete and autocorrect features, advanced search settings and reports.

Explore and Buy
Reviews of File Downloads & Product Attachments extension for Magento
Good Extension - Could be improved
It is a good extension, but receives a small number of updates/improvements. Some issues are not sorted out as quickly as expected.
Support is competent and helped install the extension and adapt it to my theme.
Needed the plugin to be customised slightly for use on my site and the support term were brilliant with giving me the help I needed.
Purchased 2 licenses of the product + installations: one for my main M1 store and the other for my brand-new M2 site. The product itself is great (the M2 version could be a little more extended though), the support is super fast.. But why the installation price differs so much for M1 and M2 versions? All the rest is great!
When an attachment opened in a new tab, it was displaying Magento's default favicon instead of our store's. Developer was able to help resolve this issue quickly.
When I first bought this extension it didn't work in my environment. Mageworx did a great and quick job on fixing this for me!
Excellent product and support!
The product works exactly as described. We are now able to download files from many different pages from both the websites we have this extension installed on. It's really easy to use and easy to add files. I had a few minor issues with my installation on my custom theme but the developer get me sorted out very quickly. I highly recommend this extension!
The extension is great but the only reason forced me to post this feedback is their support. I sent the first my question to this company on Sunday morning. They replied in 1.5 hours! I purchased the extension with the installation the same day. When I wake up on Monday, the module was already installed and working on my site :) Honestly, I never received such fast support from other vendors on Magento.
Wow.
This is exactlx what our customers need, grat!
We can only say, please proceed with the developement of this great extension. There was only a small failure with the multiupload, but the next day the support fixed it very quick and straight.
Shortly, in future we will recommend this extension to all our costumers. It works great and the handling is very easy. Please keep going on on it! You do a great job!
Great Module But Support is Slow to Respond
This module is great and does what you need, however, Mageworx support however, is slow to respond and resolve any issues.......
Not to sound cliche, but this extension is perfect. Almost perfect. Highly recommended to anyone who needs to attach downloadable files. The only things I would personally like to add - attach external urls, like drobox or google docs. All the rest is perfect here.
Good professional team, these guys need to produce more Magento extensions.
This extension as it stood didn't quite fulfil our design needs so the support team "after lots of nudging" helped produce our requirement (well most of it) which they didn't need to, it took three weeks wait but they eventually got there and it was worth the wait.
The support team when used are very good and thorough. These guys are professional and the code quality is good.
Wouldn't hesitate to buy more extensions, would like to see companies of this calibre increase their portfolio though.
This is a great extension that allows us to add instructions and manuals to more technical products which helps to convert visitors into customers. Support with installation has been great.
Fantastic, superb extension with fantastic support
Fantastic, I highly recommend this extension and Mageworx in general.
I had a few questions post install, support were fantastic in record time.
This is overall very good extension and i can higly reccomend File Downloads & Product Attachments.
Great Support - Great Extension
I'm using this extension for 3 years now while our shop is running on Magento 1.6.
When updating to Magento 1.9.1 the extension seems not to work any longer. Connecting to their support Mageworx fixed it very fast.
Thanks a lot!
Loved their customer service, they went out of their way to help me out.
My predecessor installed this extension, I needed support to write a script that would extract some data. I was more than impressed with their response time and how they went out of their way to help me.
I was recommended by my friend to purchase this extension. Magewox is a great company to deal with. Thank you Alexander for the help in the live chat! All my problems were solved in the chat within 30 minutes. WOW!
Great extension, great support, short support time. thanks alot.
This exstension has good performance,I also get warm help from mageworx.Thank you!
I needed a solution for my multi-store/multi-language website to offer my customers User Manuals and price lists as downloads. Tested some extensions found on Magento commerce, and then decided to purchased this one by MageWorx.
The installation went smooth with the supplied user manual, and all the features work great as promised. Had some issues with the extension on some product pages, but these were quickly resolved in a couple of emails with a very responsive Customer Care team.
Thanks for this great product!
Very nice extension and even better support!
Great extension and support
Extension works flawlessly as described and the support team was quick to help me implement it into my custom theme. Thanks again!
It's definitely the most powerful file downloads extension
My client needed to uploaded thousands of files that can be downloaded on products. You won't find any other solutions for this but this one. really!
That's amazing extension. It gives you everything you need + the the support AAA+

The best file donload/managemwnt extension out there!
The software does exactly what it says it will do, simple as that. The extension is fitted with the widest selection of features for file sharing - I would say that it has no analogues when it comes to effective managing a "library" of downloads in the back-end.

I would not hesitate to recommend this software and will absolutely buy from Magworx again.
Worked right out of the box!
This is a great extension and very useful if your products require documentation such as manuals/instructions.

I've used this extension on many websites and it works fine. So I recommend it.
This is the only extension with multi upload option and functionality to upload files directly to a server. Very nice solution.

Mageworx support is just great. Answered all my questions fast.
File Downloads... is an excellent extension
Been looking for a functional extension to download PDF and other files. This is overall very good extension and i can higly reccomend File Downloads & Product Attachments.
Very good support an an excellent extension
File Downloads & Product Attachments is an great solution for downloadable files and i can highly reccomend it. Mageworx has a great support and they are very quick to reply and to assist.

Thumbs up and thank you for a great support.
Have been using this extension for over years. I recently upgraded my website to Magento 1.8.1 and discovered a bug. I opened a ticket and the problem was fixed within 12 hours, no fuss, no drama. Just done !!!

Other companies should take note. Mageworx sets the bar very high for customer service.
Thanks, works as described and support is very excellent! Thanks a lot!
Great extension & Support
Thank you for this great extension and for your excellent support. Mageworx team help me fix an issue with another extension. I recommend this extension and Mageworx team.
Very useful extension.
There were some problems with using it for gfx files, but MageWorx supported us very quickly.
Thanks a lot!
Thanks, works as described and support is very good! Thanks a lot!
Works perfect, strong support
I purchased this extension several months ago and had a issue with the popup frame size because of my video host feed. MageWorx resolved it within 24hrs. I recently upgraded the extension version and "broke" the fix they made to accommodate my needs back when I first bought it. Again, they fixed it with no questions asked. Very reliable customer service and by the way; the extension does exactly what it says so if the specs meet your needs don't hesitate to buy it. I highly recommend it.
I have been using this module for almost an year. They have the best support team. They were very quick in replying and fixing the issues that I had. One of my favorite Magento extensions provider.
Works as Advertised with Excellent Support
This extension works great. We ran into some problems and their support staffed worked on it until we were 100% satisfied.
Great extension, Reliable support
The features for this extension are very well thought out. It's perfect for managing a "library" of downloads in the backend. Being able to assign to your downloads to one or many products in one action is a huge time saver. It does exactly what it says it will do, simple as that. I had a few minor issues and email support was always responsive. I had an answer and resolution no later than the next business day every time. I would not hesitate to recommend this extension and will absolutely buy from them again.
Thanks for Mageworx's warm help!!
Works really well and has great support.
New features like the ability to upload multiple files to a selection of products at once are big time savers. I've been really happy with this plugin. I have contacted support who sorted my issue out really quickly! The support alone is worth the price.
Looked at many alternatives before deciding to go with this extension. Very glad I did now. I had an issue with the extension conflicting with Ultimo Theme only in IE8, emailed the support team and within 24 hours, it was fixed.
If nothing else, the support was worth the money.
It's very easy to use, and easy to bulk upload. It fits our needs perfectly.
Thanks guys, keep up the good work!
The Best FIle Download Extension With the Best Support
This extension is definitely the best extension for File Downloads / Attachments. Mageworx support just adds to the greatness. Our tabs didn't work at first and we've found a few bugs here and there but they were quick to fix them.

This is one of several plugins we use for our site from Mageworx.
Excellent extension and very good support!
Excellent extension and very good support! Works like a charm on our CE 1.5.1.0
Encountered one small bug but the support-team fixed it 2 hours after my first ticket-entry.
5 star extension and support
Highly recommended. The extension works exactly as described. We needed support because of a minor conflict with a custom theme. MageWorx fixed it accurate and very fast (thanks again).
Great extension along with great support
The extension is exactly what I wanted for my site, love the multi upload feature also. Had a couple of problems getting the extension installed but Mageworx support got them all fixed quickly, thanks guys!
Great extension and superb support!
This extension does what you except, and it does it very well! It's very intuitive to use, so everybody can work with it very easily without any hassle.

The support I got from MageWorx is amazing as well. They helped me integrate the extension into my custom theme, and even provided some extra service!

I would definitely recommend this extension to others.
Very good extension and simply to manage.
Fast support for installing the extension. Thank you very much
Awesome support and great extension
We had the extension installed on one of our Magento systems for years and never had a problem with it, not even after the update to 1.6.2.0!.
We recently cloned this system and installed a newer version of the extension which gave us a hard time getting the files listed again, but the professional support sorted that out and fixed it!
Works like a charm now! Great extension and excellent support! Thanks a LOT and keep up the good work guys!!!!
Great extension and great support
We have purchased this extension and it's exaclty what we are looking for! Thanks for the work MageWorx. And the support really fast with a little mistake that we made.
Great extension and good support
This extension is easy to use and works very well. Also the support helped me with my tabs extension. Works great. Thanks.
A little update problem with a magento version
Problem solved in a couple of hours.

The support is competent and responsive.

Bravo!
Excellent product and support!
The product works as advertised and the support is excellent. I have a custom theme with it's own version of product tabs and the support team worked quickly to make this plugin work on those custom tabs. Thanks!!!
Mageworx is preffered supplier of our company. For us it's very important to have a stable system and loose no money with problems.
This extension save us a lot of time an works out-of-the-box on magento 1.6.1!

Thanx a lot.
Support 5 étoiles, excellent product
Totale satisfaction, support 5 étoiles, travail professionnel, l'extension fonctionne a merveille. .
Merci
Montréal (Québec)
i just purchased the extension and had a question which was answered fairly fast. but i have a 1000+ products and i need a different image to upload and attach to each product. i have to do this manually. there is no bulk import feature for this extension which really sux unless i do a sql query to the database in the backend. i bought this extension so i wouldn't have to mess around with the database and sql queries. if there was a way to bulk import images and link them to products i would absolutely love this extension. its all about being effecient. :)
Really impressive support, very fast, cheap and easy to use extensions. Recommended.
The reason why I bought from Mageworx is because the support is really excellent. Time response is very quick. Very proffesional.
Good Extension - Good Support
Really nice extension and i already bought 2 of them... When there was a problem during the installtion the support helped me very well.

Great Service, Great Products
Thank you, you are an modern, quick Company !
5 stars for both extension and support
Excellent Extension with Awesome Support
This is a great extension and the support is top notch. These guys won't rest until you are happy with the extension and how it works with your cart.

I do have 1 small critique of the extension. Please, please, please add the ability to display a complete list of all downloads from 1 category on a CMS page without having to know the individual file id. If this list could then be searched or organized alphabetically, it would make the extension even more powerful! Thanks guys!
Can't be the excellent support :)
This extension is really excellent and support is efficient.
Excellent all-round - product and support
We purchased this extension and it worked OK.

However, we did find a couple of little niggles. Once reported the support was very good and the solutions were implemented very quickly.

I would not hesitate to recommend this extension - which is very flexible and useful - or MageWorx as a supplier.

I have a few ideas for enhancements and will feed them back to MageWorx for future implementation.
Excellent Extension - Great Customer Service
Just Purchased the Download Extension. Excellent for our customer to download our latest firmware. Excellent customer service from mageworx.
great extension! Very good and fast customer service. This extension allows my customers to download product manuals and vehicle repair manuals. I will purchase more extensions from Mageworx!
Excellent Extension & Support
It's a very well thought out extension which integrates beautifully both on the back- and front end. An issue arose when I discovered a free community extension I was using interfered with its operation. I submitted a support request to MageWorx and they quickly took care of it for me. No fuss, no muss.

Thank you MageWorks for the excellent support :)

Very good product and fantastic support.
Excellent Extension & Support
This extension from MageWorx is very nice, and it not only let me attach the manuals and files to the products, but also i can categorize them in the backend so as to access it easily. Also i can assign the file to multiple products at once.
MageWorx also provides very nice Support.
Thank You very much.
excellent extension and great support!
This extension is really useful, it lets me organize my files and show them at the frontend in a clean and visual way. I had some issue merging the extension with my custom theme and the support staff at MageWorx solved it really fast! Will buy again with no doubt. Thanks!!!
Thank you your excellent support !
This extension is very good and eficient,
Help many clients download softs for cell phones direct on my site
Product Changelog
Legend:
New Feature
Bug Fix
Version: 1.8.5 (January 15, 2018)
Adds the support for PHP 7.2
Version: 1.8.4 (August 1, 2018)
Minor bug fixes and code improvements
Version: 1.8.3 (January 4, 2018)
Fixes the product attachment saving while assigning the product to another website.
Version: 1.8.2 (January 16, 2017)
Bug fixes
Version: 1.8.1 (December 22, 2016)
Adds the setting to hide the files' extensions to make the downloadable URLs working correctly on Nginx
Fixes the problem with duplicating the attachment after editing
Minor bug fixes
Code refactoring
Version: 1.7.2 (April 19, 2016)
Adds the notification about changing block types in CMS
Adds the notification to add the blocks "mageworx_downloads/category_link" and "mageworx_downloads/link" to the whitelist if the table "admin/permission_block" exists
Performance improvement by replacing the "Like" condition in the collection
Fixes the usage of the multiupload element type
Fixes a style for "How to downloads" message
Fixes an error on the admin file grid if a website doesn't contain a store
Resolves an error on the email templates preview
Code refactoring
Version: 1.7.1 (November 25, 2015)
Fixes the issue with adding downloads block to the permissions whitelist (SUPEE-6788 full compatibility)
Version: 1.7.0 (November 5, 2015)
Adds the customer report for each downloadable file to display the details about downloads by customers and guests
Adds the compatibility with SUPEE 6788 Security Patch
Version: 1.6.1 (June 25, 2015)
Bug fixes
Version: 1.6.0 (02/10/2014)
New setting "Add file to Order Emails" is added for each file
Version: 1.5.0 (09/25/2014)
Ability to import relations product - file in bulk using CSV
Downloads report is added to each customer section in the back-end
Notice is added when a file size exceeds the maximum allowed file size on the server
New tab was not added in the RWD theme in magento 1.9. Fixed
Upload file didn't work on a product level if secure URLs were enabled in the back-end. Fixed
Pdf files could not be opened in a new tab. Fixed
Minor bug fixes
Version: 1.4.8 (09/19/2014)
W3C validation issues are resolved
Version: 1.4.7 (07/25/2014)
Bug fix
Version: 1.4.6
Magento EE tab issue is resolved
Group By issue is resolved
Sorting by issue is resolved
Version: 1.4.5
SEO improvement. Google can index downloadable files now
Issue with spaces in file names is fixed
Version: 1.4.4
Now the video stops when the video pop-up is closed
Improved behavior in case of not enough allowed file size on the server
Version: 1.4.3
Improved behavior in case of failed upload
The issue with a black screen in IE8 resolved
Disable option improved
The issue with Merge JS option resolved
Version: 1.4.2
Minor bug fixes
Version: 1.4.1
Downloadable files are added to the invoices now
Compatibility with Magento 1.5
Version: 1.4.0
Ability to upload files when editing products from "Attachments" tab
Ability to upload files for specific store views only
Ability to add downloadable files to "new order" emails
New fresh pop-up for displaying video files
Category ID column is added in the categories list
"Products" column is added to the files list, which shows a number of assigned products
Alt tag is filled with file name
Bug fixes
Version: 1.3.2
Minor bug fixes
Version: 1.3.0
Ability to group files by categories on the front-end
Ability to sort files in alphabetical order, by upload date, size and downloads
The files were missing in "Attachments" tab in a product on Magento 1.7.0.0
The issue with icons for web and video files resolved
Version: 1.2.9
The issue with editing download categories
Version: 1.2.8
New field "Sort Order" is added
Version: 1.2.7
Restricted access to private content via direct links
The issue with empty Customer Groups field
Version: 1.2.5
Ability to display all the files of all the categories on CMS page or in static block
Version: 1.2.4
The issue in Chrome when assigning products
Version: 1.2.3
Icon for video files, which are played directly on product pages are added
Type of video files were not shown in the back-end
Version: 1.2.2
Issue with files on CMS pages
Version: 1.2.1
Ability to show downloadable files directly on category page
Version: 1.2.0
Ability to add video files and play directly on product page
Multi upload
Import products issue
Version: 1.1.2
The issue with files on CMS pages
Version: 1.1.1
Ability to show files for not allowed customer groups with custom text
Ability to display all the files of a category at once on CMS page
Version: 1.1.0
Setting to add 'Downloads' tab on product page if supported by theme
Minor bug fixes
Version: 1.0.1
Logic for customer groups improved
Grouped and Bundle products support
Issue with products filters
Issue with products list saving
Version: 1.0.0
Initial release