When optimized for shipping with MageWorx's Shipping Suite, Magento becomes a powerful tool for getting more customers and conquering new profitable markets.
Fully compatible with All Magento Security Patches.
Easy and smooth transfer of all features to Magento 2 version.

Contact us

to get a personal 25% discount!
What is Shipping Suite for?
Shipping Zones Management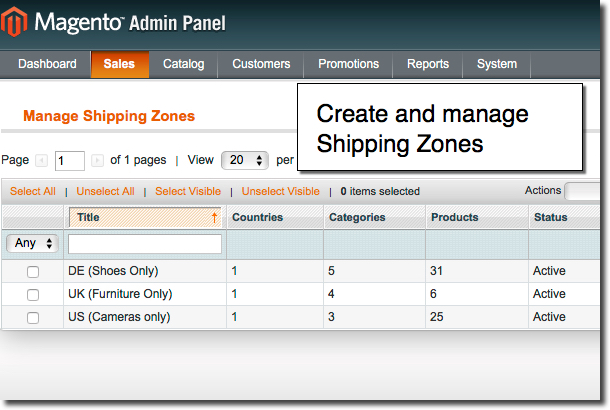 Manage Products, Categories and Shipping Methods according to a Customer's Location.
Specify shipping zones for certain countries/regions,
Assign any products, categories and shipping methods to the specified delivery zones,
Automatically detect a customer's shipping location,
Let your customers manually choose their shipping location,
Display a 'Ship to' message on a product page.
Once a visitor's location is determined, all categories, products and shipping zones get filtered automatically.
a
GEO IP Detection
Automatically detect a customer's location using the advanced MaxMind technology.
Determine a shipping location based on a customer's IP address,
Use the 'City' database to determine regions and cities,
Update a location database in the back-end,
Automatically switch between different shipping zones.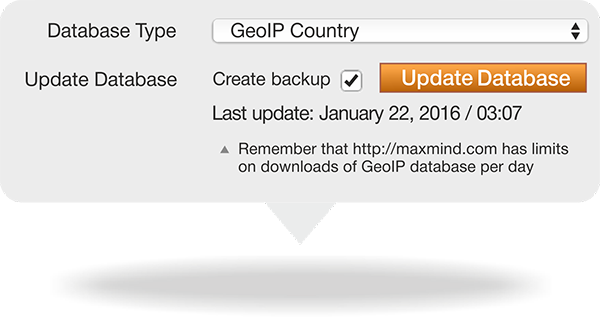 Shipping Rules & Restrictions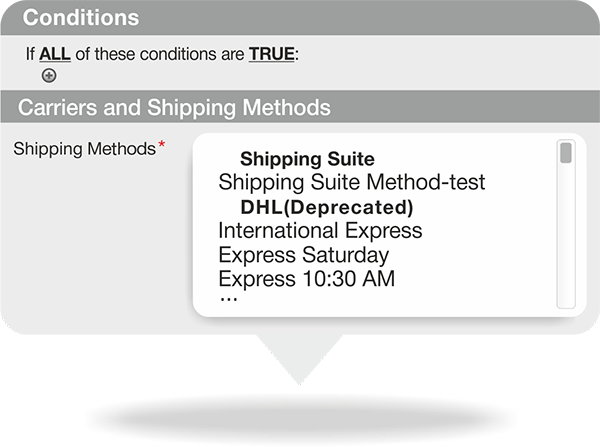 Set rules and restrictions with the consideration of any available attribute for 'product', 'address' and 'cart'.
Allow/forbid using custom shipping methods based on specific conditions (or their combinations),
Specify the priority of shipping rules,
Create various rules for each store view/customer group,
Restrict the usage of any shipping method within your store,
Сreate shipping rules and define how long they should be available using the "Shipping Date" condition.
Custom Shipping Rates
Overwrite and re-calculate shipping rates set by shipping providers. Replace the shipping cost of any shipping method that UPS, DHL, FedEx (or any other providers) have.
Set shipping rates using all available attributes for:
Address (City, Country, Company, Fax, First Name, Last Name, Zip Code, State, Street Address, Telephone, VAT Number),
Products (any product attribute can be used),
Cart and special attributes (Subtotal, Cart Weight, Customer Group, etc.).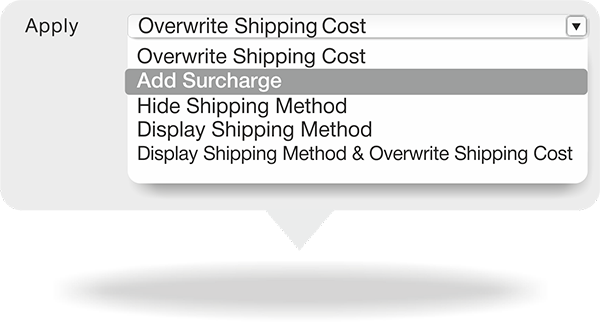 Custom Shipping Method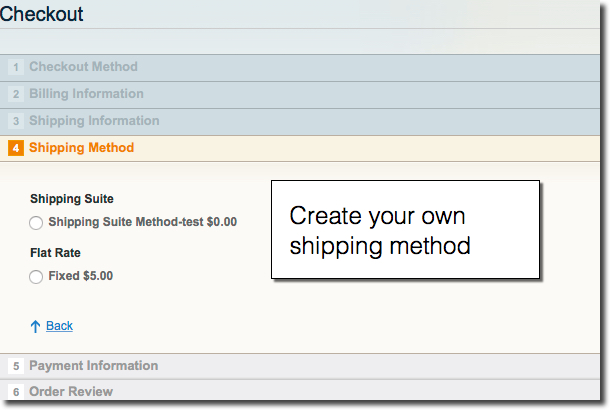 Shipping Suite allows you to create a new shipping method that can be easily configured by a store admin. It has the same set of features as the standard Magento shipping method.
Specify name,title and price of the newly created method,
Set an error message that will be displayed,
Define countries that shipment is available to.
Other Features
Magento 'Estimate Shipping' calculator,
Export all rates to a CSV file or import them to Magento,
Compatibility with all MageWorx extensions,
Compatibility with Phoenix VarnishCache extension,
Developed according to all the Magento code guidelines.
This extension for Magento 1 is fully GDPR complaint. The software neither collects nor stores any personal users' data.
Also, the extension doesn't share any personal info with third parties, and doesn't use this data for any marketing purposes.
Comes with
FREE Updates
and Improvements

Risk-FREE
30-day Money Back
You May Also Like
These are the extensions you may also be interested in.
Advanced Product Options
One-of-a-kind solution for managing Magento custom options. Configure custom options for any product and more.

Explore and Buy
Search Suite
Sphix and Solr integration, search autocomplete and autocorrect features, advanced search settings and reports.

Explore and Buy
File Downloads & Product Attachments
Attach any downloadable follow-up documents: a product brochure, user manual, video. All formats supported.

Explore and Buy
Reviews of Shipping Suite extension for Magento
Support always solves the issue
Extensions are great, also the support solved all of our issues.
Recommended!
Solved all of our shipping problems
We have some issues initially getting this working as but the mageworx guys helped us get everything working smoothly!
Mageworx is without a doubt the best extension developer I've worked with and their suite of tools are outstanding.
When I look for new extensions, I save myself a bit of time and start with Mageworx first.
working since 3 yrs as promised..
we installed 3 yrs ago.. last week we upgraded and had a small hiccup (our fault we had not read the installation instructions).. the support solved it within a few hours even though we are way out of the support period! what more could we want? excellent module and support!
Easy to install. Customers love it.
The best extension for shipping
Mageworx eat competition. they have the best support in the market far above we can ask or think.
Excellent Job and support
It is a great extension but absolutely brilliant support, very helpful company.
Very useful extension, great support
I downloaded this extension to customize Magento Shipping method. Support team was great during debug.
Easy shipping thanks to MageWorx
My business is concentrated in Western Europe, but shipping organization process has always been a nightmare due to particular goods. Now all this difficulties in the past. Shipping Suite extension helped me solving all the problems and ease the whole process. I have to add that support was really helpful so the configuration process was an easy walk. 5 stars.

Everything I need for my shipping.
All my products have the dimensions and weight specified in magento. I was looking for a solution to hide specific shipping methods based on product's dimensions and weights. This extension did a perfect job. I managed to set up everything within 3 hours. A real time saver was their copy of rules feature. In other extensions I had to re-create each shipping rule from scratch instead of just copying one.
My requirement is fulfilled. Their support is pro and friendly. Recommend to everyone.
Awesome Extension, Awesome Support
This is one of our favorite extensions. It makes custom shipping scenarios a snap. However, the focus of my review is not so much this extension, but Mageworx stellar support. We have pestered them relentlessly, since moving from our 1.7 installation to our 1.9 installation. Mageworx has been phenomenal! When in Dev, they reinstalled every extension I bought for my 1.7 site at no addition charge. They have helped me chase bugs for the last few weeks, most of which had nothing to do with their extensions. I can guarantee that none of their competitors would have offered this level of support!
Great Shipping management solution
This extension is just a treasure for my store. I have rather compound shipping rules on the site, and shipping suite does it all.
They helped me with the installation and created a couple of rules, all wihin a couple of hours. Thank you Mageworx team!
Great Software and Incredible Support
Shipping Suite has great functionalities easy to configure even for very complex international shipping scenarios.
The support is Super. We experienced a conclict with a previous installed extension from another developer and Mageworx has solved everything. Extraordinary customer oriented Support, brilliant Management,and skilled developers it's the mix we were looking for.
We've bought other extensions from Mageworx for its extenions advanced features (a must when you expext a business to grow) and also because a strong support is a key factor in achiving the best possible results.
Magento version 1.9.9.1 Theme: RWD

Advanced features and support makes the difference. Great Management and very skilled developers are the ingredients that makes Mageworx a business one can trust for building long time business and professional relations.
Complex solution for managing shipping rates
I ship my products worldwide and I have about 55 different shipping rates based on different conditions. I tried many other extensions from different vendors but this one matched my requirements. The support team helped me to configure some rules as example so I managed to add others myself. It's a very powerful tool and saved me days on the configuration of all my shipping rules.

Thank you.
Good solution, better support.
This is the 2nd extension from this company. Bought it because I think their customer support is the best on the market. I have a complex shipping table with many rates. This extension allowed me to create all of them but it took a while. Thankfully the support helped me and created several rules as examples.

Recommend.
I always live magewiorx products. I'm using their 5 extensions. This is my 6th module from them. They know how to do a complex solutions to cover most of needs. I have a complex shipping table to provide different costs based on product attributes and countries. This extension allowed me to do everything right. I spent a couple of hours configuring my 60 rules but it's my requirement:(
support helped me to create examples of rules to speed up this.

Thank you.
Take control over your shipping rules
Shipping Suite is another great extension from MageWorx. Making it really easy to manage shipping rates and methods. We also bought some small modifications, and now it's even better for our needs. Their support is really great! Thanks again MageWorx!
We have used Shipping Suite for about 5 months now. Perhaps, this is the best solution for managing shipping zones and calculating shipping rates. Installation was painless and the minor issues we had to get it up and running with our store were remedied by their support within 1-2 days.
5 starts for great support and very useful tool!

Another great product from MageWorx - works like a charm! Well coded, no bugs, great manuals, well supported!

We have rather complex shipping rules, which need to be set for different customer groups. And this extension did the trick! Also, I needed a little help getting the rules right and MageWorx replied within a few hours of my support ticket - super helpful!
Nice tool for shipping management
This extension works great. Support was even better. The most important thing for me is a fast support. These guys helped with my problem not requesting access details. Most of developers ask ftp without even checking your problem. mw surprised me with this.

One thing I hope they add is more tight integration between shipping zones and shipping rules.
Powerful shipping module.
My client needed to calculate shipping based on product's weight and display different methods for different categories. This extension did the job! Support team helped me to configure it by creating one example rule.

As a result, my client is happy, I got paid and THANK YOU mageworx :)
Great solution for shipping rates and methods management! The extension works great and does everything I need.

P.S. The support should be faster though. Had to wait for 12 hours before my pre-sales ticket got answered.
After looking over several shipping extensions for implementing advanced shipping methods I found Shipping Suite by Mageworx. Although it is more expensive than the other options, it's definitely worth it!

I looked over the documentation briefly and decided to purchase it and install configure it myself. It was pretty straight forward and easy to understand, to be honest. So, if you need custom control over your shipping on different products to different locations, look no further.
I have an online bakery store and I need to have different rates depending on the weight of my products, shipping zones, such criteria as product "freshness", etc..

For instance, if my customers order a wedding cake to be delivered to a neighboring town for this weekend, we need a special price for a bigger container to deliver it fresh and unspoiled, exactly on the required date.

The Shipping Suite comes of great help with tasks like that! The extension lets me easily manage and calculate shipping costs with the consideration of all the above mentioned factors.
This extension is good to manage shipping rates and methods. It helped me to configure shipping methods for all my cases. It saved me $200-$400 for a customization.
Their support replied to my pre-sale ticket within 10 hours. Installed the extension within 5 hours. Excellent!

Great extension.
Excellent plugin, great support
With this plugin all our complex shipping rules were possible. The support is really great!
Great extension and customer support helped solve any problems!
I only needed certain features of this extension and had a little bit of trouble trying to implement it to meet my websites needs. The support staff helped us to disable some unwanted features so it was tailored to just what we needed. They are cery friendly and now the extension does exactly what we wanted for our website.
Excellent Extension and WoW Support
We have a number of extensions installed under our Magento hood. But the one by Mageworx is awesome. In addition to all features listed, their prompt responses and excellent post-sale service has won our confidence in them. They resolved conflict arose in a blink at no additional cost. Hats off to the team!
Very good extension, better support
There are a few minor bugs, but the developers really gave great support. Our client decided to go in another direction, so we no longer need this extension, but still highly recommended.
Amazing stuff for shipping!
Bought this extension to restrict shipping methods per countries. Support team fixed my issue with custom design and helped to configure the extension for my needs. I'm very happy with this module and appreciate magewrx for the help.
I used this for a site that required me to limit shipment from different vendors. It worked like a charm - simple interface that does exactly what it says. We experienced a minor issue when we first installed, and MageWorx support totally hooked us up. Woke up one morning it was fixed. Would definitely recommend to others.
Support Team is Top Notch
I needed to tweak this module to better fit with my website, and the support team worked with me to make it a perfect fit. Works great!
Very good customer service! We needed a modification to the extension, and they made the change and worked with us until it worked the way we needed it. Thanks!
Product Changelog
Legend:
New Feature
Bug Fix
Version: 1.4.1 (April 12, 2016)
Fixes a fatal error on product page in specific cases
Resolves a problem with css
Fixes a product & item qty calculations based surcharge actions
Version: 1.4.0 (February 22, 2016)
Adds the compatibility with Webshopapps_Matrixrate extension
Adds the setting to display/hide the "Shipping to" block on the frontend
Fixes a category filter in a rule conditions for Magento > 1.9.x
Removes the "Ship to: Worldwide" message from product view page
Address is not blocked any more if Billing and Shipping addresses are diffferent on the checkout
If a zone has no products selected it means that the zone is valid for all products.
Version: 1.3.2 (November 30, 2015)
Minor bug fixes
Version: 1.3.1 (November 27, 2015)
Fixes the sql issue during the installation process
Fixes the issue with AJAX rule redirect to dashboard
Version: 1.3.0 (November 23, 2015)
Adds the SUPEE-6788 compatibility
Version: 1.2.1 (October 29, 2015)
Fixes the Access Denied error after installing the security patch
Version: 1.2.0 (11/24/2014)
The code is moved from app/code/local to app/code/community*
Shipping zones can be selected in the conditions of shipping rules
New condition "Shipping Date" was added. You can create shipping rules and define how long they should be available
The "Stop Processing Further Rules" ability was added for each shipping rule
Products can be filtered by categories when assigning to shipping zones
Improvements for categories selection when creating shipping zones
Default country can be specified for cases when a customer's location is not defined
Shipping Zone Mode can be disabled now
Compatibility with Magento EE FPC
Bug fixes and code refarctoring
Notes how to upgrade from old versions:
- Enable Magento cache;
- Rename the Adminhtml, DeliveryZones and GeoIP folders in app/code/local/MageWorx;
- Upload a new package;
- Refresh the cache.
Version: 1.1.4 (02/06/2014)
Conditions combinations are added
Bug fixes
Version: 1.1.3 (01/21/2014)
Shipping cost calculation issues are resolved
Version: 1.1.2 (12/23/2013)
Compatibility with Phoenix VarnishCache
Version: 1.1.1 (12/20/2013)
Addressed issue with specific zones configuration
Version: 1.1.0 (12/18/2013)
Significant improvements of shipping rules and rates
Ability to add fixed or percentage surcharges to shipping cost
Ability to specify a shipping cost per product (fixed or percentage)
Ability to specify a shipping cost per item in an order (fixed or percentage)
Ability to specify a shipping cost as a percentage from an order
Ability to specify a shipping cost per 1 unit of a product weight
"Ship to" message on a product page
Improvement of shipping zones
New shipping zone mode added
"Estimate Shipping" calculator added on a product page
New "Shipping Suite" shipping method added
Version: 1.0.0
Initial release