Increase the average order value and generate more profit for your Magento store. Easily create additional fees for extra services (e.g. Rush Delivery, Gift Wrap, Check Commission etc.) and display them before or during the checkout.
Fully compatible with all Magento Security Patches.
Easy and smooth transfer of all features to Magento 2 version.

Contact us

to get a personal 25% discount!
Create & Manage Extra Product Fees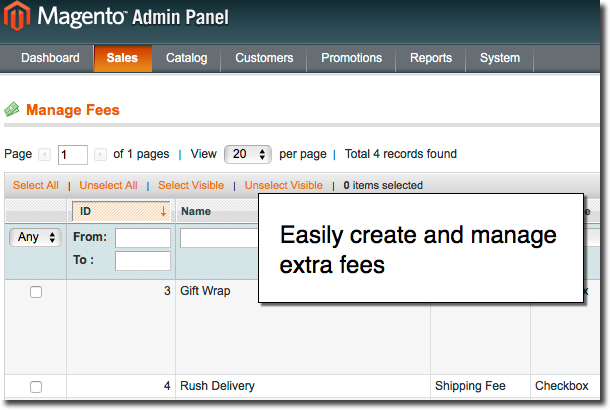 Add an unlimited number of extra services or services combined in groups (eg. Rush delivery, Insurance, Gift wrap, Signature, Check commission, etc.).
For each fee you can:
Set a sorting order,
Translate the name and description for each Store View,
Upload a logo,(-s)
Specify the default value,
Add custom messages and dates,
Create price/product quantity dependency. For example, if a customer adds 2 products to cart, 2 fees get added.
Set Flexible Conditions for Extra Fees
Create extra fees for specific customer groups or Store Views.
Add extra fees based on various conditions or their combinations. With this extension you can add product fee conditions based on:
Product attribute and product type,
Cart attribute (such as total quantity, subtotal, total weight, etc.),
Cart item attributes (row total in the cart, total quantity in the cart, price in the cart, etc.),
For example, you can set an additional 10% tax for all products from a certain category ('Bags' or 'Shoes', for instance) or offer a rush delivery for all the orders over $1500.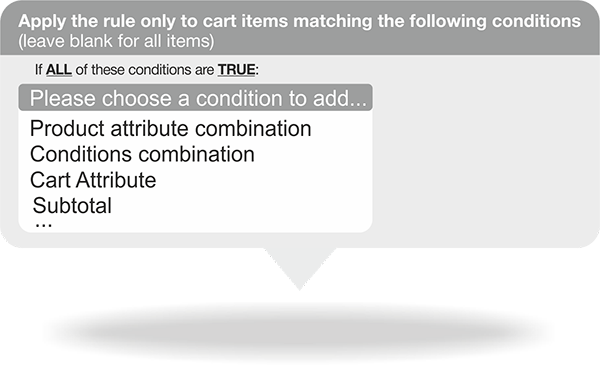 Input Type Position & Price Type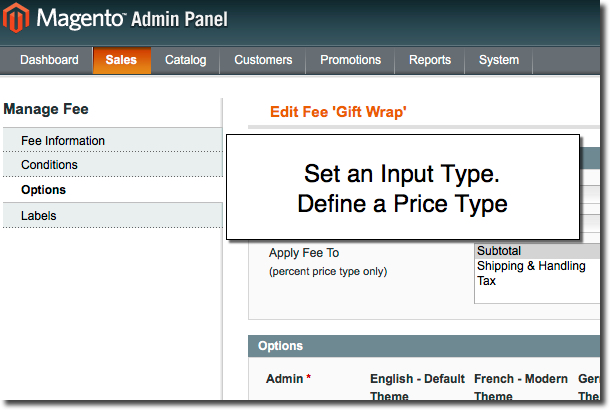 Display extra fees in one of the 5 input type positions: a drop-down, a checkbox, a radio button, hidden and a notice.
On top of that, you can add:
a notice type - it displays a message with the set fee; a notice is applied at the checkout only.
hidden fees - these fees aren't visible on the front-end and are added automatically to the order's total.
Also, you can specify a price type for any fee. It can be either a flat rate or a percent. Fees can be applied to the order's subtotal/ subtotal + tax or subtotal + tax + shipping.
Multi Fees Block Placement
Extra fees can be displayed in one of the 6 predefined positions: above/below coupon, above/below crosssell, above/below estimate shipping. Also, you can specify a custom position of this block.
The extension makes it possible to:

Add the fees block without rewrites (to avoid possible conflicts with the custom theme/ template),
Use a special code snippet (available in the backend) to insert the fees block at any custom position.
The fees are added or removed by AJAX, so you can avoid page reloads.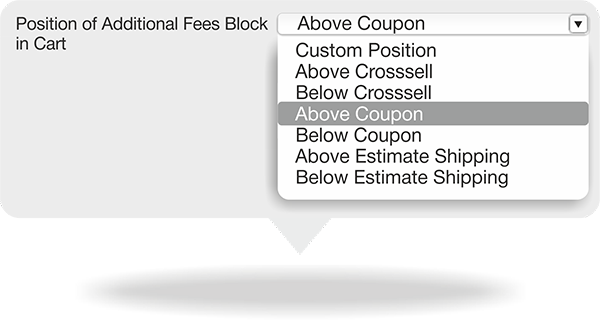 Shipping Method Fees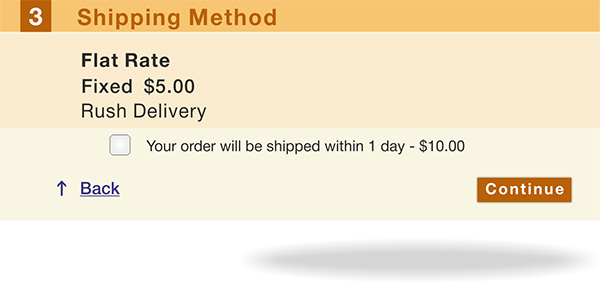 Create and assign extra fees to each active Magento shipping method (can be optional or required).
Automatically add fees when a customer selects a specific shipping method at the checkout (for example, you can offer Rush Delivery when the specific shipping method is chosen),
Create extra fees for a specific shipping country and state,
Hide shipping fees (and display only at the Order Review step).
Payment Method Fees
Transaction fees can be automatically added when a certain payment method is selected.
Create and assign transaction fees to any active payment method,
Set payment fees as required or optional,
Hide payment fees (thus they will be visible at the Order Review step only),
Use a multi-address checkout.
For example, if a customer chooses PayPal, you can surcharge them 3% extra. This way, you will be able to make up for any transaction fee deducted from your account.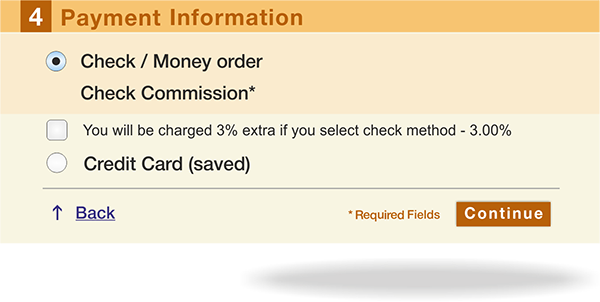 Set Tax Classes for Any Extra Fee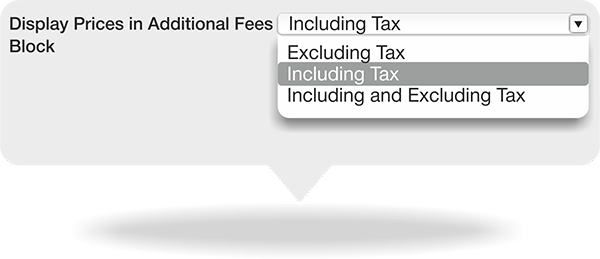 Use the default tax classes (or assign separate ones) for any extra fee. Thus, additional fees will be displayed with or without taxes.
And last but not least, the extension supports all the default Magento tax settings.
This extension for Magento 1 is fully GDPR complaint. The software neither collects nor stores any personal users' data.
Also, the extension doesn't share any personal info with third parties, and doesn't use this data for any marketing purposes.
Comes with
FREE Updates
and Improvements

Risk-FREE
30-day Money Back
You May Also Like
These are the extensions you may also be interested in.
Store & Currency Auto Switcher
Extend your eСommerce operations with multi-site, multi-language, multi-currency and local tax compliance capabilities.

Explore and Buy
Customer Group Prices
Charge different prices to different groups of customers. Reap greater benefits by introducing multiple pricing strategies.

Explore and Buy
Loyalty Reward Points
Magento Store Credits tool. Reward tour best customers with points and retain them and motivate the profitable behavior of the new ones.

Explore and Buy
Reviews of Multi Fees extension for Magento
Bin sehr begeistert von der Extension, nur leider hat die Extension bei verschiedenen Zahlungsarten unterschiedliche Arten die Gebühr bei einer Rechnungskorrektur zu berechenen. So das einmal die Gebühr raus gerechnet wird und ein anderes mal wieder nicht.
Aber sonst eine sehr gute Extension, vielen Dank.
At first there were a few problems with understanding but the problem was ultimately resolved with much patience by mageworx. Very good support. Here I buy again.
At first there were a few problems with understanding but the problem was ultimately resolved with much patience by mageworx. Very good support. Here I buy again.
As usual great extension and support
Well this is the only Fee extension which actually worked the way we want on our store. We have used another extension provider's Fee extension before on our store and it was not working the way it should which results in order loses for us. But MageWorx's Multi Fees extension really saved our life. Thank you Mageworx. Your extensions are really great and so is support.
Great Extensions and Good Support
We bought this extension but incompatible with OSC (OneStepCheckout), right after telling this to MageWorx support team, and they put sometime for the works, the result is great.
Now the our custom fees attribute works perfectly on OSC.
The assistance that we received from MageWorx support specialists was great.
Product Changelog
Legend:
New Feature
Bug Fix
Version: 2.7.4 (May 13, 2016)
Fixes a problem with empty product id in the conditions
Fixes a problem with wrong shipping costs in totals
Fixes a problem with paypalExpressCheckout
Fixes a problem with empty fee type after selection from a product grid
Fixes a problem with select-type fees in paypal ec & admin checkbox-type fees
Version: 2.7.3 (March 16, 2016)
Fixes an issue with taxes not applied to the grand total
Version: 2.7.2 (November 5, 2015)
Adds the compatibility with SUPEE 6788 Security Patch