Increase the average order value and generate more profit for your Magento store. Easily create additional fees for extra services (e.g. Rush Delivery, Gift Wrap, Check Commission etc.) and display them before or during the checkout.
Fully compatible with all Magento Security Patches.
Easy and smooth transfer of all features to Magento 2 version.

Contact us

to get a personal 25% discount!
Create & Manage Extra Product Fees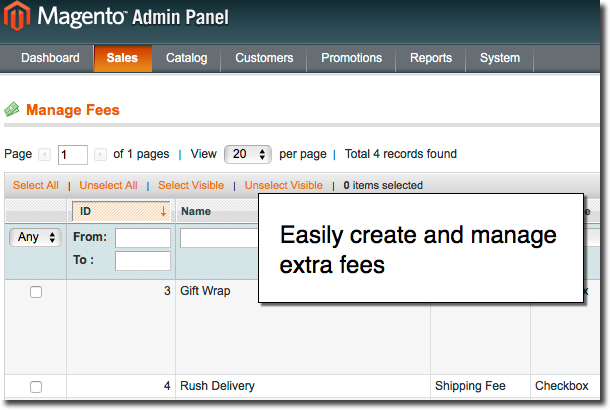 Add an unlimited number of extra services or services combined in groups (eg. Rush delivery, Insurance, Gift wrap, Signature, Check commission, etc.).
For each fee you can:
Set a sorting order,
Translate the name and description for each Store View,
Upload a logo,(-s)
Specify the default value,
Add custom messages and dates,
Create price/product quantity dependency. For example, if a customer adds 2 products to cart, 2 fees get added.
Set Flexible Conditions for Extra Fees
Create extra fees for specific customer groups or Store Views.
Add extra fees based on various conditions or their combinations. With this extension you can add product fee conditions based on:
Product attribute and product type,
Cart attribute (such as total quantity, subtotal, total weight, etc.),
Cart item attributes (row total in the cart, total quantity in the cart, price in the cart, etc.),
For example, you can set an additional 10% tax for all products from a certain category ('Bags' or 'Shoes', for instance) or offer a rush delivery for all the orders over $1500.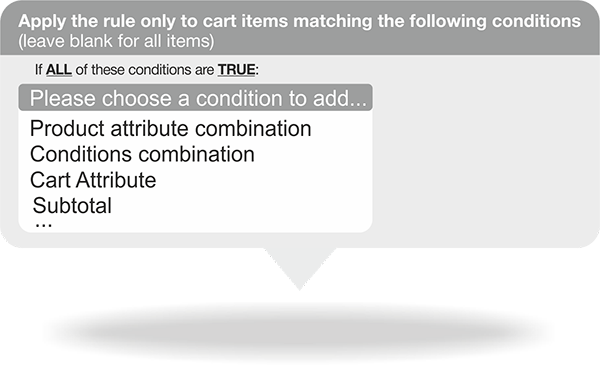 Input Type Position & Price Type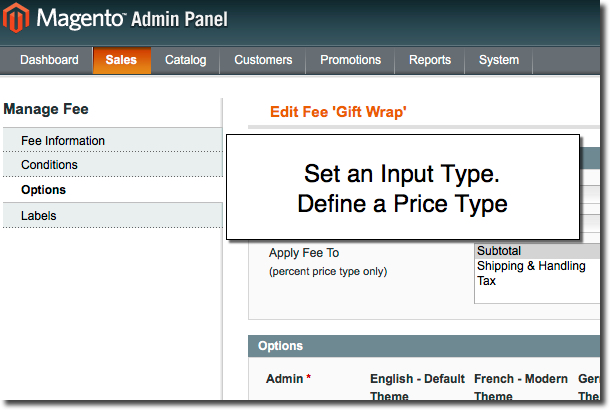 Display extra fees in one of the 5 input type positions: a drop-down, a checkbox, a radio button, hidden and a notice.
On top of that, you can add:
a notice type - it displays a message with the set fee; a notice is applied at the checkout only.
hidden fees - these fees aren't visible on the front-end and are added automatically to the order's total.
Also, you can specify a price type for any fee. It can be either a flat rate or a percent. Fees can be applied to the order's subtotal/ subtotal + tax or subtotal + tax + shipping.
Multi Fees Block Placement
Extra fees can be displayed in one of the 6 predefined positions: above/below coupon, above/below crosssell, above/below estimate shipping. Also, you can specify a custom position of this block.
The extension makes it possible to:

Add the fees block without rewrites (to avoid possible conflicts with the custom theme/ template),
Use a special code snippet (available in the backend) to insert the fees block at any custom position.
The fees are added or removed by AJAX, so you can avoid page reloads.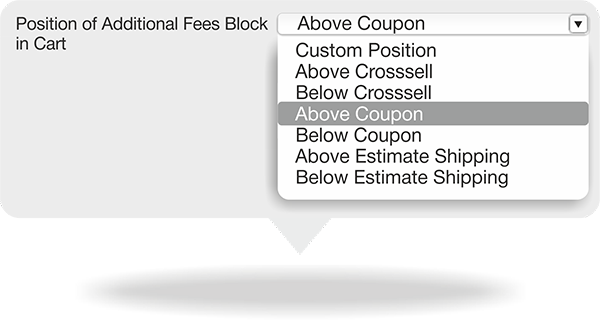 Shipping Method Fees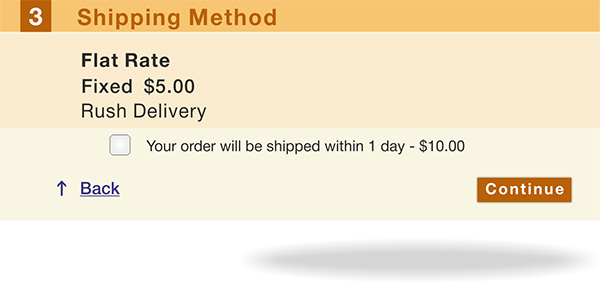 Create and assign extra fees to each active Magento shipping method (can be optional or required).
Automatically add fees when a customer selects a specific shipping method at the checkout (for example, you can offer Rush Delivery when the specific shipping method is chosen),
Create extra fees for a specific shipping country and state,
Hide shipping fees (and display only at the Order Review step).
Payment Method Fees
Transaction fees can be automatically added when a certain payment method is selected.
Create and assign transaction fees to any active payment method,
Set payment fees as required or optional,
Hide payment fees (thus they will be visible at the Order Review step only),
Use a multi-address checkout.
For example, if a customer chooses PayPal, you can surcharge them 3% extra. This way, you will be able to make up for any transaction fee deducted from your account.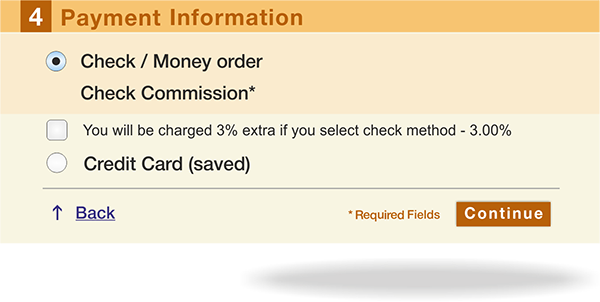 Set Tax Classes for Any Extra Fee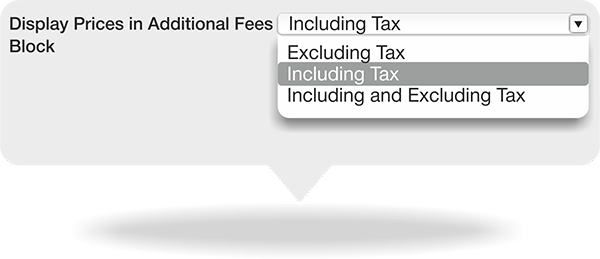 Use the default tax classes (or assign separate ones) for any extra fee. Thus, additional fees will be displayed with or without taxes.
And last but not least, the extension supports all the default Magento tax settings.
This extension for Magento 1 is fully GDPR complaint. The software neither collects nor stores any personal users' data.
Also, the extension doesn't share any personal info with third parties, and doesn't use this data for any marketing purposes.
Comes with
FREE Updates
and Improvements

Risk-FREE
30-day Money Back
You May Also Like
These are the extensions you may also be interested in.
Store & Currency Auto Switcher
Extend your eСommerce operations with multi-site, multi-language, multi-currency and local tax compliance capabilities.

Explore and Buy
Customer Group Prices
Charge different prices to different groups of customers. Reap greater benefits by introducing multiple pricing strategies.

Explore and Buy
Loyalty Reward Points
Magento Store Credits tool. Reward tour best customers with points and retain them and motivate the profitable behavior of the new ones.

Explore and Buy
Reviews of Multi Fees extension for Magento
Bin sehr begeistert von der Extension, nur leider hat die Extension bei verschiedenen Zahlungsarten unterschiedliche Arten die Gebühr bei einer Rechnungskorrektur zu berechenen. So das einmal die Gebühr raus gerechnet wird und ein anderes mal wieder nicht.
Aber sonst eine sehr gute Extension, vielen Dank.
At first there were a few problems with understanding but the problem was ultimately resolved with much patience by mageworx. Very good support. Here I buy again.
At first there were a few problems with understanding but the problem was ultimately resolved with much patience by mageworx. Very good support. Here I buy again.
As usual great extension and support
Well this is the only Fee extension which actually worked the way we want on our store. We have used another extension provider's Fee extension before on our store and it was not working the way it should which results in order loses for us. But MageWorx's Multi Fees extension really saved our life. Thank you Mageworx. Your extensions are really great and so is support.
Great Extensions and Good Support
We bought this extension but incompatible with OSC (OneStepCheckout), right after telling this to MageWorx support team, and they put sometime for the works, the result is great.
Now the our custom fees attribute works perfectly on OSC.
The assistance that we received from MageWorx support specialists was great.
The only Extra Fee app that worked for us!
Put it simple: we have bought 4 5 rated stars extensions for extra and additional fee purpose, and none of them ever worked properly. This one was our 5th try, and it works absolutely perfect.
It is the only one using completely different structure and because of that it gives absolutely no interference whatsoever with countries with or without taxes (absolutely a necessity if like us you export worldwide).
So one word: GREAT!
Please be sure that we have lost a lot of money with other similar products that never worked. This is the only one that really I can guarantee works 100%
Thank you guys!
This extension is simply great!
Nice module nice guys!
Maybe we can improve the frontoffice layout as I suggest them (1line=1fee=1cost) but really usefull.
-----
Great extension and great support. At the begin we needed sometimes to find the right communication than they give me really quick feedback as I needed
That's exactly what we needed and it works perfectly.
I used three other extensions for this requirement in the past. However, for some reasons none of them worked fine on my site. I heard many positive feedbacks about magrwors guys and decided to give them a chance. Alexander replied to all my questions very quickly and the developers installed fee extension to my site within 2 hours. They adjusted it to my custom design free of charge. It was very unexpectedly, because other companies like amasty, magikcommerce wanted me to pay extra for fixing these design issues. I like that this guys do not put you into a position when you should pay for any custom change/fix due to different themes, extensions etc. Now they have +1 loyal customer.

Great job.

Useful module, excellent support
This module met our requirement as it says. And the support is excellent. many thanks to support team. I would recommend this product.
I purchased this extension and this extension works so good and the support is also appreciably.

you guys are so talented and your support is on demand.
Real money back guarantee.
I purchased this extension accidentally thinking that it's compatible with Magento 1.3.2.4. I know that we are like dinosaurs but we cannot update due to heavily customized site. Unfortunately, this module doesn't support Magento 1.3 and we requested a refund. I was surprised that the team replied to my ticket within 45 minutes and moreover the refund was done within an hour! Thanks for me these guys do the money back guarantee without any delays or attempts to ignore.

Thank you!
One of the best extension for managing fees
I have been using this extension for a year or so. I love the free lifetime updates from these guys! It makes me feeling that it was a right investment. The team is always friendly in answering to all my emails. They are real professionals!!!
Keep up!
This extension has great functionality- It seems as though they thought of everything! We installed it for Magento 1.9.1 without a hitch and needed no assistance getting it to work with our theme! Support was quick to respond, clear and helpful!

I highly recommend this extension
Great tool which works like a charm. Purchased the extension with the installation and it was installed within 2hours!!! Amazing fast team. They even installed it on my custom checkout.
Tahnk you! I will definitely buy more from these guys.
Good Support for this extension
Support fixes issues within 72 hrs. and fairly quick to respond. Would recommend if needing a feature to add additional fees to products.
Applause for the effective support!
We got this extension 11 month ago, and it has been successfully used on one of our stores.
Then we introduced some modifications to that store, and additionally installed a load of other extensions extensions. This affected the work of the module and triggered some glitches on our store.
Luckily, after contacting the Mageworx support team, ALL the issues were fixed in less than 24 hours..
Simply amazing!
Extension is very nice, but especially the service is great. I had a little problem and they solved it for me within 2 days!
Module is great. Support is superb!
We implemented this module in our webshop to add a fee for PayPal and creditcard. We run our business totally transparant for the customer and the products we sell have the best quality for the best price.
Mageworx installed the module (before purchase) in our test environment so we could have a look. We had a few issues regarding responsiveness.
They did a great job supporting us all the way so we were confident enough to make the purchase and have this module installed in our live environment.
It works great!
Then we would like to have a question mark implemented in our checkout so customers could see why the additional fee is being charged. Mageworx implemented this feature for free and made it responsive aswell. So now, we have a perfect solution for desktop and mobile users.
Very impressed with the support.
One downside is that they only have email support and no phone. This will slow down the communication and the overall implementation time.
This extension gives us a lot of flexibility in adding additional payment and shipping charges. But our customers would like to see the fees breakdown in order/invoice email and My Account! Hopefully the next version can give us this feature.
It works like a charm for me. I had no way to test their support because there was nothing to fix but the extension itself is great. There are some features missing for my requirements but they promised me to add them soon.

Let's wait. For now, it's a big "recommendation" from me.
Simple solution for adding fees
I needed to add some fees for my payment methods and this extension did the job. No extra problems, no delays with the installation and support queries. I need nothing more :)

Recommend these guys to everyone.
Perfect one for my web store. Thanks!
I am inspired by this product because it satisfies all my admin's needs. Now I am handling less payment issues and those issues are easier to handle.

Fully recommend this product for any marketplace owner!




Smart solution for adding additional services and fees! Works great for a reasonable price. Helpful and kind support (Antoine courageously "dared" my stupid questions and answered them all =) ).

The only feature I request the MageWorx team to add is the ability to associate the fees to the product in cart so they could be shown on cart not just on total.

Apart from that, it's a brilliant solution! Keep it up!
Serious Shortcomings - Unusable without further development
All in all a flexible extension that does the job. However, on our installation (1.5.1), we have the following problems:

1. In the order calculations, the Fees are placed below the Grant Total (i.e. they are not included in the Grant Total). This is, of course, wrong (there's a reason it's called Grand Total), and very unprofessional.

2. They seem to have completely ignored how the fees are processed with a credit memo. You have no control over whether or not the fees be refunded or not.
Great extension , Great Support
Great extension and the quick support. I Recommended 100%
Best Module for Multi Fee
We have this extension long time ago, but i just installed it. Perfectly work as described, some little problems (css) which were rapidly corrected by the Mageworx team, we can implement the module just one day after the buy, fantastic !
One of top 5 extensions you can have!
First off I want to say this product did not work right with our custom Magento site. Even when they fixed the stock product issues there were many things that were wrong or did not work as they should (such as using Paypal Express which was bypassing the fees). Well Mageworx support is BEYOND FANTASTIC! They patiently wrote emails and worked through every issue I had. I think I even helped them make this an even better product and I would assume all our new features and fixes will come out in the next version. You WILL WANT TO HAVE THIS! I have the highest regard for Mageworx support staff and they have made this an absolutely wonderful must have product!
It was the only module that solves my problem with cash on delivery method. I couldn't add extra fee with standart CoD method. Also, there is Credit Card on Delivery method in my country. I used check payment method for this and Multi Fees module helped me to add extra fee for this method. Support team was very fast and they solved Onestepcheckout module integration problem by free. I recommend this module.
Very Good and Funcional Extension!
I'm using this extension since March 2012 and always serve all my needs. New updates always bring new functionalities. Cheap price for what we can do with Multi Fees.
The support they provide is fast, accurate and very professional. I RECOMMEND!
Great extension and support I answered quickly. Recommended.
Great product, great support
The product does exactly what I wanted.
I had a bug in the basket because of a template I'm using. The support was excellent. Very fast and very good!
Great Extension and even better support!
I tried to set up PayPal fees but first it didn't calculate the fees to the whole basket (incl. shipping) but the guys from the support changed it for our needs. Thanks! I can only recommend the extension.
fantastic service provided
first of all, i bought this extension 8 month ago, and expirienced by that time a great, fast and more than helpfull support.
this extension is exactly doing that for what i bought it. so now 8 months later i contacted the support again, cause i made some modifications and added a load of extensions, and by that time, something affected the MultiFees extension. Not seriously, only in an optical way.
after contacting mageworx, inbetween 24 hours they fixed this problem for me!
simply great!
Good support with MultiFees extension
Very quick response after submitting a support ticket and with a good solution for my error.
Multifees offers a lot of options customers want that are hard to build in.
And with the excellent installation service it's no effort what so ever!
The extension did not work out of the box, but Mageworx helped out and fixed everything.
Not only that, but we had some specific functional requirements and they helped out.
Great team, great extension, great support!

Top Notch Extension & Support
Great addon to our shop.
However it did not work out of the box because we have a highly customized Magento skin.
We submitted a support request and within one hour MageWorx was busy integrating the extension within our shop.
On top of that, after integration design & layout was messed up, they even fixed this.

So in short, great extension and top notch support!
Decent Extension, Exceptional Support
The extension works nicely.

Mageworx responded very quickly to our request for assistance and resolved the issue the same day. Nice work and thanks!
When we installed it, we had to change in the etc/config.xml multifees_setup>setup>class from:

"MageWorx_MultiFees_Model_Resource_Eav_Mysql4_Setup"
to
"MageWorx_MultiFees_Model_Mysql4_Setup"

and then it worked for us. Thanks!
Very Good Extension and the Best Support !
Very Good Extension, and the team of the support is the best !! Thanks a lot !!
Very good extension. Mageworx works hard for provide an excellent support.
Thank you very much for your quick response. It is pleasure working with you
I purchased Multifee and I already had another plug-in installed using the same parameters. Mageworx was able to quickly rectify my issues and the site works great!

Thanks!!

Mike
We very happy abou your good contact and hard work
Big up for the MageWorx-Support!
Good Extension, great Support. My Issue was fixed in a few hours. Thanks and Greets,

Daniel
- Spent 2 days to resolve conflicts MultiFee+OneStepCheckout+CashOnDelivery.
- No options to add fees by admin in order creation.
- To complex magento's version dependents. I think 2 .zip files will be much easier to understand logic.
+ Events model
+ To write my own will take 5 days about. Free 3 days :)
Excellent work !! I am impressed with your support

Keep up the good work

Nice extension.
I have some problem in PDF invoice v1.4.1.1.
In PDF invoice i can see label as well price of Additional fees.
But i want to display name of items taken and also want to display
customer comments in INVOICE PDF.
Any idea how to do it.?
Unparalleled Tech Support
Multi Fees has performed beautifully so far, but for one technical issue we had. I brought it to tech support's attention and they promptly e-mailed me replacement code that resolved my problem. From contacting MageWorx to installing the fix, the entire process took place in under 1 hour. Fantastic!
Great Suport of the MageWorx team!
I had a lot of problems with this extension due to the template i used and specific law rules in my country. MageWorx helped out better i could have hoped for. They fixed all the problems and always responded correctly and prompt. Great Job!
Excellent extension!!
Excellent Support!!

Very good!
Prompt and really helpful support. I was really impressed with their professionalism.
Great Extension and Great Support
I needed an extension that would allow my client to be able to add a proof fee to certain products. After chatting with the support staff, I was informed that they were working on adding this feature to their current extension and they were able to up their release date and install it on my clients site in a matter of days!

I have a very happy client and a great working extension. Thank you so much!
I was having issues with the format of my Magento Theme, plus some errors with the Onestepcheckout module. They fix all of the errors and now it is working great.

This extension is what I need, and works excelent.
Great support.

Thank you !
Great extension, great support. Looking forward to more extensions !
Best Fee / Giftwrap extension. Flexible and supports an image for each option.
Best Fee / Giftwrap extension. Flexible and supports an image for each option.
Only thing missing is the extra fee is not on the packing slip and on the invoice it says: 'extra fee' but it doesnt say wich one.
Great Job, Great Support .... What else ?
Multi Fees Magento Extension is a useful addon for us. All processes went quickly and smoothly forward during buying, installation and integration. After having a small issue with the extension we were able to test the support ! in just few words: AMAZING CUSTOMER CARE SERVICE. Our issue was solved in only few hours during ... the weekend (Hey guys, do you have a "follow the sun" service to allow such quick reply ? ;-) ) ! Definitly one the best extension builders !
Product Changelog
Legend:
New Feature
Bug Fix
Version: 2.7.4 (May 13, 2016)
Fixes a problem with empty product id in the conditions
Fixes a problem with wrong shipping costs in totals
Fixes a problem with paypalExpressCheckout
Fixes a problem with empty fee type after selection from a product grid
Fixes a problem with select-type fees in paypal ec & admin checkbox-type fees
Version: 2.7.3 (March 16, 2016)
Fixes an issue with taxes not applied to the grand total
Version: 2.7.2 (November 5, 2015)
Adds the compatibility with SUPEE 6788 Security Patch
Version: 2.7.1 (October 28, 2015)
Error appeared while installing module on stores which use table prefix
Version: 2.7.0 (August 30, 2015)
Ability to choose shipping and billing details (country, state, region, postcode) for shipping / payment fees
Move module to community code pool
The issue with the calculation of subtotal/discount price with/without tax
Custom Message was not saved for Fee Option 'Notice' with only one option value
Version: 2.6.0 (May 25, 2015)
Ability to choose shipping country and state for shipping fees
Minor issue with the price type when adding a new fee
Version: 2.5.9 (September 19, 2014)
Rounding functionality for fee's prices
Version: 2.5.8 (March 19, 2014)
Bug fixes
Version: 2.5.7 (02/21/2014)
Expand/Collapse options are added for the fees list when creating or editing orders in the back-end.
Version: 2.5.6 (02/21/2014)
Compatibility improvements for Webshopapps_Matrixrate extension
Minor bug fixes
Version: 2.5.5 (02/10/2014)
Additional fees setting is added to System->Config->Sales->Sales->Checkout Totals Sort Order
Version: 2.5.4 (01/16/2014)
Tax display improvement
Minor bug fixes
Version: 2.5.2
Minor bug fixes and improvements
Version: 2.5.1
Improved behavior with tinybrick_orderedit extension
Improved compatibility with Customer Credit extension
Bug fixes
Version: 2.5.0
New Input Type: Notice was added
Bug fixes
Version: 2.4.4
Improved support of one-step-checkout extensions.
Version: 2.4.3
Issue with shipping methods that has codes with spaces
Partial support of the firecheckout.
Version: 2.4.2
Issue with calculating totals with two different fees is resolved
Version: 2.4.1
New feature "Include Fee in Shipping Price" is added
Support of Twebexperts_Payperrentals extension
Full support of MageWorx Customer Credit extension
Bug fixes
Version: 2.3.1
Full compatibility of Paypal Express
Percentage fees display how much actually these fees cost (e.g. Shipping Insurance - 5% ($20))
Fees can be assigned to shipping sub-methods now
Bug fixes
Version: 2.2.4
New setting Calculation Settings was added
Code cleaning
Version: 2.2.2
Improved behavior of checkout fees
Issue with one-time fees for configurable and bundle products is resolved
Issue with incorrect update of fees' statistics
Version: 2.2.0
New hidden fees were added for the checkout
Version: 2.1.2
Improved functionality of fees' conditions
Improved layout of fees
Issues with Paypal methods are resolved
Version: 2.1.0
One-time option for extra fees added
Major bug fixes
Version: 2.0.0
Ability to assign fees to customer groups
Ability to create extra fees for each store view
Ability to assign tax classes to extra fees
Ability to display fees including and excluding taxes
Add, update and remove fees using AJAX
Ability to create extra fees based on different conditions
Major bug fixes
Version: 1.1.6
Paypal issue on Magento 1.5.1
Version: 1.1.5
Ability to create fees for particular product types
Ability to create fees for particular products
Magento 1.4.1.x compatibility issues
Tax calculations
Issue with qnty update from cart page
Version: 1.1.3
Compatibility with Magento 1.4.0.x versions
Paypal issue
Refund statistic
Checkout fee calculation
Extension behavior when there are no fees
Version: 1.1.1-1.1.2
Several bug fixes
Payment fees
Shipping fees
Version: 1.1.0
Added Checkout Fees
Added tax calculation to fees
Version: 1.0.0
Initial release