Replaces the standard Magento Contact Us page with an advanced alternative.
Developed according to the official Magento programming guidelines.
Designed for the standard Magento functionality, tested on the default theme and checkout.
IMPORTANT! In case you need to adjust the extension for a custom-built checkout or theme, drop us a line.

*Note, customization is done at extra cost.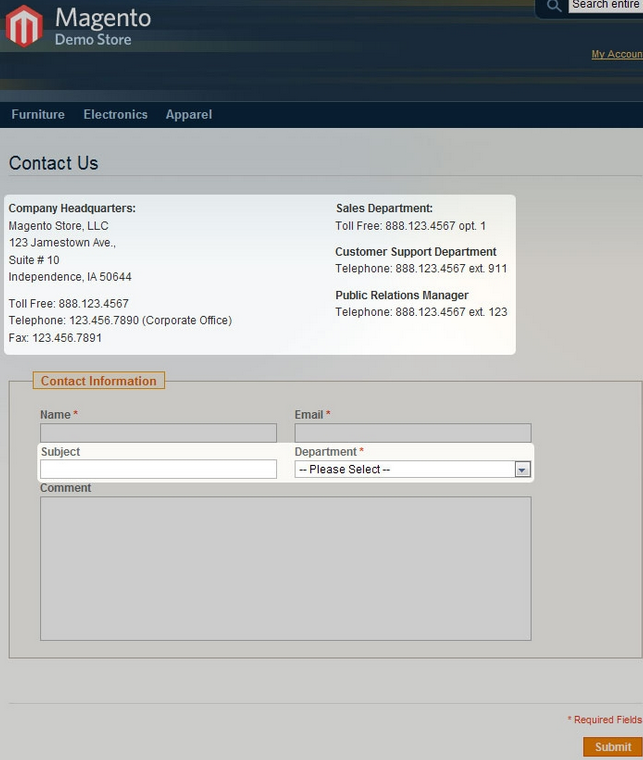 Extended Contacts extension lets you enhance the standard Magento Contact Us page by replacing it with a more advanced version.
Define multiple contact departments with different names and emails (drop-down field is automatically added to the form where department names are added to the subject field)
Select Static Block to display additional Store info above the Contact Us form
Set either independent per store view or global settings
Add the subject field to the Contact Us form
Select a Send Copy to Sender admin option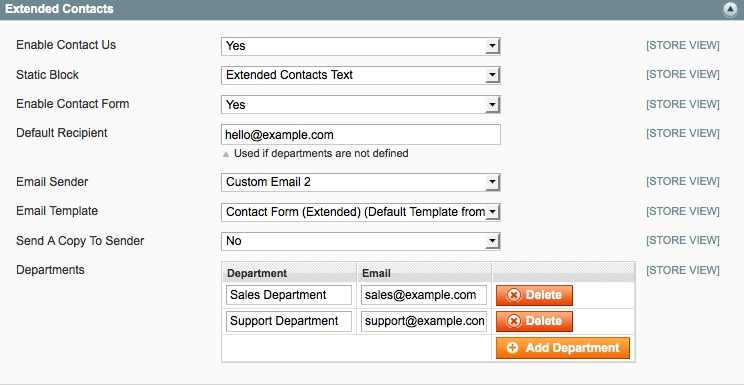 You May Also Like
These are the extensions you may also be interested in.
Multi Fees
Create additional services (fees) like Gift Card, Rush Delivery, Gift Wrap, etc. Easily charge extra (a fixed rate/ a percentage of order subtotal) and increase average order value.

Explore and Buy
Shipping Suite
Eliminate all shipping hassles, expand to the new markets and deliver your products with ease.

Explore and Buy
File Downloads & Product Attachments
Attach any downloadable follow-up documents: a product brochure, user manual, video. All formats supported.

Explore and Buy
Magento Extended Contacts extension
Just what I needed. Recommended for use.
Just needs very well. Recommended for use.
excellent extension, but needs captcha otherwise spam is an issue
Very good but missing key feature
Needs the ability to dual verify email address, just like any other email submit form. Also ability to have static block not only on top, but a option to bottom alternatively.
Great extension, very useful! Although since a few days we regularly get spams for "blue pills", perhaps adding a captcha feature would help.
Support added new features for us
MageWorx were extremely responsive to requests for patches - highly recommended. They added the department name the contacter selects to the email subject. Be aware that messages this form sends do appear as 'from' a fixed address at your shop, but the 'reply to' address is that of the contacter.
I have been looking for such an extension for a while and am really happy with it. A few extra needs that we had were taken care of by the friendly customer support. Thanks a lot!
Product Changelog
Legend:
New Feature
Bug Fix
Version: 1.2.0 (02/10/2014)
Mage_Contacts is not disabled any more when MageWorx_XContacts is active
Some configuration settings were removed from module. Module is used configurations from Mage_Contacts instead.
Controller rewrite is changed, because it caused the 404 error on specific Magento installations
Module configuration moved to the separate section System > Configuration > MageWorx Extended Contacts
Templates are now located in app/design/frontend/default/default/mageworx/xcontacts (previous path was app/design/frontend/default/default/xcontacts)
Layout file is renamed from contacts.xml to mageworx _contacts.xml
Email template is moved from app/locale/en_US/template/email/xcontacts_form.html to app/locale/en_US/template/email/mageworx/xcontacts/xcontacts_form.html
Translations phrases are updated
Version: 1.1.2
Magento CE 1.7 and EE 1.12 compatibility fix
Version: 1.1.1
"Unable to submit your request. Please, try again later" issue is fixed
Version: 1.1.0
Added department name in the email subject
The issue with "ReplyTo" option
Version: 1.0.1
Added 'Send A Copy To Sender' admin option
Fixed encoding bug for empty subjects
Version: 1.0.0
Initial release