Exclude annoying page reloads every time a customer adds/removes an item to cart. Equipped with the AJAX Add-to-Cart functionality.
Developed according to the official Magento programming guidelines.
Fully compatible with all Magento security patches.
What is Instant Cart for?
Multiple Options for AJAX Popup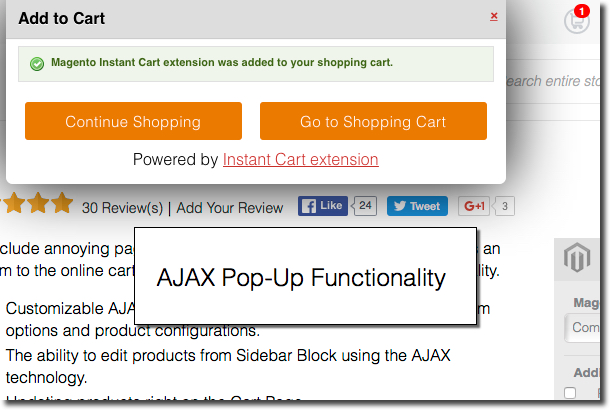 Instant Cart has multiple configuration options for the AJAX pop-up. With this Magento extension your store customers can:

Add/ edit/ remove any type of product (simple, configurable, bundle, etc.) to/from cart without page reloading
Edit product options without going back to the product page. Instant Cart displays configurations and required custom options (such as Quantity, Color, Size etc.) in a handy pop-up
Add products to the "Wishlist" or "Compare" list.
Extended AJAX Functionality
When a customer adds an item, My Cart top menu link with the actual number of items in the cart (e.g. "My Cart (4 items)" gets updated automatically.
Also, once a product is added, our Magento extension automatically updates Wishlist or Compare sidebars without page reloads.
In addition, Instant Cart Magento extension offers you to apply or cancel discount coupons and estimate shipping costs using AJAX.

Customizable AJAX Popup Window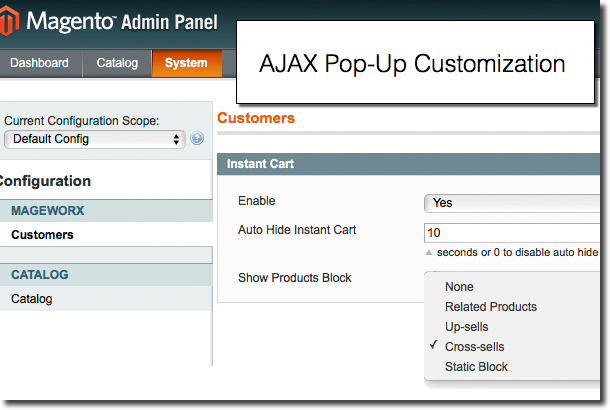 With Instant Cart Magento extension you can display Related Products, Cross-Sells or Up-Sells right in the AJAX pop-up.
What is more, you can automatically hide the AJAX pop-up in the scheduled time. When the pop-up disappears, customers can continue shopping.
Other Features
Multiple stores support (you can enable/disable extension for each store view independently)
Easy customizable layout with CSS
Support of all major browsers (Safari, IE7+, Opera, FireFox, Chrome)
Support of most popular mobile browsers
HTTPS Support
MAP Support – Minimum Advertised Price
Compatibility with Advanced Product Options
Compatibility with Donations Magento Extension
Compatibility with Shopping List Magento Extension
Support of most popular mobile browsers
This extension for Magento 1 is fully GDPR complaint. The software neither collects nor stores any personal users' data.
Also, the extension doesn't share any personal info with third parties, and doesn't use this data for any marketing purposes.
Comes with
FREE Updates
and Improvements

Risk-FREE
30-day Money Back
You May Also Like
These are the extensions you may also be interested in.
Abandoned Cart Recovery
Get your lost sales back! UNIQUE analytical features, ready-to-use email templates, detailed sales reports and more.

Explore and Buy
Order Management
Extend the standard Magento Orders grid, manage (edit/ delete/ archive) any number of orders with ease.

Explore and Buy
Shipping Suite
Eliminate all shipping hassles, expand to the new markets and deliver your products with ease.

Explore and Buy
Reviews of Instant Cart extension for Magento
Absolutely Fantastic Support From Developer
Installed extension and it worked Ok except for a small issue due to other 3rd party extensions.
Support corrected the issue straight away in quick time.
Perfect extension for our needs and unrivalled support from Mageworx.
Would highly recommend to all.
------
Unrivalled Support from Mageworx. Absolutely well above our expectations. Amazing Customer Service.
Great support from Mageworx when we had our first issue (after using the extewnsion for 1 year!)
----
Eugene was really helpful and dealt with the problem quickly and effectively. Great support!
Had a little issue with the installation but they were quick to fix any issue. I would recommend Mageworx for all of their extensions.
-----
I would recommend them to anyone. Their customer service is great.
Great module and wonderful support. We use our own theme and they worked hard on helping their module to work with it. Happy we made the purchase.
Works great and got superb help
We use this with the popular Ultimo theme. It had a few issues with the cart in the header and the MageWorx team jumped right in and fixed it up.
Many thanks
Greate job, amazing support
Hi,
Module works very well. We have found several problem with using it in our template, but very responsable support team fixed it in short time and also fixed it on my site, so it wasn't a problem for us.
I advise to buy it for your stores.
Greate job Mageworx team.
Good extension, great support
Purchased the module and a couple of issues came up using it with our custom Ultimo theme. The developer fixed the first issue and after testing when another issue was found he was very prompt in fixing it as well
Cool extension and really fast support
My store became really nice since I've installed this extension. Despite I've got some difficulties during the first initialization, support professionals helps me really fast. I'm totally satisfied with this cool product.
That's a quite simple extension and it works out of the box for me. It's fast, nice and responsive. Support is prompt in replies and helpful. That's more than enough for me.
One feature I'm missing is a product pic in confirmation pop-up when a product is added to the cart.
Provides a great user experience and works exactly as expected. Fantastic support from the developer!
----
Developer provided rapid support, will certainly look to this team first next time i need an extension.
very useful extension that comes with even better service
This extension does exactly as described.
I have already purchased more than 3 extensions from Mageworx and I will surely have more because of the great service, unlimited upgrade & support and the help you get from the support team even when a issue you have is caused by a conflict from another developer.
Good Company , Good Product
The product does as stated. It works without any modifications to files. Had a small issue with my Ultimo Theme and they fixed it. Would certainly rate both company and product.

Very helpful and was able to solve any issues with minimal fuss.
Perfect example of excellent company
The extension works as described and does its great work.
I had some problems with other extension and theme compatibility, but the lifetime friendly support has solved all the problems very quickly.
I strongly suggest this dev team
Excellent plugin with awesome support
This plugin is really useful for us and increases our sales.
We experienced some initial problems with conflicts with other extensions and theme, but Mageworx support has resolved these issues quickly by logging in to our store to magically fix all issues within a few hours, and also helped with some customization free of charge. So with that in mind, it turned out to be easier than most other extensions to install.
Can highly recommend this plugin and also the developer.
Best Support Ever Experienced And Extensions that just work
Hi Guys,

Just wanted to stop by and say a Big Thankyou for your support. I had purchased 2 extensions from you guys over 12 months ago. Instant Cart and Search AutoComplete PRO.

We recently upgraded our website to a new customized theme and were having some issues getting the full functionality of the Extensions to "play nice" with our new design.

I reached out to the support here at Mageworx and the response and service was Outstanding and far beyond my expectations.

The guys promptly corrected both extensions and have them working perfectly in harmony with our newly designed/upgraded site. Even performed some custom adjustments to get them to work with a new feature we had on the site.

Service like this is few and far between. All I can say is you have a customer for life. Anyone interested in purchasing extensions or having custom work done need look no further. You are in the right place here.

Simple, yet useful tool.

Works like a clock and provides tons of great experience for our shoppers.
Definitely a must-have for each and every magento storekeeper!
One of the best instant cart extensions
instant cart works like a charm. Their support helped me to fix some design issues with my custom theme and now the extension works perfectly on my store. It gives you everything you need to improve customer experience on your site. I tried many other similar solutions but this is the only one compatible with mageworx custom option extension.

Recommend to everyone.
I do respect the way you deal with your customers, No wonder all of your customers protect your hard work, and I do appreciate your quick respond to my tickets and solving any problems quicly
Thank you
Great extension, best support ever!
Extension is really awesome, does what it says it will. Had a conflict with another extension (fault of other extension whose developer refused to help sort it), these guys are absolutely amazing and fixed it promptly for me. Even a couple of months later when I noticed something else I had originally missed they fixed it for me straight away. Support is amazing, friendly and so helpful. Highly recommended!
Extension works great! We have a custom theme and needed some integration and MageWorx spent two weeks helping us integrate this plugin into our store. We were blown away by them!
I 've been using your Instant Cart extension for 6 months and I am very pleased with it. Last week I installed a new theme that has a dropdown basket and a "compare" block at the top links that couldn't get updated by Instant Cart. I asked Mageworx team for some help and they fixed (once again) everything for free.

I've been using magento for 3 years, I have bought and installed many extension but I have never encountered such customer care and profesionalism before.

Once again Thank you!


Love the extension, great support
This extension will help us sell related products more often. Sometimes customers don't see the realted products on the product page, with this extension they will see it underneath the cart update.
We had some issues with this extension and our custom theme, as always they fixed everything.
Excellent product and excellent customer service. Couldnt be happier.
First and foremost I must say that this is - by far - the best Ajax cart extension for Magento I have encountered. It looks and feels wonderful and enables store owners to generate virtually endless purchase opportunities for their site visitors!

I installed this extension on an already modified 1.7.0.2 installation, it pretty much worked right out of the box, however I did encounter a conflict with an existing extension from another company.

The team at Mageworx promptly answered all my questions and modified their extension to support the extension I had installed before - with no additional charges.

After fixing this obvious issue I noticed the extension didn't natively behave EXACTLY the way I wanted it to - once again the Mageworx team has done everything in their power to make it work flawlessly AND the way I needed it to.

I must add that in the process of fixing/modifying the Extension the Mageworx team spotted an issue that had nothing to do with the extension - but with some code we had in our template files and alerted me about it.

In conclusion,
I gave this product 5 Stars out of 5, if I had to give the support team a rating it would be 20 out of 5. Great product, ***Excellent*** support team.

I will definitely check with Mageworx first, next time I'm looking for new extensions for our shop.

Excellent extension, excellent support . I had a conflict with a third party extension (simple configurable products) but the Mageworx team fixed that for free and now everything works great. Absolutely the best support I encountered so far. Thank you so much for everything!
The only cart that works!
This is the only cart that works fine without major conflicts!
Only conflict we had was free gift and reward, we contacted this company.
At the end of the evening the whole problem was solved..
And if we asked how much we need to pay, it was totally free!
So free for us, review comes itself!

Need ajax cart, truly buy and be amazed!
AAA service & awesome extension
Would like to thank Mageworx support for there assistance. Mageworx have gone beyond the usual support, really happy with quick response and awesome extension.

Thanks!
This company has an amazing customer care.

I sent a question about this extension and in 10 minuts I got a reply from a representative of them!

Thanks
Makes shopping much faster!
I has some small issue with the installation but they helped me install it and within a couple of hours and it works great and makes shopping much easier on my site!
The best support I encountered so far. Great module and very fast and kind support, even after several months.

Thanks Mageworx!
Great extension. Many developers do offer the same extension. But, after analysizing all, we went ahead with Mageworx Instant Cart. simply because, it was simple looking and it worked great. There were some additional tweaks required and we had order installation service and they were too good and they listened to some of our requirements which were i guess beyond the scope of installing. Great Work Guys! Been a great experience. From an official MageWorx Fan!
Great extension and awsome support
We had a little problems during the installation. The support helped us in about 10 minutes. Nothing else to say! This is great!!!

Thanks!
The extension is great... and the team too ! I get a problem with multi-stores, (i want do disable the extension on one...) i ask the support, and they update the extension immediately with the features !

GREAT !
Besides that this extension was exactly what I was looking for they also made adjustments that fit my request!

Whitout questions they even made some small adjustments to my website.


Without a doubt the fasted email support I experienced so far!!

Once again. Thanks guys!
I always appreciate customer support. This guys are great. They solved me a little problem due not to their extension but to my theme quickly. The extension is great and works likes a charm. Thanks
First we had a similar extension by a competitor of Mageworx installed, it was not perfect, but i thought it is okay. My boss told me that she wants the MW - Variant, so i took this one. What shall I say? On the old extension i figured several hours untill it was looking nice. On this one: I just installed. Point. Nothing more - Greatness out of the box!
As always, amazing support for a premium extension with very adjusted price. I's a pleasure work this way!
This extension rocks and the staff is awesome
Had an issue with installation and they were quick to help fix it and now that it is working, the extension makes shopping on our website so much smoother.
Our company has purchased 4 extensions from Mageworx, and Instant Cart was the latest. As usual, it installed without a glitch in minutes, and offered a fast, slick shopping experience for the front end user. Just as promised. Well done Mageworx.
Great extension and great support
Have to say this extension is a great product and the very fast efficient support i received when i contacted Mageworx with a problem was very welcome!
They immediately solved a problem i encountered with getting the extension to work with a custom theme!

Thanks!!
Product Changelog
Legend:
New Feature
Bug Fix
Version: 1.5.1 (04/15/2015)
The following issue is resolved: the cart page was not updated if you edit products directly in the cart
Version: 1.5.0 (09/23/2014)
Ability to add a static block to the pop-up
The pop-up became responsive
Version: 1.4.11
Cross-sells issue
Version: 1.4.9
The issue with discount coupons on French resolved
IE7 & 8 issues resolved
Version: 1.4.6
Minor bug fixes
Version: 1.4.5
Up-sells issue resolved
Version: 1.4.4
Minor bug fixes
Version: 1.4.2
Magento EE 1.12 issues resolved
Cart page improvements
Version: 1.4.1
Update shopping cart using AJAX
Apply/cancel discount coupons using AJAX
Get shipping estimation using AJAX
Minor bug fixes for Magento EE
Version: 1.3.11
Support of Minimum Advertised Price (MAP)
Version: 1.3.10
Compatibility with Customer Credit extension
Version: 1.3.9
The issue with editing product at cart
Version: 1.3.8
Compatibility with APO v2.4.5
Version: 1.3.7
The issue with Magento Enterprise edition
The issue with "Enable/Disable" setting
Version: 1.3.6
The issue with removal products from cart
The issue with adding to cart products from wishlist
The issues with IE8
Version: 1.3.5
The issue with options of bundle products at cart
The issue with out of stock products at cart page
The issue with cross-sells products
Improved behavior with Donations extension
Version: 1.3.4
The issue with edition of dependent options at cart page
The issue with "Enter" button during edition of products at cart page
Version: 1.3.3
The issue with "Edit" option at cart page
Version: 1.3.2
Compatibility issues with Advanced Product Options v2.2.0
Version: 1.3.1
Edit products in cart using AJAX
Progress circle while removing products from cart
"Enable" setting became store view based. You can disable/enable extension for each store view
Minor bug fixes
Version: 1.2.7
The issue with Donations extensions
Version: 1.2.5 - 1.2.6
Minor bug fixes
Version: 1.2.4
German translation for the front-end
Version: 1.2.3
Support for Https
Version: 1.2.1 - 1.2.2
Configurable products in Cross-sell block
AJAX products removal from wishlist
Version: 1.2.0
AJAX "Add to Wishlist" feature
AJAX "Add to Compare" feature
Version: 1.1.1
Translation issue
Issues during the cart page update.
Version: 1.1.0
Added Cross-sell products
Minor improvements
Version: 1.0.0
Initial release