Exclude annoying page reloads every time a customer adds/removes an item to cart. Equipped with the AJAX Add-to-Cart functionality.
Developed according to the official Magento programming guidelines.
Fully compatible with all Magento security patches.
What is Instant Cart for?
Multiple Options for AJAX Popup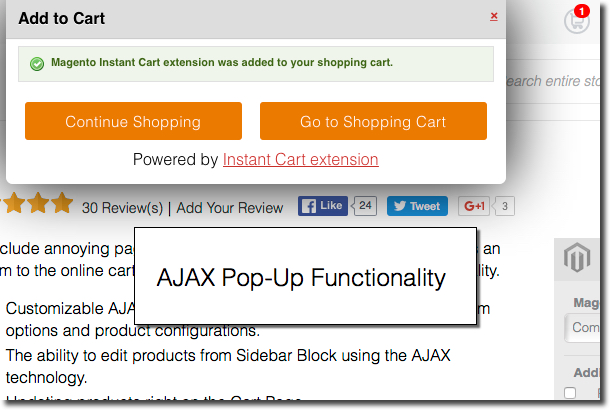 Instant Cart has multiple configuration options for the AJAX pop-up. With this Magento extension your store customers can:

Add/ edit/ remove any type of product (simple, configurable, bundle, etc.) to/from cart without page reloading
Edit product options without going back to the product page. Instant Cart displays configurations and required custom options (such as Quantity, Color, Size etc.) in a handy pop-up
Add products to the "Wishlist" or "Compare" list.
Extended AJAX Functionality
When a customer adds an item, My Cart top menu link with the actual number of items in the cart (e.g. "My Cart (4 items)" gets updated automatically.
Also, once a product is added, our Magento extension automatically updates Wishlist or Compare sidebars without page reloads.
In addition, Instant Cart Magento extension offers you to apply or cancel discount coupons and estimate shipping costs using AJAX.

Customizable AJAX Popup Window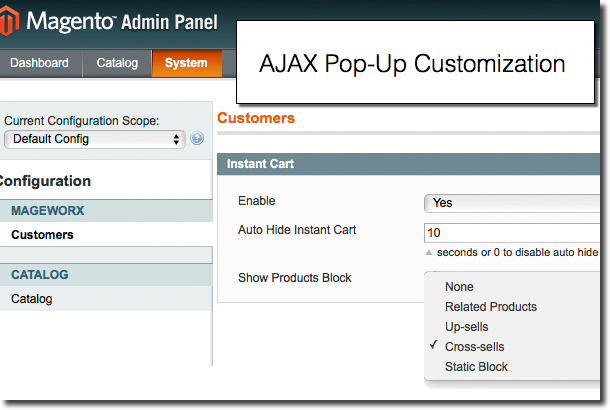 With Instant Cart Magento extension you can display Related Products, Cross-Sells or Up-Sells right in the AJAX pop-up.
What is more, you can automatically hide the AJAX pop-up in the scheduled time. When the pop-up disappears, customers can continue shopping.
Other Features
Multiple stores support (you can enable/disable extension for each store view independently)
Easy customizable layout with CSS
Support of all major browsers (Safari, IE7+, Opera, FireFox, Chrome)
Support of most popular mobile browsers
HTTPS Support
MAP Support – Minimum Advertised Price
Compatibility with Advanced Product Options
Compatibility with Donations Magento Extension
Compatibility with Shopping List Magento Extension
Support of most popular mobile browsers
This extension for Magento 1 is fully GDPR complaint. The software neither collects nor stores any personal users' data.
Also, the extension doesn't share any personal info with third parties, and doesn't use this data for any marketing purposes.
Comes with
FREE Updates
and Improvements

Risk-FREE
30-day Money Back
You May Also Like
These are the extensions you may also be interested in.
Abandoned Cart Recovery
Get your lost sales back! UNIQUE analytical features, ready-to-use email templates, detailed sales reports and more.

Explore and Buy
Order Management
Extend the standard Magento Orders grid, manage (edit/ delete/ archive) any number of orders with ease.

Explore and Buy
Shipping Suite
Eliminate all shipping hassles, expand to the new markets and deliver your products with ease.

Explore and Buy
Reviews of Instant Cart extension for Magento
Very good extension and worked as expected with no problems
Absolutely Fantastic Support From Developer
Installed extension and it worked Ok except for a small issue due to other 3rd party extensions.
Support corrected the issue straight away in quick time.
Perfect extension for our needs and unrivalled support from Mageworx.
Would highly recommend to all.
------
Unrivalled Support from Mageworx. Absolutely well above our expectations. Amazing Customer Service.
Great support from Mageworx when we had our first issue (after using the extewnsion for 1 year!)
----
Eugene was really helpful and dealt with the problem quickly and effectively. Great support!
Had a little issue with the installation but they were quick to fix any issue. I would recommend Mageworx for all of their extensions.
-----
I would recommend them to anyone. Their customer service is great.
Great module and wonderful support. We use our own theme and they worked hard on helping their module to work with it. Happy we made the purchase.
Product Changelog
Legend:
New Feature
Bug Fix
Version: 1.5.1 (04/15/2015)
The following issue is resolved: the cart page was not updated if you edit products directly in the cart
Version: 1.5.0 (09/23/2014)
Ability to add a static block to the pop-up
The pop-up became responsive
Version: 1.4.11
Cross-sells issue