Magento 2 Product Units and Quantities extension v1.0.4
Customizable Qty field (can be transformed into dropdown select, plus/minus buttons, arrows buttons, slider options
Quantity-price ratio ($/kilo, $/package, unit)
Optimizing product and category descriptions
The ability to add custom units and quantities blocks on product, wishlist, catalog, shopping cart and checkout pages
Adding custom custom units and quantities for individual products and products in bulk
Support of all product types (simple, configurable, grouped and virtual ones)

Admin Demo: admin / a111111
Customize quantity fields and measuring units for individual products or product groups in your Magento 2 store.
*The extension is developed by a MageWorx partner. The product comes with FREE email support and a FREE lifetime updates.
Extension's Capabilities
Improve customers' shopping experience by optimizing the process of ordering multiple items or catchweight goods.
With the extension, you can add a variety of options for shoppers to specify quantity of ordered products, as well as set quantity-to-price ratio.
Thus, customer can conveniently define the number products to buy, select the needed quantity of catchweight goods, see the exact price per unit of measurement and more.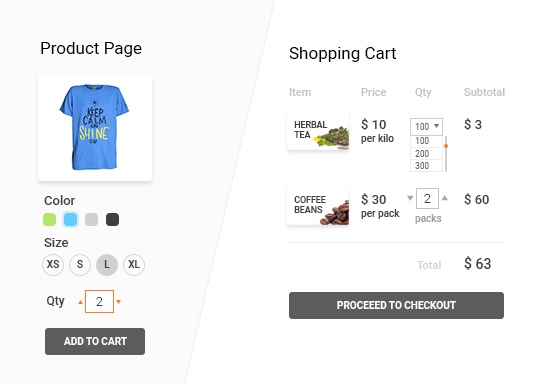 General Settings
Product Units and Quantities extension for Magento 2 enables you to:
customize the standard Qty field (add dropdown select, plus/minus buttons, arrows buttons, slider options),
set quantity to price dependency (30$ per kilo, 20$ per item, 10$ per box),
define product units and quantities placement (they can displayed on wishlists, on the shopping cart page, on any product pages, in the product catalog, on invoices and on the Orders page),
customize the above mentioned settings for individual products or product selection.
The extension perfectly works with simple, configurable, grouped and virtual products.
Why MageWorx
Development
Expertise

Professional
Support

10-year
Experience
You May Also Like
These are the extensions you may also be interested in.
SEO Suite Ultimate
The first Magento 2 SEO solution. Eliminates duplicate content issues, improves website indexation and makes it search engine & user friendly.

Explore and Buy
Cross Linking
Create and manage Magento 2 cross links in a click. Easily link any keywords to the targeted store pages or external sources.

Explore and Buy
Extended Rich Snippets
Draw users attention and win the click with more detailed search engine results. Developed according to the latest Google and Schema.org standards.

Explore and Buy
Magento 2 Product Units and Quantities extension
Great extension but quite slow support
A perfect functioning app, but the support is quite slow. I submitted my query with a couple of simple questions last Friday and received a reply only today. You shouldn't left your customers helpless at weekends! Upon the whole, the product and company are cool!
Product Changelog
Legend:
New Feature
Bug Fix
Version: 1.0.4 (March 27, 2018)
The use of decimals in the product QTY enabled
Custom units added to the price column in the customer's Orders section on the front-end
QTY increment may be set instead of static values
Configurable products based on attribute sets had empty fields on their pages
"Price per" divider wasn't visible in the Catalog and Wish List
PUQ controls issues on Configurable Product, Bundle Product, and Grouped Product pages, and in the Wish List and Shopping Cart
Incorrect QTY display in the Wish List
The problem with "Price per" divider data duplication
The issue of product disappearance from the cart during the QTY edit
The problem with adding products with custom QTY to the cart after Magento upgrade from 2.2.0 to 2.2.3
Version: 1.0.2 (September 1, 2017)
Added compatibility with Magento CE 2.2
Version: 1.0.1 (April 7, 2017)
Added compatibility with Magento CE 2.1.6.
Version: 1.0.0. (April 7, 2017)
Initial release