Messenger Shopping Assistant for Magento 2 v1.3.2
Save products right in Facebook Messenger
Send instant back-in-stock/coming soon notifications
Configure products right in Facebook Messenger (color, size, brand, etc.)
Support customers directly via Messenger

NEW

Buy products in Messenger using Quick Checkout (available for the US stores only)

NEW

Send alerts about order status updates and tracking info
Customize automated replies to standard queries

*

Provide personal offers and recommendations

*

Admin notifications directly in Messenger about site activities

*

Woxy dashboard with all activities in a detailed report

*

* - features are currently in development.
With Woxy you can build a new kind of experience for your Magento 2 brand. Communicate with users where they already are - in Facebook Messenger. Give customers the ability to save, share and even buy your products directly through this chat app.
The extension comes with FREE Installation.
Saving Products in Facebook Messenger
Quite often, your shoppers may find some of your products interesting, but can't explore it due to the lack of time or for some other reason.
Yes, they may add the product to a wishlist on your site. But in this case, they need to create an account there, fill in multiple forms and remember all the details to sign in later. All that takes a lot of time
While Woxy enables customers to INSTANTLY SAVE products right in Facebook Messenger.
Advantages of Sending to Messenger vs. Adding to a Store Wishlist
NO need to register and create an account to add a product to wishlist,
NO need to keep extra info in mind to login later,
Saved products are ALWAYS at hand.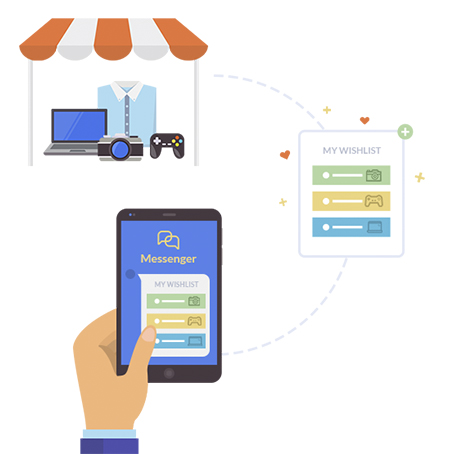 Sending instant notifications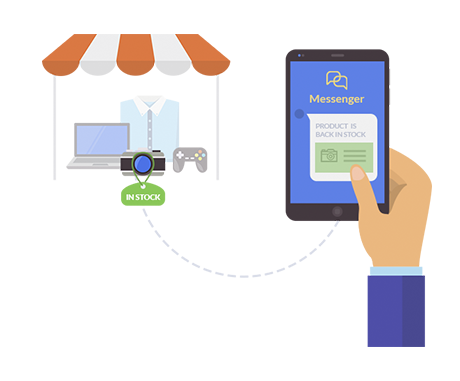 People get too many emails daily. Half of those emails are spam messages, which customers don't even open.
With Woxy, you can empower your email marketing strategy and send notifications that customers will NEVER miss.
Send instant back-in-stock and coming soon messages right in Facebook Messenger.
Instant Product Configuration
Are you selling products that have custom options?
Even if your customers forget to choose the necessary Color, Weight, Storage, Texture, etc. on your website, they can easily do this right in Facebook Messenger.
All it takes is to write short commands like 'Color' or 'Size', and Woxy will do all the rest!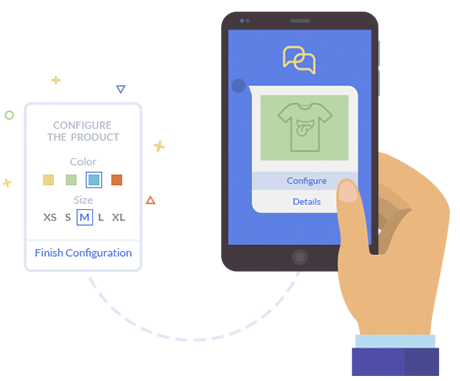 Support of all Products Types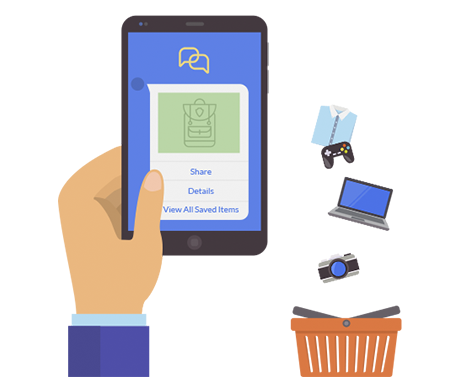 Have you been selling different types of products (e.g. downloadable or bundle ones)?
Be it a simple backpack, an online joga course or a pair of hipster sneakers of different colors, Woxy can easily deal with all possible products types.
Let shoppers save/ view/ share any type of a product right in Facebook Messenger.
One-Tap Purchase in Messenger
NEW
Woxy offers native and secure integration of your store payment environment with Facebook Messenger. When connected, it lets your customers place orders right in Messenger.
This significantly reduces the number actions that usually precede the purchase and increases your store conversion rates.
The feature works both on mobile and desktop devices.
*currently this option is available only for the US-based Magento 2 stores.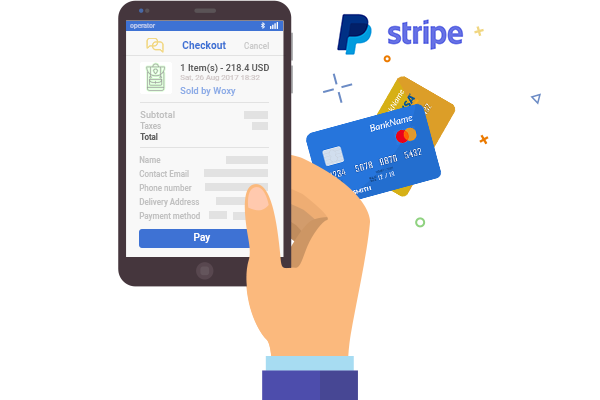 Sending Order Confirmation to Messenger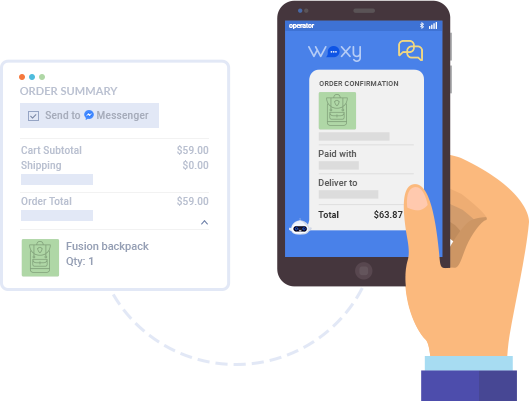 NEW
Keep your customers informed of what's happening to their orders.
With the tool, shoppers can opt to get instant notifications that tell when their orders get completed and shipped. Also, if something goes wrong with the order, they''ll be immediately informed about it, and will be able to quickly contact you via Messenger.
Thus, you'll stay in touch with your customers even after the order has been placed.
Coming Soon
This is the list of features that will appear in the upcoming versions:
Support in messenger - automated replies to most frequently asked queries
Personal offers and recommendations
Admin notifications on site activities
Dashboard with all activities with detailed reports
Why MageWorx
Development
Expertise

Professional
Support

10-year
Experience
You May Also Like
These are the extensions you may also be interested in.
SEO Suite Ultimate
The first Magento 2 SEO solution. Eliminates duplicate content issues, improves website indexation and makes it search engine & user friendly.

Explore and Buy
Shipping Suite
A full (and flexible) control over Magento shipping. Diversify your target markets, find new sales channels and multiply your store profits manifold.

Explore and Buy
Gift Cards
Make gift card giving easy. Provide customers with traditional physical or eGift cards. Offer flexible pricing schemes & full gift card data analysis.

Explore and Buy
Messenger Shopping Assistant for Magento 2
Facebook Messenger Extension
The same day this was installed, we had 3 customers call to thank us for having this feature. Having a one tap purchase option is ideal. Thanks for another great extension MageWorx!
First of all thanks for making this lovely extension free! The feature which i really love is order notification directly to the customer on messenger. i would request to make this extension for magento 1.x as well.
THnaks for making it free!
Thanks for making this product free! I was recently considering to get this app, but the price was quite high for me. Really happy to get it now for free.
P.S. If the product does what you say, I'll be back with another review ;)
New features look promising!
Just updated the app to the latest version and decided to write a review here.
I love the way the app is evolving - one-Tap Purchase feature looks FANTASTIC! You've done really great job with it!
The only thing is that I need to now is to educate my customers on how to use this functionality. =)
Love the idea of treating each customer uniquely. Frankly, I haven't used the tool for a long while yet, but can enjoy some fruitful results already. Hoping to get the promised updates by the Christmas season, guys!
Looks interesting (but needs more options)
I like the idea of chatbots. However, they lack the chat functionality. What you guys did is really cool. On the one hand, it works like an app - shoppers can save products right in messengers, get alerts, change size/color in messengers. Such a smart shopping Evernote. On the other hand, it works like a chatbot - the tool automatically replies to customers or you can on you own do it. You can create the best answers (with videos/gifs/pictures+humor) for typical questions.

Missing more options: order info, shipping tracking, status alerts, etc.
The first idea to try a messenger channel as a communication source came to us after I saw a blog post about Chubbies. God damn, that was absolutely what we wanted to copy (in a positive way). And so it happened, Mageworx offered us to test their Woxy tool. Right now, we've been using it for 2 months. And here is what I can say: for our target audience it works absolutely awesome! We've created our own replies, put all our heart and humor to the automated messages. As a result, we saw increased engagement and positive customer experience. We miss confirmation messages, shipping tracking and an overall report.

Such tools is a must for stores with a social media focus. It's the future.
Cool but missing some features
The idea is great but some features are missing to make it 100% working for all my needs. Support promised to release new features soon.

Thanks.
It gives impression of good customer service.
Woxy changed our whole approach to customer service. For those who opt into messaging, 90% respond with a thank you! It's amazing!
Wow, that's awesome module. I completely replaced out of stock alerts by emails to this solution. It's a huge step towards the customers for my store. Support from mw is great as always. They did everything free of charge :)
Highly recommend this!
Finally really cool features for magento stores. I sell style things and my customers started using send-to-messenger and I see they like it.

thank you guys, hope to see order updates soon.
Social way to connect with our customers
We have received many messages from our customers on Facebook. They are enjoying the easy access to us, as well as ability to save products in FB Messenger.

Big thumb up.
Product Changelog
Legend:
New Feature
Bug Fix
Version: 1.3.2 (December 27, 2017)
The gateway was changed
Version: 1.3.1 (October 25, 2017)
Bug fixes
Version: 1.3.0 (October 13, 2017)
Adds the ability for customers to receive the order confirmation directly in Messenger
Adds the compatibility with Magento 2.2
Improves the 'Send to Messenger' button display (now, it comes with a tooltip)
Adds One-Tap Purchase feature (currently available for the US-based stores only)
Adds the ability to view order details in Messenger
Adds extra settings for displaying the bot
Improves the product configuration page in Messenger
Bug fixes
Version: 1.2.4 (August 15, 2017)
Bug fixes and stability improvements
Version: 1.2.2 (July 20, 2017)
Adds the localization of the Send to Messenger button
Adds the ability to enable/disable the Auto Reply and Greetings features
Fixes the problem with https URLs
Fixes the problem with a custom URL suffix for the products
Minor bug fixes
Version: 1.2.1 (May 1, 2017)
Adds the ability to configure the products directly in Messenger
Adds the support of all types of products
Adds the support of products with custom option
Adds the ability to add the configured products to the cart
Bug fixes
Version: 1.0.0
Initial release