Convert abandoned carts to sales and recoup the lost revenue. Increase cash flow by following up on customers via automated reminders and sweet discounts. Advanced analytics included.
Fully compatible with All Magento Security Patches.
What is Abandoned Cart Recovery for?
Shape Efficient Remarketing Email Strategy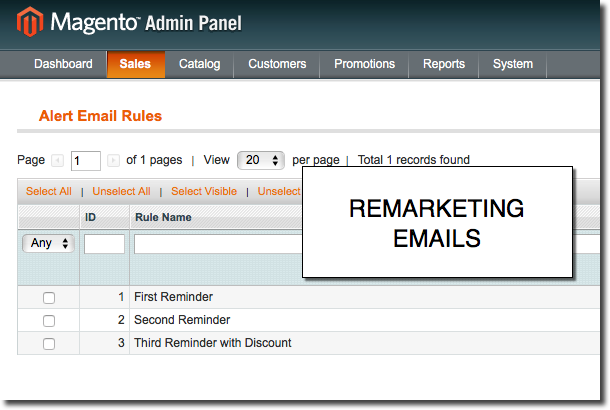 Craft an effective re-engaging email message:
a wide spectrum of abandoned cart alert rules
rules for specific websites and customer groups
customizable email templates
the ability to use product and cart attributes in a template
Choose the best time to send out emails.
Abandoned cart reminder extension lets you:
specify the delay (in minutes) after which a cart is considered to be abandoned
set a delay (in hours) after which an email should be sent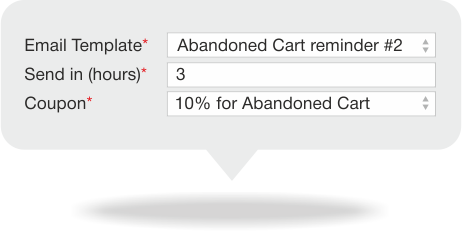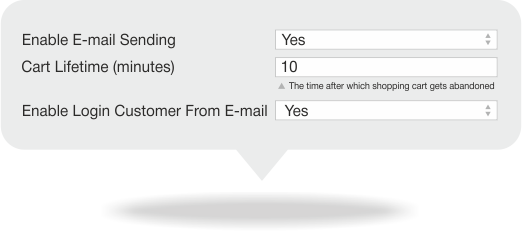 Make abandoned cart reminders more appealing to customers.
Add some sort of incentive into your message. Attach a discount coupon, a gift code into any of your remarketing emails.
Manage Remarketing Email Campaigns in One Place
Monitor all the scheduled emails reminders.
checkup all the details about each alert (e.g. date and time when a cart was abandoned, customer's details, products that were abandoned, etc.)
manually adjust pending alerts (edit or remove them) and add new ones if necessary.
Track the details about every sent email:
the time when a cart was abandoned and email was sent
the time when a cart was recovered
the cart total
customer's information
order ID (if the cart was recovered)
the status of all sent alerts and a cart status.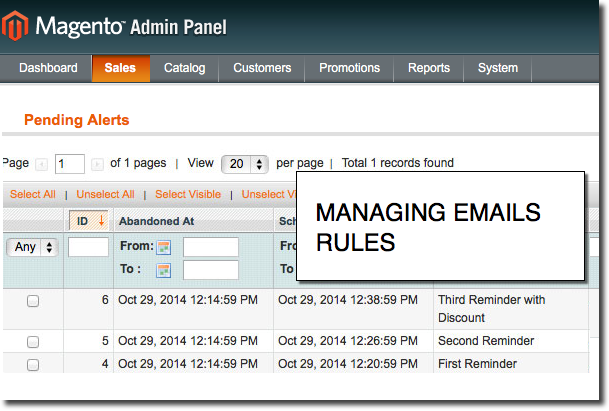 Track Effectiveness of Your Remarketing Campaign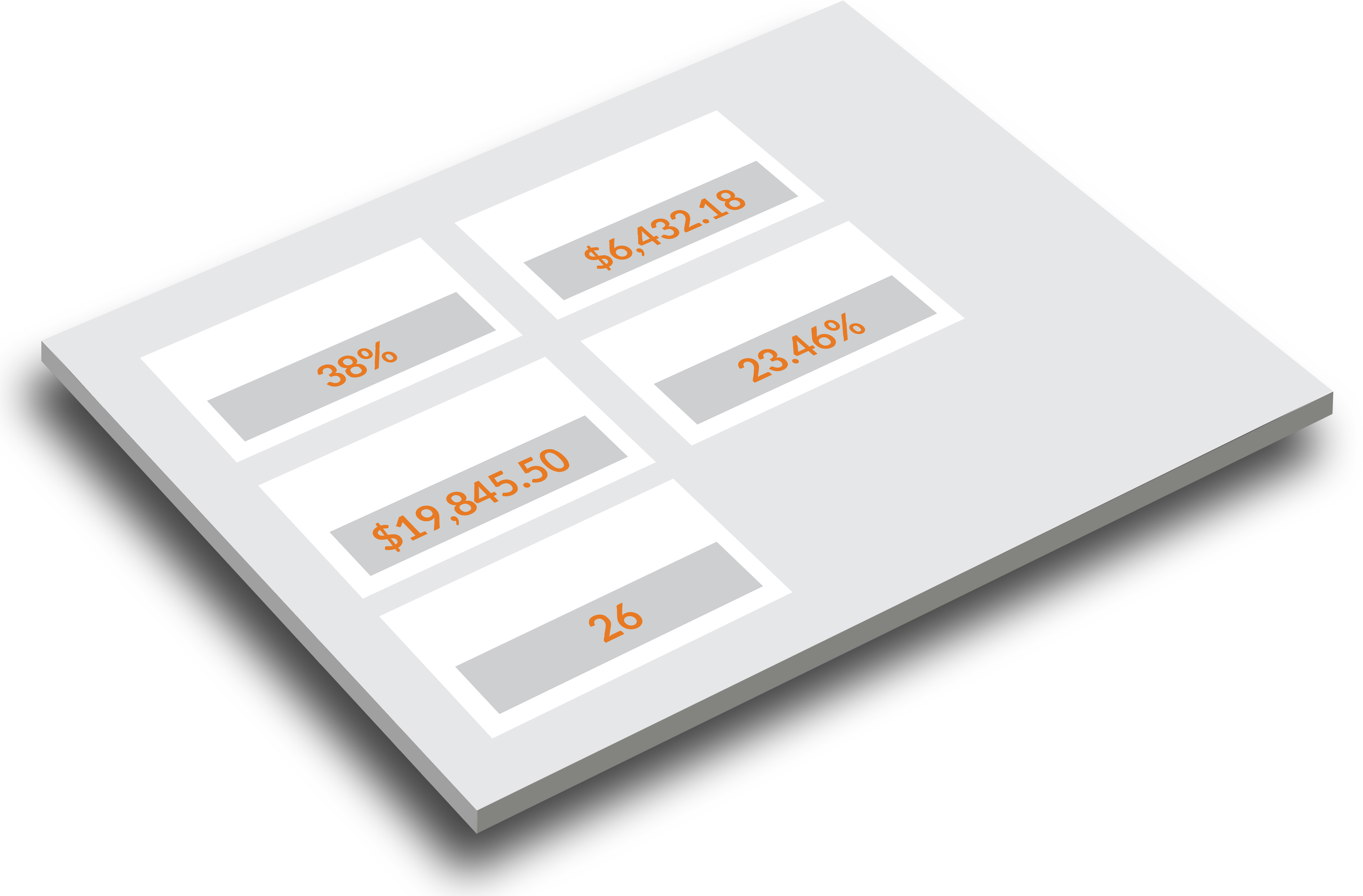 With Abandoned Cart Recovery extension you can see how efficient your emails work. This will let you figure out whether you are moving in the right direction and help you bring invaluable improvements to your remarketing efforts.
The admin's dashboard lets you overview general cart metrics for the entire Magento store and check the same data for each customer.
The module generates advanced analytics reports by:

Customer Groups
Per each customer group this Magento extension tracks the numbers of started and abandoned carts and calculates the abandoned revenue and the abandoned rate.
Store View
For each store view the extension shows the number of started and abandoned carts and calculates the abandoned revenue and rate.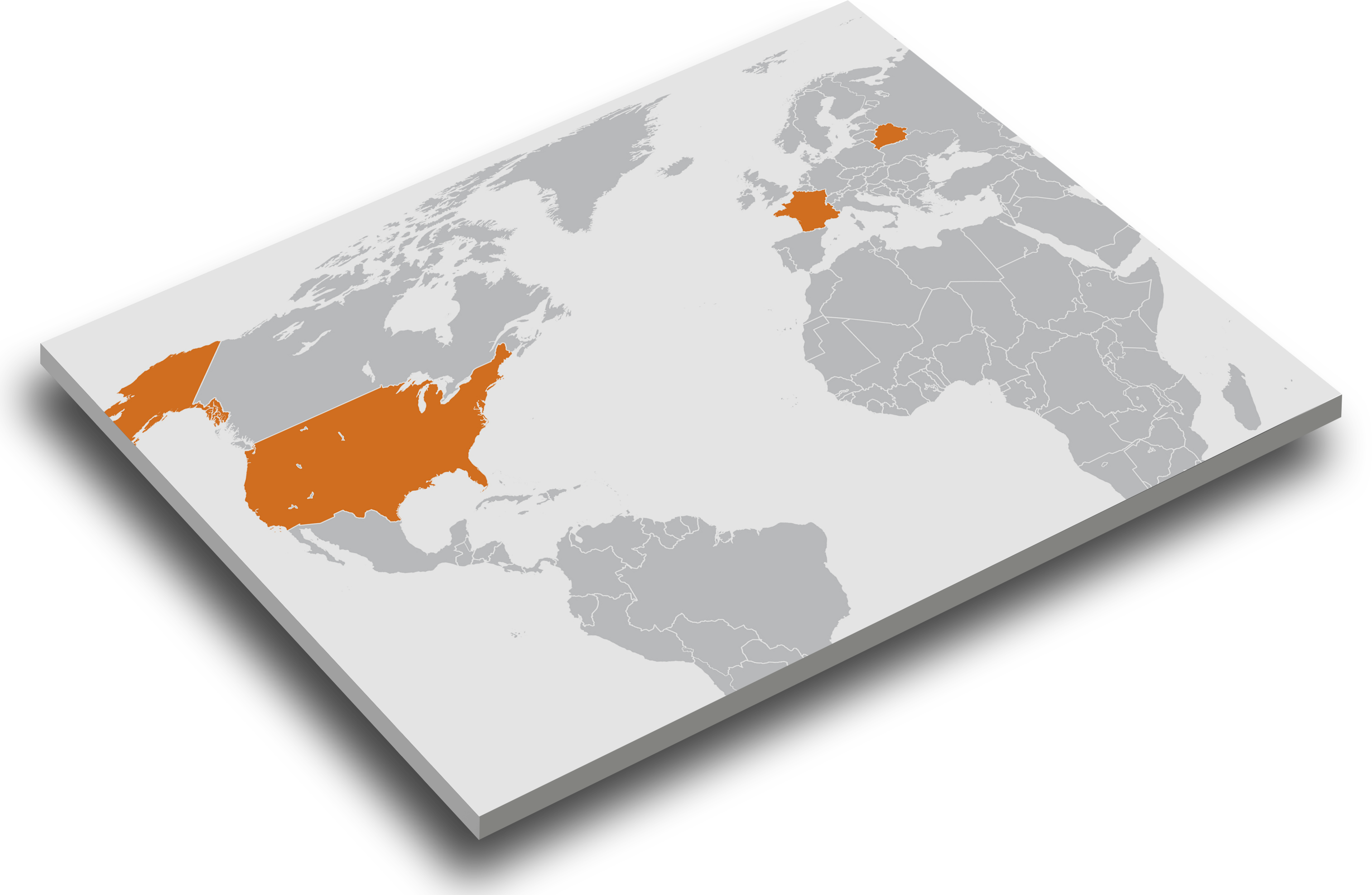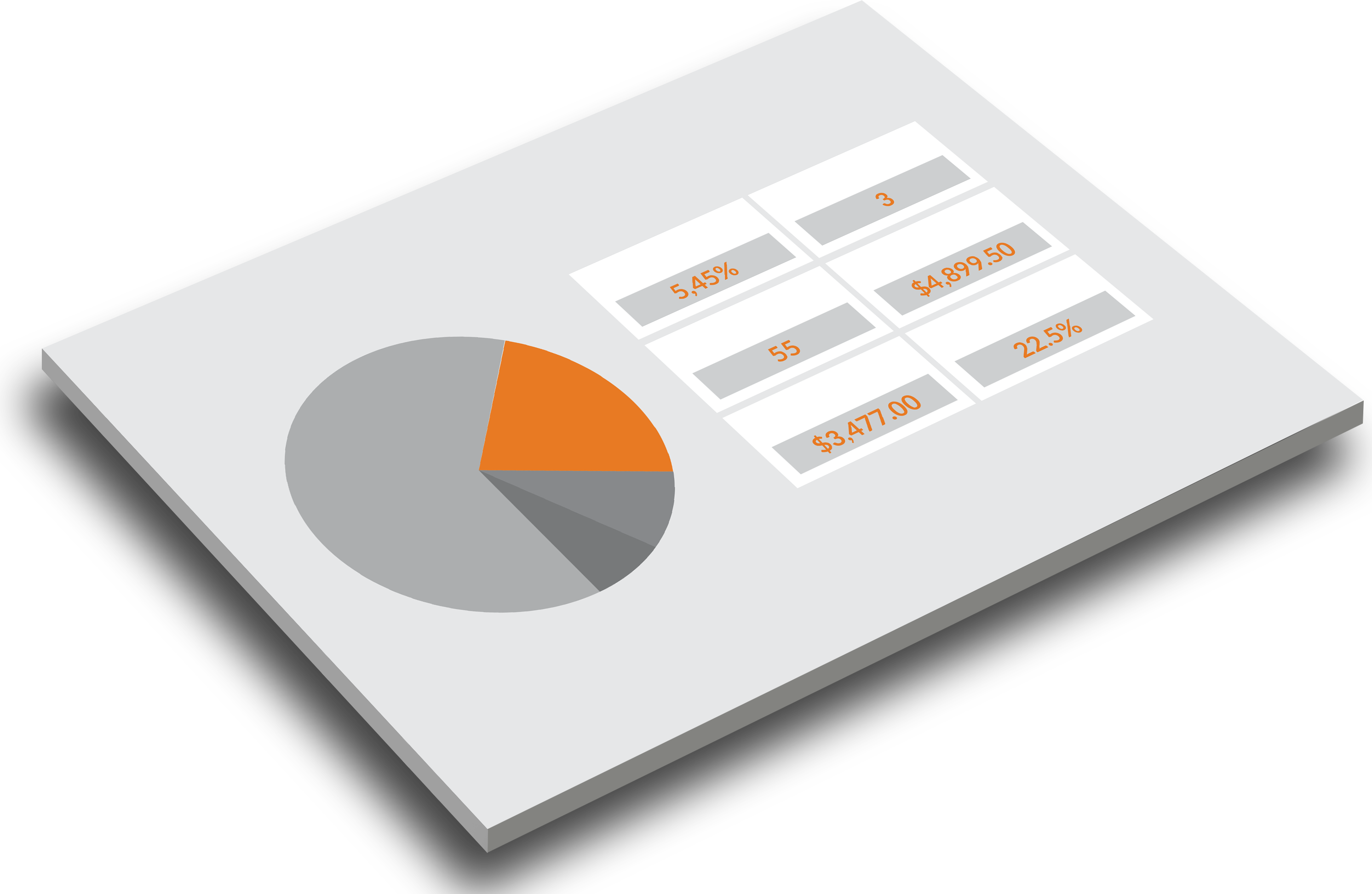 Device
Abandoned Cart Recovery extension lets you see how many carts were abandoned from desktop and mobile devices.
Location
Also, you will be able to figure out what counties and regions the abandoners are coming from.
Email Template
For each email template this extension shows the numbers of started/abandoned shopping carts and calculates the abandoned revenue and rate.
On top of that, the extension allows you to run A/B tests of the email templates to find what template converts better.
Other Features
A/B tests of email templates
The numbers of started and abandoned shopping carts, the abandoned revenue and the abandonment rate.
This extension for Magento 1 is fully GDPR complaint. The software neither collects nor stores any personal users' data.
Also, the extension doesn't share any personal info with third parties, and doesn't use this data for any marketing purposes.
Comes with
FREE Updates
and Improvements

Risk-FREE
30-day Money Back
You May Also Like
These are the extensions you may also be interested in.
Instant Cart
Make shopping at your store quick and easy. Avoid annoying page reloads every time a customer adds/removes an item to cart.

Explore and Buy
SEO Suite Ultimate
De facto standard solution for Magento SEO. Power up you site ranking potential and cut SEO workloads.

Explore and Buy
Advanced Product Options
One-of-a-kind solution for managing Magento custom options. Configure custom options for any product and more.

Explore and Buy
Reviews of Abandoned Cart Recovery extension for Magento
Mageworx team is always prepared to assist you. Great job.
Perfect extension & support
I am very satisfied with the support and extension
I'm an old customer of magewoirx. I used different modules for recovering abandoned carts. however, I never had a chance to track how they actually work because other modules do not have detailed reports. I decided to switch this this module to know how this system works. The reports helped to correct my templates and sending time to get better results.
Support is great as always.
Amazing tool + stunning support
I purchased this module only for the functionality to get insights about who actually abandon carts in my store. After 2 months of collecting data I was surprised to find out most of abandoned carts were from foreign customers and on the mobile version. As a result we found the issue: it turned out that customers were redirected to wrong stores + the cart on the mobile version was broken.

Thank you guys! really helpful extension!
I used 5 different tools from different developers to recover abanonded carts. However, none of them gives real stats how the reminders work. I love the reports from mageworx. The extension started working right after the installation and the abandonment rate decreased by 2%.
P.S. My Magento version 1.9.0.1.

Recommend.
Good (but could be even better!)
We are running a few Magento stores and use this extension mainly for analyzing abandoned cart stats. Definitely it's the best tool for this purpose out there!!
The initial set up is painless and you can easily track how well it is working.

However, the module has some minor bugs with the followup emails. I have reported the issues to your support team and DO hope they will fix them soon.
Apart from that, the tool is perfect. :P
Great reports and impressive list of features
Before switching to Magento we spent a lot of time on researching the platform's functionality and the extensions to empower it. Frankly, it was quite a challenge to find a decent tool for our retargeting purposes.
But Abandoned cart recover got very close to what we were looking for!
A lot of customization can be made through the admin panel, email reminders can be easily tailored and scheduled for sending and the advanced reports are very insightful.
However, we've ran into couple minor issues with the 1.0 version. But I have to give the credit to Mageworx customer care team - our problems were solved within 24 hours by the technical support guys.
Overall - A (with a little minus)!
Excellent tool to recover lost sales!
I been on the lookout for Magento cart recovery tool for almost two years and finally found it! The extension is of great help when it comes to analyzing cart abandonment stats and scheduling email reminders.
The default email templates could be a little more elaborate, though. But upon the whole, the module offers a wide selection of different features practically for every stage of a re-targeting campaign.
Bought this extension only for reports it offers. They saved me lots of time. Offered them to add one more report. Will see if they add it or not :)
Any way, good extension from mageworks as always.
Product Changelog
Legend:
New Feature
Bug Fix
Version: 1.2.0 (January 22, 2016)
Stability improvements
Bug fixes
Version: 1.1.1 (January 22, 2016)
Fixes a problem with saving alert rules for a single store setup
Version: 1.1.0 (November 09, 2015)
Adds the SUPEE-6788 compatibility
Adds the ability to auto-login customers following the links from reminder emails
Moves the code to the community pool
Fixes the memory issue on the dashboard
Fixes the issue of incorrect records counter in the pending alerts and alerts log
Fixes the issue with emails sending if a store has only one store view
Fixes the issue with displaying discounts without coupons when creating/editing abandoned rules
Version: 1.0.2 (11/11/2014)
Email templates were moved directly to System > Transactional Emails
Compatibility with Magento 1.5 issue is resolved
Issue with staff permissions for the configuration section is resolved
Issue with coupon expiration date in emails is resolved
Minor bug fixes
Version: 1.0.0
Initial release