Improve your store profitability by making onsite search more intuitive, user-centered and interactive. Turn an onsite search box into an effective tool for boosting conversions.
Fully compatible with All Magento Security Patches.
Sphinx & Solr should be separately installed on your server.
Easy and smooth transfer of all features to Magento 2 version.

Contact us

to get a personal 25% discount!
What is Search Suite for?
3 Advanced Search Engines

xSearch calculates 'search weight' for every product. The metric is based on the # of times the specified product attributes are used in the search process.
Sphinx is a Linux- and Windows-based search engine for fulltext searching of extremely large databases.
Solr is a ready-to-deploy, Lucene-based, open source engine for fulltext search. It can scale across many servers to enable real-time queries and data analysis across billions of documents.
Advanced Sphinx Integration
NEW
Generate a fully-fledged Sphix config file in a mouse click. Use either the pre-defined default settings or enter custom ones.
Also, with the extension you can::
Validate a newly generated Sphix config file,
Define Sphinx connection timeout,
Set Search Results Ranker,
Select Search Matching mode,
and more.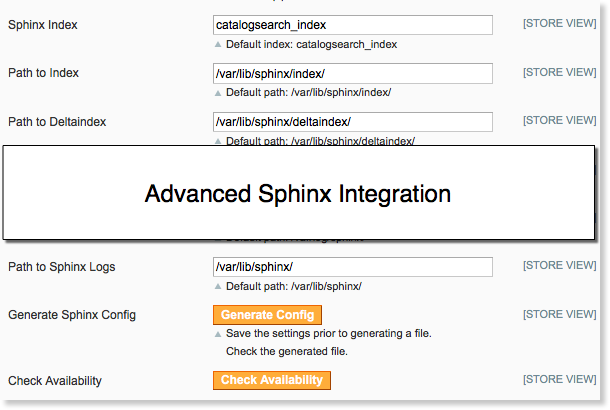 Advanced Search Accuracy Options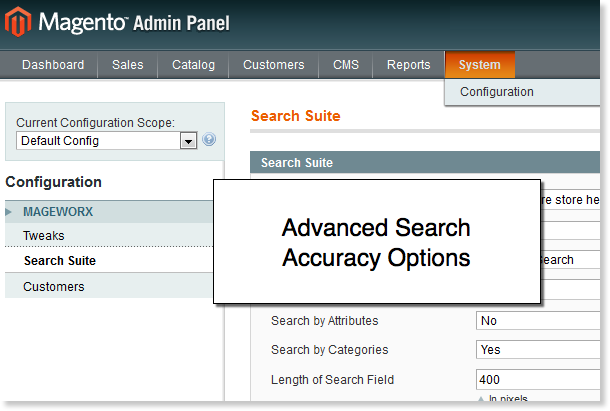 This Magento Advanced search extension is capable of processing both simple and complex queries and is fitted with 3 options for search accuracy:
Any - delivers the results for products that contain the whole search query, its separate keywords and their combinations.
All - brings the results for products that have the whole search query as well as all its separate words combinations.
Exact - an option to deliver exact matches.
Misspelled Queries & Typos
The smart Magento search algo finds the results for any misspelled or hastily-entered search terms.
In addition, you can add synonyms for popular search queries. Thus, if customers misspell a query, they'll be prompted either with the correct variant or its synonym.
Besides, you can add/import stopwords that won't be used in the search process.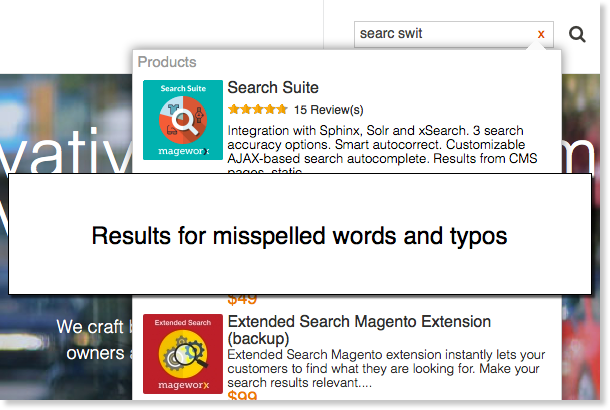 Analyzing Magento Search Trends
Learn what search terms your customers are actually using. Use this insight to find the most sales-generating keywords.

With this improved Magento search module, you can get the precise data on:
# of purchases made after entering each search term,
the amount of revenue each search term brings,
orders to hits ratio,
views to hits ratio,
# of countries a certain product was searched from.
Instant Search Results
Our Advanced Magento search plugin automatically suggests results in the AJAX-based pop-up. The pop-up can include such important product details as:
product name,
SKU,
short description,
description,
price,
rating,
thumbnail,
'Add to Cart' button,
product availability.
The whole process is lightning-fast and works great even if you have a wide range of products, categories or CMS pages.
You can choose the animation for the popup loading process, choose the delay in mili-seconds and limit the number of suggested searches.
In addition, you can exclude out of stock products from the pop-up.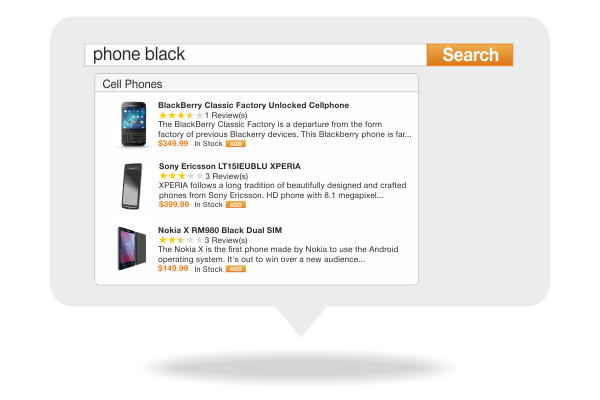 Maximally Flexible Search Results
Display products' attributes or/ and categories near the search field and allow customers to search by the only attribute.
Go beyond the standard product search and include your catalog categories and CMS pages (e.g., About Us, Contact Us, Shipping Policy, Refund Policy, etc.) into the results your shoppers see.
Display the results based on what other people have been searching your store for ('Related Searches').
Search Priority for Product Attributes

Magento Search Suite has its own search engine - xSearch. The search engine runs its own algorithm that calculates the so-called 'search weight' of every product.
Also, with our Improved Search Magento extension, you can define the priority for every product attribute, thus changing the way the 'search weight' metric is calculated.
Other Features
Supports all major browsers (IE10+, FireFox, Opera, Chrome, Safari).
Compatible with Magento AJAX Cart extension.
Compatible with AheadWorks Blog extension (blog's pages will be displayed in the AJAX pop-up and in standard Magento search results).
This extension for Magento 1 is fully GDPR complaint. The software neither collects nor stores any personal users' data.
Also, the extension doesn't share any personal info with third parties, and doesn't use this data for any marketing purposes.
Comes with
FREE Updates
and Improvements

Risk-FREE
30-day Money Back
You May Also Like
These are the extensions you may also be interested in.
Shipping Suite
Eliminate all shipping hassles, expand to the new markets and deliver your products with ease.

Explore and Buy
File Downloads & Product Attachments
Attach any downloadable follow-up documents: a product brochure, user manual, video. All formats supported.

Explore and Buy
Advanced Product Options
One-of-a-kind solution for managing Magento custom options. Configure custom options for any product and more.

Explore and Buy
Reviews of Search Suite extension for Magento
Very pleased with this module
Excellent extension for multi-functional and advanced site search. Very pleased with this module
I already had a similar plugin and as I had reward points in my balance I wanted to give the same product from mageworx a try and to my astonishment it worked 2 times better than one I already had. Search was clean and there is no issue.
Quite enjoying the search autocomplete functionality and not just that. It haven't been long since we've launched the extension but our online store has already enjoyed a 2% increase in conversion. Thanks for the support, guys!
Awesome extension & Support
Once again for Mageworx, extension exactly as described and lightning fast & precise support for the item. Really looking forward to include it in all our future projects.
Excellent support. Free upgrades and help with problems. Highly recommend.
I have been using Mageworx products for several years. They have always worked to my satisfaction. The best part is that when changes (upgrades, etc) are made the Magento and their product does not work, their support has been outstanding in helping me resolve issues.
I would highly recommend Mageworx products.
This extension is very nice, good support, I'm really pleased for their support
Hi, we have been using the search suite from Mageworx since it first released. This extension is a must have for any magento store. The built in search for Magento is garbage, as most of you know. This extension has ALWAYS provided perfect search results right out of the box. Enough about the extension, more importantly, the staff at Mageworx is head and shoulders above the rest. of the companies selling extensions. They have always come through for us when we needed help and support and gone the extra mile to make sure we were running smoothly. Over the years we have gotten rid of every extension not made by Mageworx for this reason. We know if it is a mageworx extension, it will work as advertised and if we have any issues what so ever, they will be on top of it. You cannot put a price on that...
best search tool for magento
the extension really enhances the search bar and gives customers the options they are looking for. customer service is very good and responsive. give these guys a try!
this extension looks very interesting. I look forward to seeing what it comes up with.
outdated and not satisfying, poor implementation of design related things (CSS...)
Excellent tech support when you need it
I purchased and installed this extension on Magento 1.9.2 and was planning on using it with the Magento RWD theme. For some reason it was not supported on this theme. There were a bunch of display issues and functionality issues.
However, I contacted MageWorx tech support. Initially there were unable to help me because I only was able to provide Team Viewer access. They tried but couldn't help me. They asked for SSH access to the server. Once I provided that they fixed one issue at a time and basically made the extension compatible with the RWD theme. It looks and works great now. I can't speak for all of the extension's features because I do not use them, but the features that I use seem to work great.

-----

I would like to thank Eugene for his expertise and patience working with me on the issues presented. Thank you - You rock!
Good support with good functions
Installed this extensions in my store without any problems! The normal xSearch mode is not quite suit for my complicated needs, but this extension supports Solr or sphinx which is great.
After that I have some problem about the search bar positions, the developers from Mageworx help me to solve it quickly. Thank you so much!
Great search extension for magento
I love this extension... it makes the search results so mutch better.

I allready decided to use only mageworx extensions in the future because of there excelent extensions and support.
Essential extension with best support ever !
Great extension that really can handle smart serach for the entire store.
Comes with unlimited updates and best support ever.
This extension boosted sales
I've installed this extension about month ago. After first week I noticed that sales raised dramatically. I suppose that improved search provided by this extension helped to achieve such a result. Big thanks for the great product and useful support!
Simple and easy-to-use extension
I was looking for an extension to make my search better. However, I'm not a tech guy and I do not have much knowledge about configuring search engines on my server etc. I wanted to install a module and to make it working out of the box. There are many search modules on magneto connect. However, (after attempting to use 4 different extensions from other vendors) I decided to give this one a try. It was installed pretty easier and the module worked right out of the box without configuring anything with server administrators. I was surprised but happy. I do not have a too custom design theme so the autocomplete worked right away as well. Support fixed minor design issues only.

Recommend to anyone who do not have tech skills and do not want to waste the time on sending emails back and forth with different support teams.
Great Extension and excellent support!
Great Extension, must have!
Many Thanks to Eugene Efimenko of support team!!
I am very satisfied we the service
The best search extension i have used
My experience with MageWorx started when i bought their SEO Ultimate extension. Therefore when i looked for an extension that would render my site searches more relevant for my users, Search Suite was an obvious answer, and needed to look no further.
The extension is very powerful, giving access to advanced search accuracy options, it allows for advanced sphinx configurations making the results you serve appear much faster, and it gives you access to great reports allowing you to make your results even more accurate for your users.
During the install, i had some configuration conflicts resulting from my theme using a deprecated JavaScript file, but the support was outstanding. They explained what was wrong, and got to fixing it right away, making everything work flawlessly, as you should always expect from Mageworx.
Bottom line they have gained a loyal customer, who will use their extensions for every project

----
MageWorx by far is the best extension developer company with whom i have worked. Their extensions are built using the best standards, and are very well documented, making using them a breeze. If you need help installing, or configuring them for your special needs, let me tell you in my experience, they went above an beyond.
Great extension from solid company
There are no so many modules that integrate Solr with Magento. This extension does exactly this thing. Support was fast and polite. Result: everything works as it should after 2 hours. Missing feature: more flexible configuration of solr right from the back-end.

Good work.
GeoIP Location with Magento Search Suite extension
Developer Feedback:
I am using Search Suite, GeoIP Location, Geo Lock, Customers Online etc. extensions of Mageworx on my website http://www.zootcart.com Recently Some problem occure because of extensions are conflicting so I contact Mageworx support and they understand & investigate the issue and they Fixed it. What's make MageWorx Awesome is, Life Time Support they provide with their extensions without any extra charge and they Do provide Fast support. I'm happy with their work and highly recommend them.

Extension Feedback:
I was having Mageworx Magento Search Suite extension v1.2 extension on my website http://www.zootcart.com and then I installed GeoIP Location extension after this some issues happen and then I contacted to MageWorx support and in timely manner they fix the issue.
I always install any extension after extensive search on the web and I found Mageworx Search Suite and GeoIP Location extension one of the best extensions to use.
I can recommend MageWorx Extensions and Guys they also provide Free Life Time AWESOME SUPPORT.
Extensions that really works
This module really greatly improved my search results. Number of visits of my products increased since the installation. I use this extension for 4 weeks already and I'm quite happy with it. The team helped me to configure sphinx on my server to work as it should. Support is polite and fast. Thanks Alexander for prompt replies!

Highly recommend. Happy New Year.
Greatly improves default Magento search
Finally search results are relevant. The search functionality works perfect and our customers find exactly what they need to find. Autocomplete works perfect, search results are really relevant, lots of features! I had a few issue with the demo (managing synonyms) and then some minor problem points with a theme match. But every time I turned to their support, they not only responded quickly, but also resolved all the issues efficiently and in a short time. Excellent support! Recommend the extension & Mageworx support to everyone.
Excellent extension and amazing support
Does exactly what it says on the tin plus the MageWorx support is second to none. They always help with any issue even if it's due to customisation or a third party extension.
Support is good. The extension have many options! The support is very friendly, but sometime slow.
This extension is quite interesting because it gives you insights on how your search really works. None of other extensions does this. Really! However, the support is slow sometimes. I had to wait a day to get an answer on my ticket.
Their built-in search engine is awesome!
I purchased this extension because I could not install Sphinx or Solr to my host. This is the only extension that not only integrates sphonx or solr with magento but adds its own search engine. Bingo! It was installed without any glitches to my theme. Search index is updated and my search is ready to go. I've been testing this module for a month or so and a number of "nothing found" keywords decreased drastically. The conversion rate from the search was increased by 3%.

Just happy with everything.
Perfect solution with friendly support!!!
Amazing team to work with. This extension solved my constant issues with default search. I'm happy like a kid to see that every search queries are returned with exact results. The support adjusted the search pop-up to my design and it was done fast and without any extra costs involved. This part amazed me most because other companies ask you to pay extra for any custom change, conflict etc.
Alexander was very professional and helpful. Thank you GUYS!!!
I was looking for the solution which can make my search quite relevant and give me some insights about how the search queries are converted. I tried to use some SaaS solutions but they all add only part of my needs. Finally these guys developed the ext that suits me. I do not use the Sphinx or solr on my server so I chosen the built-in engine and I'm pretty happy with it for now.
The support is quite friendly and polite. I asked a call and their representative from US called me. Honestly, I asked many times other vendors to talk to them by phone but only mageworks made this possible.
I had a small design issue with my theme and their developers fixed it within a day. The ticket was in a low priority so I didn't expect a quick solution but a day is quite fast for me.

To make this story short, these guys impressed me, their extension impressed me even more.

Greeting from Baytown, Texas, United States.
My customers are happy now
The number of searches that lead to orders has been increased since I installed this extension. I using the xsearch engine and it works pretty well for me.
The only minus - I waited the reply from the support 15 hours.
Powerful search extension
This is the second extension we purchased from these guys. I love it. Most of search solutions we used on our site just improved the search. This one adds analytics for search queries. Amazing!
We had on issue with installing this app to our custom design but the support team fixed everything within a day.

Thank you!
Great extension and even better service.
I had a few issues with the initial setup as the extension didn't want to work with my theme. The Mageworx team fixed it pretty quickly for me. I haven't even had the time to set it up properly yet, but I've noticed a huge improvement in search results, customers finding what they are after, increased time on the site and more importantly, more sales!

Have bought 3 extensions from Mageworx now and the after-sales service is always fantastic! Keep up the good work!
We are a publisher, and we implemented the plug-in on our website, and after some tweaking, it worked great. MageWorx worked with our developer and provided them the tweaks to get the plug-in optimized for our website.
Their support is excellent.
Search Suite is helping our customers finding what they want
The MageWorx Search Suite extension is helping our customers finding what they want. In a easy and brilliant way. Set up your solr or Sphinx, and your'e ready to go. Highly recommend! And as always, we are very impressed with their free and quick support. Thank you all!
We purchased this extention because the search engine of Magento couldn't find any products in our webshop.
The support was good. They helped us very well during the installation of the extention, even after.
The difference is that we see that our visiters also buy goods after using the search engine.
The possiblities in the backend for configuration are sufficient to get the best results in the front end.
Usually, I write reviews pretty seldom. However, due to my awesome experience with this company, I felt that I ought to leave one.
From my experience, Search Suite is the best extension for optimizing store inner search. The tool does all that it claims to do, so I totally recommend this extension both for enhancing customer's search experience; and for admins to get a deep insight into internal search stats. It also works with our store and had NO conflict with extremely many extensions included. But what I like most about MageWorx is that the company listens to their customers' needs and adds improvements to their software. Not only do they provide great extensions, but their customer care is absolutely excellent!
HUGE Thank YOU, guys!!! Keep it up!
I switched to this extension from mirasvit module mainly because of reports and metrics for search queries and configurable autocompelte pop-up. To be honest, this is my first module from these guys but I'm impressed with their support. all my emails were answered within 2-3 hours.
Highly recommend!
Solid module with fast support
I spent much time trying to find an extension which will integrate both solr and sphinx and has some reports. Finally, found this module. I sent many emails to the sales team trying to find out all necessary details before purchasing it. All my emails are replied quite fast and they provided all the details. They even installed the extension to my site and configured the sphinx engine. To make this story short - these extensions works perfectly on my store now and I can recommend it to anyone.
This extension is just great. I purchased it to improve my search without installing any search engines like sphinx or solr. This module provides amazing built-in search relevance. Support team helped to configure different attributes and to add search by attribute to the front-end.
The only minus is missing autocomplete functionality.
The best Magento search extension out there!!!
The default Magento search sucks! Bye-bye irrelevant search results and HELLO Extended Search.

Stunning, relevant and the best in class! Have been using it for a couple of weeks, and hope that we'll get a larger increase in conversions as a result.

P.S. Had a glitch when we were installing it. Within 24 hours the issue was resolved (thanks Julia)!
Increased search conversion by 15%
This extension is just great. I use it for about 2 months from now and my search conv. was increased by ~15%!!! I'm planning to install Sphinx to my server and give it a try. Thanks this ext supports the Sphinx integration as well.

Support is AAA+++
Unfortunately Magento built-in search is useless. Extended Search Magento extension worked perfectly right out of the box. Afterwards, when I had questions about configuring Sphinx, support always replied promptly. Five stars from me.
Another MageWorx Magento extension that just ROCKS!

Currently, I do not use it with Sphinx or Solr (but I will move to Sphinx in a while, I think, in order to take load off Magento).

I'm using it with the built-in Magento search engine (modified by this extension).

And I just made meta keywords attribute searchable in quick search. The search results are so much better now, AND I am able to manually influence certain searches just by adding some meta keywords to a product.

I highly recommend Extended Search. It improves dramatically the often bad search results Magento delivers by default.
Bought autocomplete extension first, but even after i made nicer the search result this not changed the fact that the default search functionality in Magento is weak. Works partially, but you get many bad results and sometimes you just can't find the right info. We only have 1500 products, but sometimes its unbelievable hard to find the right products..... but this is changed with this extension! Powerful add on with great search results. Not just find the products for you but the accessories also if you own a product range like that. Install was quick and easy. My best investment was this 2 extension. ---- the 3rd one was SEO Pro earlier but i almost forget that how smoothly that works in the backend :) Excellent support, quality add ons. Do not think twice to get it!
Everyone who uses Magento knows how horrible the built in search is... This extension coupled with the Search Auto complete extension is the best search solution out there. I have over 5500+ products on my site and you can search and find EXACTLY what you are looking for! The drop down with photos supplied by the Auto complete is icing on the cake!!! I have actually had many customers comment on our sites search feature and how much they love it!
By far the BEST search in the market!
First, I just want you to know how pleased I am with the level of support and commitment this team has. It's astonishing to see such dedication to detail. I purchased the search auto complete, and combined with the extended search it's a really nice feature to have.

The team is a thrill to work with, and I would definitely recommend this product to anyone looking for a better Magento experience.
Product Changelog
Legend:
New Feature
Bug Fix
Version: 1.3.2 (December 18, 2018)
Fixes the issues with Solr
Version: 1.3.1 (November 30, 2017)
Adds the compatibility with Magento 1.9.3.x
Version: 1.3.0 (November 1, 2016)
Adds the compatibility with Magento 1.9.3.0
Adds the table_prefix variable in the config file
Makes the autocomplete pop-up fully responsive
Code refactoring
Fixes an error while reindexing CMS Pages
Version: 1.2.2 (October 3, 2016)
Fixes the issue with displaying inactive categories in the search results
Fixes an error on the synonyms page in the back-end
Fixes an error on the search results page if a product attribute 'search_priority' had different values per stores
Fixes a SQL error when searching by product attributes if this search query was not run by all attributes before
Fixes a problem with search redirect when searching by product attributes and categories
Fixes a problem when the popularity score was not updated if the search was run by product attributes and categories
Removes the old php function that lead to the error on PHP > 5.5
Version: 1.2.0 (November 26, 2015)
Advanced Sphinx integration
Ability to specify a sphinx Index to be used in the search
Ability to specify (directly in the back-end) a path to Index, a path to Deltaindex, a path to PID File, a path to Search Logs, a path to Sphinx Logs
Ability to generate Sphinx config right from the back-end
Adds hints when using the check availability in case of Sphinx is not configured
Fixes the issue in the method getFooterJsHtml()
Fixes the issue with translations of the autocomplete pop-up
Minor bug fixes
Version: 1.1.0 (November 21, 2015)
Compatibility with Magento security patches including the SUPEE-6788
Adds the setting to disable the SearchSuite jQuery file if other jQuery is already installed in a store
Code refactoring
Version: 1.0.3 (May 5, 2015)
Mass-actions was added to the synonyms grid
The issue with removing synonyms is fixed
Minor bug fixes
Version: 1.0.2 (April 14, 2015)
Minor bug fixes
Version: 1.0.1 (March 30, 2015)
Search index error is fixed
Version: 1.0.0
Initial release