Tailor an effective pricing strategy based on an individual approach to each shopper. Set different product prices for each customer, as well tier prices on any product of your Magento-based store.
Fully compatible with all Magento Security Patches.
Easy and smooth transfer of all features to Magento 2 version.

Contact us

to get a personal 25% discount!
What is Prices per Customer for?
Individual Product Pricing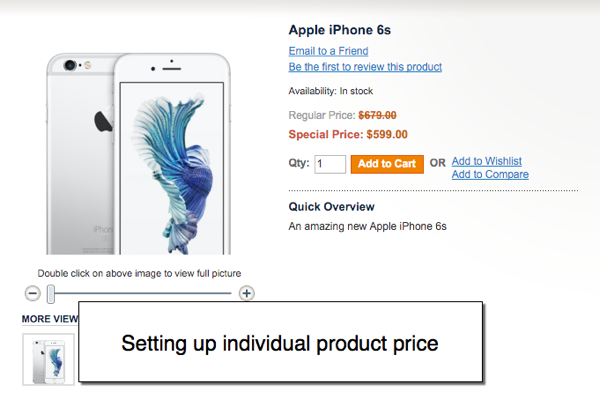 Personalize your pricing strategy by setting individual prices for any store customer. Price per Customer Magento extension allows you to:
Define custom Product Prices for any store item
Specify different Special Product Prices for each customer
Set +-% OFF for certain customers - this will let you run individual promotions via personal discounts
Flexible options for individual product pricing schemes

NEW

Modify the Price Type. Set Percentage to increase or reduce the price by a certain amount

NEW

Setting separate prices for a different websites
Price Display
Arouse customers' curiosity by hiding product prices and making them available only after signup.
Price per Customer Magento Extension allows you to:
Hide prices for visitors who are not logged in
Hide prices for only specific products or categories for not-logged-in visitors

NEW

Customize "You need to login to see product price" message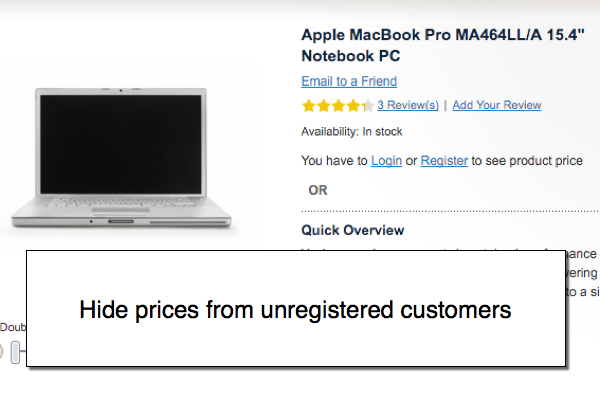 Tier Pricing per Customer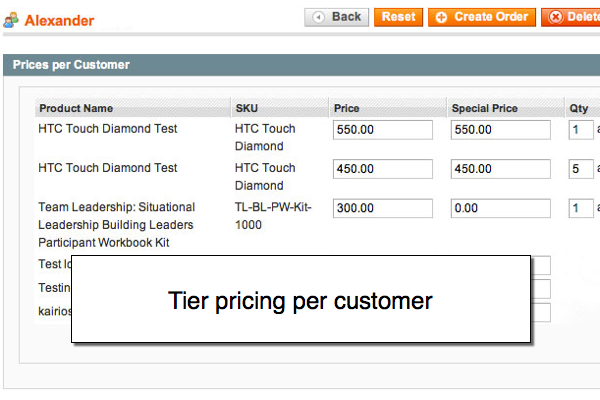 The default Magento lets a store admin add tier prices for customer groups. Price per Customer Magento module extends this functionality by adding tier price capacity for any single store customer.
This can be of great help when setting merchandise prices according to the quantity bought by a single customer.
Use any of the 4 options for customer prices, e.g.:
10 (fixed price, displayed instead of the default one)
10% (10% discount from the default product price)
10% (+10% to default product price)
10% (10% from default price of the specified product)
Import/ Export Magento Tier Prices
With our Magento custom prices extension you can export/import Prices per customer in .csv format.
Easily move the data between stores and projects.
Never lose the list of your custom prices and switch them with a convenient export/import interface.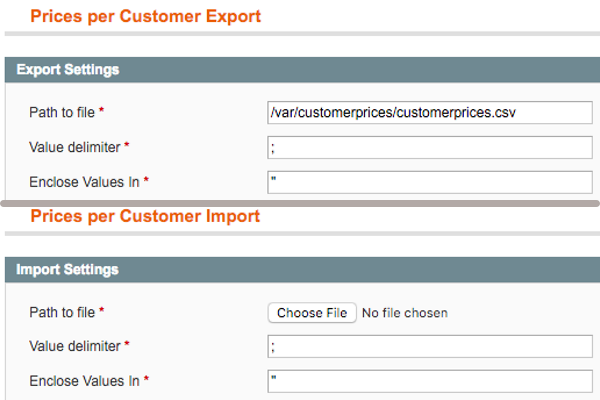 Other Features
Compatible with Customer Group Prices Magento Extension
The ability to filter customers when adding specific prices for them
"Sort By" option allowing to sort various data (e.g. Prices, Products, Customers)

NEW

"Sort products by custom price" option
Simple, configurable, bundle, grouped, virtual, downloadable products support
Support of price ranges in the filter of Layered Navigation
Price per Customer Magento extension does NOT overwrite any layouts or templates thus letting you avoid conflicts
Comes with
FREE Updates
and Improvements

Risk-FREE
30-day Money Back
You May Also Like
These are the extensions you may also be interested in.
Customer Group Prices
Charge different prices to different groups of customers. Reap greater benefits by introducing multiple pricing strategies.

Explore and Buy
Custom Price
Custom Price extension allows creating custom price products. Custom price can be customized by customer.

Explore and Buy
Store & Currency Auto Switcher
Extend your eСommerce operations with multi-site, multi-language, multi-currency and local tax compliance capabilities.

Explore and Buy
Reviews of Prices per Customer extension for Magento
Always a pleasure to work with Mageworx, strong support when an issue occurs.
Thanks to Eugene and the team
Eugene and the guys at Mageworx offer amazing support! Had a couple conflicts with this extension on my website but they were able to fix it very promptly. Thanks!
Super fast and reliable support and great extension!
Great Magento extension and super support. Thank you very much guys!
Great product with stunning support
It does everything what is described. Works out of the box and I had no issues on my site. The only feature request is a better user-friendly interface.
After searching Magento connect for similar tools, none come close to this extansion and the functionality it offers. However, it would be great if you guys could add auto-tag for customers based on how much they spent or what products they buy. So to say, offer Membership pricing.
Works and looks perfectly
I got this extension for one of my clients for his wholesale store view, and it was really straight forward on configuring everything. I did have a problem with it affecting the retail store view even though it was disabled. I contacted the developer, and he fixed it right away.
Product works as described. And support helped us in every step. Thank you! I definitely recommend it!
Hello,
We are using this extension very heavily it depends on a lot of customer groups and different prices. We had an issue recently and Alex was able to fix the issue with in a day. Great support from Alex, we strongly recommend this extension and his suppot.
Initially it hid all the prices when it wasn't supposed to. But the developer resolved the issue very quickly and now it's working very well :) Highly recommended.
Five star plugin and support.
The Prices per Customer for Magento is great and does just what it claims. Webtex support was super helpful in getting the plugin to work with the other plugins we have installed on our site. What else can I say? 5 stars and an A+ from us.
Had some issues getting the extension to work with the template we have in use and support fixed the problem really really quickly.
The extension does what it says. Seems to be no problems there.
Nice extension, excellent support
Bought this extension and installed on a multistore environment. Had some problems because of other plugins, but the support from Webtex was fast. And they fixed my problems within an instant!
With this extension, be aware of the fact that
- your product grid view template will be replaced (which caused some problems with AJAX filtering and displaying at my store)
- your search template will be replaced
All because of the fact that the Cart button has to be removed when you hide prices for customers (otherwise, the prices would still be visible when added to cart).
But it's not a problem - If your looking for a well written and supported extension, buy this one!
Perfect in Magento 1.8.0.0
There was just one little problem in the display of the prices, but Alex has settled in very short time. Installed in Magento 1.8.0.0 and everything is going well.
Great Support. Extension Works As Advertised!
The extensions does what it says. A few things went wrong but after contacting support, each problem was fixed. The overall experience is in the title.
Great Extension! Great Support!
The extensions does what it says. A few things went wrong but after contacting support, each problem was fixed. The overall experience is in the title.
This is a great extension!
This is a great extension! Needed to add different prices for certain customers and this add-on does the trick.
Great service as well to enable and dissable some of the extra functions!
Product Changelog
Legend:
New Feature
Bug Fix
Version: 2.9.0
Fully re-developed user interface
Version: 2.8.1 (November 26, 2015)
Minor bug fixes
Version: 2.8.0 (November 10, 2015)
Compatibility with SUPEE 6788 Security Patch
Version: 2.6.1
Initial release