SEO Suite Ultimate extension for Magento 2

SEO Suite Ultimate extension for Magento 2
ALL-IN-ONE TOOLKIT TO GET YOUR SEO COVERED
Gallery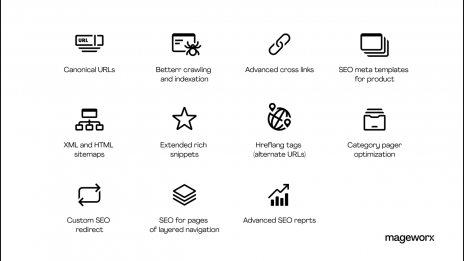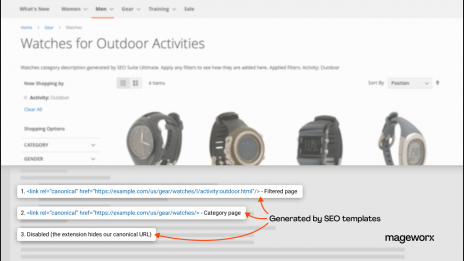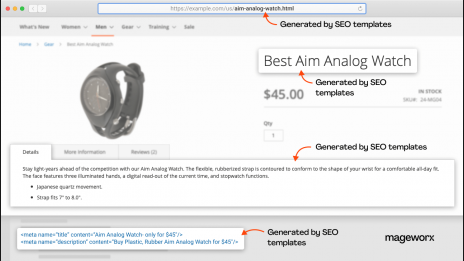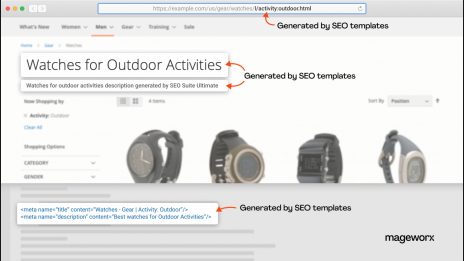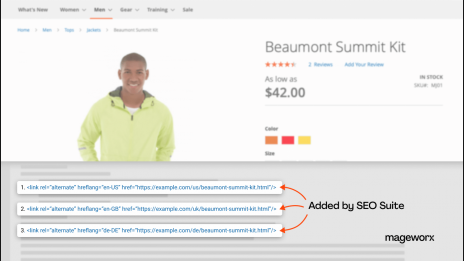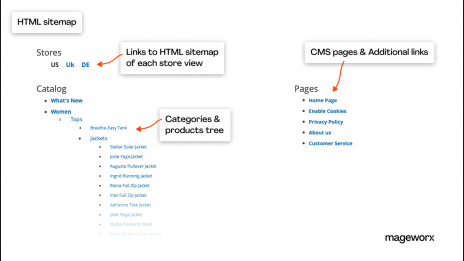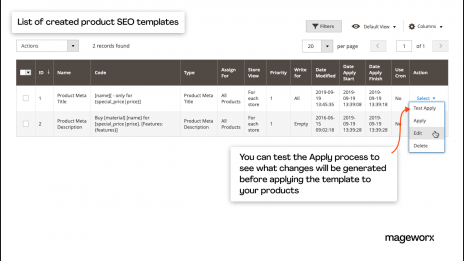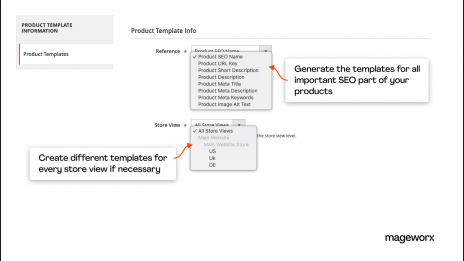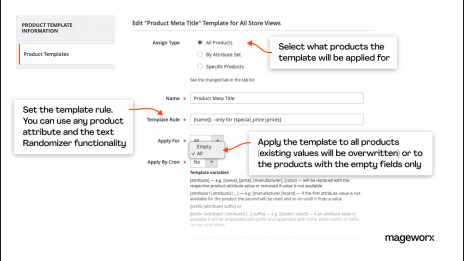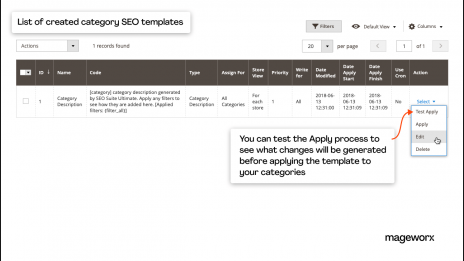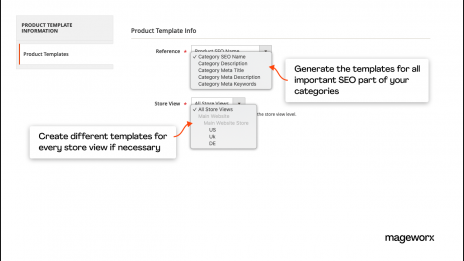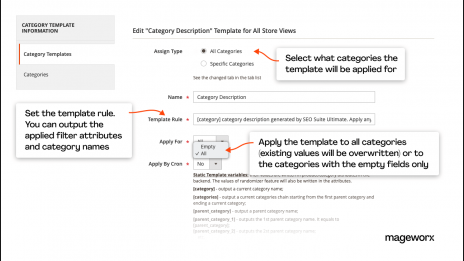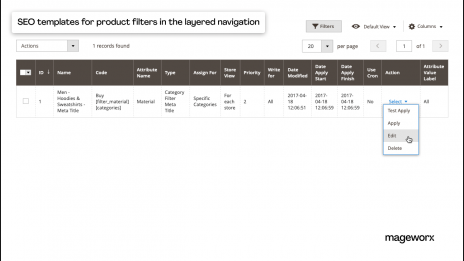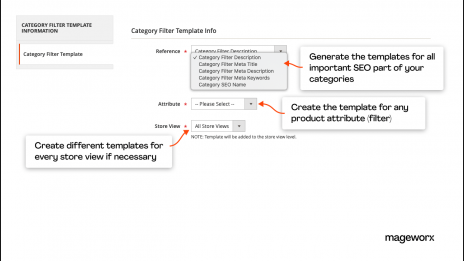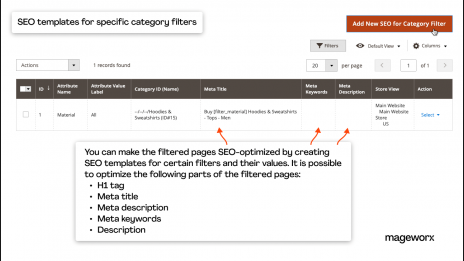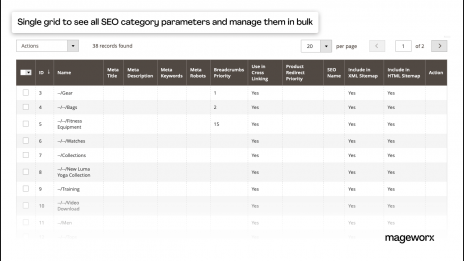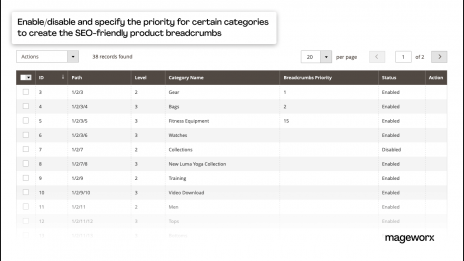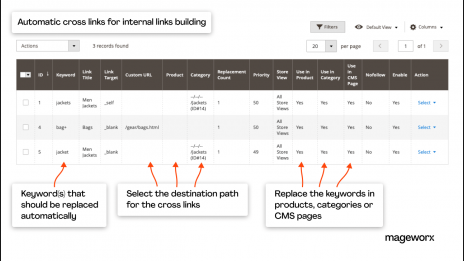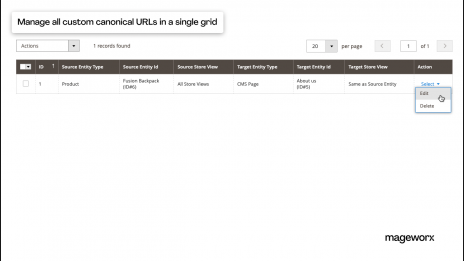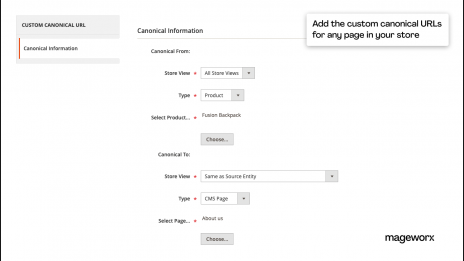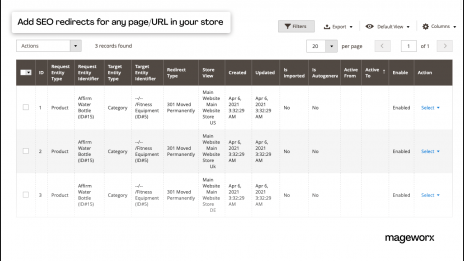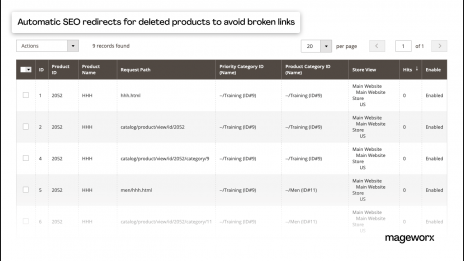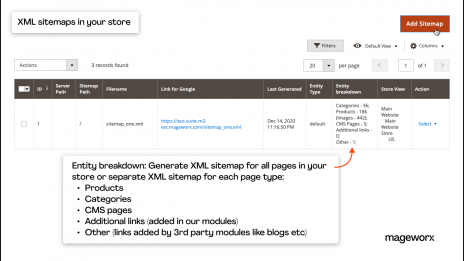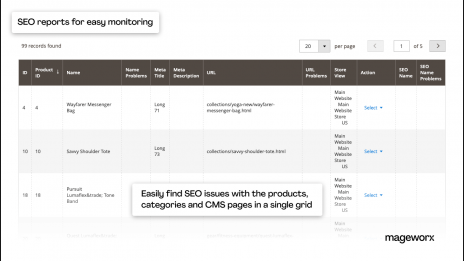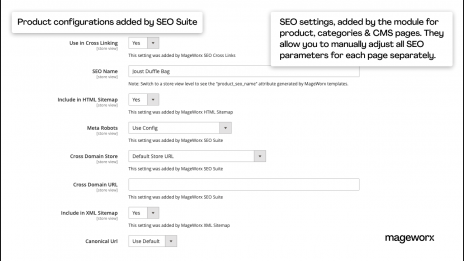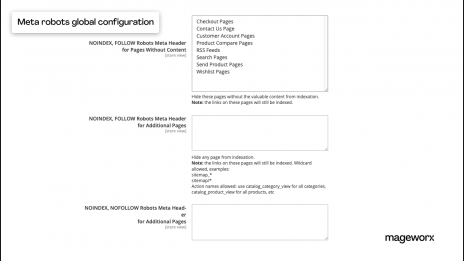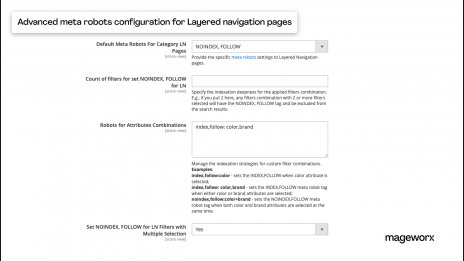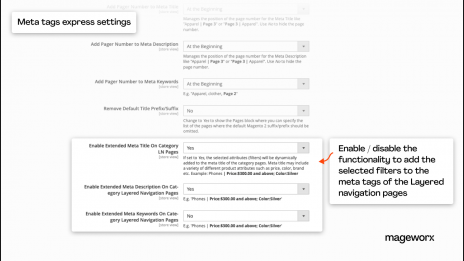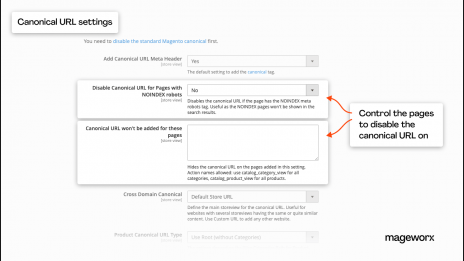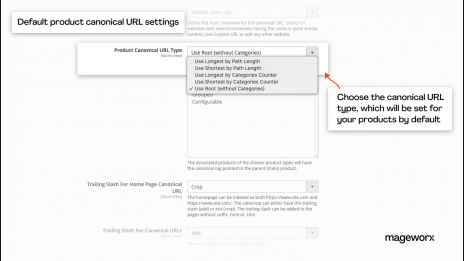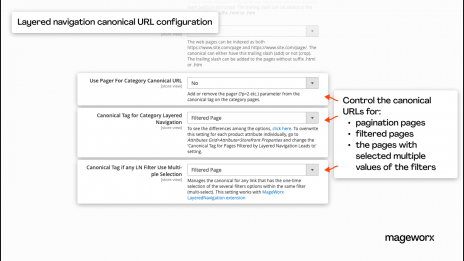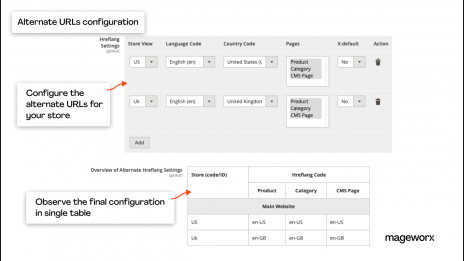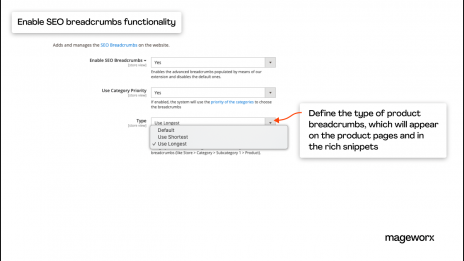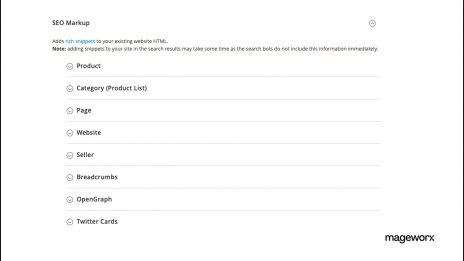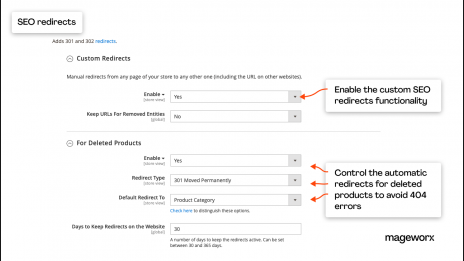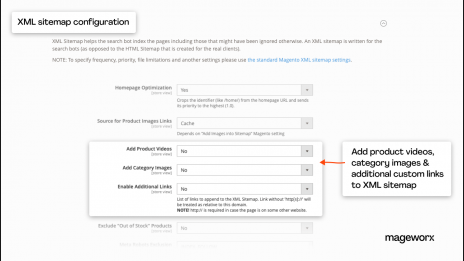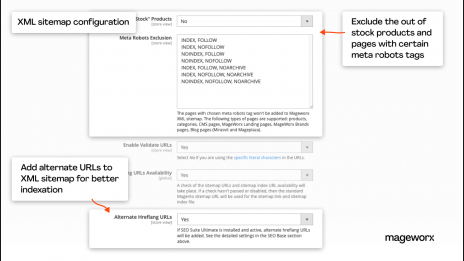 Magento Compatibility
CE: 2.3.7 - 2.4.x; EE: 2.3.7 - 2.4.x
Translations
English, German, Dutch
Comes with
Lifetime access to the source code
1 year of free updates and support
No subscriptions
Extensible. Customizable. Developer-friendly
Composer installation for easier extensions installation and management
No overwriting the core classes unless unachievable within a functionality
Unencrypted code for hassle-free editing if required by your clients
Extensions' code implementation following Magento's recommended best practices
OpenAI ChatGPT Integration
SEO Suite has the built-in integration with OpenAI ChatGPT. This integration allows you to generate creative, SEO-friendly with high CTR descriptions and meta tags based on your product characteristics. Supports the following models: GPT-4, GPT-3.5 turbo, Text ADA 001, Text Davinci 003.
Magento 2 ChatGPT integration will let you:
Now you can optimize your products with a full power of AI by creating optimized and with high CTR meta tags and by rewriting your descriptions to make them well ranked in Google and attractive for your customers.
Canonical tags
Eliminate duplicate content, strengthen the Magento 2 SEO potential of the most essential eCommerce store pages, and improve their stability. Set canonical URLs to highlight the preferred version of a page/domain for search engines.
With our Magento 2 SEO toolkit, you can:
Robot meta header
Instruct the search engine spiders to access and explore the key areas of your website. Restrict their access to insignificant pages and pages with private info to keep such pages protected.
Our SEO Suite extension for Magento will let you:
Cross-linking
Automate the process of internal link building. Link relevant links thematically within your website, connect to authoritative external sources.
The SEO Suite Ultimate extension enables you to:
Product SEO templates
These fantastic functions of the SEO Toolkit enable you to quickly and easily add a massive amount of any metadata for any product/category page. Following the best SEO practices, the following essential elements are covered:
If you have an extensive catalog, you can run the templates for products from Command Line Interface (CLI). Besides, with these solutions, you can:
Category SEO templates
SEO category templates of the SEO Toolkit let you make the following major category page elements optimized:
Also, Magento 2 category SEO templates can able to:
Layered navigation SEO for Magento
Fully optimize pages filtered by layered navigation, and make them search engine and user friendly.
Magento SEO extensions' smart templates for each category filter page let you specify:
You can also define the priority for any attribute in the layered navigation block and tweak some other important settings. Besides, with the SEO Toolkit, it's possible to:
Rich snippets
Catch the user's attention while searching and win the click with more detailed search results ― rich snippets.
Rich snippets SEO tools of SEO Suite Ultimate enables you to:
Hreflang tags
Use SEO extensions to inform Google which page is an alternative language version of a page and which is the main one. With SEO Suite Ultimate for Magento 2, you can:
Pager search engine optimization
Optimize pagination pages to make them search engine friendly. The SEO Toolkit enables you to:
Smart breadcrumbs
Help visitors and search engines better navigate through your store with the advanced breadcrumbs feature and enjoy increased convenience. With SEO Suite Ultimate, you can:
HTML sitemap
Being at the top of the SEO Suite extensions list, our SEO module enables you to generate a fully-fledged HTML sitemap, where you can:
XML sitemap
Improve the functionality of the default SEO Magento 2 XML sitemap. With this Magento 2 SEO module, you can:
Additionally, it supports large catalogs by splitting the sitemap by a certain number of URLs and/or by file size (It allows you to submit XML sitemap in case of over 50k links).
Automatic redirects
Avoid losing customers by sending them to deleted product pages (404 pages).
SEO reports
Monitor Magento 2 SEO issues with your product, category, and CMS store pages directly from the Magento 2 back-end. Before resolving such problems, you get to:
Custom redirects
Add custom permanent (301) or temporary (302) redirects from/to any store page. The SEO suite extension enables you to:
Also, with our search engine optimization plugin, you will get to take full control of your custom redirects:
GraphQL support
The SEO Suite allows you to integrate our SEO features into your PWA storefronts using the GraphQL API. The following features are supported for the product, category, and CMS pages:
Blog support
The Magento SEO module is developed in such a way as to ensure all third-party pages are added to our XML sitemap automatically (providing third-party modules add such pages following the Magento standards). The SEO Suite also offers extended support for Mirasvit, Mageplaza, and Aheadworks blog extensions.
It is possible to add different types of blog pages to the Mageworx XML sitemap. The following page types are supported:
The SEO Suite from certified Magento developers enables you to add or exclude each page type separately if necessary. The frequency and priority parameters for the blog pages are also available.
SEO configuration service
The SEO Suite Ultimate extension will be tweaked according to your business's requirements, needs, SEO weaknesses, and the required improvements.
PWA storefronts compatibility
The extension is compatible with the following PWA storefronts:
Hyva theme compatibility
The extension is compatible with Hyva theme. See our user guide for more details.
Get the most out of SEO Suite
Our SEO experts will tweak the entire scope of SEO Suite Ultimate's features following your business's requirements.

Find out more
Product changelog
What's new
Adds integration with OpenAI
Adds possibility to generate content and meta values for product and category pages using ChatGPT
Bug fix
Removes support for PHP 7.3
What's new
Adds German and Dutch translations (back-end / front-end)
What's new
Adds "shippingDetails" and "hasMerchantReturnPolicy" properties to Product markup
Adds "openingHours" and "addressCountry" properties to Seller markup
Replaces an image link in Product markup with a link pointed to a higher resolution image
Bug fix
Fixes the issue in case of generating xml sitemap via CLI
FAQ
Product questions
How to create the perfect meta title and meta description in Magento?
Well-optimized metadata in eCommerce transforms the way the search results snippets look. The anatomy of metadata in Magento has been exposed:
Keep the meta title 50-60 characters long
Place main keyword closer to the beginning of the title
Mention special offers…
How to use hreflang tags in Magento 2 effectively?
You've got equal content in different languages. You've got content in one language that is meant for different regions. Then, it's a must for your business to set up hreflang tags correctly and avoid the following mistakes:
Wrong hreflang values
Pages with no hreflang attribute...
How to set up layered navigation in Magento 2?
Layered navigation is often referred to as category filters. It's a set of dynamic filters located on any category page that helps the customer sort products based on specific criteria.
If you are currently planning the SEO strategy for the pages filtered by layered navigation, it's vital to avoid the common mistakes and default Magento 2 limitations.
How important are XML and HTML sitemaps?
Did you know that sitemaps can be useless? If your site pages are not worth indexing, if you are not consistent, if you don't control the quality of pages included in the XML sitemap―then, sitemaps can be even harmful.
Is SEO useful for Magento stores?
Any business requires SEO to expand, increase sales, and attract more customers. Equally, SEO optimization allows your e-store to rank for product searches and product-related queries.
Default Magento 2 SEO offers a decent number of out-of-the-box features, such as meta tags for products, prefixes, and suffixes for title tags, robots.txt, and more.
Though the number of available features are helpful, they are too basic and lack flexibility. Thus, you should expand the core features with a trusted solution.
What are SEO tips for Magento eCommerce?
Product pages should be ideal from the SEO-perspective. How to deal with pages that were removed, what are the means to attract more traffic to category filters, how to run an eCommerce blog―get an expert opinion on this and other questions from the Co-Founder & Technical Director of one of the leading London agencies.
Can I do SEO yourself?
Much can be done on our own but to do it professionally, it's critical to be a professional. When doing Magento 2 SEO, you should know common default Magento 2 issues (alt tags as "Magento Commerce", default keywords, homepage title, description, etc.) and be able to deal with them.
Otherwise, you can always opt for professional services, use the best-of-breed SEO extension and Advanced SEO Configuration services.
Does SEO still work 2023
Such a question gets asked every year. And the answer remains the same―the number of users grows yearly, and traffic volume increases alongside. It makes brands pursue top positions and wonder, "what is a good SEO score?".
SEO is still urgent. You must keep track of the ongoing updates or have a solution from the development company that does.
General questions
How can I pay for Mageworx products?
The two most common payment methods are currently accepted―credit cards (all types) and PayPal. All the payment transactions are carried out in full compliance with the security and confidentiality requirements.
Will I get a formal invoice with all details including VAT number?
Yes, after the purchase you will receive the complete invoice with all necessary details, including our VAT number etc.
How to install our Magento 2 extensions?
We offer four independent ways of Magento 2 extension installation:
What Magento editions do Mageworx extensions support?
Mageworx extensions support Magento 2 Open Source (former Community), Commerce (former Enterprise) editions including Magento 2 Commerce Cloud platform.
Mageworx Repository: how to use it?
Our own repository has been primarily intended to facilitate and speed up the process of Mageworx extensions installation and update.

In order to work with the repository, you'll need to have the Composer on the server first. This is the package manager of the PHP software that allows you to update & install scripts on your site.

Can I use one Mageworx license on multiple websites and staging/test hosts?
According to the Mageworx License Agreement, you can use one copy of Mageworx software on one Magento production installation. Thus, separate Magento installations require purchasing separate licenses.

Please mind that the extensions are not domain related, i.e., if you run each website on one Magento installation, then one license can be used. However, if you've got several websites on different Magento installations, then you would need to purchase separate licenses for each of them.

Before going live, can I test a Mageworx extension on a staging site?
Yes, you can install and set up any Mageworx extension on a test environment before making changes on your production site.
Are Mageworx extensions compatible with third-party themes?
By default, all Mageworx Magento 2 extensions are tested on three most popular themes: Luma, Ultimo, and Porto. However, some of our extensions are compatible with more 3rd party themes.

You can get in touch with our support team at [email protected] to confirm compatibility with the theme that you are currently using.
Are Mageworx extensions mobile-friendly?
In the world where 45% of purchases are completed via mobile (according to Retail Dive), we find it crucial to test and optimize all Mageworx extensions for mobile friendliness.
For how long can I get extension updates?
Extension updates are available as long as your support & updates package is active.

Purchases made before February 1, 2022, reserve the right to access our Magento extensions updates free of charge for a lifetime.
How can I get tech support?
Currently, the Mageworx Magento support team can be reached via:
How can I migrate from Magento 1 to Magento 2?
Database migration, migrating custom-built functionality and design, as well as migrating advanced SEO settings―these and other options are available within our one-stop migration service.

To get a quote, you'll need to contact our Client Relations Manager.

How can I get a refund?
We offer a 60-day money-back guarantee for Mageworx extensions that have been purchased via our site. Customer satisfaction and creating true value are our top priority!

Please note that this is except for those Magento 1 extensions that are intended to be upgraded to their Magento 2 versions within 30 days since the moment of M1 version purchase. In such a case, a refund will be applied solely to the Magento 2 extension version.

Please note that extensions purchased at Magento Marketplace are covered by the 25-day Marketplace Refund Policy.

Does Mageworx have a discount program?
Reward points, bulk & upgrade discounts―at Mageworx, we do our best to show appreciation to our new and existing customers. Joining the program is fast and easy. To start saving with us, you need to create an account.

How can I become an affiliate?
By helping Mageworx promote our extensions, you can earn up to 50% on every order. To join the affiliate program, you need to create an account on our website.
Go to "My Profile ― Affiliates", then complete and verify your affiliate profile.

Feel free to drop us a line on the Support page if you have questions.