Reading Time:
7
minutes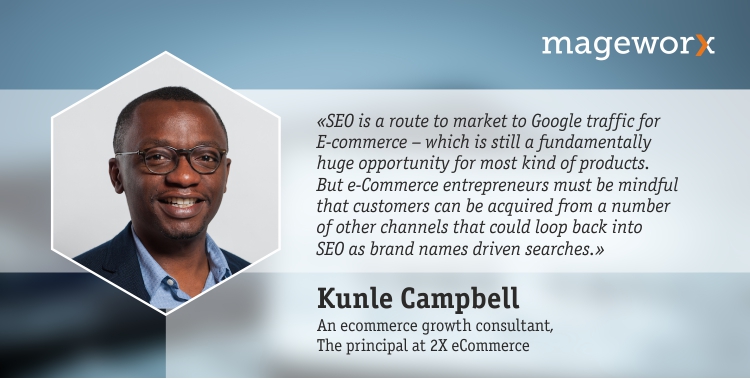 Doing SEO for eCommerce websites is a lot more complicated than optimizing blogs and other traditional sites. With hundreds or even thousands of product pages constantly shuffling on and off the site, various issues may raise and kill all your hopes of being found in the organic search.
Today we have interviewed Kunle Campbell and asked him to explain how to handle e-Commerce SEO issues online entrepreneurs often encounter with their sites.
Kunle is an eCommerce growth consultant, trainer and advisor who helps online retailers drive growth and profitability through SEO, customer acquisition, conversion optimization, and retention. He is also a podcaster, speaker, and a reverse-engineering marketing specialist. Besides, Kunle is the principal at 2X eCommerce, an eCommerce marketing consultancy.
1. Kunle, please tell us a couple of words about how you got into the world of online retail. What were the challenges you faced at the beginning?
Over the course of 7 years I was an SEO generalist; I took on SEO work from a wide range of verticals that came my way; ranging from local SEO work for dentists to international real estate businesses working in multiple countries. As my SEO business grew, a reasonable number of clients I worked with were retailers, financial services, in the lead generation space and also publishers.
I started to notice that the ROI on eCommerce SEO was a lot more measurable and trackable (this was in the pre 'not-provided' era). I also noticed that most of my eCommerce clients were a lot more technically savvy as their entire businesses relied on tech. More importantly, with ecommerce you are able to track and optimize the entire sales funnel with tools such as Google Analytics, PadiTrack (before it was discontinued), Mixpanel, Heap Analytic or Hotjar.
I made the decision to focus on SEO for eCommerce for funded startups and mid-sized businesses, as this is the most exciting space that sees fast growth. I am particularly biased to Magento as a platform because of its robustness, flexibility and the caliber of businesses that run on Magento.
As for my initial challenges in retail, I think it lies in the prioritization of actions and educating clients that the execution of SEO should be marketing and business driven.
2. In your opinion, what role does SEO have to play in today's E-commerce? 
 
This is an interesting question. If you asked me 18 months ago, I would have had a slightly different answer. SEO is necessary up to a degree. Some fundamental questions need to be asked before SEO. Questions such as:
Do we have the right product/market fit?
What is concrete plan for customer retention (after we have acquired customers)?
How can we drive our customers to become advocates through word of mouth marketing?
Are we going over and beyond with customer service?
What metrics do we have in place for tracking brand awareness?
When these questions are fully answered and executed with action – I can conclude that we have a business. This is when SEO becomes really powerful.
SEO in my opinion is split out into 3 core areas:
Technical SEO – pretty much technical compliance with Google and Bing
Content – building out value proposition backed content (about your business), sales copy (about your products), informational (helpful FAQ type content related to the start and middle of your sales funnel)
Promoting and building a brand – through word of mouth (social) and influencers (PR)
All of the above are moving parts and constantly changing. 
SEO is a route to market to Google traffic for E-commerce – which is still a fundamentally huge opportunity for most kinds of products. But e-Commerce entrepreneurs must be mindful that customers can be acquired from a number of other channels that could loop back into SEO as brand name driven searches.
3. What are the 5 biggest SEO challenges online stores have to overcome these days? Have the latest Google updates made it more difficult to optimize E-commerce sites?
Sites fundamentally still get their information architecture wrong and out of sync with keyword research baked structure. Every site that I have re-architectured has seen an uplift in organic traffic of 10-25%.
Negative SEO remains a viable threat to SEO savvy eCommerce managers. My advice here is to focus on building a brand and domain authority though high quality ethical and somewhat irreplaceable links that are almost susceptible to malicious links. The disavow tool should be used for quarterly link profile clean ups.
Thin content on product pages used to be a challenge but most eCommerce businesses have dedicated content development personnel for building out content with less and less reliance on manufacturer supplied content.
For older eCommerce businesses used to doing SEO the 'old way', ethical link building remains a challenge. They are having to learn content marketing and PR.
Finally, the reality of AdWords eating into SEO remains in my opinion a major reason to not put your focus in one basket. Ecommerce SEO often has to compete against Google shopping product listings and traditional text ads both above the fold and on the side. The reality at the moment is that you are leaving money on the table if you do not advertise on AdWords.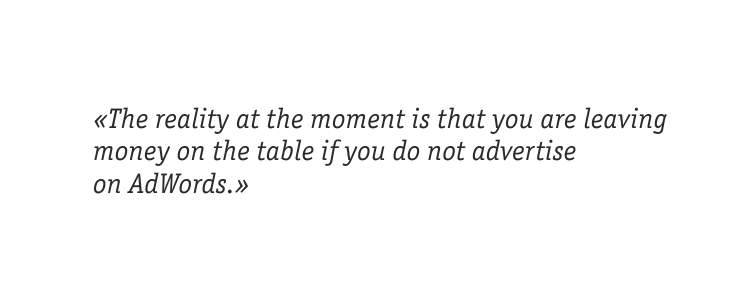 4. Is there a big difference in doing SEO for different E-Commerce platforms? Which stores are more difficult to optimize: those on Magento, Big Commerce or Shopify?
I don't have much experience with Big Commerce but have worked with a few Shopify sites. The difference I've found between Magento and Shopify is that you could have little or no coding experience and still carry out technical SEO on a Shopify site. I have had to work with a developer for all my Magento technical SEO projects.
One other crucial difference is in URL architecture; Shopify offers flexibility up to a point but is not as robust as Magento.
5. What SEO factors one should take into account when optimizing E-commerce sites on Magento?   
Here is what my technical SEO checklist for Magento looks like:
URL architecture (know how to carry out semantic based keyword research),
Indexation (segments XML site map),
Semantic markups (Schema, social opengraph, entity markup),
Duplicate Content (meta robots, magento robots.txt, URL parameters, Canonical tag)
Site performance (speed),
User experience (mobile, tablet and desktop UX),
Internal link building,
Mobile SEO
Ecommerce managers need to address all of the above in order to build out a solid technical SEO foundation for Magento. I am going to be launching a Magento SEO training course that will go into more detail on all of the above. To find out more about the launch date, go to 2Xmedia.co and sign up to my newsletter.
6. What tools do you recommend to audit and optimize Magento stores?

Keyword research: SEMRush, KeyWordTool.io, Onpage.org, KWFinder and Google's search results
Information Architecture Audit: Screaming Frog provides a comprehensive crawl of your entire site – be sure to use it in combination with custom filters and swap user agents in your crawls. For larger enterprise scale sites, Deep Crawl (https://www.deepcrawl.com) provides quite a comprehensive hosted crawl solution.
Google Webmaster Tools is a given. The reports I check the most are Search Analytics, Site maps and Crawl Errors.
Site speed: GT Metrics, Google's PageSpeed Insights
Ranking software: AnalyticsSEO, AuthorityLabs, Advanced Web Rankings, RankTank, SERP Woo
Back link analysis: MajesticSEO, Ahrefs
SEO Management: Google Webmaster Tools, AnalyticsSEO, Moz and Searchmetrics
Competitor Analysis: SimilarWeb, Searchmetrics, SEMRush
Magento Extensions:
Schema – https://www.magentocommerce.com/magento-connect/schema-org.html
Ultimate SEO – https://www.magentocommerce.com/magento-connect/seo-suite-ultimate-1-seo-extension.html
Fooman Speedster Advanced – http://store.fooman.co.nz/magento-extension-speedster-advanced.html
Google Tag Manager integration – https://www.magentocommerce.com/magento-connect/google-tag-manager-integration.html
Varnish – https://www.nexcess.net/resources/plugins/magento-turpentine-varnish
Social Meta Tags for Open Graph and Twitter Cards – https://www.magentocommerce.com/magento-connect/social-meta-tags-for-open-graph-and-twitter-cards.html
WordPress Integration – https://www.magentocommerce.com/magento-connect/wordpress-integration-3795.html

7. SEO is all about organizing a big amount of tasks and getting them done in time. For E-commerce site owners, there's just not enough people to delegate SEO tasks to. How do you recommend to scale a big amount of SEO activities more effectively? Where do you recommend to invest into first?
First off, the eCommerce manager or whoever is responsible for the SEO strategy has to be SEO savvy. Then they should split out the team into:
A purely technical SEO team, consultant or agency
A content development team
A promotion, social media and PR team
They all have to have work in-sync towards a goal.
Invest in extensive entity based keyword research, information architecture and technical SEO first.
After that, focus your energies on building a brand and your domain authority. Reporting is key, as you cannot improve what you cannot measure.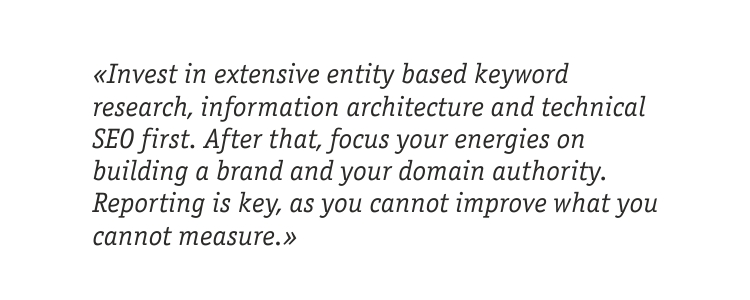 8. In general, how do you think E-commerce SEO will evolve in the future? What are your predictions on that? 
More and more focus will be placed on SEO visibility rather than keyword rankings (as this is a highly volatile metric that changes with the searcher's context), check Google Webmaster tools' 'impressions' metric in the Search Analytics report.
More focus on the growth of brand name searches as it is an indicator of a growing brand and business, as well as a good indicator that your customer retention rate is on the rise – all successful eCommerce businesses I have worked have more brand name organic search traffic than any other single generic SEO search phrase (even if they rank #1).
Apps – people spend more time in apps than on the mobile web. App indexing is already here to stay. How eCommerce and the world of Magento adapts or evolves is a million dollar question. I believe the transition was getting sites mobile (which is where we are now) and then the next wave will be moving sites from the mobile web to either an app marketplace or a dedicated app.
I am also hoping Google carries out more work on semantics and intent for eCommerce SEO – lets take an example: in a local SEO context, if I searched for 'wine bars' on my desktop of laptop, Google's results will comprise of local Google maps results and 70-80% of the organic result will comprise of geolocation search results from Oxford i.e. in
a local context.
In other words, I didn't need to type out 'wine bars in oxford'.
Another example might be if I searched for 'rc trains' on Google, some of the results will not have the mention of 'rc trains' because Google understands that 'rc' means 'radio controlled'
For Semantic ecommerce SEO, Google still needs to make inroads to delivering cleverer results for descriptive search queries with adjectives in them. Here are two examples:
If I searched for 'cheap batteries', Google is still likely to match the phrase 'cheap batteries' with title tags or content on pages with the phrase 'cheap batteries'. In other words Google phrase matches the term, rather than understands the context of the adjective 'cheap'. It could better understand the context by comparing prices across a number of eCommerce sites that it knows sells batteries and return results based on price (like it is currently experimenting on Google Shopping results)
Another example is if I was looking for the 'best iphone 6 cases' – all the results I get are review sites. Google could make use of customer reviews from eCommerce sites that it knows sells iphone 6 cases and return much more customer centric results driven by actual experience.
* * * * *
We hope that these solutions will help you handle eCommerce SEO problems and get the most from your online business.
* * * * *
You can catch Kunle on Twitter and LinkedIn.