Reading Time:
3
minutes
No, there will be no one more article on why SEO is critical.
No, we are not going to talk you into letting your SEO specialist(s) go in favor of our solution.
What we are going to do is share a powerful 5-in-1 SEO Pack that will help your team automate a multitude of SEO (and slightly marketing) configuration processes while making the site customer and SEO-friendly.
Thus, no matter whether you are launching a new Magento 2-based business or wish to make sure SEO is done accurately in your online store, read on to learn what practical value our new kit of extensions brings.
What Do We Offer?
Strong SEO plus positive on-site navigation and shopping experience stand behind a successful business. With that in mind, and over a decade of expertise in Magento development―including our flagship SEO-focused extensions created alongside SEO specialists―we offer a perfect blend of fully compatible Magento 2 modules to rocket your store in the SERPs.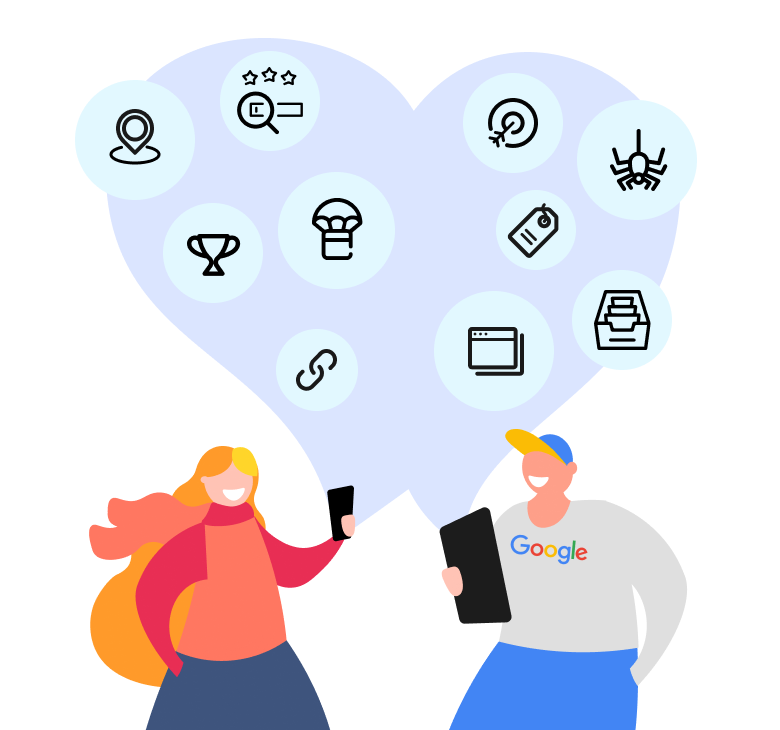 They are:

3. Short Category & Product URLs,
4. Shop by Brand,
5. Landing Pages.


MageWorx SEO Pack Sliced Up
SEO Suite Ultimate
With a long history behind, Magento 2 SEO Suite Ultimate was first launched in 2015 and incorporated all the knowledge we had when developing its older Magento 1 sibling. Plus, our customers' suggestions, feature requests, and up-to-date changes in the SEO world have been taken into consideration to ensure the solution meets the demands of the current SEO world.
Starting from duplicate content elimination, advanced rich snippets, smart redirects, SEO reports, the extension has so much more to offer. A brief overview of what our SEO Suite Ultimate allows to handle is available here:
Layered navigation, or filtering in other words, is a must-have tool that allows significantly improve onsite product search, as well as customers' shopping experience.
The native Magento 2 functionality doesn't allow selecting several filter attributes at once. The extension will let you easily overcome this limitation, as well as expand the functionality significantly.

Short Category & Product URLs
Ever wanted to replace http://example.com/new-arivals/sale/men/tops-men/jackets-men.html into http://example.com/jackets-men.html? That's what the extension does. It allows improving category & product page indexation by generating shortened URLs that Google will love.

The extension runs smart checks to avoid any conflict URLs creation possibilities and allows you to y rollback the shortened URLs effortlessly if required.
Landing Pages
The possibility of generating a beautiful single landing page is of no surprise.
One of the most exciting features of the Landing Pages extension is SEO-optimized landing pages creation in bulk. It can be custom landing pages for AdWords campaigns, seasonal promos, sales, or other marketing activities.
For example, if you wish to create and promote pages with products of one color, you will need to select the 'Color' attribute and values of your interest (such as black, white, red, etc.). With the help of variables, you can also autofill the content of the landing pages, just as SEO optimize them.
To get a better idea about the inside of the extension, see the following video user guide. You could use a cup of coffee as it's as long as 12 minutes. Enjoy!
Shop by Brand
There is certainly psychology involved when it comes to shoppers' attachment to brands. What the extension does is offers quick and easy access to all available brands in your Magento 2-based store.
Additionally, shopping by brands becomes even more intuitive―the same brands' offerings get conveniently listed on dedicated pages that are created automatically. This can be a great way to drive targeted traffic to pages created with a specific marketing objective in mind.

Within the extension's features list we can set off the possibility to display brands right on product and category pages.
Instead of Final Words
Please, see a brief overview of what extra functionality the extensions in the SEO Pack will bring to the core Magento 2 functionality. Please note that all the extensions are fully compatible. Additionally, the Landing Pages & Shop By Brand extensions―besides the value they bring to Marketers―are replete with SEO-features that help you optimize newly created pages and get them ranked higher in the SERPs.
Click on the image to expand the table.