Reading Time:
4
minutes
We are launching a series of interviews from Developers Paradise conference. From the interviews you'll learn the insights of the Magento community and get a valuable piece of advice from the leading industry experts.
The interview with Joni Kautto opens the series.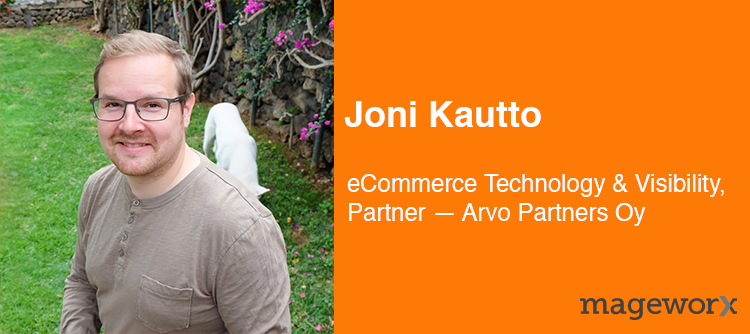 About Joni
Joni is a senior eCommerce Consultant from Finland living in Spain. Working in Online Marketing for 20 years from which past 10 years having main focus on eCommerce. Joni and Arvo Partners work mainly with Scandinavian companies building and growing their eCommerce businesses from the bottom up. Joni has been working with Magento since 2008 and is specialized in Search Engine Optimization, Marketing and Advertising solutions done with and for Magento.
You can connect with Joni on LinkedIn.

Vitaly:  Hello, Johnny. Please share your impressions about this year Developers Paradise.
Joni:  I love everything about it! Amazing location, great speakers, lots of valuable experience, friendly and helpful people around.
Vitaly: Have you ever been to any other Magento Events? How can you compare them to this one?
Joni:  I've visited all types of Meet Magento events, different eCommerce- and marketing related conferences because that's part of my business.
I would say Meet Magento & DevParadise are much more intimate and give tangible takeaways for everyone who deals with the platform. Compared to other eCommerce & marketing conferences, Magento events are far more advanced, practical & strategic.
What I like most about them that I really LEARN a lot. And this valuable, practical knowledge and insights can be easily applied in any type of Magento-related businesses, including mine.
Vitaly:  I see. Cool. Can't but agree with you on that.  

And now let's talk about Magento 2 and its SEO capabilities. Upon the whole, how capable is the platform to handle the current SEO challenges?
Joni: Well, this version of the eCommerce platform is equipped with a lot better set of out-of-the-box features than its predecessor. I mean, the default tactical SEO functionality is definitely much better than in Magento 1.
However, there are still some areas to improve. Luckily, here we have some 3d party tools that come into play. For example, MageWorx has a very comprehensive SEO extension that makes up for the missing out of the box SEO features.
Together they make the platform capable of dealing with all modern SEO challenges.
Vitaly:  Ok, and now let's talk about various types SEO improvements in particular. In your opinion, how Magento 2 has been improved in terms of product or category page optimization?
Joni:  By default, it's rather easy to change meta titles, meta descriptions and adjust canonical tags for individual products and categories. Even for developers and merchants who have little or no SEO experience that won't be a problem.
Vitaly: But what about optimizing meta data for multiple products or categories? As I know, Magento 2 has a new feature — Product Fields Auto-Generation — aimed to save time when optimizing a big amount of product pages?
Joni: Right.
However, this feature still needs some improvements, as it's quite limited — mainly because it is capable of changing meta tags for all products using only one template.
But again, on the new Marketplace there are already some Magento 2 extensions that can enhance this functionality. With these modules one can create custom SEO meta templates and apply them to any targeted selection of product/ category pages.
Vitaly: Ok. And what about the support of schema.org and structured markup data? Any improvements in this area?
Joni: That's great that rich snippet functionality was added in the Magento 2 default installation. Now it's pretty easy to include structured markup data from your Magento 2 store within Google results. What I love most about it, that it's already enabled by default.
But the thing is, most of the shops won't be using it, because of the risk to lose the micro data from the template. So, it's nice to see this feature by default, but it's not enough. You anyway need to use a 3d party module using JSON-LD script. I recommend this one by Atwix.
Vitaly: I see. Let's talk about sitemaps. Any improvements here? As you know,  Magento 2 has quite an enhanced XML sitemap, but an HTML one was totally removed. What do you think about it? Do we actually need an HTML sitemaps nowadays?
Joni: Yes, an XML sitemap has been significantly improved. In Magento 2 you can tweak a big number of settings: specify the priority and frequency for product, category, CMS pages, automatically add an XML sitemap to a robots.txt file, add images, split an XML sitemap to male it meet the Google requirements, etc.
As for the necessity of an HTML sitemap, from my experience I don't see much use of it. If you have a clear store structure, information architecture, clear site navigation, what's the point of adding an extra page where your site users can see all your site links?

Vitaly: Which SEO areas would you advise developers to focus on? What are the fields we should improve in Magento 2?
Joni: Like any other eCommerce websites, Magento 2 stores should also be optimized in terms of usability, as it is super-important for SEO and for making your site visitors happy and satisfied.
Also, you shouldn't forget about mobile site optimization. The number of people who are making purchases through mobile devices is constantly growing, which means it's really important to have a mobile-friendly version of your online store.
And finally, I want to say that SEO is an ever-changing sphere. To stay afloat, one should constantly keep fingers on the pulse of the industry: read SEO blogs, forums, communicate more with niche experts. That's basically it.

We thank Joni for the interview and wish him good luck with his business!