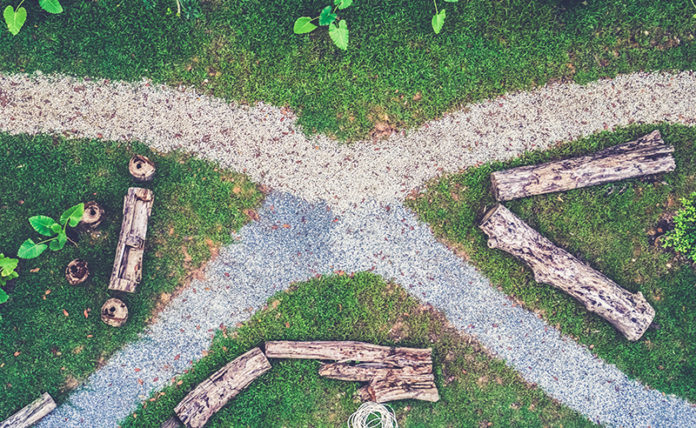 Reading Time:
6
minutes
Sadly, the potential of on-site Magento search is often overlooked in the eCommerce industry. Meanwhile, a little search box can be an invaluable marketing tool with a wide spectrum of useful capabilities. In addition to its direct duty – delivering results – onsite search can also act as a personal store assistant, a tool for analyzing customer shopping habits & preferences and a communication channel.
The value of an optimized, intuitive and self-learning onsite search can be summed up in 3 quick facts:
Those who use onsite search usually have a higher buying intend. As a rule, these visitors are on the site for a specific item and are ready to purchase in the fastest way possible.
Advanced search options improve website navigation. It means that visitors don't need to browse through tons of pages to quickly find what they need.
Better search means better customer experience. Hence, the level of customer satisfaction grows, as well as the number of signups and return visits.
Read on to learn how to unlock the conversion potential of onsite search and turn it into a powerful tool of your eCommerce toolbox.  
Onsite Search as a Personal Customer Assistant
In a bricks-and-mortar store, if a customer is unable to find the desired item, a sales assistant is always around to provide help. Online, if a visitor can't find something, a search box is likely to the first point of interacting with an online store.  Hence, making a search box should be easily accessible and customized for customer needs.
Design and Location

First, online retailers must ensure that a search box is available on each important page of their websites. The box should be easily noticeable and properly incorporated into the current theme. To drag more attention, one can use submit buttons of a different color, label search file with the words 'search'/'find' or use search-associated icons.
Here is a nice and clean example by Zalando:

Or almost a screen-wide search filed with a noticeable yellow Search submit button by Flipkart:

Speaking about the position of a search box, middle or right-hand side of the site works best. Also, put it as near to the top of the page as possible.
Thus you will make your 'store assistant' easily noticeable and accessible so the customers could always find and use it.
Providing Immediate Results  
We all hate waiting for a shop assistant to help us. Slow service may deter us from making a purchase and even make us leave the store. The same thing is about onsite search. If customers have to apply a lot of efforts to find the desired item, they get frustrated and jump off the website.
Hence, a good starting point is to introduce a 'suggest'/ auto-complete function in the onsite search box.
This feature lets store visitors see the list of the most relevant results right after the first characters are entered into the search box. These results are usually conveniently arranged and displayed in a search box drop-down menu.
In addition to displaying the found item, you can also show such important product details as price, discount, rating, item availability, the quantity of all available products and even 'Add to Cart' button. Showing such a range of options will help customers get more detailed info about the product, which will trigger a faster purchasing decision.
Check the example by GreenAqua: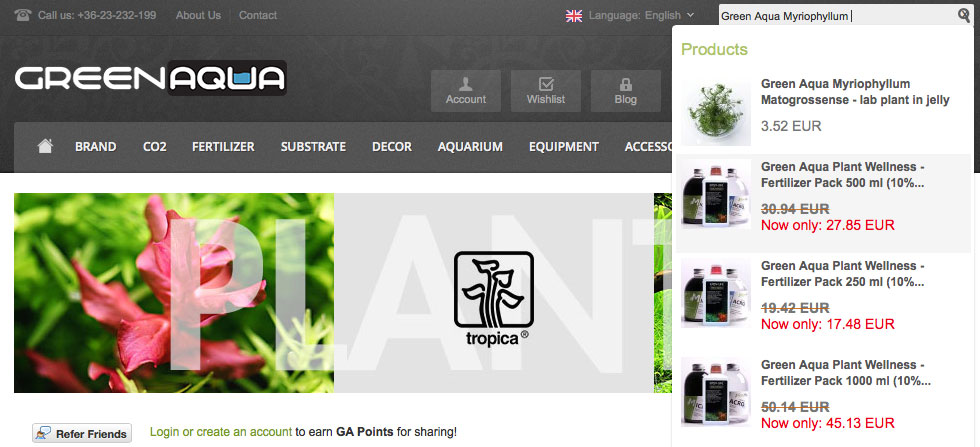 Smart Search   
It often happens that a store assistant and a customer fail to understand each other. A customer may not know the exact name of a product, call a product in a different way, mispronounce a product name, etc. To provide the best service, a shop assistant must perfectly understand what a customer wants and flexibly react to various kinds of queries. Same applies to onsite search.
Look at the example below. Only some results are relevant to a simple query 'green shirt', which is unacceptable.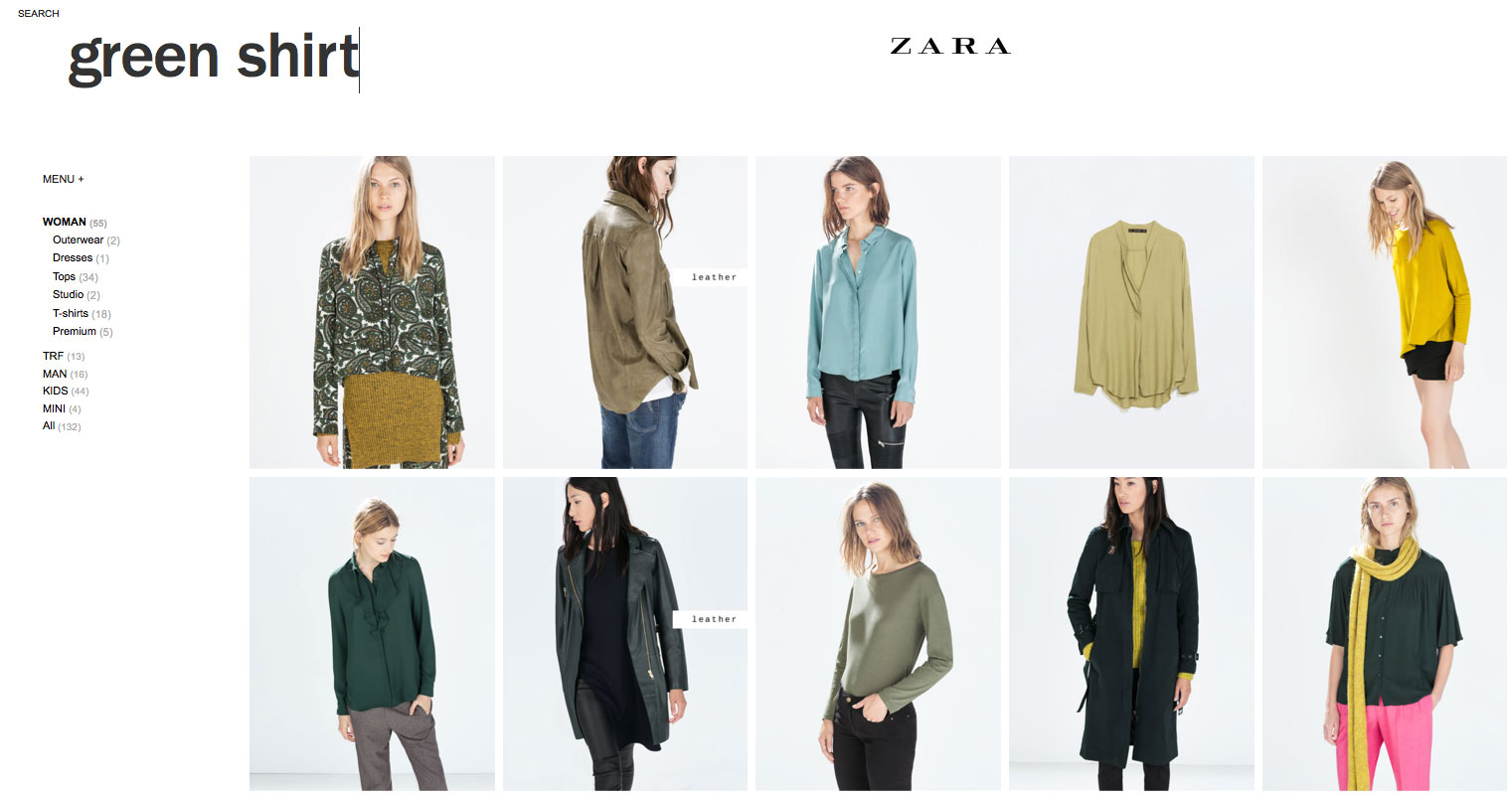 First, you need to select an internal search engine that is capable of handling long-tail searches and complex queries.
Second, ensure that you have keywords, category, sizes, colors and any other descriptive text included in the search feed. Note that someone searching for "men's long sleeve black jumper size M" is much more likely to convert than someone just browsing "men's jumper."
Third, tolerate typing errors, spelling mistakes, and other altered forms. Customers often make mistakes, especially when typing from mobile devices with inconvenient keyboards or autocorrect.
Here is a good example by Best Buy – despite spelling mistakes and extra spaces, the relevant result was immediately delivered.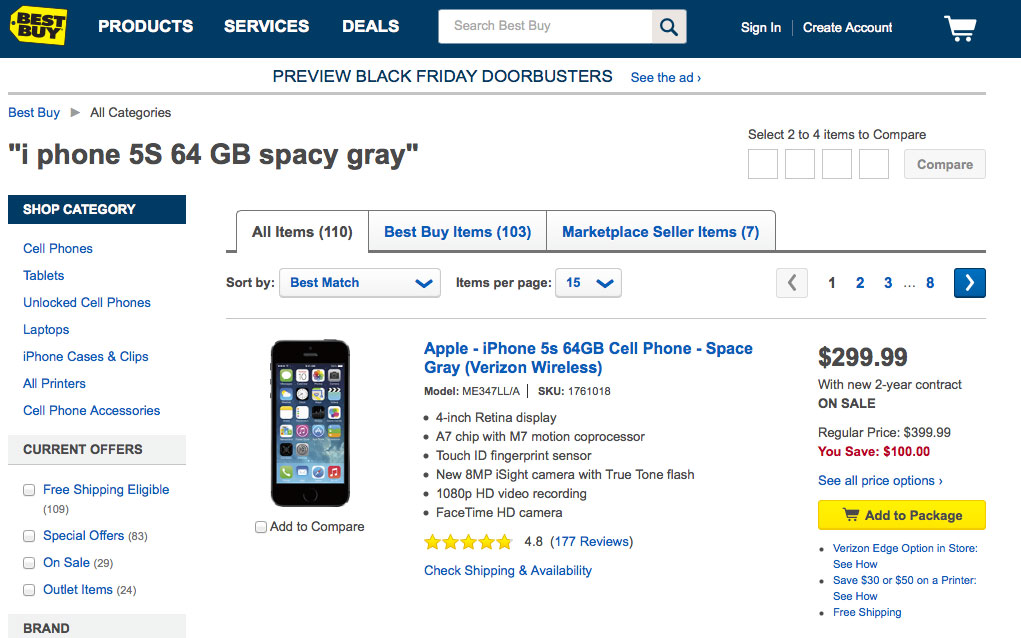 Extensive Search    
Customers may want to learn more about your store, your team, special offers, your refund and return policies, etc. That is why onsite search should not be limited to products only. Extend it to the whole content of your eCommerce website (Categories, CMS pages, Blog, FAQ, About Us, Refund Policy, etc.).
By including your store CMS pages into search results, you will help your customers quickly get detailed info about your business, which will contribute to building solid, trustable relationships between your audience and your brand.
Have a look at the example by Net-A-Porter: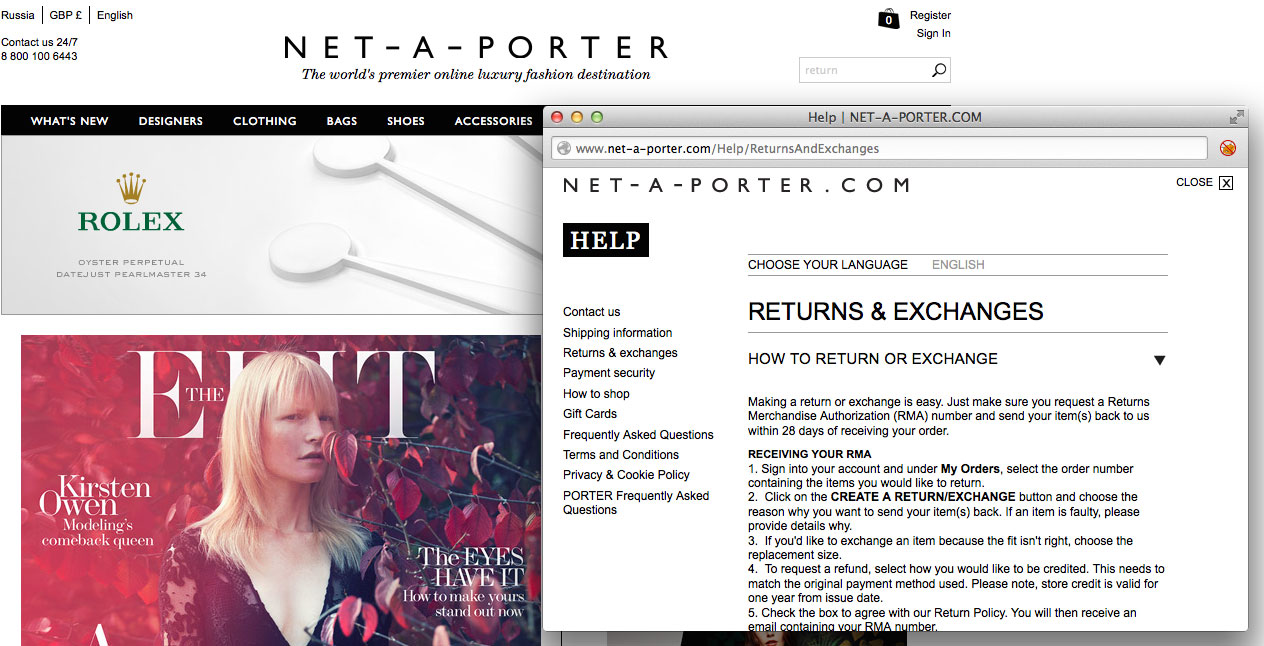 Onsite Search as an Analytical Goldmine
Customer search terms can say a lot about their personal preferences and current shopping trends. What is more, this data can be used to learn about frustrations and challenges that visitors may face in your store. So, if you are not capturing onsite search data, it's high time to start doing that.
Analyzing on-site search queries lets you measure such important metrics as site usage, bounce rates, keywords or conversions.
You can get some basic data on onsite search with the Google Analytics tool. First, set it up as describe here and wait for a couple of days till data is collected. Then you can check your stats under Reporting > Behavior > Site Search > Overview. Here you can see the percentage of customers that use search, the keywords being searched, and check how each of those terms converts.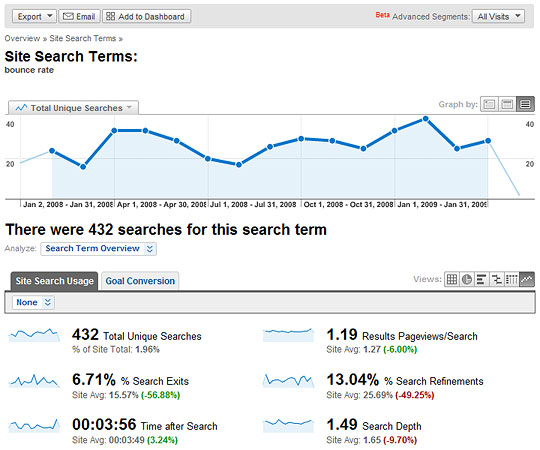 Also, there are some tools and eCommerce platform extensions that let you carry out deeper onsite search analysis and find out # of purchases made after entering each search term, the amount of revenue each search term brings, orders to hits ratio, etc.


Knowing search stats in terms of trends and patterns, you can give your business a competitive advantage. Having this data at your disposal, you can find out what searchers actually need and adjust your sales strategies accordingly.
Also, using onsite search stats you will be able to coordinate your PPC and Adwords strategies ahead of time and even save on bidding for keywords before they rise in cost.
Onsite Search as a Channel of Communication with Customers
The last, but not least little-known feature of onsite search is the ability to communicate with site visitors.
Study What Search Queries Say
Onsite search stats can tell retailers about intents of each and every customer. That said, there is a strong link between how specific a search term is and customer's buying intent.
Say, when a search query is formed from a single word, such as 'shirt' or 'laptop', presumably, a customer has a very low buying intention and is just browsing the catalog. On the contrary, if a search query is made up of 3-5 words, and the phrase includes a product name, size color, or some other detailed characteristics, it can be assumed that this type of a searcher knows exactly what is needed and intends to purchase it.
Having analyzed your visitors' search behavior, you can contribute to better user experience: adjust your product pages, guide content, tweak site structure.
Give Prompts  
Also, you can use onsite search to advise your store visitors.
For example, you can use smart search mechanisms to rank top-selling items first. Thus, first-time comers will learn which products are the most popular in your store and in the searched category.
Also, it is vital to clearly flag up items that may not out of stock at the moment or impossible to deliver to a certain location.  This way onsite search can be used to inform customers prior to clicking onto the product page, thus avoiding misleading a customer to an 'add to cart' stage.
Conduct a Dialogue
People like to get highly personalized results. That's the reason why they expect you to return filterable options, thus allowing them to sort by size/color/style/price and other more advanced criteria is vitally important.
So, by offering filtering options, you involve your visitors into a dialog, which in the end let them find the results that are maximally relevant to their queries.
Always Have Something to Say
And finally, try to make sure that a customer never has zero results found. So it should be retailers' number one priority to ensure visitors never land on "sorry we don't have any results for this" page.
Even if a query returns no exact matches, you should show customers complementary products or cross-sells, etc. After all, it's better than just presented them with a blank screen, even if it doesn't exactly match their search query.
Bottom-line:     
Enhancing and optimizing onsite search functionality can benefit a site in various ways. But the main point is that by reducing the barriers for users to reach their destination pages, you will increase chances to get more sales manifold.
* * * * *
There is a variety of tools that you can use to enhance site search functionality. Here is the list of the most popular ones:
Learning Onsite Search for eCommerce websites by SliSystems
Complex Search Solution for Magento-based stores
Onsite Search Solution by SwiftType
Solr for Onsite Search
Sphinx – Open Source Search Server