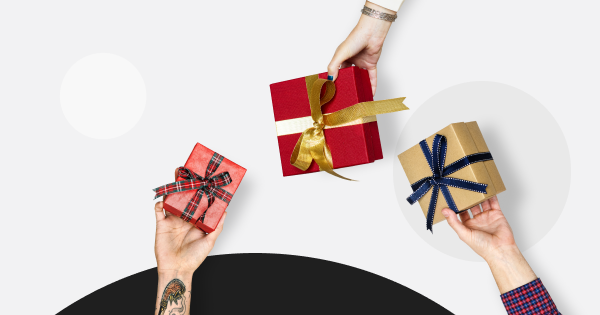 Reading Time:
7
minutes
The holiday season is finally coming, and there is no better time than this occasion to boost sales at your Magento stores.
But how to drive sales to your website when discounts are every step of the way?
We know how competitive it can be, so we have prepared the most helpful sales tips to help you win your selling goal this holiday shopping season.
As the novel Covid-19 has been controlled to some extent, customers are planning to spend 15% more this holiday season than they did last year.
If you want to make the most out of this golden opportunity to generate massive sales before the new year, it's essential to start preparing today.
Best Sales Tips For Success This Holiday Season
Here are some sales ideas that can help optimize your Magento store for the most profitable holiday ahead.
Offer Special Discounts
Everyone is aware that customers are going to spend more money on holidays, but how to entice them to your Magento store?
No doubt that promotions and discounts are always among the top factors that influence customer purchases.
Because customers have to spend a massive amount of money during the holiday season sale, they will feel relieved saving their budgets and feel excited hunting for good deals from your store.
Therefore, offering prospective customers incentives for their buying through limited promotions and discounts sounds like a reasonable tactic.
There are many ways you can drive sales to your Magento store with this selling tip.
You can offer special discounts, free gifts, gift wrapping, buy one get one deal, or limited vouchers.
However, every store is willing to sell off to attract customers during this time of the year. You need to set a proper discount level that makes your Magento stores stand out.
A 10% to 20% off sale might be enough during the year, but it will not create a strong impression on visitors on this special occasion.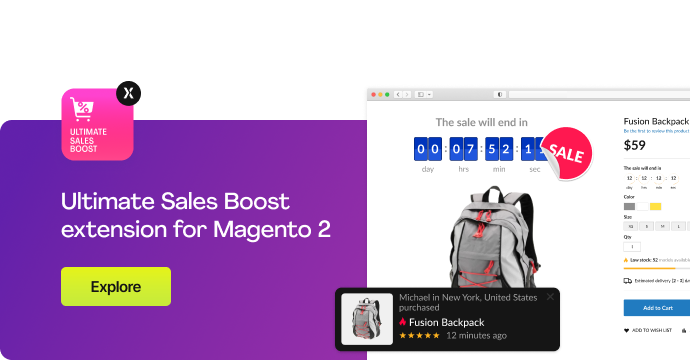 More than making your store boost business during this competitive time of the year, offering discounts can help clear out your inventory to make room for new products in the next season.
You can do that by selling off the products that you have the largest remaining stocks.
Besides, proposing holiday discounts is a gentle act of showing thankfulness towards regular customers for their loyalty throughout the year.
Utilize Email Marketing
One of the best holiday-selling eCommerce tips for your Magento store this year is to utilize email marketing.
Whether you are a small Magento business or an established company, email marketing should always be included in your marketing plan, especially in this shopping season.
This technique is oftentimes considered an oversaturated solution, but the key to a successful holiday email marketing lies in your email content.
Use your emails to promote sales and early bird specials, suggest stunning gift ideas, or remind subscribers of a warm holiday ahead.
Email marketing can become your special weapon to engage customers further.
There are many types of holiday sales emails you can optimize during the holidays. That could be:
Welcome emails to build up the personal connection with customers
Promotional emails to give them expectations on all your best deals and promotions
Abandoned cart emails to lure them back to your Magento store, and even
Emails to collect reviews after shoppers complete their orders
Customers might be overwhelmed with a variety of selling campaigns and promotions on their mailbox, so it's important to reach customers at their favorite opening mail time.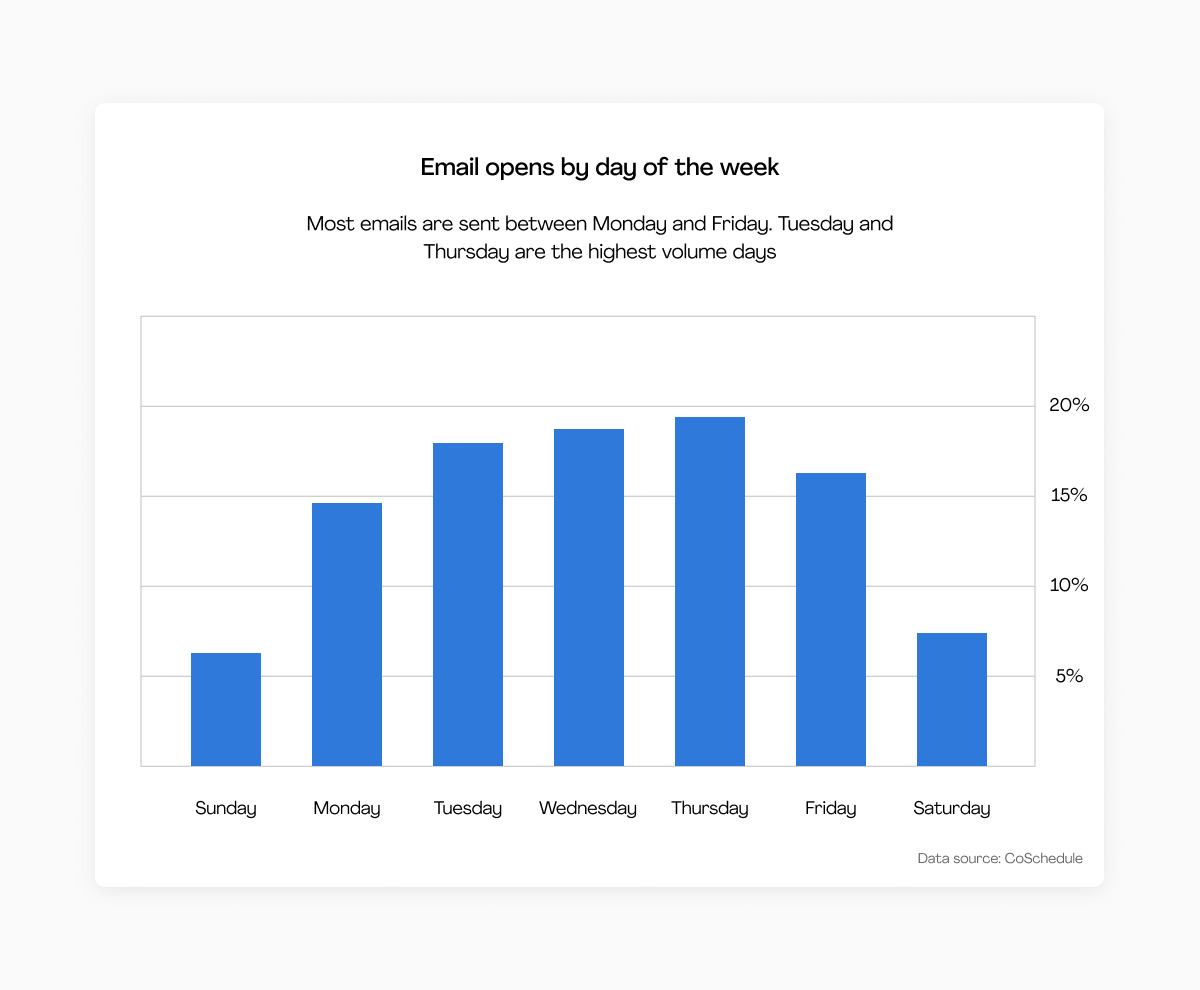 Besides, creating a sense of urgency on your email marketing by adding a "Buy now" button and highlighting limited-time deals will prompt customers to your landing pages in the blink of an eye.
In order to effectively run your email marketing campaign, you need to carefully analyze your audience to tailor your email content and frequently track email results to improve other campaigns.
Offer Gift Cards
The holidays are a perfect time to drive sales to your website, but it is also a busy time for your customers.
Why don't we save customers the daunting task of looking for a perfect gift by offering them gift cards?
Consumers can purchase gift cards for their loved ones from the comfort of their homes, and receivers can use the gift to shop for whatever they want online.
The benefits of gift cards are almost numerous for both businesses and customers.
Your store can boost order values and increase post-holiday sales, while customers can enjoy an easy and convenient purchase in this holiday season sale.
In order to make the most of gift cards, make sure to focus on your gift cards design and personalization. Magento 2 gift cards help you effortlessly customize cards for specific occasions and allow buyers to decide the amount as well as include their personalized messages.
It's also essential to actively market your gift cards after the holiday time.
There are always customers looking for last-minute presents, and your store gift cards might save their days.
In short, gift cards are a good holiday gift example that you can provide to drive sales this holiday season.
It helps your frequent buyers save time and effort and at the same time attracts new customers, those receiving gift cards to shop at your Magento website.
Implement a Mobile-Friendly Website
Another helpful holiday selling eCommerce tip for you this year is to optimize your web store for mobile.
Back to the holiday sales in 2020, mobile commerce was forecasted to total more than 71 billion dollars during the holiday season in the United States, around 20 percent higher than the previous year.
We expect the mobile shopping trend will remain strong this holiday season, and it's not too late for you to go ahead of this evolving trend.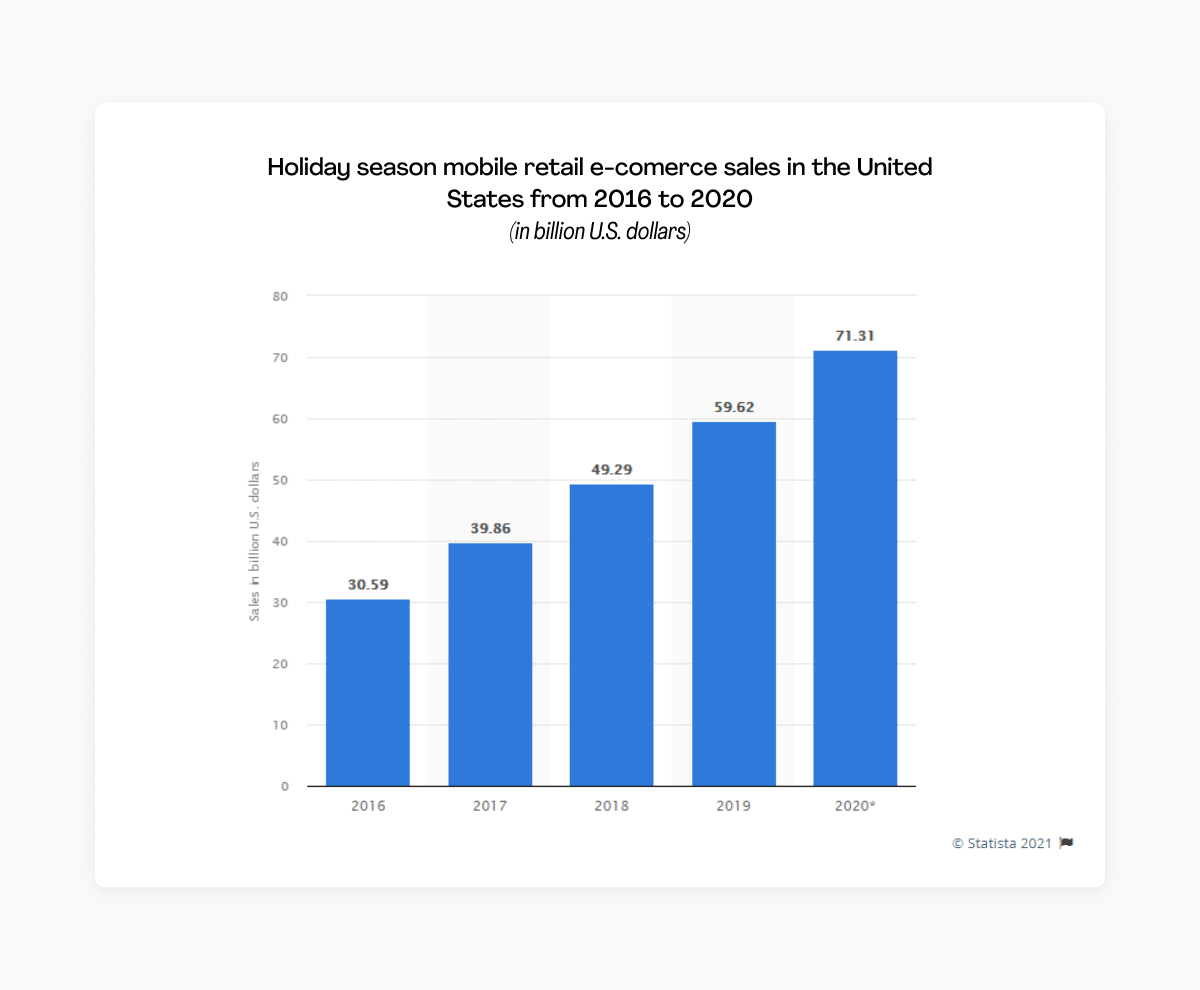 Image credit: Statista
The fact of offering a fully optimized mobile shopping experience ensures that your mobile customers can easily do product research and, of course, make a purchase at your online store without any hindrance during their mobile customer journey.
This means your Magento website should be responsive to different devices, perform smoothly, load fast, and not require much data.
You can achieve all these requirements could by implementing a Magento PWA. PWA technology is a comprehensive solution for a mobile-friendly website as it supports your website to load fast and provides a seamless experience across devices with smooth navigation.
A mobile-optimized Magento website will help you deliver the best experience for shoppers using smart devices. Mobile optimization is essential for your Magento store not only for holiday selling occasions but also for daily sales.

Keep Inventory Up-to-Date
When customers are in a crazy rush of finding a suitable gift for their beloved ones, seeing an out-of-stock sign will let them down.
If stock out happens frequently, especially around the holidays, you are at the risk of not only losing first-time visitors but your frequent and loyal customers as well.
No matter which selling tactics you try to implement, don't forget to manage inventory.
You have to make sure that your stock is enough for the enormous demand during this peak season.
Before launching your holiday marketing campaigns, take the product inventory under control.
Always keep real-time reports of the number of all items in your Magento store.
Besides that, increased traffic during peak season also means increased needs, so you must contact suppliers before you run any promotion and make sure all your best-sellers and gifts items will be stocked on time.
Revise Shipping Policy
Everyone knows that orders during the holiday season must arrive on time.
When you miss the delivery of a special gift your customer plans to give their beloved family and friends, there's a high chance that you will lose this customer forever.
Hence, make sure that you carefully decide on reliable shipping carriers.
You should communicate clearly about the delivery date, shipping strategy, capabilities to handle a large number of order shipments in a short period of time.
By doing so, you can make sure that your customers' gifts are delivered on time for the holiday.
Once again, shoppers want to save up as much money as possible on this occasion.
Offering free shipping might be a great boost that your store needs for this holiday season sales.
Many shoppers are willing to add more items to their cart so that they can be qualified for free shipping.
Leveraging these holiday selling tips might do your store wonders on this occasion.
It will be an excellent point if your Magento store can provide a variety of delivery options and let customers select their most efficient and affordable carriers.
Also, offering delivery dates and time intervals is definitely what customers need most during the gift-giving season.
The most practical solution is to use a Magento 2 shipping tool to customize and individualize all shipment rules and delivery methods by yourself. Customers can also view all the delivery options with minimal price to select the most suitable one.
Leverage Scarcity Marketing
The holiday season is coming, and you are working hard to implement all holiday-themed sales and marketing at your store.
But every business is trying to do the same thing, so how to drive sales to your website?
One of the best sales tips for success that you might need this year is to leverage scarcity marketing.
This marketing strategy focuses on a customer's fear of missing out on a deal, especially on rare or limited ones. If they know that they won't have a chance to buy it next time, they will become motivated to purchase without taking into account a lot of consideration.
There are some practices you can utilize at your Magento store for a successful scarcity marketing campaign this holiday sale.
This could be creating limited-edition items, implementing countdown clocks on product pages, displaying low stock warnings, or offering limited-time discounts.
All of these tactics focus on creating a sense of urgency and highlight the fear of missing out on customers. Thus, you entice potential customers to purchase at your Magento store quickly.
However, scarcity marketing may backfire if you overuse it.
Your customers might feel an urgency to buy when your products are marketed as scarcely available. But it's not going to work once they realize the scarcity happens too many times during the year.
If you want this tactic to work for this holiday season sale, be sure to leave the "scarcity vibe" until the end of the year.
Make the Most out of Social Media
One of the most effective sales motivation tips for holiday seasons is to make the most out of social commerce.
More and more shoppers now have a habit of exploring brands and products on social media.
Therefore, social commerce platforms such as Facebook, Instagram, and TikTok have made online purchasing more accessible than ever by allowing businesses to sell directly from these platforms.

On the holiday occasion, it's more important that you can deliver the best convenient shopping experience for customers.
Everything they need, such as product catalog, item information, and checkout screen on social media platforms, are displayed where they often hang out the most.
You could design your shop to reflect your brand with a holiday theme, tag your products on your social account frequently, and make your content actionable with clear CTAs to inform consumers how they can shop on social media.
All these tactics will help you to better connect with customers and boost Magento sales this holiday season.
Wrapping Up
As the holidays and New Year are all around the corner, it's time for you to start planning holiday specials and deals.
It might take a lot of time and effort to craft a campaign and make it work.
We hope that this article has presented to you some actionable and valuable techniques to help you answer the question of how to make more sales during the holidays.
---
Author's bio: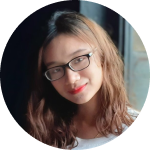 Annie is a content marketer at SimiCart, an expert in mobile commerce. She has an all-consuming passion for eCommerce and always strives to acquire more knowledge in this industry. On the weekends, Annie loves going for a walk while listening to Taylor Swift music.