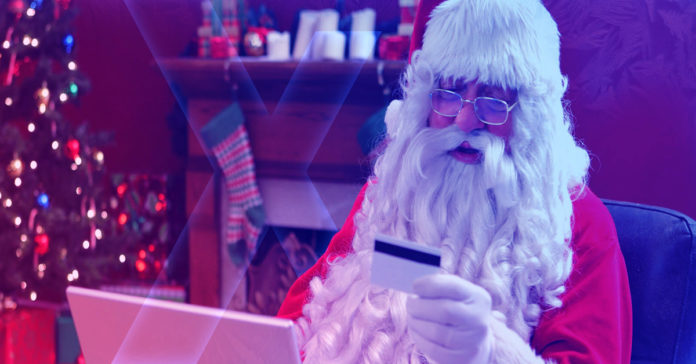 Reading Time:
4
minutes
Whew! Gone are the days when shoppers had to wait in lines for hours in order to get the desired gifts, and now all they need is just an Internet connection and a decent device. Any time. Anywhere. Safely and fast. About 83% of buyers have seen the true value of 'on-the-go' or 'home' – whatever you prefer – shopping so far. It's stress-free. It's easy. It's time-saving.
With all the new vistas that online shopping offers to Christmas gift hunters, it may become a real challenge to elbow the way through the crowd of online merchants, get noticed and grow revenue.
We've passed over a great deal of Magento stores, and picked up some ideas of Christmas Marketing offers that currently take place. Let's check them out together.
VeggieTales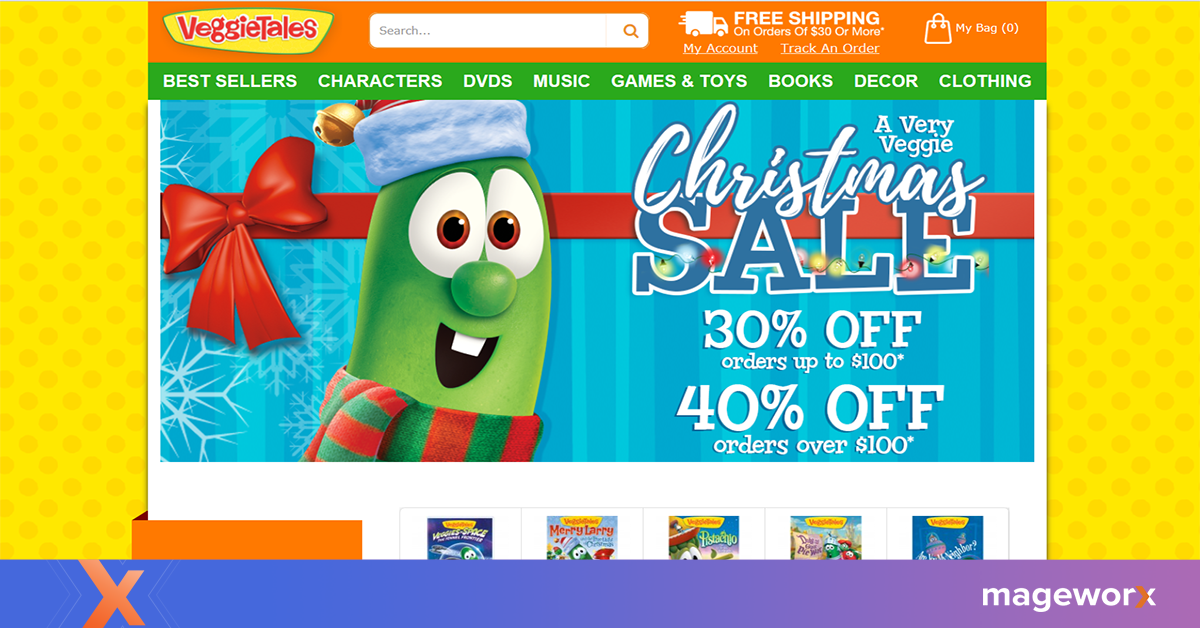 Christmas tree, red bows, Christmas toys, and other themed images – this brand has done a great job incorporating elements associated with the coming holidays. No wonder as that's probably how a store with goods for kids should look like – bright and entertaining.
Except for 30% – 40% discounts that depend on the sum of an order, VeggieTales has managed to bend their online store offers to have more seasonal appeal. They offer to shop for stocking stuffers, collections of Christmas songs, free coloring page and offer a holiday gift guide.
Rite Aid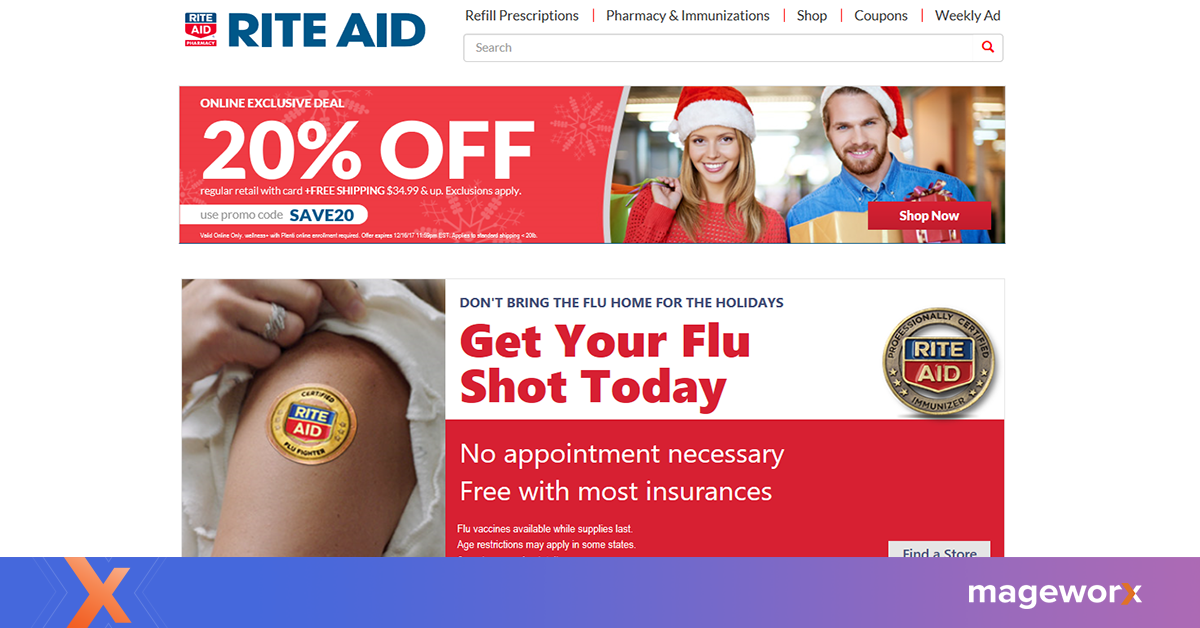 There is probably not a single person who has never shopped with Rite Aid as the brand has been around since 1962 already. While they've let the hair down about adding Christmas flair to the online brand with no Christmas-themed images used, 20% OFF regular retail with the card, free shipping, and online exclusive deals are what Rite Aid offers to their online shoppers.
Interweave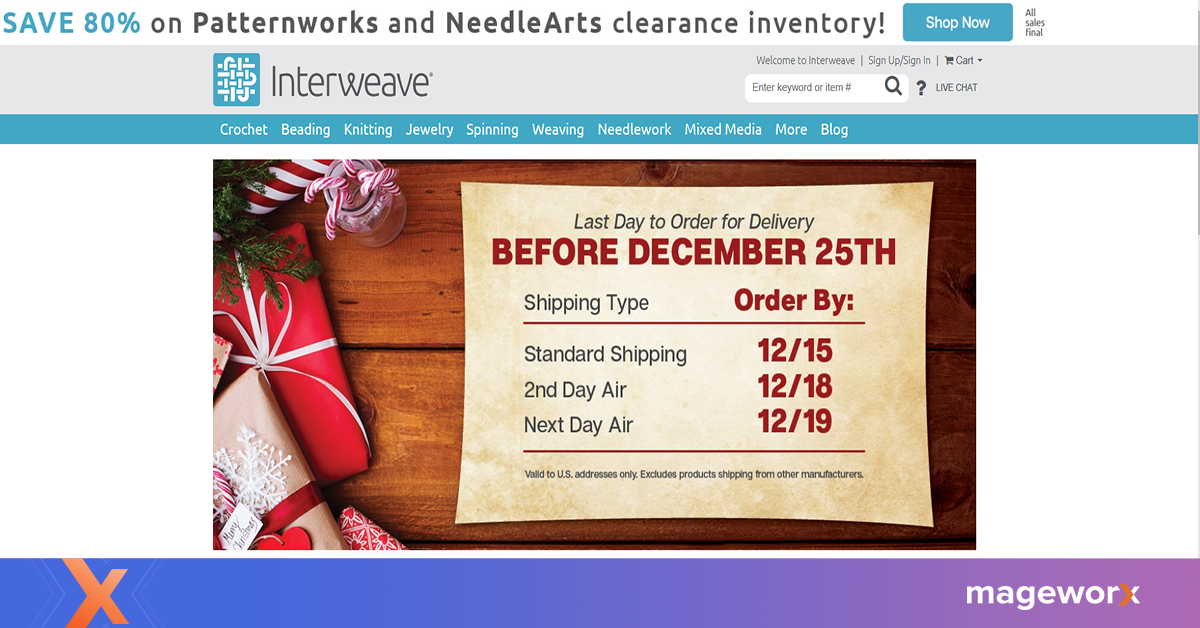 This is one of the US foremost art and craft media businesses that specializes in magazine and book publishing, social and interactive media, etc. The festive flair of the brand can be seen in the carousel images on the front page that inform shoppers about the Christmas campaign, which is about to end btw. Up to 80% discounts are quite a tempting offer. Moreover, the website provides information on shipment to ensure that the purchased goods are timely delivered before December 25th.
Armstrong Garden Centers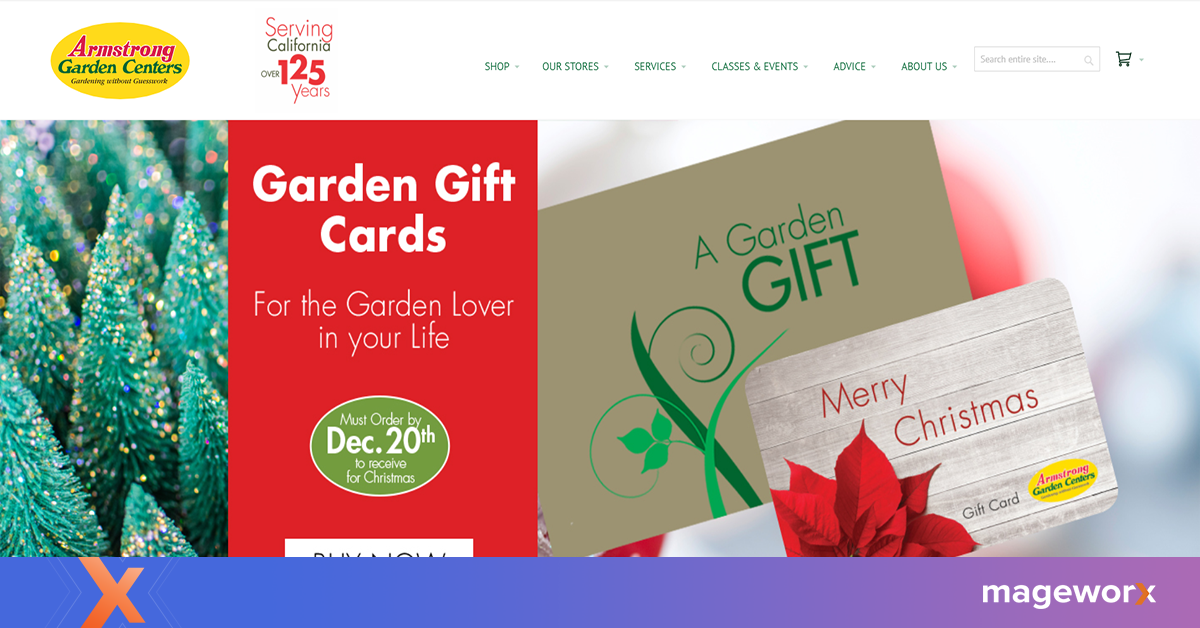 Founded back in 1889 as a retail garden, today the company incorporates gardening and outdoor furniture, kitchens, etc. In the carousel Christmas-themed images on the front page, shoppers are offered 'Merry Christmas gift cards' that expire on December 20th. Moreover, the company offers presents for those who give gifts. The image for a special offer is 'decorated' with a red bowl. Present recipients will get gifts in special Christmas envelopes.
Party Depot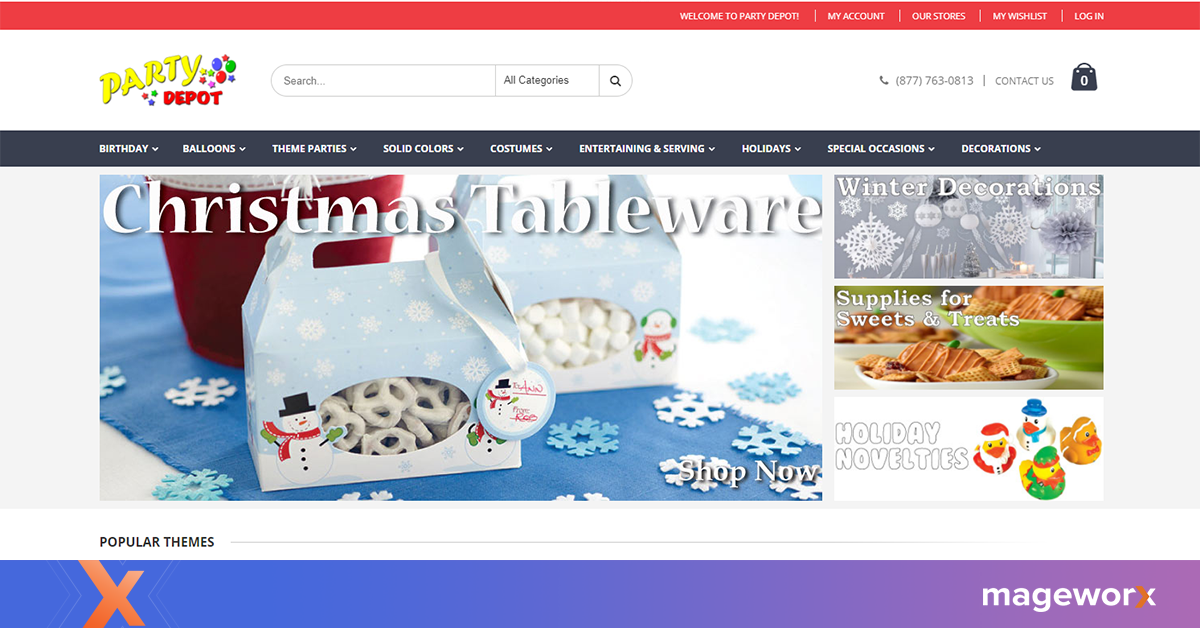 Besides looking quite festive because of selling party supplies, Party Depot uses winter-themed images to offer decorations for the holidays with an emphasis on Christmas tableware. Also, users get directed to a great pool of ideas and accessories for the coming holidays when clicking the 'holiday novelties' section.
Uno Alla Volta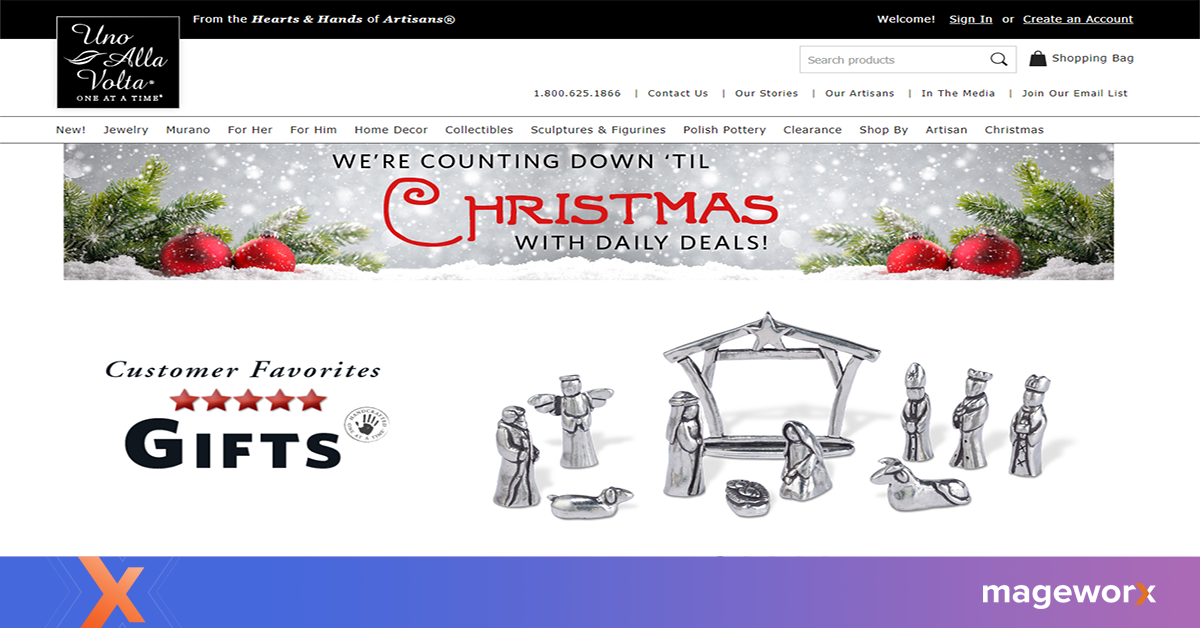 This brand has carefully prepared for the holiday season. It has a separate section that is fully dedicated to Christmas hand grafted ideas. The front page of the website also welcomes shoppers with '24 Days of Deals' campaign and a bevy of variants to choose from. On-time Christmas delivery is also guaranteed. While the company is represented by a 'family' of artisans, you can find a multitude of special offers for their items. Be it a 50% discount for Elma Venezia jewelry, a chance to win from $250 to $500 or Uno Alla Volta gift certificates. Each offer is beautifully decorated with festive images of gorgeous hand-crafted items that are available for purchase.
C-A-L Ranch Stores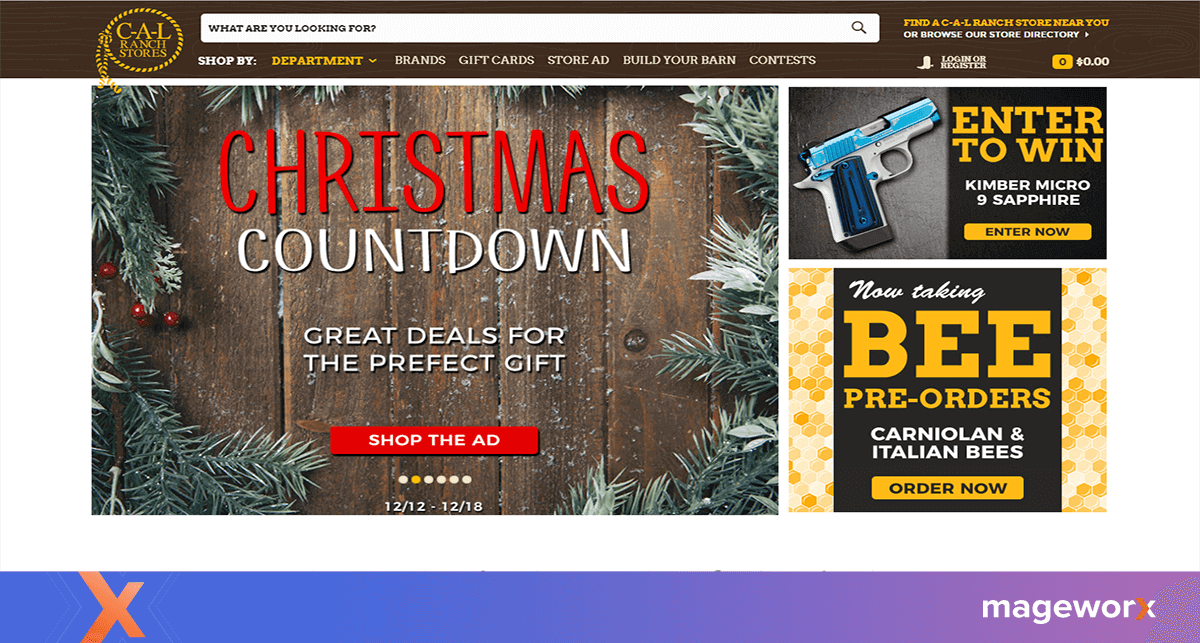 This is one of those Magento stores that offers Christmas-themed image carousels with info on special deals. With about 25 stores, the company offers free shipping on kids' Christmas toys with a special promo code and provides customers with detailed information on possible shipping dates to make sure that ordered items arrive on time. Also, $10 rebate is offered for purchases that exceed $40 for a certain product group.
SuperATV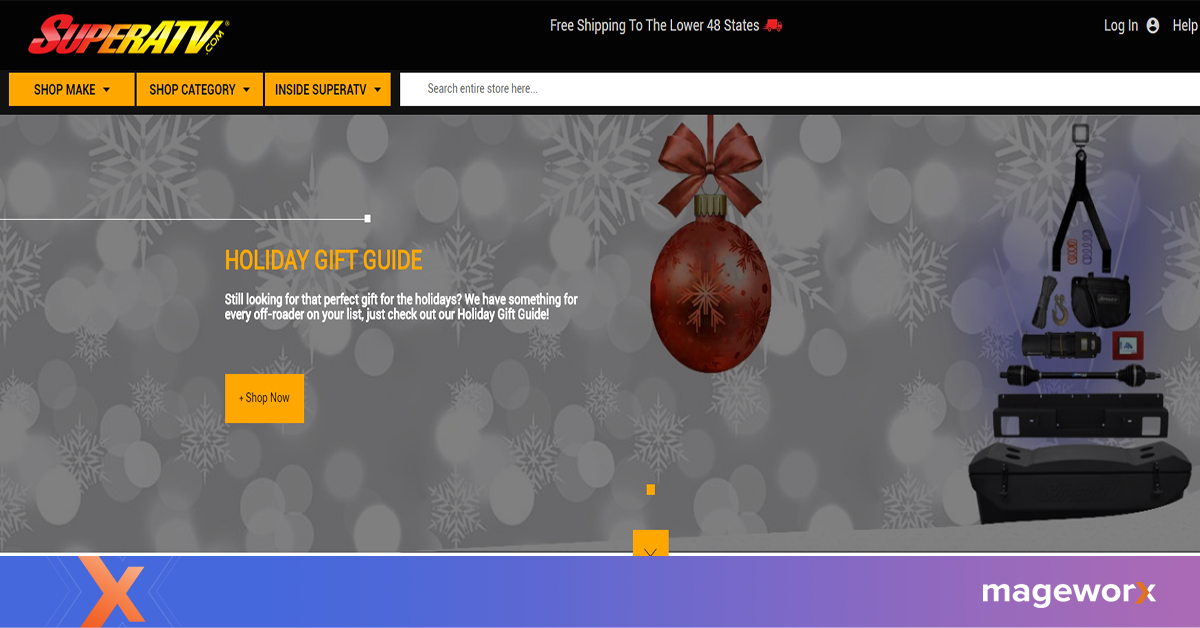 SuperATV offers aftermarket ATV and UTV parts and accessories to racers and people who just need to have something fixed and done. On their website, the company gives a tour around with the help of a Holiday Gift Guide. Shoppers are led to multiple gift ideas for auto enthusiasts. The images look festive and are decorated with red Christmas toys and snowflakes to deliver a festive flair.
Aubuchon Hardware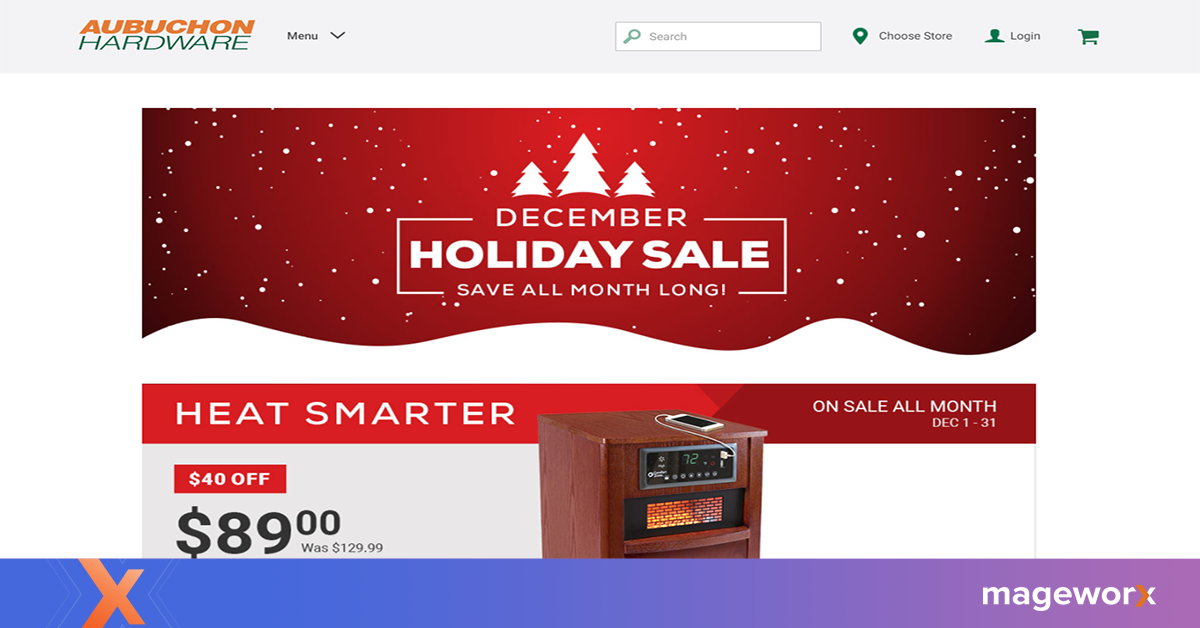 This website offers shoppers to save 50% – 75% on all the Christmas decorations (in-store only) and places a great many Christmas gift ideas on the front page – from construction toys and teddy bears to rock speakers and propane grills. The homepage is styled in red-and-white colors and incorporates elements associated with Christmas, such as snowflakes, Christmas toys, etc.
Home Wet Bar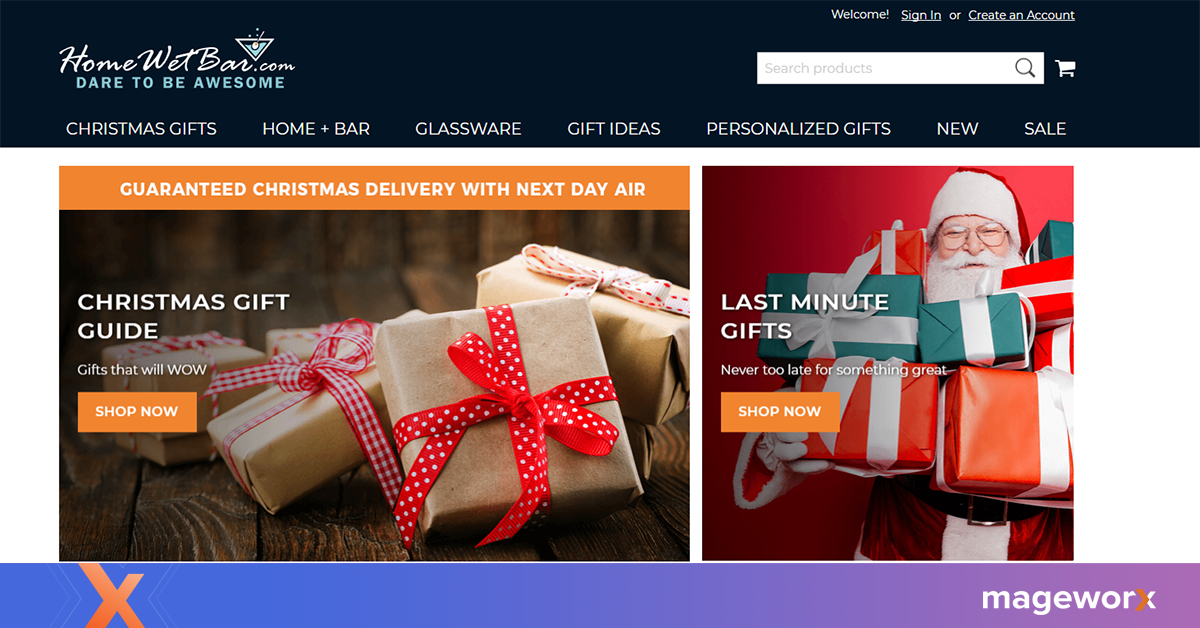 At the top of the website's front page, we see Christmas-themed images with multiple holiday offers. Last minute gifts, gifts under $50, stocking stuffers, gifts for men and women as well as a Christmas gift guide with more ideas to choose from. Beautiful, high-resolution images create the right Christmas mood. They are a true blend of creativity and inspiration.
Bonus!
MageWorx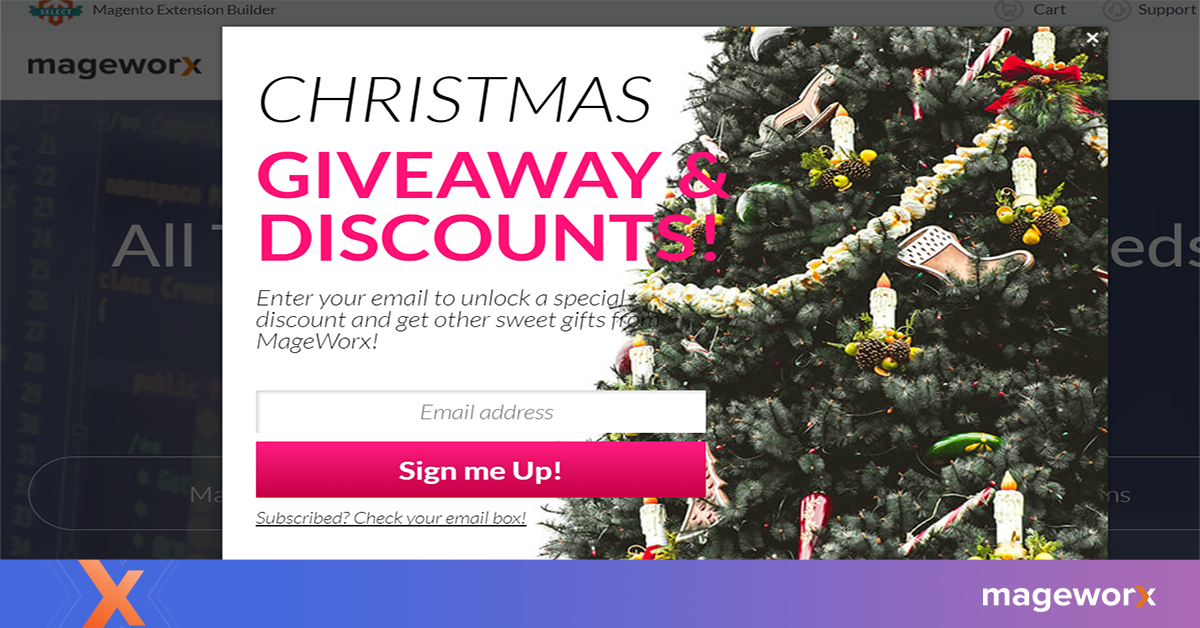 Modesty aside, MageWorx always does its best to be creative with the Christmas offers during the holiday season. Last year, for instance, we offered a giveaway of three Magento extensions, 15% discount on all the company's products as well as Magento 2 migration consultation gratis. Besides a dedicated blog post, shoppers get informed about the ongoing campaign with the help of a banner on each category page, social media announcements and a pop-up on the front and product pages.
Christmas marketing campaign ideas:
discounts from 10% to 80%,

  

free shipping with detailed information on timing and conditions. In fact, if you've been looking for means to optimize shipping processes in your Magento store, checkout

Shipping Suite Ultimate

,

  

Christmas gift cards,

  

24 Days of Deals campaign,

  

money (up to $500) and item giveaways,

  

rebates,

  

holiday gift guides/ stocking stuffers,

  

separate sections on the website with gift ideas, including items under $50.
Sum up
Christmas is a special time of the year, and it's such a relief to navigate through eye-candy Christmas-themed website masterpieces that have a festive look and feel. Be they carousel images with data on special holiday deals that evoke emotions – which are quite popular this year – or solely a clean product presentation and the harmony of Christmas colors on the website. Get your Magento store ready for the holiday season, and this will surely resonate with online shoppers!
Wishing you high Returns on Investment after pushing out marketing campaigns! 🙂
Interested? Take a look at Mageworx Magento marketing extensions.
 Are you running a Magento store, and would like to share your wisdom with the Magento world? Don't hesitate to leave a comment below!