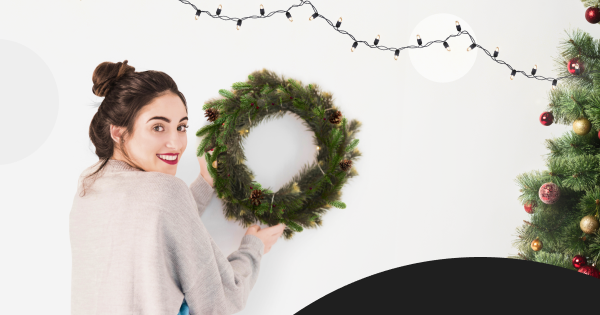 Reading Time:
5
minutes
Just in several weeks, we'll hear "Merry Christmas" wishes all around. Christmas is the most magic public holiday. This day people get together, enjoy family time, and exchange gifts. Customers start preparing for this celebration long before it. They decorate homes and buy gifts― which have made Christmas the most profitable time of the year for retailers and businesses.

To become a part of the Christmas preparation, you need to create and support a festive mood for your shoppers right now. How to get your Shopify store ready for the holiday season? The answer is obvious. Add Christmas cheer to your website by decorating it. Here are some christmas storefront ideas to create a festive mood and celebration foretaste.
Christmas Shopping Statistics
Let's have a look at some spectacular stats that are likely to inspire you to make your site ready for this holiday time in advance.
46% of buyers do their Christmas shopping online;
40% of Christmas sales will be held December 15 through the 24th;
51% of consumers prefer online shopping during the Christmas season for its convenience;
Christmas spendings exceed $1 trillion in the United States and £2 billion in the United Kingdom;
During Christmas shopping an average customer will spend over $100 over themselves;
According to a Deloitte report, 23% of Christmas shoppers rely on social media to help them make the right choice.
Reasons for Decorating Your Shopify Store
In anticipation of the Christmas holidays, the main aim of your Shopify store is to provide your customers with an appropriately festive mood. Why is it so important? Consumer perceptions of the online store's aesthetics induce emotions, which in turn affect consumer attitudes towards the store and their purchase decisions (Tractinsky and Lowengart, 2007). Scholars have noted that if a website creates a happy atmosphere in the online shopping process, then it will attract more potential customers and raise their purchase intentions (Hopkins, 2009).

As you can see, the creation of festive mood influences customers' shopping behavior in a positive way: Christmas store front ideas raise buyers' curiosity to discover what is new, cheers them up, and entices for impulse buys (during the holiday season 1 of 3 purchases are made on impulse). So, Christmas deck the online store in Shopify can help you increase conversions, the AOV, and boost sales. Moreover, there is an advantage in decorating your online store in comparison with brick-and-mortars: you don't have to spend much time and money on Christmas decorations, everything can be done with a couple of mouse clicks.
How to Make Shopify Store Look Christmas
The easiest and the most effective way to make Shopify look Christmas is to use Quick Holiday Effects app by Mageworx. It allows you to create a festive atmosphere and provide customers with a positive store browsing experience.

The main advantage of the app is an opportunity to apply all created Christmas effects in advance on autopilot. Thus, your store will be decorated in a specified time. Moreover, for better site navigation, all the holiday effects can be hidden after a certain period of time.

To impress your customers and give uniqueness to your site, you may use various holiday effects such as Christmas-themed illustrations, header and footer, festive colors, animations, and cursor icons. Moreover, you may also download your own imagery for every effect. That will exactly help you stand out among competitors and not look like any other e-store.

To keep your customers in the mood, you can dress up your site with the holiday effects listed below.
Christmas-Themed Illustrations
The app provides you with an option to add Christmas-themed illustrations. You can select not only those that are offered but also upload your own beautiful images. Carefully chosen eye-pleasing imagery can not only decorate your website but make it full of warmth and joy.

Image credit: Cookie Good
For example, Cookie Good has created an image with the typical holiday attributes—Christmas hat and sleigh. This illustration brings the holiday spirit to the site and gives a sense of festivity to customers.
Image credit: Swatch
Swatch at the same time has uploaded an extremely funny image that can keep an appropriate Christmas mood and undoubtedly grab buyers' attention.

By adding holiday-themed illustrations don't forget about traditional colors associated with Christmas, such as red, green and gold. It's a good idea to implement them on Shopify to add festivity.
Image credit: Hallmark
It seems that Hallmark knows everything about how to get the store ready for the Christmas season. When customers enter the site, they see a lot of images in red-and-green colors that immediately cheer them up and remind them about the upcoming holiday.
Animation
Thanks to the app you may add Christmas decorations falling through the screen, as well as specify the speed and the intensity of the effects. Doesn't it sound awesome?

What can be better associated with Christmas than light falling snow? It must be the most preferred e-store decoration.

Image credit: Taylor Stitch
Taylor Stitch unobtrusively uses this decoration falling effect, thus putting shoppers into a magical Christmas atmosphere. By combining this animation with festive colors of the illustrations, the influence on buyers can even increase.

But snow is not the only element that can be used to fall through the screen. For example, it can be a lot of small Santas. It is funny and extraordinary. Your customers will hardly stop smiling while shopping in your store.
One more way to spread Christmas joy to your Shopify store is to garnish it with thematic header and footer in traditional colors and with appropriate holiday attributes such as Christmas trees, Santa, wreaths, presents, lights, snowmen, snowflakes, and so on. The tastefully decorated site can spread Christmas joy and give a sense of coziness to customers.
Christmas Logo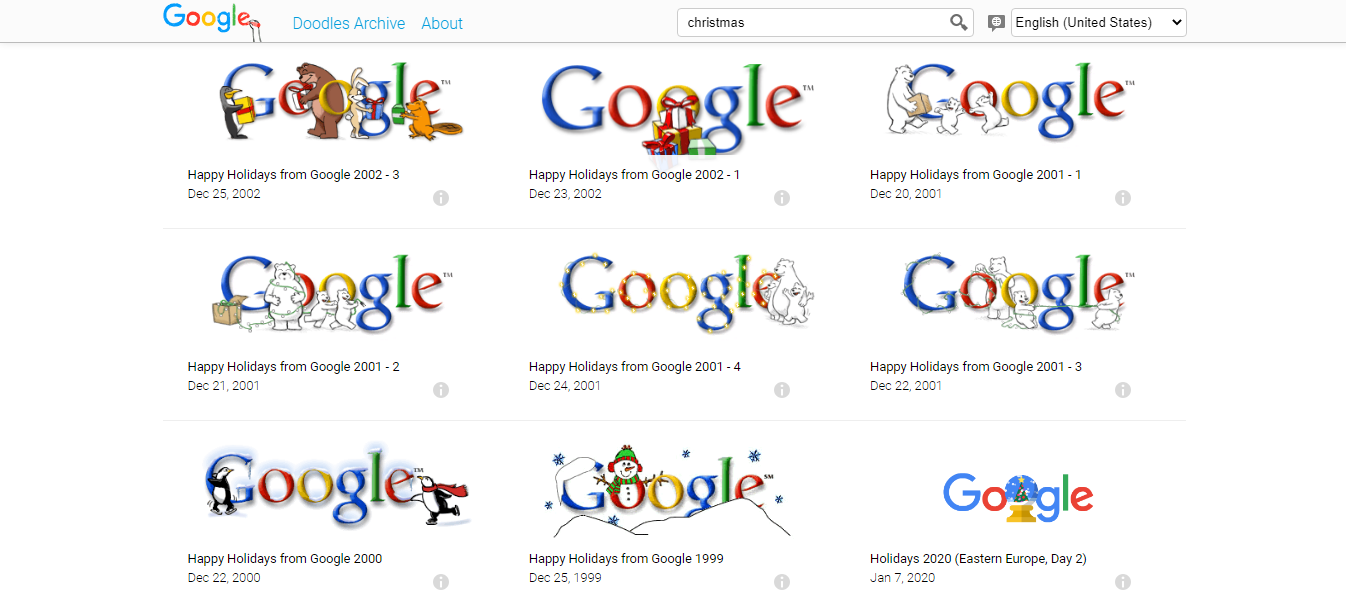 Image credit: Google
The Christmas period is a time when you can do a bunch of fun things. Why not add some fun to your logo of the store, especially if it's just temporary? For example, you can change the colours of the logo, add a Christmas reindeer, Christmas tree next to it and put Santa's hat on the logo.
Online Advent Calendar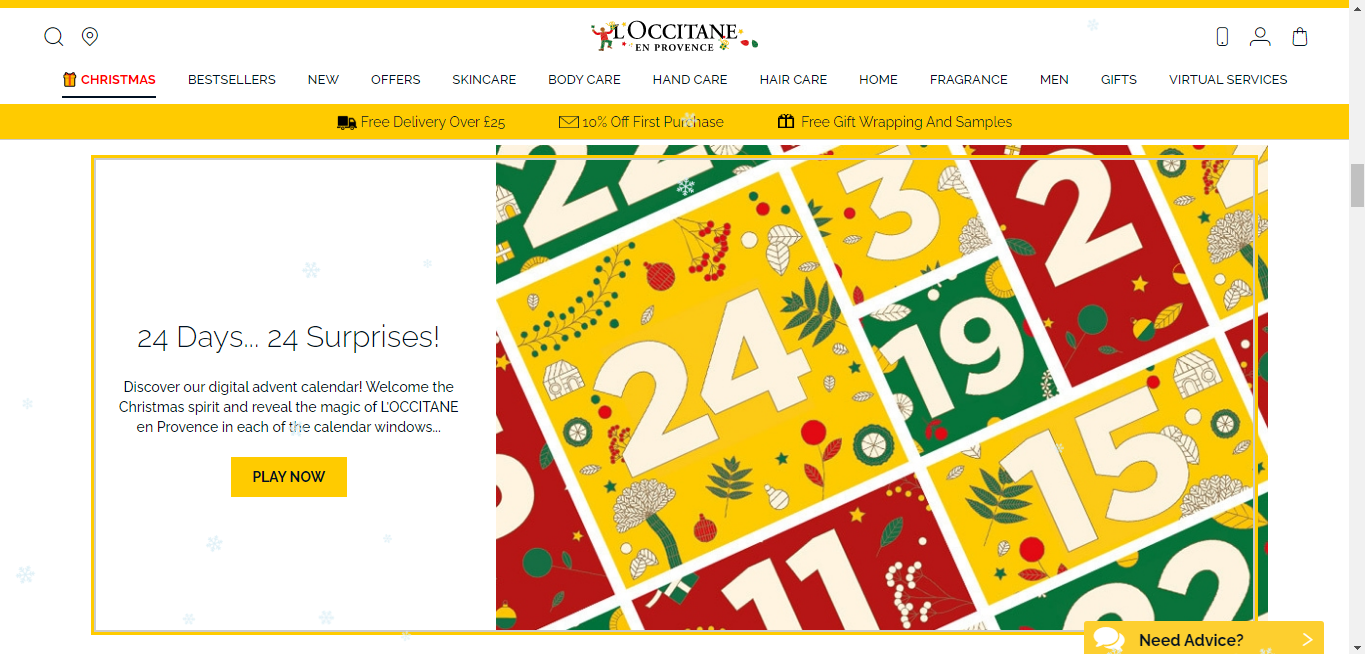 Image credit: L'OCCITANE
From childhood we remember opening advent calendars with different presents. You can create an online version of such a calendar allowing users to "wrap up" a daily surprise which can include a discount, personalized offer during the festive period.
"X Days Left" Constructions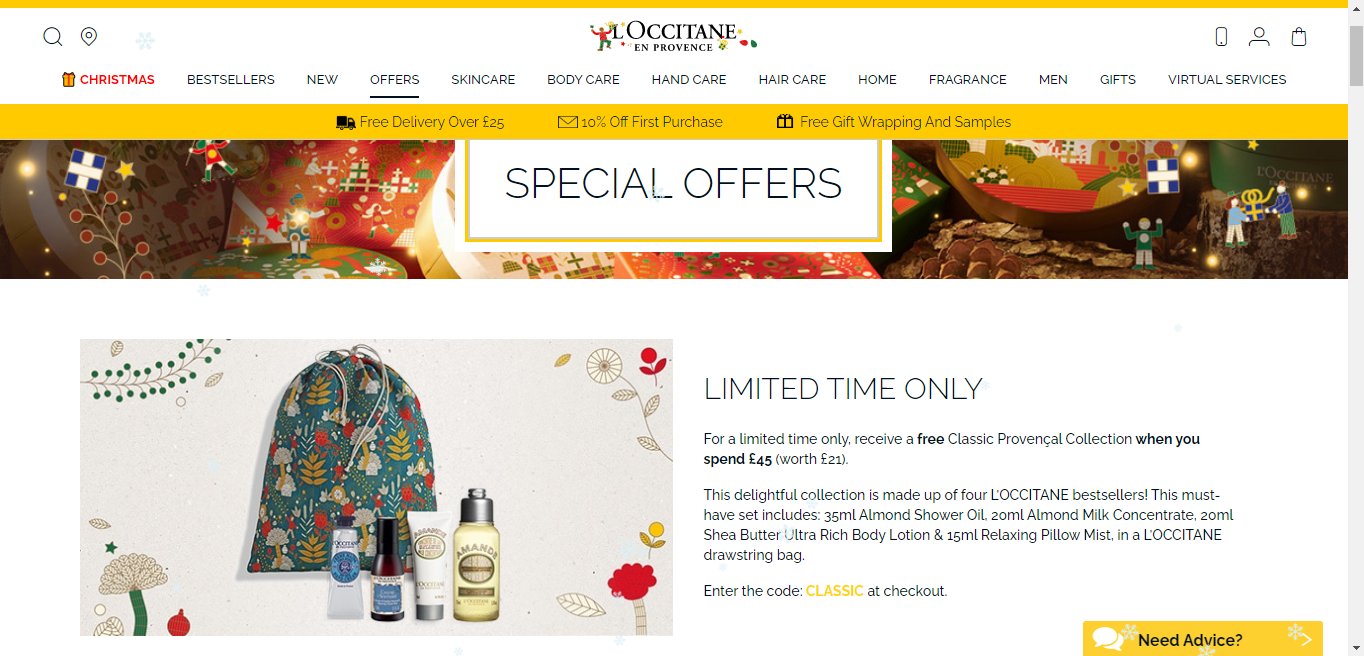 Image credit: L'OCCITANE
Before Christmas Day the spirit of urgency is everywhere. Everyone is rushing to buy a Christmas gift, especially for a special price. You can create constructions with "X days left", for example, for free shipping, for giveaways, for how many days until Black Friday, etc.
The "Festive" Section in the Catalog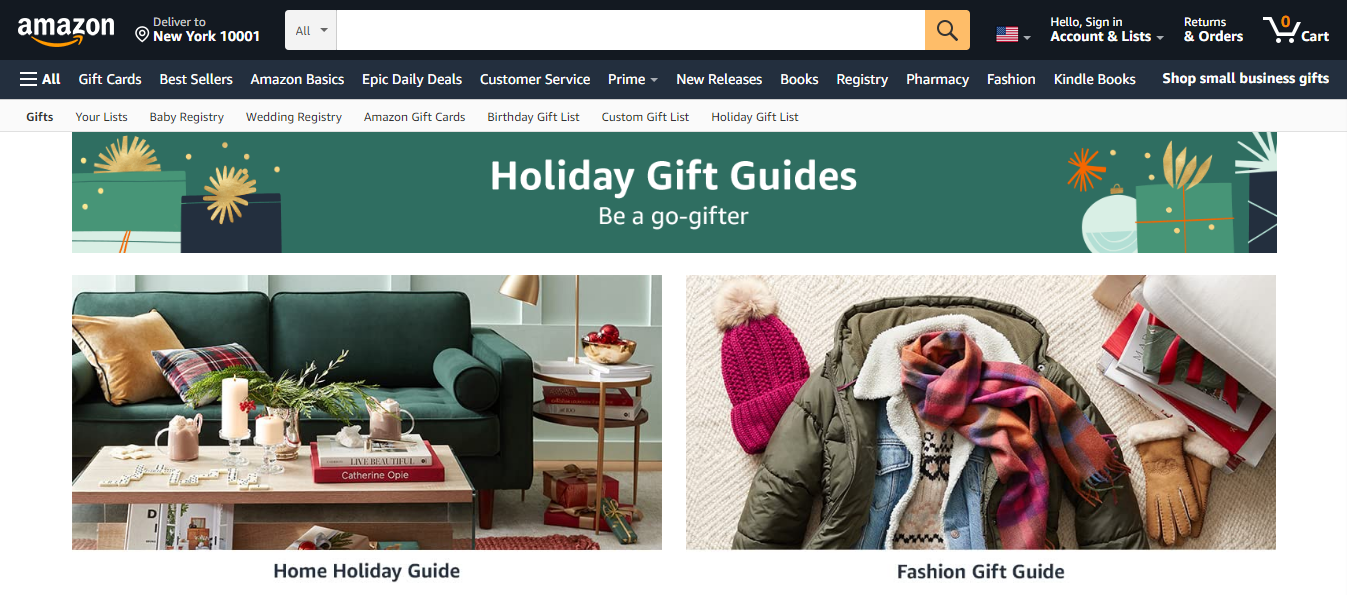 Image credit: Amazon
Stores create a separate section dedicated to the Christmas assortment and visual ideas for gifts. A great way to increase sales is to offer products in the form of gift sets, kits. Such products come up with special filters by price categories.
Blog Articles on the Celebration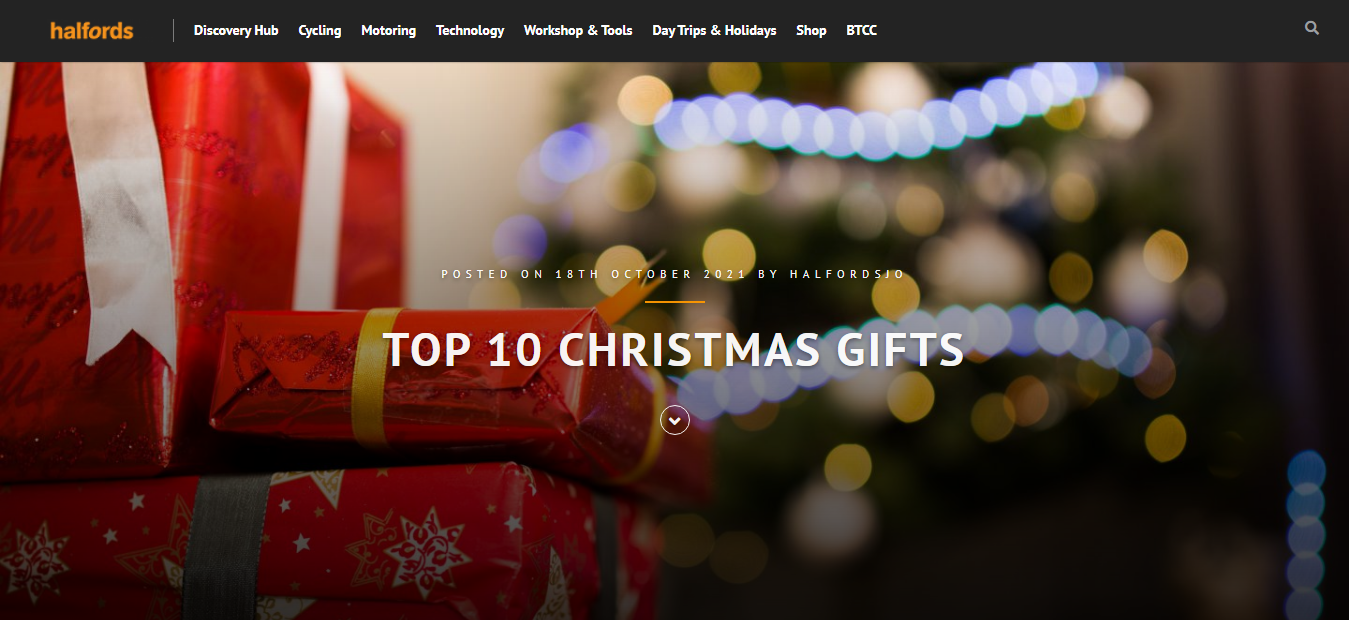 Image credit: Halfords
Publish festive articles regularly. Readers visit the blog to learn something new, giving additional traffic. Before the holidays, post articles on Christmas themes. For example, the following topics are suitable for a men's clothing store: "How to present a businessman", "8 ideas for a gift to a guy", "How to choose a men's accessory" and so on.
«1+1» Discount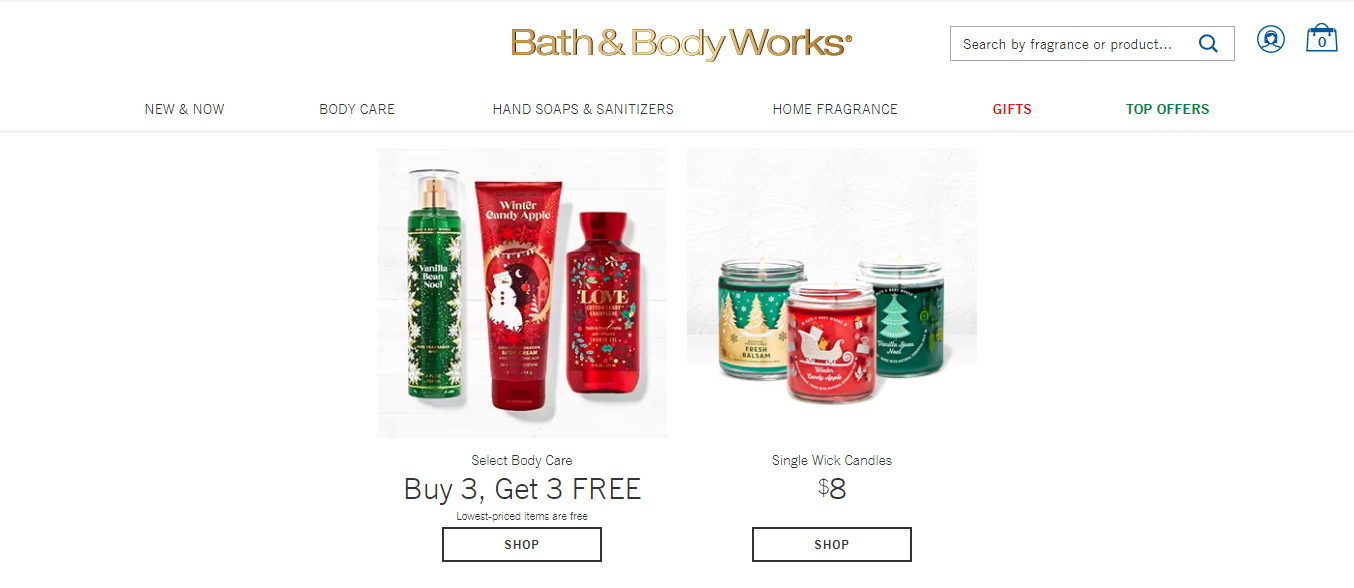 Image credit: BATH & BODY WORKS
Such discounts come high on the list of stocking up gifts. The customer can buy several identical presents for colleagues or acquaintances. Make promotions and make sets "1+1", "2+1" and users will buy more.
Wrap Up
There are a lot of different Christmas display ideas for retail stores to attract potential buyers and increase conversions. The most creative and effortless one is to decorate your site. Being inspired by all your holiday-themed decorations, feeling the Christmas spirit, customers will do Christmas shopping in your store more willingly. With the help of the Quick Holiday Decoration app, you can do it easily and quickly.

Have you already decided how to make your Shopify store look Christmas? Share your ideas with us.