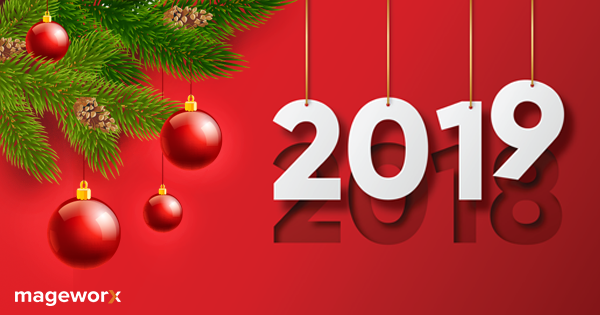 Reading Time:
4
minutes
Before 2019 embraces us with new challenges, opportunities, and objectives, it's time to traditionally acknowledge what heights MageWorx has managed to achieve in the departing year.
Passionate about Magento, our developers have done yeoman's work to enhance the performance of the existing solutions and introduce new extensions. All done for the success of eCommerce merchants.
New MageWorx Magento 2 Extensions

It's all the fault of the internal perfectionism of our developers, and their desire to enrich the default Magento 2 functionality! (*Cough* and the decent marketing research 😉). Joking aside, with the merchants in mind, we've released a pool of truly unique solutions that bring true value.
Please, welcome new flagship products to MageWorx Magento 2 extensions family:
Loyalty is king. With that in mind, we've created a solution that allows rewarding the customers with points. Be it for completing specific actions (placing an order, a newsletter subscription, leaving a product review) or on certain special occasions.
The extension offers advanced rewards points management for a Store Admin, including the possibility to set rules in order to target specific groups of the customer base, points import/export functionality and sending out notifications upon the changes in the customers' balances.
With regard to enhancing the customer shopping experience, the shoppers are offered the possibility to conveniently overview the points balances in their personal accounts, as well as fully/partially cover the cost of the orders.
Timely delivery is critical today. The extension offers a great opportunity to put your delivery services in order.
The shoppers will be able to specify when exactly they wish the order to be delivered, as well as outline their delivery expectations.
You as a merchant get a chance to conveniently manage order processing: set delivery option limit, display the delivery date functionality to specific customer groups, easily overview the delivery queue in the calendar (backend), and more.
Highly customizable landing pages, which Google will absolutely love – that's what exactly the extension is all about. Besides multiple customization options and SEO optimization possibilities (integration with our SEO Suite Ultimate is provided), one of my favorite features is the possibility to create landing pages in bulk. Mass page generation could become real timesaver when needing to simultaneously create numerous landing pages for your marketing campaigns, fast and easy.
This add-on introduces a possibility to edit order details with ease. As you know, by default you'd need to cancel an order to correct a typo or make any adjustments. You'll be able to edit order status, state, date & time, any customers' data, billing info, shipping and payment details, etc.
This extension introduces the possibility to diversify the pricing strategy in your Magento 2-based store. Besides setting different prices for different groups of the customer base, you get to incentivize specific customer activities and motivate the shoppers to qualify for a certain customer group ― thus achieving the set marketing objectives.
We all like to feel special, aren't we? With the extension, you can create customer-specific discounts and coupon codes that encourage individuals to make a purchase. Additionally, you can choose to activate the promotions upon specific conditions.
This innovative extension introduces blockchain technologies in Magento 2. You get to integrate crypto payments (WAVES cryptocurrency) and offer an additional payment method. This new technology offers a great many benefits, including lower processing fees. While the interest to the extension keeps growing, we shall see what we shall see 😊.
The Father the Better

About 90+ Features in our Top Extensions
Without fanfare, the Magento 2 SEO Suite Ultimate gets even better with years. In 2018, it's introduced 30+ new features and even more to be released in the coming year. (Between ourselves, the shortened URLs functionality is already in testing…).
One of the latest updates include the possibility to delete default review markup from the most popular Magento 2 themes (Luma, Ultima & Porto), advanced product canonical tags, as well as the ability to add filtered variables to the category meta keywords templates.
Not for nothing the extension has been featured as one of 3 top Magento 2 extensions on Magento Marketplace for a while already!
This was a really fruitful year for APO (as we call it) ―25+ new features and performance improvements.
With that said, the extension has added AND dependency, Magento 1-like sorting feature, option stock reports, special & tier prices, and a lot more.
Additionally, to make your work with the add-on even more efficient and discover its full potential, we've recorded a series of video guides that are available here, on our YouTube channel.
The dev team has been literally polishing the extension and added 20+ features that make the extension one of the leading solutions on the market so far.
New action, extra compatibility (added upon the customers' request), UK zip code validation, import/export functionality, and many more other improvements have been made to enhance the effectiveness and value of the extension.
This Magento 2 extension has been tailored to make order management seamless and intuitive. Not only you'll be able to conveniently overview all the order data in one place and arrange it according to your business-specific needs. With the lately introduced possibility to change offline payment methods, the module helps modify literally any order info.
Fully Refactored Magento 2 Solutions

Versions 2.0+ has been introduced for the following extensions:
Multi Fees helps increasing average order value and share with the customers a part of your shipping and billing expenses. They can be gift wrap, extended warranty, recycling tax, etc.
In 2018, the module has added API support for the cart, shipping & payment fees, ability to display detailed fees list in the order pdf & emails, hide fees by product conditions, and a lot more.
Search Suite significantly enhances the onsite search experience. As-you-type-search suggestions, the possibility to add products to cart, search autocomplete functionality are just a drop in the ocean of its functionality.
Prices per Customer allows setting personalized individual prices thus enhancing the shopping experience, and encouraging the doubting customers to complete a purchase.
SavvyCube Analytics
SavvyCube is an instantly developing analytics solution that consolidates data from multiple sources and helps get a full picture of your business's efficiency. Within some out of many SavvyCuve improvements are:
email reports,

more particularized overview of metrics,

multitenancy mode offered to Magento agencies,

ability to apply several filter types simultaneously, and more.
MageWorx Launches Shopify Department

Additionally, we've decided to try ourselves in Shopify apps development and launched a full stack Shopify department.
5 new Shopify apps came into being in 2018. Despite they are still 'babies', the pool of functionality the apps offer is huge. The customers' feedback speaks for itself.
But that's quite a different story…
Wrap up for 2018
It was certainly a meaningful year for MageWorx. We thank our customers for motivating and inspiring us! See you all in 2019!