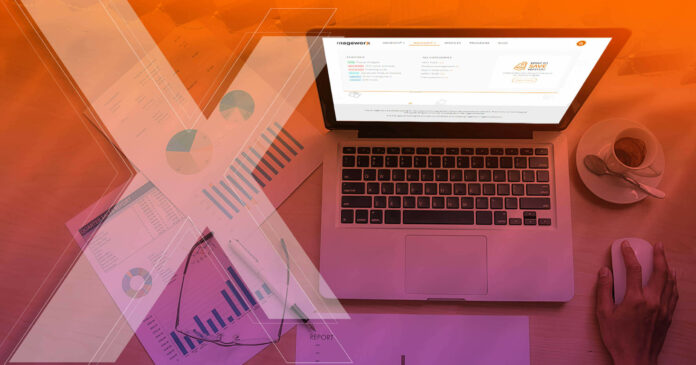 Reading Time:
7
minutes
"In the world of Internet Customer Service, it's important to remember your competitor is only one mouse click away." – Doug Warner
I was recently daydreaming about the last items I bought online. Taking those novelties aside, I didn't manage to remember anything about online stores I made repeat purchases with. But there were actually just some of them. Convenience, great customer service, and an attractive loyalty program were what actually managed to get me on the hook.
While there is no Felix Felicis for an effective eCommerce loyalty program, there are certain KPIs that will help you draw reasonable conclusions and make improvements in it. Let's dive in.
Loyalty Program: Meaning
Basically, an eCommerce loyalty program is a system of rewarding regular customers (Click here to learn about introducing reward points in a Magento 2 store). This is a set of multiple marketing strategies that enhance customers retention. It's more than a simple instrument. A loyalty program is a strategic and complex initiative. Taking that the repeat customers spend 67% more than the new ones, keeping them both returning and loyal to the brand is critical.
Why Discount Program doesn't Equal Loyalty Program?


The term 'loyalty program' has been used as a catchall for too long to describe any program that offers different kinds of customer rewards. As a result, lots of merchants mistakenly believe that a loyalty program equals discount or retention bonuses, freebies, etc. This is probably the most common misconception.
When compared to discount programs, loyalty programs:
· don't devalue your items or services,
· don't compromise the ability to earn loyalty points/stamps,
· help you not lose in revenue by offering a discount,
· give clients satisfaction from earning extra.
Discount programs are undoubtedly effective. They attract customers and allow increasing sales, but these increases have a short life. Loyalty programs fuel repeat purchases and build brand allegiance that lasts.
Why Retention Program doesn't Equal Loyalty Program?


Retention programs also aim at reducing customer churn, growing revenue and keeping customers with the brand.
When compared to retention programs, a loyalty program:
· doesn't simply keep customers despite their attitude to the brand but makes them loyal,
· creates emotional ties with the customers. It makes them choose your brand when compared to competitors,
· has the broader reach and includes more lifecycle components, such as customer development, retention, and win-back.
To make a long story short, the retained customers may buy from you again, or they might not. The loyal customers, in turn, will choose your brand and encourage others to start shopping with you. As simple as that.
Goals of eCommerce Loyalty Programs
· Increase in share of wallet. It's critical to create conditions that satisfy the customers' requirements in certain categories. This is normally carried out through the system of bonuses and benefits. 'All-in-one purchases' is the model that must be stimulated by a loyalty program.
· Fighting customer churn. Loyalty programs aim at decreasing the number of left customers and paying special attention to the customers at risk. A good loyalty program becomes an attraction that helps retain customers.
· Customer attraction. While the main goal of a loyalty program is to retain the existing customers and increase the number of repeat orders, it can also be used as an instrument for customer acquisition through referral methods, such as emails, shareable URLs, social media, etc.
· Collecting data on customers. By tracking customer behavior and analyzing their inquiries, you'll be able to improve different aspects of your store operations. This concerns UX, advertising efficiency, customer experience, stock list planning, and much more.
· Differentiation from the competitors. Good loyalty program creates extra value for customers compared to your competitors.
Critical KPIs to Measure eCommerce Loyalty Program
Net Promoter Score (NPS)


These metrics allow calculating expenses that are related to promoting your loyalty program. Under the best-case scenario, you should create a system when your customers promote your online store and the loyalty program themselves.
In order to estimate this score, you'll need to survey your customers. Include the following question 'What are the chances you'll recommend our brand to your family and friends on a scale from zero to 10?'. They'll have to give an estimate. Depending on what the customers answer, you'll be able to divide customers into 3 groups:
· promoters (9-10 score),
· passive buyers (7-8 score),
· detractors (6 and less).
You should aim at having as many promoters and as few detractors as possible. Detractors must be determined, as well as the reasons of their dissatisfaction in order to improve the way buyers see the brand. This is as important as keeping the promoters satisfied.
Tips for Making the Best of NPS:
Bring Personalization. The easiest way to measure NPS is to ask personalized questions right after customers' interaction with your brand. Avoid asking general questions. Ask about the staff, for instance, instead.
'How likely will you recommend our eCommerce store after your last interaction with our support team?' – Zappos.com, the online merchant that sells shoes and clothing, offers such a question to its buyers to ensure high customer service.
Use Follow-Up Questions. You can learn where your customers mostly come from or improve your business thanks to the questions based on negative customer experience. Consider the following questions:
'What is the biggest thing you dislike about our store?'
'How did you first hear about our brand?'
'What three things stopped you from completing an order the last time you shopped with us?'
Use Thank You Messages. This kind of messages must be different for 3 above-mentioned groups of customers. When dealing with detractors, make sure to mention that you are ready to improve customer service and value their opinion.
Customer Lifetime Value (CLV)


It allows measuring what value a customer brings to the company over a lifetime. CLV variations help evaluate the effectiveness of the loyalty program as you'll see how often your customers make purchases and correspondingly stay with your brand. This helps see whether buyers become more loyal to the brand or not.
On average, three years is often considered to be an optimal realistic time frame during which loyal customers last with a brand in eCommerce. Here's how the calculation of CLV may look like: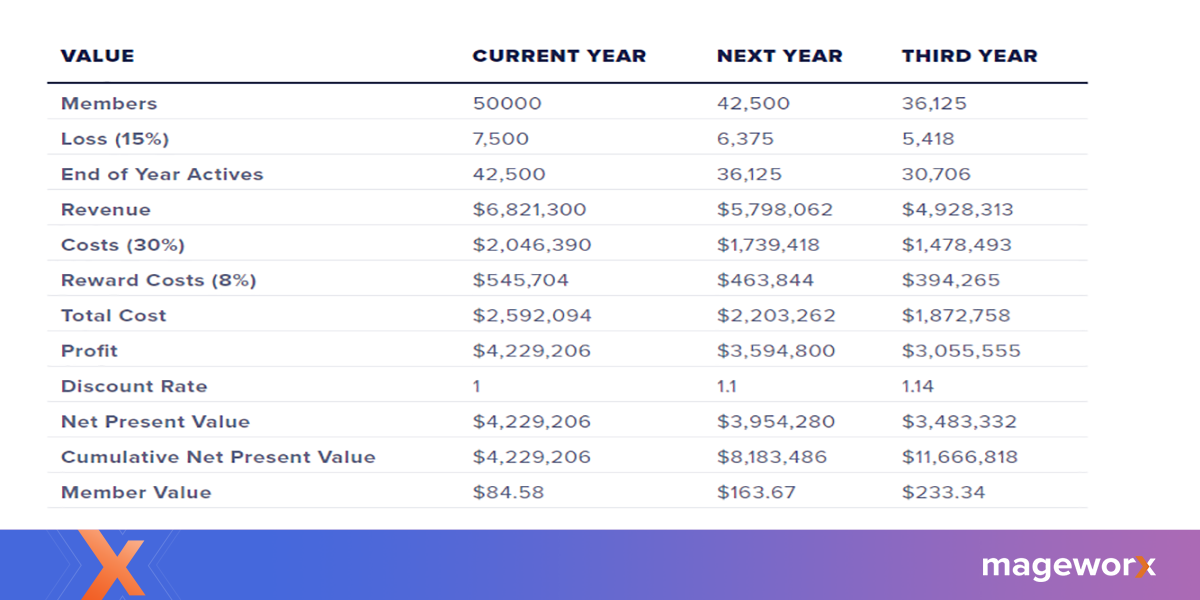 Active Engagement Rate (AER)


These metrics show what percent of customers actively and regularly participates in the loyalty program. Here, participation is measured the way buyers earn and spend points within a certain period of time.
Monthly/yearly estimation of the AER is a great way to evaluate the effectiveness of your loyalty program.
For example, Amazon can boast of 93% level of customer engagement in their loyalty program as it meets buyers' expectations practically to the full.
In order to keep customers back, Amazon:
Uses $0.16 marketing strategy. If a customer purchases an item and its price suddenly drops, Amazon credits back the difference. Doesn't it show that the merchant puts a customer first?
Stays creative. The company offered to pay a yearly fee to get 2-day free shipping. So, no matter buyers still have to pay, the feeling of being rewarded with free shipping does increase satisfaction.
Timely diversifies. Do you remember how Amazon started? I do. First, they sold books only. Now you can get practically anything under the roof there. That's probably why Amazon is one of the online marketplaces I've personally stuck to.
Repeat Customers Rate


It's no secret that repeat customers bring more profit and have high chances to become loyal. These metrics can also help analyze what motivates customers to make repeat purchases, which can surely play into your hands.
For example, HKEA, the group company that specializes in education, property, hospitality, LED lights and more, claims to have 98.5% repeat customers rate. They place a special focus on over 10 years of experience in the field, and ISO 9001 factory compliance. This builds trust that lasts over years.
Monetary Bonuses


It has been proved that customers that are active with loyalty programs make 90% more frequent purchases, and spend 60% more in each transaction. Moreover, chances that such buyers will stay with the brand increase fivefold.
Have your customers started making more purchases as a result of an effective loyalty program? That's what you need to ask yourself and learn to calculate in order to measure this KPI. You'll have to analyze what exactly motivates buyers and segment them depending on the obtained results. In other words, your objective is to measure financial business growth as a result of the loyalty program introduction.
Return on Investment (ROI)

Like any other business activity, there are certain expenses related to the introduction and continuous use of the loyalty program. In order to see the full picture, it's critical to analyze loyalty program-related expenses compared to extra revenue that it brings to the company. They are software development, design, marketing and the cost of special offerings themselves.
Charlie Casey, the CEO of LoyaltyLion, claims that the average ROI for companies they work with is from $14 to $32 for each $1 spent on the loyalty program. This concerns both small and large companies.So, this is probably the numbers you should expect from your loyalty program, at least.
These steps will let you achieve high ROI for your loyalty program:
Estimate customers' profitability. Taking into account last 2 years (depending on buyers' purchase cycle), estimate their profitability by subtracting all the expenses from total revenue for each separate customer.
Select most profitable customers. There should be about 20% of them.
Create these customers' profile to know what they like and where they come from.
Search for lookalike audience to target and attract.
Customer Satisfaction


A loyalty program must be developed the way customers see the extra value they get. This can be realized by offering:
· extra discounts depending on customers' tier,
· exclusive personalized offers.
Customer satisfaction must be in focus. Be it financial benefit, or such benefits as free shipping, personalized offerings, etc.
Brand and Program Awareness


Make sure to track brand awareness and customer engagement rate in the loyalty program. Always control why customers participate in the program. Is it related to an emotional bond with your brand, or because of the extra value you offer? Surely, establishing an emotional bond must be an objective, and it's not that easy to achieve.
Personally, I just love when info about a loyalty program is easily accessible on the site, or made available on social media. Besides being easy to understand, it keeps me updated on the benefits it offers. For example, Flash Tattoos uses subscription popup to offer VIP status, as well as 10% off the first purchase (If you're are looking for a pop-up solution for Magento, click here). More details on company's special offers are conveniently available right on the main page of their website.
The image is clickable.
Wrap Up
eCommerce loyalty programs are imperative. They work for me, and I'm pretty sure they influence the decision-making of many. They boost growth, reputation, sales and make customers happy! Tracking the effectiveness of such a program will let you collect data on the business activities, and know your customers better.