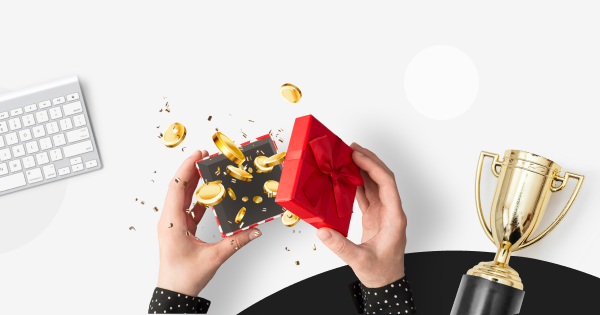 Reading Time:
11
minutes
Today, we are going to talk about third-party modules that allow implementing rewards programs on a Magento 2 store. Usage of in-store currency as rewards for particular activities of an online shop is an efficient method of increasing customer retention and building trust to an eCommerce brand. A thought-out reward points system leads to increased profits and repeat purchases and helps build long-term relationships with your clients.
In this post, we are exploring the functions and benefits of the best Magento 2 reward points extensions. It will help you find out which one would be the best fit for your eCommerce site. All the solutions described below extend native Magento rewards program possibilities and offer some unique features, so let's have a closer look at how they work.
Core Features
Flexible points earning rules;
Support for various reward-triggering events;
Rewards for social sharing on Facebook, Twitter, and Google+;
Personalization of earning rates based on the volume of customer lifetime sales;
Ability to build tier loyalty programs with different earn and spend rates;
Option to show product prices discounted by available reward points of a customer;
Email notifications on balance changes;
Manual points balance editing in the admin;
Refunds to in-store currency;
Statistics on the usage of reward points;
Import/export of existing balances to XML and CSV files.
Functionality
Aheadworks provides online merchants with advanced tools for implementing the get customer reward points functionality on their stores. The module's configuration allows website managers to define which events will trigger awarding points. The following options are available: registration on a web store, subscription to the newsletter, sharing of website pages on social networks, writing a product review. Note that the Aheadworks extension adds Facebook, Twitter, and Google+ buttons to the product pages. You can also reward in-store credits to your clients on special days, like birthdays, holidays, etc.
Another feature you can leverage when building a loyalty program on your store is using lifetime sales as a basis for point rewards. The module extends standard Magento loyalty features by implementing a tiered rewards system for different customers based on the volume of their lifetime sales. This way, you can define earning and spending rates with an individual approach depending on the spent value.
As additional incentives for spending earned rewards, online store owners can place a special block on the storefront that shows product prices discounted by available points. For building stronger relationships with your loyal customers, you can also configure email notifications on balance updates and points expiration periods and send them to your customers. Email alerts can also be sent on various events, like order cancelation, refund by reward points, reimbursement of spent points, product review approval, and others.
Customers get a separate tab in their accounts where they can track the history of transactions with their reward points and check the current store balance. Here, you can also add a CMS page with explanations of the reward rules and benefits. The Aheadworks loyalty program module also enables store owners to monitor transactions with customer rewards from one place in their Magento Admin, as well as manually change the points balance of selected customers. Besides, you can view stats on the total points earned and spent and points usage per each customer. This information can be utilized for building a more effective marketing strategy.
Another prominent feature of the Magento 2 module is automatic refunds to store currency instead of the credit card on order cancelation. Such functionality increases customer motivation to make purchases in a store. As a store manager, you also decide whether to deduct the points earned for a canceled order or give them back to the customer.

Core Features
Customer rewards on performing various actions;
Reward points as a gift on special occasions;
Advanced rule conditions for the reward on completing an order;
Reward rules based on the cart or product attributes;
Possibility to set time intervals when rewards can be used;
Email notifications on balance updates and points expiration;
Tracking of reward transactions in the backend;
Manual changes in the customer reward balance by the admin;
Multi-store support;
Import/export of point balances via CSV;
Advanced API Support.
Functionality
Mageworx offers another solution for creating effective loyalty programs to acquire new customers and retain existing clients. The loyalty and rewards programs Magento 2 module enables store owners to build highly targeted promo campaigns based on rewarding customers with in-store currency for performing various actions. Thus, you can assign a particular amount of reward points for leaving a product review, signing up to receive your newsletter, placing orders, as well as granting gift points on special occasions.
As for the rewards for order placement, the Mageworx extension provides advanced configuration settings with the possibility to set additional conditions. As a store owner, you decide whether to grant a fixed number of points for completing an order or calculate a reward as a percentage of the order total. Also, it is possible to make the number of the granted in-store credits dependent on the amount of money spent on purchases or a specified quantity of products bought. Moreover, you can personalize your reward rules by setting conditions based on the particular cart and product attributes. This way, you can specify products for which reward points will be assigned or apply rewards to the whole cart.
The Mageworx loyalty box Magento 2 module also enables store owners to create catchy messages with information on the current customer points balance. You can include variables in your message and show it in the header section of your website pages, as well as in the mini-cart popup. To add more incentives for spending points on your store, you can also set expiration dates for rewards and send emails to customers notifying them about the number of days left while a reward is still applicable. As for other email notification options, it is also possible to inform shoppers about changes in their balance made by the admin or automatically applied based on the configured rules.
As for user experience on the frontend, registered customers can check their rewards balance in the dedicated tab of their personal accounts. Information on reward points is also displayed at the checkout, so your clients can easily apply store currency and get a discount when paying for the order.
Store admins also get a convenient overview of all transactions with reward points performed by customers in the Magento 2 backend. Besides, the Magento loyalty point reminder module by Mageworx adds a column showing points balance right on the customers' grid. Magento admins can manage the reward balance of each customer by deducting or adding a necessary sum in the Reward Points tab on the customer information page.
Furthermore, the Magento 2 build customer loyalty extension enables admin users to use store currency for partial or full refunds when generating credit memos. With the module's features, you can decide to which extent reward points should be reimbursed in case of a refund. It is also possible to annul all earned rewards for refunded orders.


Core Features
Variety of events triggering customer rewards;
Selection of pre-configured actions for rewarding customers;
Flexible earning rules with combined conditions;
Ability to pay for an order using reward points partially or fully;
Dedicated block with a loyalty program description in the customer account;
Customer email notifications;
Tracking of reward points changes for each customer in the Magento Admin;
Admin control of reward points balance;
Refunding with reward points;
Statistical reports with reward-related data.
Functionality
Amasty offers an easy-to-configure solution for a quick Magento 2 reward points setup on an eCommerce site. With the extension, you can set various events to reward customers for specific activities they perform on your store. The Magento 2 loyalty program module provides seven pre-configured actions out of the box, so you can start using it right after installing on your website. The out of the box actions are suitable for almost every eCommerce business. But you can also modify them according to your needs.
This way, you can motivate guest visitors to register on your website by showing the number of reward points they will earn for making a purchase. Other options to show your appreciation to shoppers is rewarding them with in-store currency for newsletter subscription and submitting product reviews. Besides, you can add points to the accounts of customers who were not active on your store for some time. Also, you can congratulate clients on their birthday by giving them gift points once a year. The Amasty customer reward points module also helps merchants to increase the average order total by rewarding shoppers for spending a specified amount of money on purchases.
One of the most important features of a loyalty program in Magento is the ability to configure flexible earning rules. Reward rules let store owners personalize their loyalty programs and automatize reward points granting. Thus, you can create advanced rule conditions based on the various cart, product, and customer attributes to build your Magento rewards program.
To add more incentives for using your in-store currency, you can display custom messages on rewards on the category and product pages, as well as in the shopping cart and at the checkout. Also, the Amasty rewards program extension allows placing a dedicated block in the customer account area that describes the benefits of using reward points. As for customers, they will be able to see their current point balance and points breakdown with expiration dates in their profiles. For urging customers to spend their rewards, you can send them email reminders warning about the points expiration.
As for the admin features offered by the customer loyalty Magento 2 module, store managers get the ability to control customers' rewards balance by manually adding or deducting points in their accounts. Furthermore, the loyalty points Magento 2 extension by Amasty enables admin users to return rewards on refund or order cancelation and decide on the number of points to be returned or retained. One more essential aspect of Amasty's module is the availability of reports with statistical data on a customer's actions related to the award and redemption of in-store credits.

Core Features
Rewards for activity on a website or placing orders;
Reward points for sharing pages on social media;
Possibility to set a referral system;
Configuration of earning and spending rates based on customer group and store view;
Email alerts on balance updates and points expiration;
Point indicators on various store pages;
Custom labels for points;
Ability to upload images for point icons;
A special slider on the cart and checkout pages for selecting points to spend;
Monitoring of transactions with rewards on a dedicated grid;
API support.
Functionality
The Reward Points extension by Mageplaza offers some outstanding features that significantly enhance the Magento native rewards loyalty functionality. The idea behind the module's workflow is the same as in the solutions described above: customers make particular actions or place an order on a website and get reward points according to the configured rules.
As a store owner, you can differentiate your store rewards per each customer group and configure multiple earning and spending rates on a store view basis. It is also possible to set an expiration period for reward points to motivate customers to spend them while they are valid.
As for the frontend display of rewards, the Magento 2 reward points module by Mageplaza allows placing point indicators on the category, product, and checkout pages, as well as in the shopping cart and mini-cart window. This way, you inform your website visitors about the number of points they can get. Besides, you can replace standard point labels with custom names and upload bright images to be used as point icons. Furthermore, the Magento 2 loyalty programs module adds a special slider to the cart and checkout by moving which a shopper can adjust the amount of rewards to use for a purchase.
All transactions with store credits performed by customers are logged and displayed on the separate grid in the Magento Admin. Thus, store managers get access to detailed data on the points usage and can analyze it for improving their loyalty rewards programs. Note that the module's configuration also enables users to define whether rewarded points should be refundable or non-refundable in case of canceling orders.

Core Features
Rewards for performing actions on a website;
Rewards for buying products;
Flexible point earning and spending rules;
Advanced rule conditions based on customer behavior or product attributes;
Display of the number of points awarded next to the product price;
Landing page with reward points policy description;
Ability to change customers' point balance manually;
Transactions history in the backend;
Refund by reward points;
Mobile login feature;
Risk management toolkit.
Functionality
Magenest offers another reliable tool for creating loyalty programs that convert customers and boost sales on an eCommerce store. With Ultimate Reward Point for Magento 2, you can define activities for which online shoppers will receive a specified amount of store rewards. The possible actions include account registration, newsletter signup, submission of product reviews, first purchase, and friend referrals. Note that you will need to install an add-on to configure customer referrals. Besides, customers can get rewards on special occasions, as well as for making purchases.
One of the exclusive features available with Magenest's solution is the possibility for customers to log in to their account via a mobile device and gain additional in-store credits for this. This way, online business owners can collect the mobile phone numbers of their clients and use them in promo campaigns.
To add a personal approach to your loyalty program, you can set multiple rules defining how reward points will be earned and spent. You can leverage flexible rule conditions based on events or product parameters that will trigger points rewarding.
The Magento 2 loyalty program module by Magenest allows admins to view transactions history on a dedicated page in the backend, as well as manually add or deduct points from a customer's balance. The extension also enables users to make refunds with reward points to cover the whole order amount and make earned points refundable.
Furthermore, the Magenest reward points extension introduces a risk management system that helps merchants prevent reward points manipulation from the customer side. With the module's security toolkit, you can protect your store from suspicious actions with rewarded points in case of order refunds.

Core Features
Rewards granting for various actions on a store;
Reward points earning for buying specific products;
Cart value as the basis of awarding points;
Time limits for reward rules application;
Attribute-based reward system;
Manual points balance adjustments by the admin;
Monitoring of reward points transaction history in the backend;
Email notifications on point rewards;
Export of customer rewards data to CSV or XML.
Functionality
Webkul introduces its own solution for keeping customers loyal to an online brand by rewarding them with in-store currency. As in the case of modules mentioned above, it allows granting reward points to customers for particular actions on a website, including order placement, product rating and reviews, subscription to the newsletter, and creating a new account.
Store managers can define which products will be available for receiving points on their purchase by setting rules in the backend. It is also possible to specify an exact time interval when reward points will be applicable for selected items or products in the category. At the same time, it is possible to use cart rules as a basis for assigning reward points. By configuring this type of rule, you can specify the total cart value that will trigger rewards earning, as well as dates when the rule will be active.
The Magento 2 reward system module by Webkul allows store managers to track changes in the reward points balance of customers from the dedicated page in the admin. It is possible to check the type of action (debit or credit), balance updates, and other detailed info per each customer. Customers can also check the amount of store credits they get for registering on a website, leaving a review on products, and other actions. Shoppers also get email notifications informing them about assigning new reward points to their accounts, as well as points deduction.

Core Features
Rewards for friend referrals;
Display of the number of available points for reward on category and product pages;
Advanced configuration of custom points earn and spend values;
Reward points block on the shopping cart page;
Option to use a custom image for graphic elements;
Statistics on the changes of points balance per customer in the backend;
Possibility to manually add or decrease the number of points in a customer account;
Reward Points slider on the cart page;
Email notifications on the points expiry and point status;
Flexible configuration of catalog and cart point rules;
Import and export of files with customer points.
Functionality
The Magento 2 reward points extension by J2T Design enables eCommerce merchants to build converting loyalty programs with various rewards for customer activities and purchases. In addition to getting points for particular actions and placing orders, online shoppers can collect additional rewards for sending referral links to their friends. This way, the J2T Design module lets store owners establish a referral system and acquire new customers.
To motivate your website visitors to make an order, you can show the number of points a customer will get on the product listing and product description pages. Besides, you can insert a block showing details on the points value and spending specificities on the cart page. Another user experience improvement introduced by the Magento 2 rewards program extension is the ability to use a special slider to define how many points will be redeemed for payment. At the same time, customers can manually enter the number of points to spend in the input box at the checkout.
As for the module's functionality from the admin perspective, it offers complex settings that can be fine-tuned according to specific requirements. With the tools provided by the Points & Rewards extension, you can create advanced reward rules based on product and cart attributes, set custom point values for different customer groups and store views, change the number of assigned points in customers' accounts, and more. As a store admin, you can also configure emails that will be sent to your clients to notify them about their current point balance and the forthcoming expiration of rewards.
Magento 2 Reward Points Extensions Comparison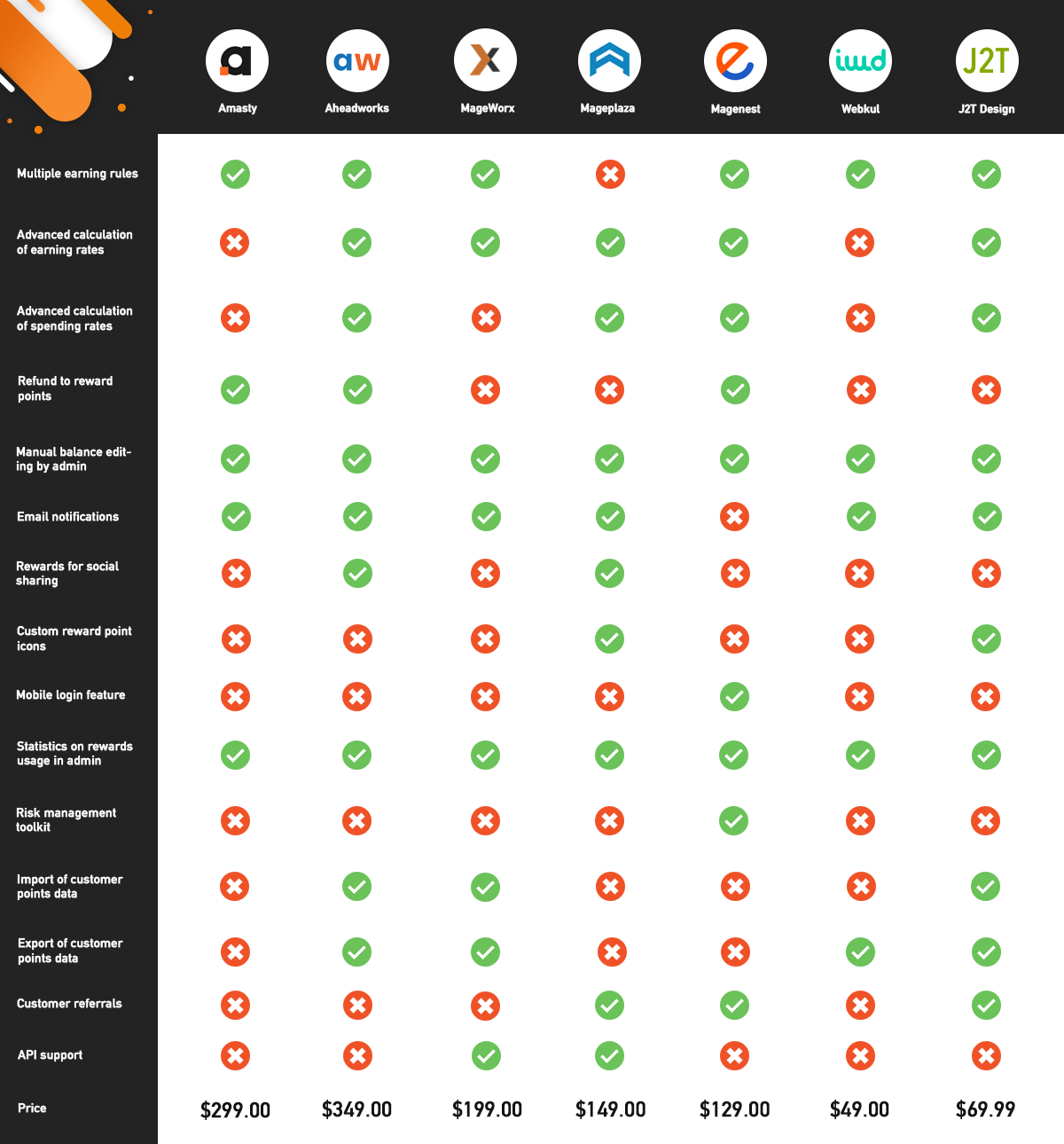 Conclusion
In this review, we gathered some of the best solutions that enhance Magento out of the box features of loyalty rewards configuration. All the extensions described above offer robust tools for introducing reward programs on an eCommerce site and can act as a powerful Magento loyalty booster. Each loyalty program Magento 2 module from our review provides some unique features and has a slightly different approach to the configuration of reward rules and conditions. No matter to which add-on you give preference, you will get advanced settings for creating promotional campaigns that engage customers and boost conversion rates.
Please note that the extensions described in this article are not presented as a "from-first-to-worst" listing. Each module has its own advantages and disadvantages, and the final decision on which tool is the best fit for a website depends on the particular business needs of a merchant.