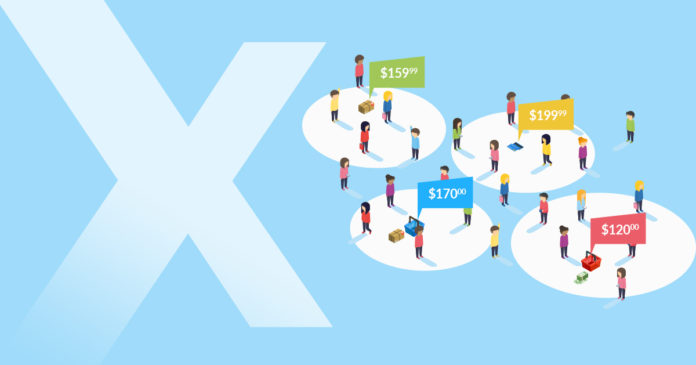 Reading Time:
6
minutes
'Price doesn't matter!' You can hear merchants saying this every now and then. Not that I disagree, but price does make or break a sale. Despite all the behavioral economics studies & pricing psychology proving otherwise, this is just common sense.
Recent data by Radial proves that 60% of shoppers find purchasing items at the lowest possible price the most important thing when shopping online. Interesting that even introduction of an effective loyalty program is not perceived by certain age segments as important as low price. Let's have an overview of the most popular eCommerce pricing strategies with a special emphasis on group-specific pricing and the opportunities it offers.
5 eCommerce Pricing Strategies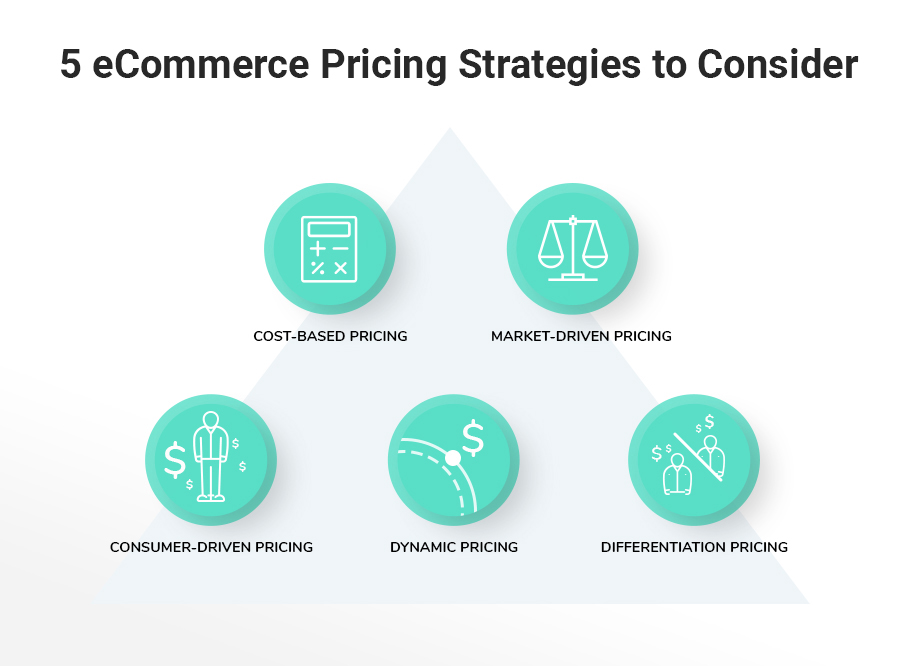 According to the source, there are about 27 pricing strategies to look up. It doesn't mean that you'll have to face the dilemma of going for one from the list – a perfect combination of pricing strategies is likely to optimize the conversion rate:
Cost-Based or Cost-Plus Pricing
When using this simplistic approach, merchants select the cost of an item/service they are selling and then add a percentage markup to get the end price. This can be challenging as there are always chances to under- or overvalue your offerings, and not withstand the competition.
Market-Driven Pricing
Comparison shopping is not new. The survey that was conducted by Ask Your Target Market has shown that about 79% of the participants consider themselves to be bargain shoppers, while 78% of others confirmed that they compare prices from different stores before making a purchase. This once again proves the importance of knowing your competitors, what they offer and what price they ask for it.
Consumer-Driven Pricing
This eCommerce pricing strategy is based on estimating the cost of your offerings from the consumer's perspective. And nope, this doesn't mean that merchants set prices that their shoppers are willing to pay. Prices are set in such a way as to convince online customers that a product/service is worth the asked price.
Dynamic Pricing
Actually, this pricing strategy bears a great many of names – surge pricing, time-based pricing, or demand pricing is what I've personally seen so far. Here, pricing is flexible and greatly depends on the current demands, offerings, competitors' activities, etc. in your eCommerce niche.
Differentiation Pricing
This term is normally used within the price discrimination strategy. It describes such practices as charging different customers for the same number and quality of products differently.
3 Degrees of Price Differentiation
1)    Personalized Pricing basically customizes the price a shopper is willing to pay. In order to have this effectively implemented, a profound eCommerce analysis of your online store data should be carried out. This will both bring another touch of personalization to your online business, and enhance the shopping experience.
2)    Versioning is menu pricing in other words, i.e. creating slightly different products to differentiate their price.
3)    Group pricing is centered around dividing the market into segments. Here, all the members of the same segment are charged the same price, which is different from the prices assigned to other segments.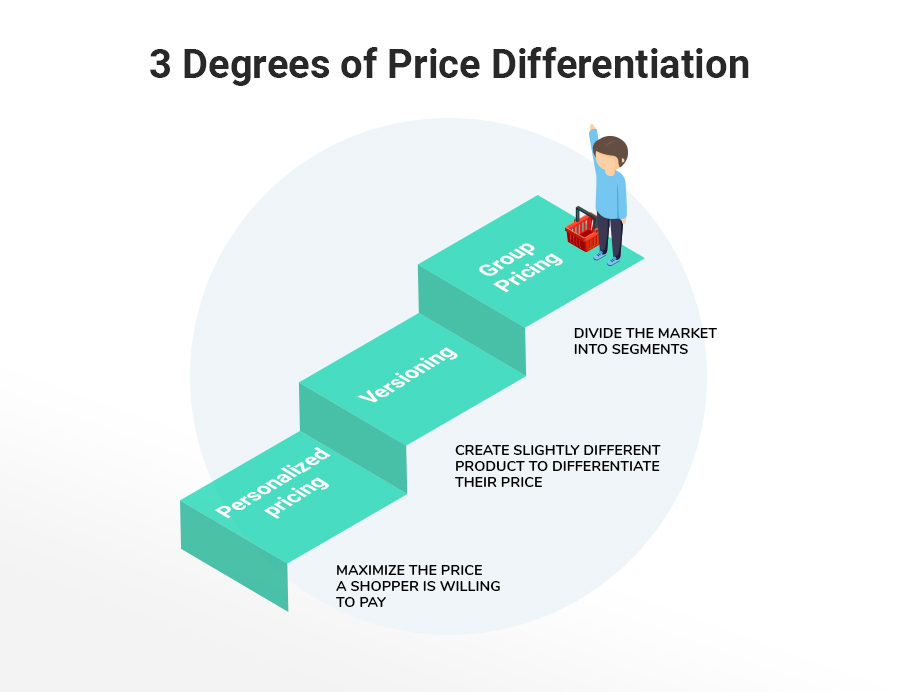 How to Divide Your Customers into Groups?
Customer segmentation can be time and money-consuming. Nevertheless, this work is not back-breaking. All you need to do is:
 

Create a list of customers
Big data offers great opportunities today. You can also make such lists manually, which will surely take up much of your time. Try to add as many data about each customer as possible, including the number of items purchased, payment methods, order amounts, etc.
Collect additional data
Never hesitate to ask customers for data that is missing. This can be done with the help of surveys or sign up popups with a request to enter the necessary info. You may also consider offering giveaways, coupons, or discounts in return for this data.
Select mutually exclusive segments
 It is highly advisable neither to put one customer in more than one segment at a time nor to overlap the created segments. Surely, if different segmentation criteria are used, you can avoid the above-mentioned tip.
For example, such customer groups as wholesale and retail shoppers are absolutely different and shouldn't overlap. However, both wholesale and retail customers can be included in the 'high-earner' category.
Create valuable segments
 It's important to evaluate whether your marketing efforts are worth certain customer segments or not. To do that, you'll have to consider the customer count and the dollar value. If the game is not worth the candle, don't consider those segments then.
Classification of Customer Groups
Demographic Groups
Use demographic data to segment customers for this group. This may include:
  

age,

   marital status,

  

occupation,

  

education,

  

income,

  

gender,

  

parental status, and more.
How to make the best use of special pricing for demographic groups?
Students, seniors, women… All these segments shop differently and expect different prices as well. According to Seock and Bailey, both female and male students expect promotional deals or hunt for items on sale when shopping online. Surprisingly, men were reported to spend 28% more online than women, while 71% of women say they are more likely to purchase an item that is on sale, according to PaymentSense and their fascinating infographics on men vs women online shopping habits. Thus, offering female customers item on sale seems to be quite a decent decision. Ha! If only it was that easy.
Location-Based Groups
What is your service area? Are you selling across your country or internationally? These questions can help you split shoppers into groups, which can be as follows:
  

urban,

  

rural,

  

international, etc.
How to make the best use of special pricing for location-based groups?
I'd say it's all about shipping today. You know that 28% of shoppers will abandon their carts right after they see extra shipping costs that they didn't expect. 63% suburban shoppers, for instance, say that shipping is their least favorite part of online shopping. Why not consider these preferences of your customer groups and adjust pricing accordingly? Some more food for thought.
Groups Based on Purchase History
Analyze your customers, which products they buy, the frequency of made purchases, and more. You might want to consider creating the following customer groups:
  

newcomers,

   

one-time buyers,

  

regulars,

  

retail customers,

  

wholesale customers,

  

logged-in shoppers,

  

VIPs, etc.
How to make the best use of special pricing for groups based on customers purchase history?
You can either offer discounts or even increase product price depending on the purchase history of your customers. Also, such segmentation is a must-have for merchants that deal both with wholesale and retail shoppers. With something like this used to calculate the price:

wholesale customers naturally expect different pricing, and a merchant must offer it. This can be made available by displaying the price to solely logged in users.
Psychographic Groups
Here, customers are segmented based on their values and the choices they make on the regular basis. You can create the following groups:
  

customers that

support charities

,

  

customers with certain food preferences,

  

eco-friendly customers,

  

age segments, such as millennials, or generation 'Z', etc.
How to Make the Best Use of Special Pricing for Psychographic Groups?
Nielsen has proved that the 'green' generation is willing to pay more for sustainable offerings. For instance, 69% of respondents claim that they would certainly pay a higher price for items that contain organic ingredients, while 58% would positively react to such prices from an online merchant that is environmentally friendly, and actively participates in the related activities. So, if you are paying a recycling tax, you might want to add extra fees, and the eco-friendly segment will feel positive about it.  
Benefit-Based Groups
These groups are entirely based on the benefits a customer is looking for in your products. Here're some ideas for benefit-based groups:
  

low price,

  

quality,

  

specific feature,

  

customer service, etc.
How to make the best use of the benefit-based eCommerce group pricing?
59% of the U.S. Americans are ready to shop with a new brand if it offers better customer service, according to HelpScout. Do you have information on who of your buyers have high expectations of the customer service, or info on customers that had negative experience dealing with your online store? You might want to consider offering discounts, reward points, or other benefits to these customer groups then.
Bottom Line
With a multitude of pricing strategies to choose from, differentiation pricing with the price management of customer groups that it involves is certainly something to give a special attention to. Group pricing tactics have been proved to be effective in enhancing eCommerce pricing strategies.
CREATE specific pricing for specific eCommerce customer groups, and you'll certainly make your products more appealing as they will correlate with and correspond to customers' requirements and expectations.
STUDY segments that bring the most value to your business and adjust your pricing strategy to them.
CHOOSE smart pricing to bring first-time shoppers back again and create longtime loyalty.