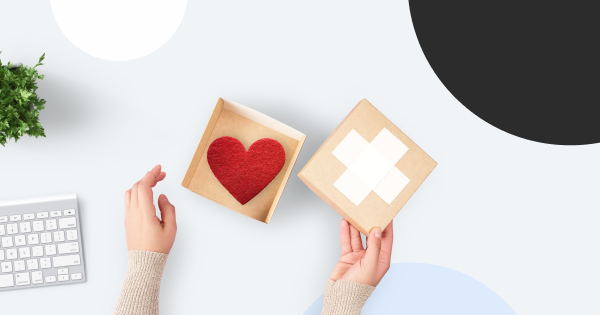 Reading Time:
8
minutes
Supporting charities and non-profits can not only do a world of good to your donations recipients but also benefit your online business.
The fact is that implementing a donation program into your business model contributes to revenue increase, customer attraction, and a community build-up. Not to mention the tax deduction bonus…
According to the research from the Cone Cause Evolution Study:
85% of consumers have a more positive image of a product or company when it supports a charity they care about.
83% of Americans wish more of the products and services they use would support charities.
80% of Americans are likely to switch brands (equal in quality and price) to one that supports a charity.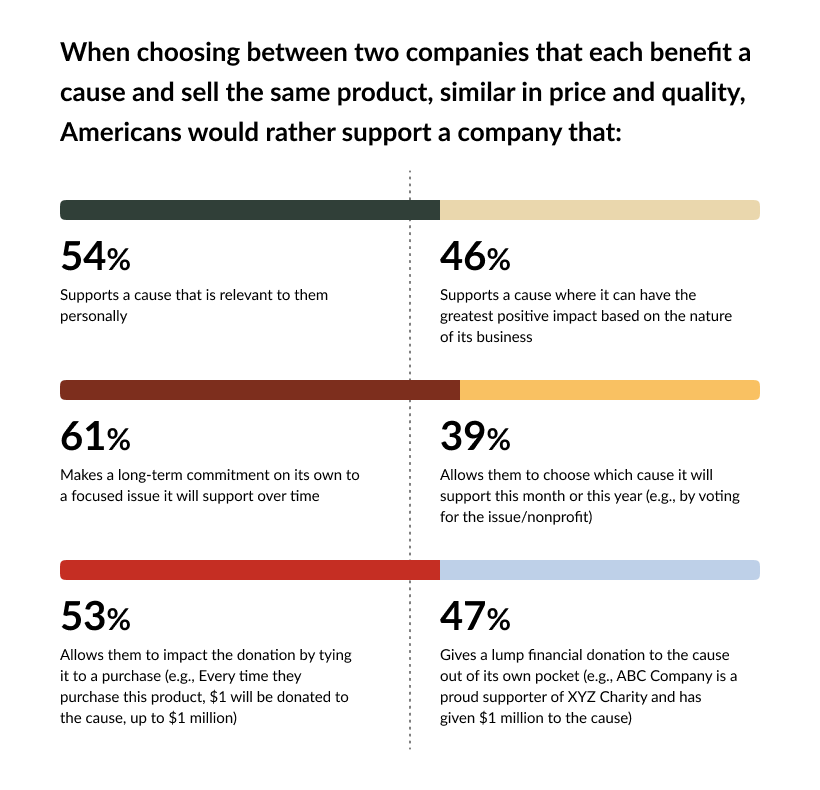 This article is designed for business owners who are unsure why support a charity and donate a percentage of sales to charity. You will also discover 15 proven ways to support causes and access a list of best-of-breed solutions to introduce donations on the most popular eCommerce platforms.
Benefits of Charity: How Can your eCommerce Business Benefit from Supporting a Cause?
Today, 94% of consumers think that businesses should do more than just make money. They should give back.
Why should companies support charities? What are the benefits of charity?
Here are five major ways your eCommerce business can benefit by giving back to charitable causes.
#1. Donations Increase Sales
According to a recent study in the Journal of Consumer Research, the social consciousness of a company leads consumers to believe products are of better quality. Thus, doing good can indeed translate into doing well.
Companies like Amazon and eBay use checkout donations to reduce cart abandonment and increase sales. Buyers spend 26% more, and retailers have 29% more deals when it comes to the power of giving back. What's more, by supporting non-profits, eBay retailers have reduced customer churn rate by 67%.

#2. Charitable Activities Enhance Customer Loyalty
When supporting charities, global or local charities, you get to boost customer loyalty.
"If a business or seller is offering to donate a percentage of profits to a charity, does this give you the incentive to make a purchase that you may have been debating?" When asked, many consumers would give a positive reply to this question, and the study by Cone Communication and Echo Research proves that:
Nearly 47% of consumers worldwide report they will be more loyal to a company that supports a social or environmental issue that is close to their hearts.
53% of consumers admit they would be more likely to recommend such a company's products or services to others.
It's important to note that your charity efforts should resonate with your target audience. By supporting the causes your consumers care about, you gain their trust, attention, and respect.
For example:
If you have environment-friendly customers―offer a donation from every customer's sale to Greenpeace. Support causes that are important in the communities you do business with. It's a sure-fire way to boost customer loyalty.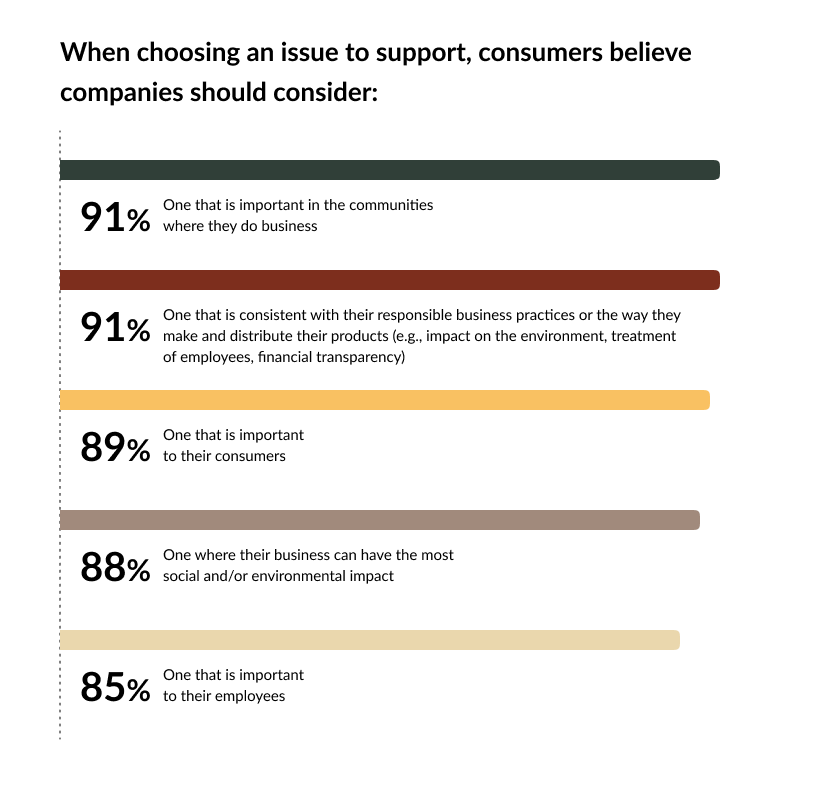 #3. Donations Help Build Loyal Community and Motivate Your Team
Giving back improves a brand's image in the community. It helps people become more aware of your products/services and build a good image in the community.
Giving back to a cause is a great way to build emotional connections with your customers. 66% of consumers agreed that they would choose a company that supports a charity over the one that doesn't. So giving back enhances brand image and value and helps differentiate the company from others in your market sector.
Do you have any challenges with productivity in your company?
A variety of studies show that when employees perceive their companies positively, they are more productive, motivated, and committed to the company's overall goals. The numbers tell the story best: 90% of employees who work for a company that supports charities are proud of their employer. (Roper/Starch Worldwide, 1999)

#4. Donating to Charities Boosts Your Brand Reputation
Giving back is a great way to get your name out in the community and improve your brand's visibility.

Companies associated with philanthropic views reinforce positive brand awareness and enhance reputation within the community. And here's why:
Supporting charities is the most trusted activity that makes a huge difference in how your business is viewed.
Consumers view responsible brands as trustworthy and ethical, and they're more willing to give money to the companies they trust.
Giving back helps to define a company's identity and differ from the competition.
When a business donates to a worthy cause, its image is enhanced in the eyes of consumers, partners, and the community. Supporting charities signals a brand's commitment, involvement, and concern about causes.

#5. Donations are Tax-Deductible
When you donate to non-profit or other charitable organizations, the amount you donate is tax-deductible. In other words, you can receive tax deductions. Such expenses can lower your tax bill and reduce taxable income.
However, you must follow several steps to be allowed to deduct your charitable contributions:
Donate to a qualified organization
Donate cash or property
Itemize tax deductions in order to claim any charity
Maintain a bank record or any other document from the organization containing the name of an organization, the date, and the amount of contribution
Also, not only the money you donate is tax-deductible. Event fees, parking costs, the amounts you spend on travel that are related to charitable giving can lower your tax bill.

#Bonus. Gift Aid for UK Taxpayers
The Gift Aid tax incentive that has been with the UK taxpayers since 1990 could be another positive aspect of supporting charity.
It creates a triple win situation, i.e., a possibility to do good for a business and a customer, a chance for charities to claim an extra 25%, and the possibility to get tax relief when shoppers donate to charity (for higher rate taxpayers).
Thus, when donating through Gift Aid, charities can claim an extra 25% for every £1 a customer contributes.
For instance:
If your customers donate £200, charities get to claim Gift Aid and make the donation £250. For 40% of taxpayers, there is also a possibility to personally claim back £50 (which is £250 x 20%).
Sounds good, right?
To qualify for Gift Aid:
You need to meet specific rules
Your charitable donations should not four times exceed the tax amount paid that tax year
Besides, unlike on Magento 2, it might be a challenge to implement the Gift Aid functionality on some eCommerce platforms. Following multiple requests from our Magento 2-based customers from the UK, we've added the Gift Aid feature to the Donations Suite Ultimate. This will surely help merchants who run their stores on Magento 2 and their customers make the best use of supporting charity.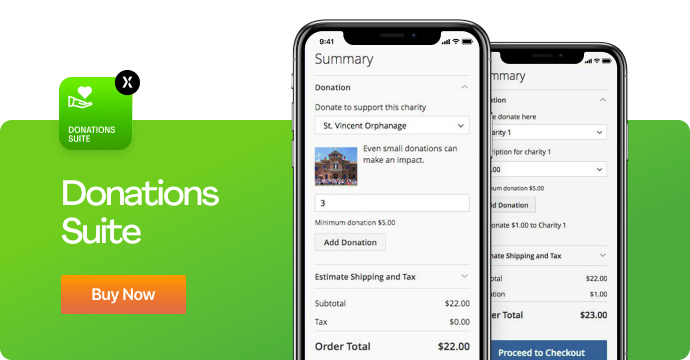 10 Ways to Support Causes
Many online users believe that it is a good idea to check out a business or charity before shopping.

As we already know, donating a percentage of profits to charity is not only a kind thing to do. There are multiple ways to support social causes. Let's overview some of them:
Donating proceeds to charity. Consider calculating the percentage of your sales that you are the most comfortable sharing.
Inviting buyers to add donations while shopping. Either as a drop-down menu or a pre-set selection, consider building in the functionality that allows your shoppers to pitch in.
Organizing fundraising events. This option suits the best for businesses that are active in their communities. Alternatively, consider organizing dedicated events near your brick-and-mortar stores in case you operate both online and offline.
Investing your time and skills. For startups and small businesses, as you scale, it can be challenging to donate a portion of proceeds to charity. Time and skills are also of high value. Consider offering some of your services pro bono.
Promotion of specific charitable events. Non-profit organizations need assistance in distributing data about their charitable events. You can help by preparing an article for your blog, including the cause into your newsletter, adding a banner to the main page header, or publishing a post with words of support on social media.
Charity sales. Consider creating a separate category with special goods. Proceeds from their sales can be transferred to a specified charity.
Sponsorship. Here, you can cover the costs or provide resources for specific activities of a charity organization or a sponsored person.
Offering a selection of products gratis. Unlike in the case of charity sales, you choose to cover in full the proceeds from specific item sales on your own.
Donating unsold stock. Things get out of fashion. As an option, you can offer items to people in need rather than keeping the old stock.
1+1 option. When it comes to donating, think of giving away one product for every product sold. Otherwise, it can be a product for X number of products sold, etc.
How to Support Charities in Your eCommerce Store
Donating is a great way for a business to give back to the community and benefit itself, no matter what eCommerce platform is used. If you want to support charities or other non-profits and allow customers to donate from your store, you could implement a donation program. Here're the most popular solutions for the various eCommerce platforms:
With 10+ years of experience in Magento development, Mageworx has constantly been working on developing best-in-class Magento 2 solutions to offer donations.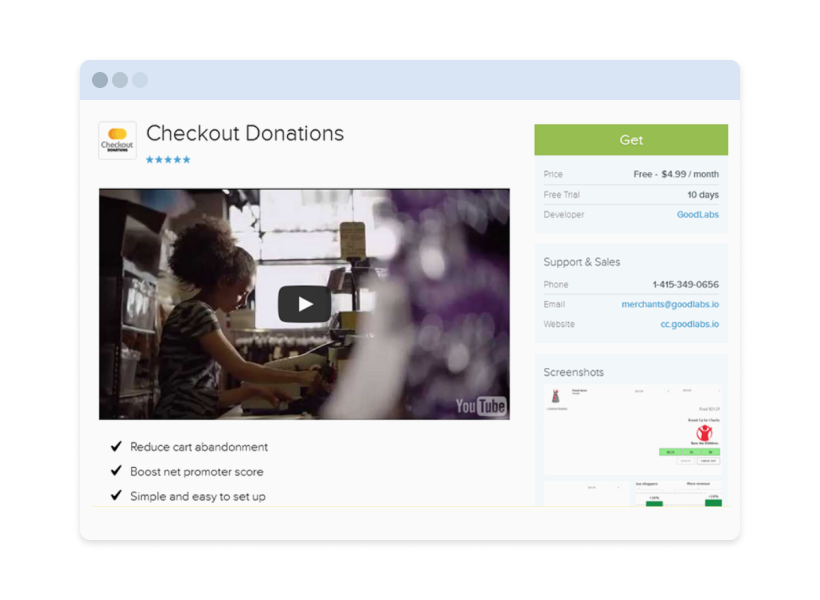 Shopify offers a variety of apps to offer donations. As new industry players appear, the pool of apps grows. Recommendations from the Shopify team or developers are often a tried-and-tested way to explore a solution that meets your needs the best.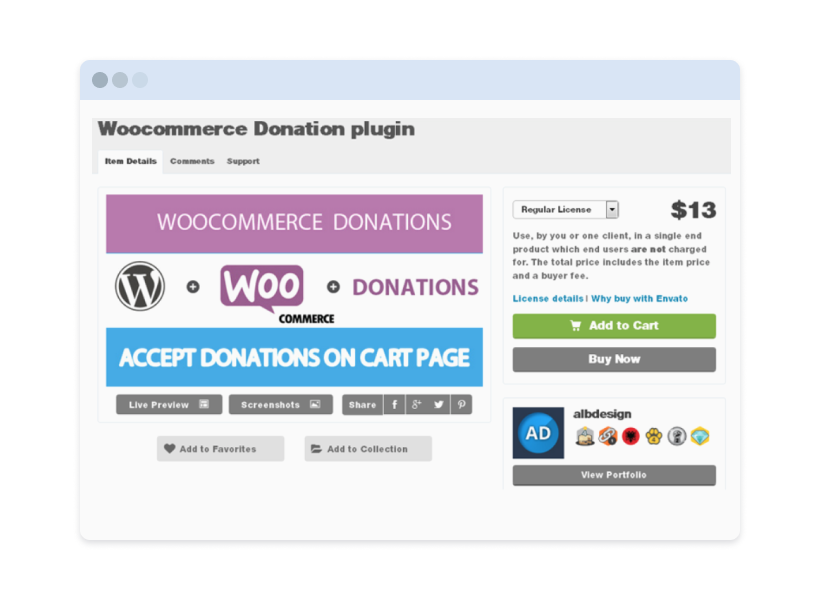 With over 2,000 sales, this product is a decently priced solution for businesses with sites on WooCommerce. The app's functionality allows customers with a cause to specify which sum they want to donate.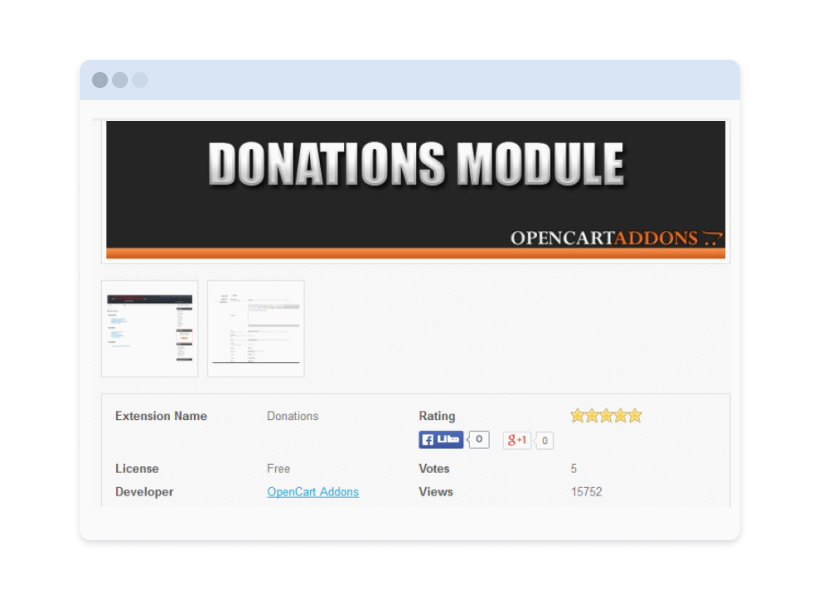 With this extension, you can add the Donate box together with the GiftAid option at the checkout in a couple of mouse clicks.
Bottom Line
Today consumers have higher expectations from companies. They want brands to start having a more real impact on society. Giving back by supporting charities is one of the most powerful tools you can use to gain customer loyalty, increase brand awareness, and boost reputation within a community.
Does donating to charity increase sales? Yes, it does. Doing good won't derail the eCommerce giants overnight, but the benefits of charity support will have beneficial effects on your business. Best of all, such activities just feel good.

FAQ : Supporting Charities
Why is charity important? What does a charity do?
The primary purpose and benefits of charity are to bring public benefit all over the globe and help people in need when required, especially those who suffer from hunger, diseases, natural disasters, poverty, unavailability of medical aid, food, water, homeless shelter, etc.
Donating a percentage of profits to charity helps in assisting the distressed in dealing with the complicated circumstances and improving the quality of their lives.
How can charities be supported?
There are a variety of means to raise funds for charities. On a business level, the major ones are as follows:
Donate a percentage of sales to charity
Organize volunteer communities and invest your time
Donate your skills
Offer your services pro bono
Donate stuff and branded offerings
Promote "image of success" donations
Spread the word about the importance of supporting the distressed
Integrate the corresponding functionality into your site and let consumers with a cause make contributions
Cross-sell items or offer gifts and donate profit from their sales
What are the best charities to support?
When thinking, what charity should I donate to, make sure to refresh your knowledge about the target audience and do audience profiling to see what interests your shoppers have. Such research will help you stay tuned with the audience and make sure your activities resonate with the target buyer in full. The top charities to donate to are as follows:
Red Cross
American Humane
Cancer Research Institute
GoFundMe Causes
Scholarship America
Leukemia & Lymphoma Society
Children's Health Fund
Food and Water Watch
Partnership to End Addiction
Amazon Conservation Team
What companies support charities?
While a business of any size can give away a portion of proceeds to charity, commonly, these are corporations and large companies that unfold massive charity campaigns that make a noise in the world.
Nonetheless, any company can make a difference. For example, Blk & Bold, a B-corporation today, is known for donating 5% of its profits to supporting at-risk young people and focuses on improving the kids' lives in the US.
Which corporations give the most to charity?
If you wonder what are the top companies that donate to charity, the list with the top 7 would be as follows:
Google
Wells Fargo & Company
Goldman Sachs Group
Gilead Sciences
JP Morgan Chase & Company
Johnson & Johnson
Pfizer
What is the list of companies that donate to fundraisers? This list changes yearly but the companies mentioned above stay the most active giving a percentage of profits to charity.