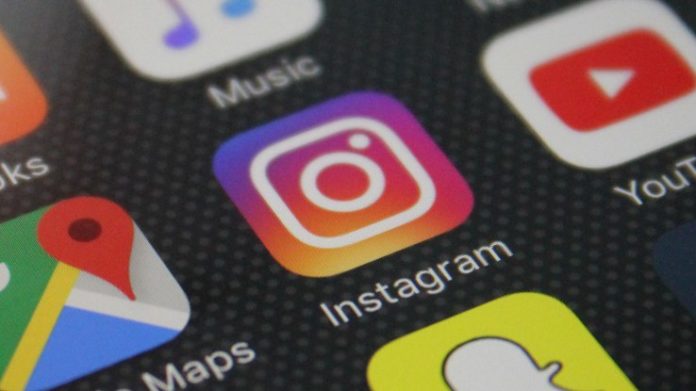 Reading Time:
3
minutes
Instagram is just for teens and savvy brand managers to play with. Ughh! We'll prove that Instagram is the right place to promote business and introduce 3 most advanced analytics tools for you to track everything happens around your brand on Instagram.
Here we go.
Why businesses need Instagram?
More than 75 million people use Instagram daily. Big brands, small businesses, celebrities, 80-year-old grannies and even Google  have their own Instagram accounts.
Instagram is 15 times more engaging than Facebook, is getting more visitors per day than Twitter and has achieved the highest year-over-year growth (66%) among the top mobile apps.
"Explosive growth, unmatched engagement, attractive demographics, clear monetization strategy and continual innovation make Instagram an obvious choice for consumer brands," says Scott Galloway, Professor of Marketing in L2′s Intelligence Report.
All this makes Instagram a kind of a big deal. But when it comes to Instagram marketing, managing your account away from a mobile phone becomes a challenge.
In this post we outlined 3 tools that will help you leverage Instagram for your business and get more from this platform.
#1. ICONOSQUARE (Formerly Statigram)
The unrivaled leader among all free apps for Instagram is – Iconosquare. It is a French-born marketing solution and perhaps the most popular interface for Instagram, due to the advanced analytics and the largest set of features it offers.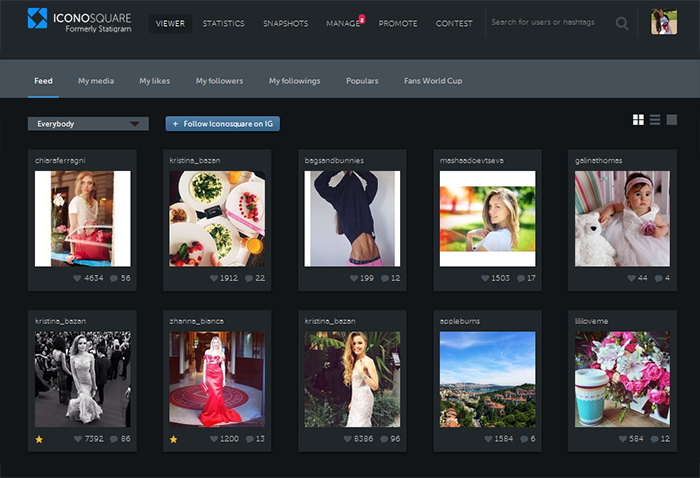 Iconosquare delivers extensive reports on various stats of your account (the Instagram app lacks this functionality).
With this app you can:
Get an overview of your Instagram activity, plus the information for any activity within the last 7 days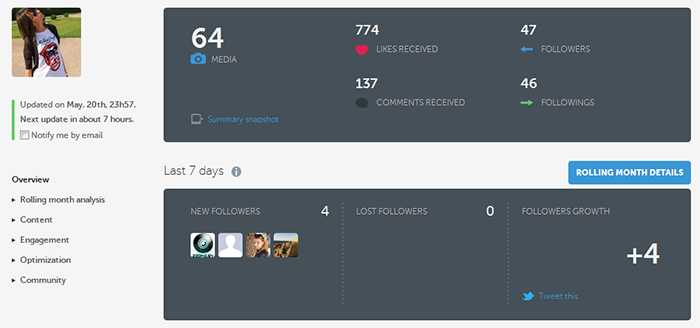 View monthly analysis on photos & view how popular your content is by day/by hour.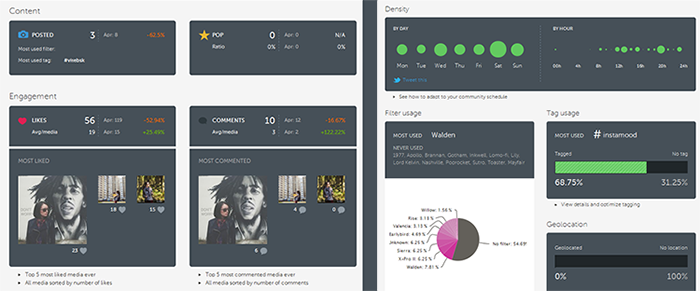 Check growth history, most liked and commented pics, most engaged followers.
Discover the best time to post.
Compare the tags you use with the most popular ones.
Get filter usage stats.
And much more.
One more fantastic option offered by Iconosquare is the Promote section, which gives you the following possibilities:
Get Public URL and link it to your Facebook page (people who do not have an Instagram account can now view your Instagram photos and comment on them using their Facebook account).
Create a Tab for your fans to discover your Instagram feed (and at the same time tightening the bonds with both of your networks).
Create a Cover of your 50 latest photos posted on Instagram.
Integrate the Gallery Widget and the Follow Buttons to your blog or website.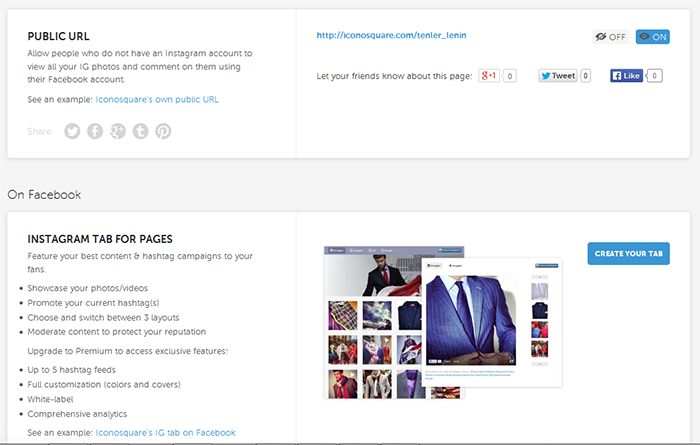 Iconosquare is hats off the best tool available out there for Instagram marketers and ardent users.  It offers a bundle of unique features that can't be found anywhere else. With Iconosquare you will get a better picture of your Instagram account.
# 2. Nitrogram
When you are ready to "go pro" with your Instagram marketing,  Nitrogram  is here for you. It offers businesses a platform that can help discover, manage and analyze your brand on Instagram.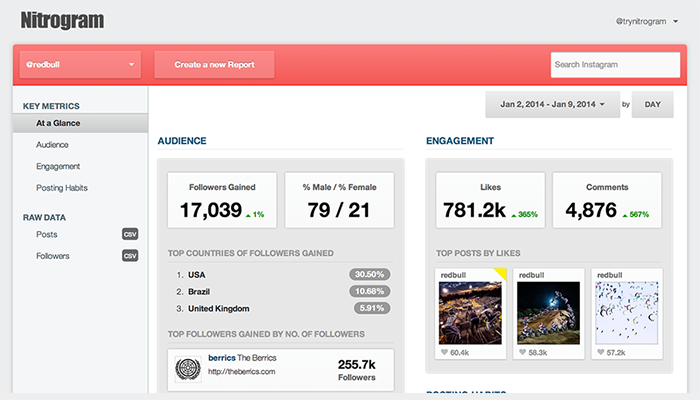 With Nitrogram you can:
Get detailed reports about the @account or #hashtags you are using.
Analyze ANY public account.

Monitor your followers (gained and lost ones).
Locate you Instagram audience.

Analyze audience demographics.

Measure data about the campaign(s) you are running on Instagram and analyze engagement across your account.
Locate your community.
Surface the most engaging posts on a topic.

The tool comes in 3 versions. Below you can see each of them and of course, you can check their free demo version.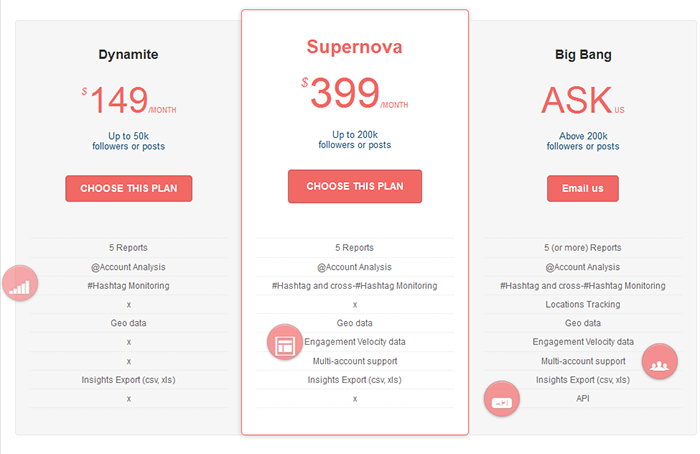 Summing up, Nitrogram is a great tool for businesses to analyze Instagram stats, managing content, enlarging following, benchmark competition, measure engagement and much more.
#3. Union Metrics for Instagram
April 16, 2014 a brand-new Instagram analytics tool – Union Metrics – was introduced. Union Metrics for Instagram lets you  access real-time, ongoing analytics reporting for any account or hashtag on Instagram.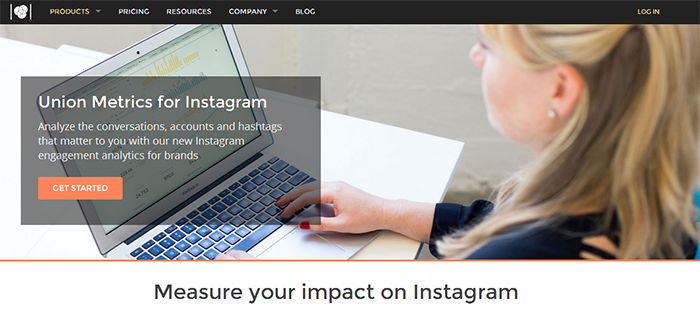 Use the app to:
Discover your most popular pics and hashtags.
Benchmark competitors.
Analyze likes and comments.
Monitor hashtag reach & discover the best time to post.
Identifyyour brand's biggest fans and advocates.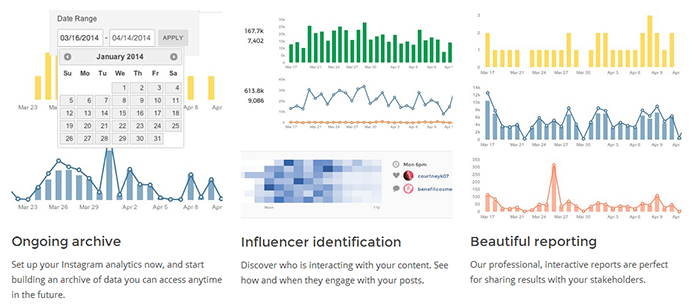 The app comes in 3 versions: basic, plus and premium. Also you can get a free trial period to test this new tool.

Union Metrics for Instagram is a promising new tool that offers a set of useful features. Time will show whether it can successfully compete with the mastodons of Instagram analytics tools. Right now we wish them Good Luck!
Bottom line
No doubt, Instagram is a great place to promote your business. And the right tools for Instagram analytics can help you lead your Instagram strategy in a smarter way with better engagement to your content and more enjoyment for your followers.
How does your brand measure up with Instagram or have you tried any of the above mentioned tools? Do you know any other apps that can manage your Instagram content?
Feel free to share in the comments.