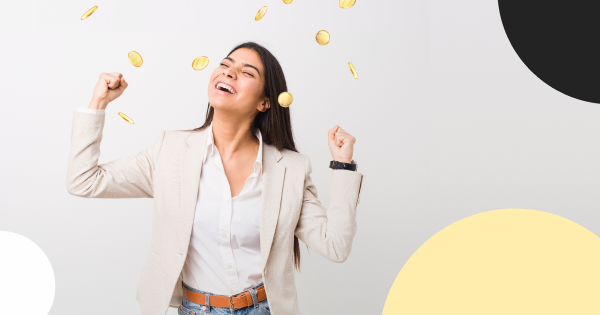 Reading Time:
3
minutes
In this day and age, the eCommerce domain is refining with new features and trends replacing one another. If you want to keep up with the latest industry trends, you should develop new promotion strategies and make the most of your store. Be ready to overcome the hurdles, spark new ideas, anreward maintain a successful business. So, how about moving on bigger things and advancing your brand?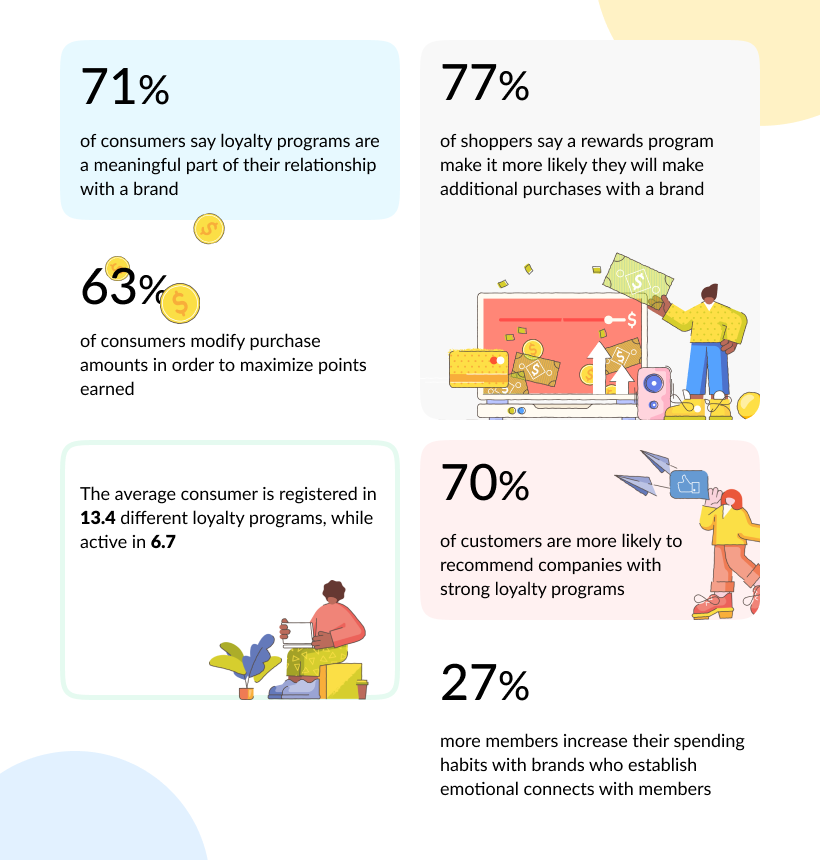 What is a Loyalty Program?
Customer loyalty shows the extent to which purchasers are faithful to a certain brand or, in other words, how they aspire to return to your store, doing shopping again and again. By fulfilling transactions or doing diverse activities in the eCommerce store, customers earn reward points that they can outlay toward shopping.
For example, you, as an eCommerce store owner, set and correct the conversion rate between currency and reward points, so based on it, customers can switch their points to products. What's more, you can add these reward points to the customer account balance on such special occasions as birthdays, anniversaries, and so on. Or you can set additional stipulations so that the customer gains a reward only if they are met.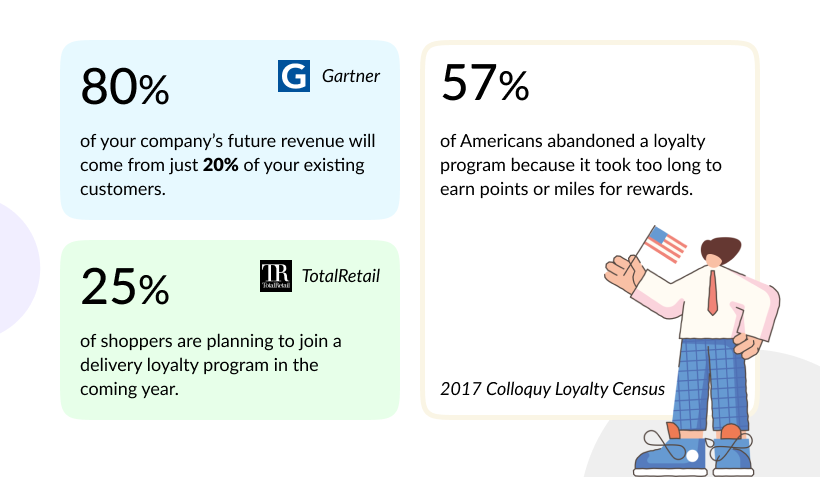 Profits You Get With Loyalty Program
Applying loyalty programs is a popular marketing strategy, especially common among large stores, where plenty of people make purchases every day.
If you're facing the difficulties of attracting new clients, the point-based system can become an excellent solution. It helps you boost the conversion rate significantly and keep customers engaged in gaining points and splashing their money in your eCommerce store. There's no doubt that it's hard to maintain the operating costs, run commercial fees, draw new customers and retain the old ones. But now, Magento 2 Reward Points Program can simplify it for you. Take a look at how it works.
Embolden your customers with an offering like "Want to get 20 extra points? Just share this post with three of your friends, then you'll receive them". In this case, you have a satisfied customer plus more and more people getting to know your brand. Magic, right? By the way, doing it, you're killing two birds with one stone, as this is a wonderful strategy to promote your store in social media.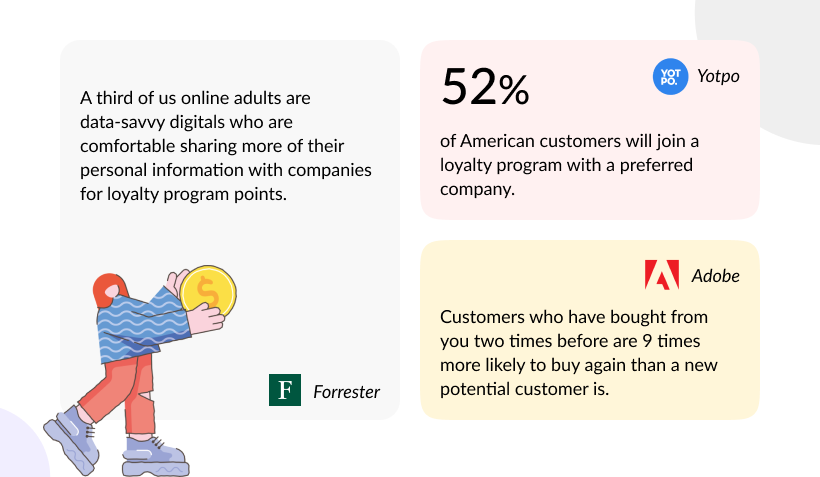 Other Benefits a Reward Program Has to Offer
When making purchases, customers will receive Magento 2 loyalty points, so they can save the points up and spend for another purchase. This way, your purchaser will feel like a boss when they have more chances and currencies to buy products from your store. Their effort wasn't wasted after all.
Personalize Your Rewards Program
Personalization is a significant step on the way to prosperity. Get through the most impervious clients by personalizing your Magento 2 customer loyalty program. Providing your customers with extra points on special occasions can make them feel on cloud nine. Whoever said that a happy client is a walking advertisement was right.
Another advice is to send out notifications informing your customers about the points they have. As a result, you'll create a loyalty program, which improves customer satisfaction and increases your margins.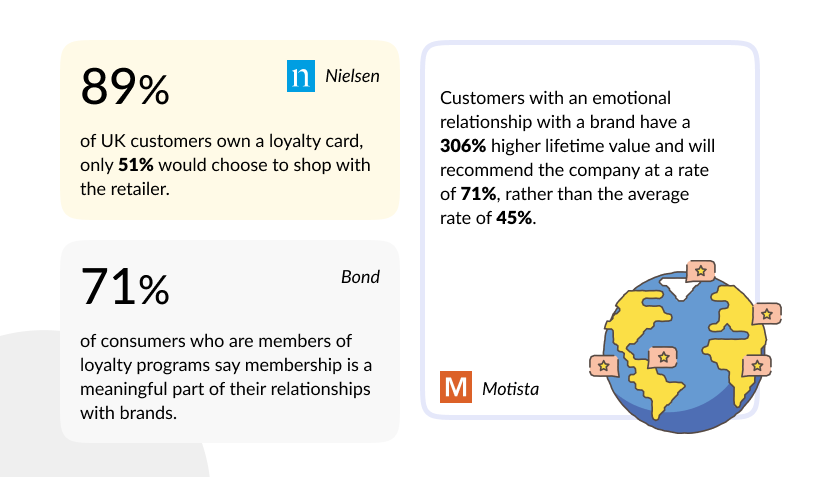 Highlight Rewards
By highlighting rewards, you can receive lower cart abandonment and reach higher sales. Your customers will obtain advertising messages on how many reward points they receive if making a purchase. This method works as a great tool for stimulating sales. Due to common reminders of points, notifications will motivate buyers to spend more on your store.
Monitor Customer Activity
You can understand customer behavior better, afterward influencing it, when monitoring their activity. This, in turn, gives you greater opportunities to draw customers to your brand as you know why they choose specific products. Monitoring activity, you can wear your customer's shoes and understand them better.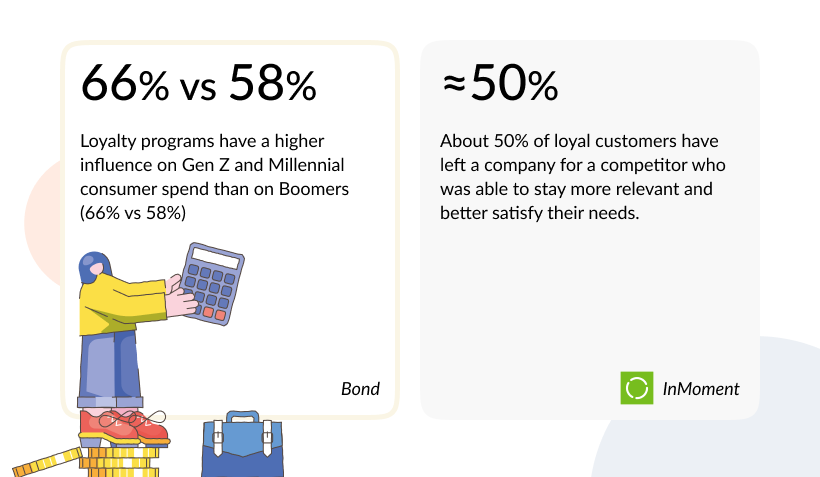 Take into Account Statistics
Analyze the productivity of the Magento 2 loyalty program with an appropriate analytics tool that provides you with smart data. Statistics allow us to collect all the necessary data, letting you discover the strengths and weaknesses of your store promotion policy. Thus, when making data-driven decisions, reckon in trustworthy statistics.

If you're on the lookout for a robust Reward Points Extension for Magento 2, look no further, MageWorx has got you covered.
This extension is perfect at:
Building customer loyalty & improving retention,
Achieving business-specific marketing goals,
Bringing personalization to your loyalty program,
Proving advanced reward points management,
Giving customers access to their reward points data,
Proving Advanced API Support.
Final Thoughts
By setting a comprehensive loyalty system employing Magento Rewards, you can turn your purchasers into your brand supporters. Since modern consumers trust peers over the advertisement, fostering loyal customers who will then speak out on your behalf, is simply a smart business move.
Remember, an elaborate reward points system brings to an increase in revenue and repeated purchases, which in prospect helps you build lasting relations with the buyers. Seize the opportunity to grow your business at the hand of an easy to use Magento 2 Rewards Program.