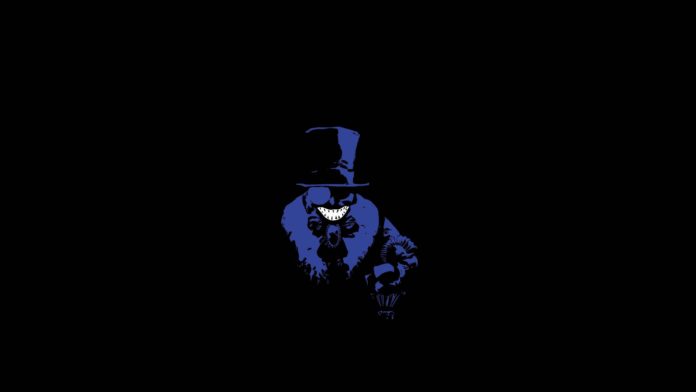 Reading Time:
7
minutes
The penguin is such a nice, funny and cute little creature… Unless it's a name of the Google algorithm that has banned your website from search results!
The sad truth is that recent Google Penguin algo updates have ruined lots of eCommerce and Magento-based businesses.
No matter how much you have invested in creating a well-optimized, functionality-rich online store. If you don't regularly monitor and clean up your site backlinks, you're putting your eCommerce business at risk.
What Is a Google Penguin Penalty?
Google Penguin is a machine-learning algorithm that was introduced by Google in 2012. Its main goal is to detect spammy backlink profiles, de-rank or even ban all sites that are somehow involved with spammy, low-quality backlink acquisition.
Magento stores that have a big percentage of such backlinks are penalized automatically, without any prior warning.
What Does a Google Penguin Penalty Mean to an eCommerce Store Owner?
As a rough estimate, right after its launch Penguin affected approximately 3.1% of search queries and billions of websites in English. And with each update, the number of affected websites continues to grow.
How the penalty can affect your online business?
Let's assume you are a merchant, and your online store generates $100,000 revenue a month. On average, about 40% of store eCommerce revenue comes from Google search.
Penguin penalty leads to the loss of your site rankings or a complete exclusion of your store from search results, which in turn can bring a 40% revenue loss (=$40,000).
Recovering lost rankings is quite a difficult and time-consuming activity. It implies a whole set of measures, analyzing all site backlinks and sorting out those that don't correspond to the current Google's standards.
Also, the recovery process can cost you an art and a leg. On average, the whole complex of Penguin recovery activities may incur from $3,000 to $5,000 expenses.
So, in the best case scenario, such the total losses for 3 months can in total exceed a 1-month revenue (3 x $40,000 + 3 x $5, 000 = $135,000).
And note that even in case of successful backlinks profile clean-up, you'll have to wait about 3-5 months to see your store getting back to search results. The saddest thing is that it's almost impossible to fully recover site ranking even after penalty restrictions have been lift off.
Hence, it's always better to prevent Google Penguin penalty rather than cure it.  
How to Identify Google Penguin Penalty?
There are several ways to understand that your Magento store got under Google Penguin penalty.
If you've noticed a sudden decline in the amount of your site visitors, check your site rankings. If you see that your site has moved 3-5 pages deeper into the search results, it's most likely been penalized by Google.
You can run the site:yourdomain.com keyword operator. In case it returns no results, we have bad news for you… Your Magento store has been totally banned by the search engine and completely excluded from top 100 search results.
Next, you need to understand which type of penalty has been applied to your website. Basically, there are 2 kinds of them:
Manual penalty  
If someone flags that your website for taking part in forbidden backlink schemes, Google applies a penalty to your site rankings. When it happens, you get the corresponding message in your Google Webmaster account. Somewhat like this: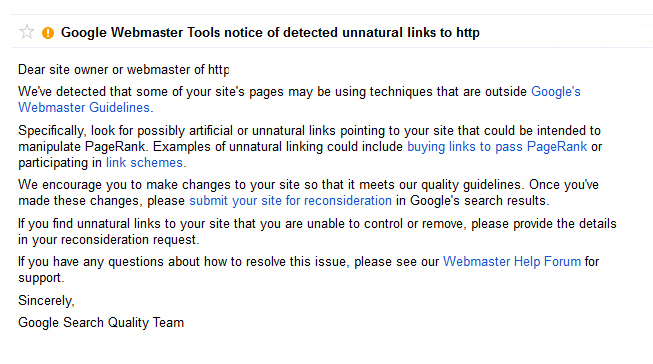 Algorithm update penalty
A change, or a group of changes in the search engine algo can trigger a website automatic penalty.
This type of a penalty is difficult to identify — you have to analyze your store rankings fluctuations, Google's cached search results, your site search listings, PageRank etc..
If your website suddenly disappears from search results, most likely it's the results of such a penalty.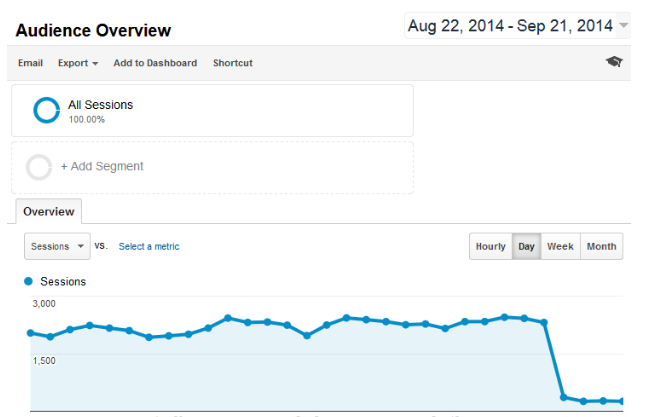 What Triggers the Penalty?
To work out a roadmap for recovering from the Google Penguin Penalty, you need to figure out what led to the ban. Below are the most common (and some uncommon) reasons your Magento store can be punished for.
Buying links
According to the official statement made by Google, purchasing backlinks of any kind is not favored by the search engine.
Unfortunately, some eCommerce site owners still fall for Fiverr packages that offer a bunch of 'top quality links' just for $10. As a rule, such links come from low-quality or thin content websites, shady blog networks, link farms, etc. and can do nothing but harm to site rankings.
Comment Spam
At the dawn of SEO, forum & blog commenting were the easiest forms of getting backlinks.
Things have changed since the early days.
When leaving a comment link anywhere on the Web, you should remember that there is a huge difference between spam commenting and leaving a message with SEO in mind. Posting a big amount of meaningless comments on irrelevant websites, spammy forums and blogs is against Google Webmaster Guidelines.
So, if you or your SEO did that at some time in the past, you should carefully scan your backlink profile and get rid of such links.
And remember that if you keep posting informative, topically relevant comments on authoritative websites or forums— it is still ok and can even contribute to diversification of your backlink portfolio.
Check out what Matt Cutts tells about this.
Blog Networks  
Before Google Penguin update most SEO companies (with a very rare exception) were involved into building private blog networks.
Basically, it used to work like this: one created dozens of blogs, usually with thin, spammy, machine-generated content and linked them to the promoted website.
With Penguin update, Google learnt to detect such machinations, and now the search engine punishes all sites associated with this link acquisition method.
So, if you're not sure whether your previous SEO did somewhat of the kind, you should carefully scan your site backlinks and disavow those that come from blog networks.
Guest Blogging
We all remember a famous "Stick A Fork In It" saying by Matt Cutts.
Yes, guest blogging was officially devaluated as a method of gaining backlinks about 2 years ago.
The main reason why Google made such an unpopular decision is that this link building method was seriously abused — lots of people were trying to game the system by posting low-quality content on downscale blogs.
But are all links coming from guest blogging harmful to your site rankings?
If you read in between the lines of Matt Cutts statement, you'll see that he was mainly referring to blogs, created solely for an SEO purpose. The saying doesn't refer to authoritative, multi-author, high-quality blogs.
Thus, if you create unique content and share it on some popular, high-PR niche blogs, it is still a good link building technique.
However, you should anyway scan your current site backlink profile to make sure you have no links coming from third-rate, compromised blogs.
Anchor Text Overuse
As the saying goes: "Too much of a good thing is a bad thing".
Some time ago, we were all hunting for Dofollow links with anchor text properly staffed with our main keywords. As a result, a site backlink portfolio could pile up a collection of links with nearly identical anchors.
Penguin update introduced a Natural Anchor Text Distribution Formula.
Now, Google scans you entire backlink profile and defines the ration of various anchors. Ideally, you should have:
10-15% of exact match anchor text. E.g. summer shoes
10-15% of phrase match anchors. E.g. buy summer shoes in Moscow
about 20-25% of anchors that contain your brand name and keywords. E.g. S-Shoes,  buy summer shoes in S-Shoes store, etc.
25% of naked anchor URLs. E.g. www.s-shoes.com
and about 10-15% of other keyword variations. E.g. buy leather shoes in S-Shoes store
Note that in order to make your backlink profile more natural, you should also have a certain percentage of Nofollow links – about 10-15%.
Such anchor text distribution strategy will help to create a maximally efficient backlink profile.
Advertorials
In 2013, a famous British flower delivery website Interflora disappeared from search results because Google detected a huge amount of advertorials they placed on regional news sites.
With Penguin 2.0 selling links or advertorial pages with embedded links of a nondescript website (with the content of an authoritative website that pass PageRank) is against Google guidelines.
So if you have ever engaged into promoting your website this way, you should find such links, clean them up or disavow.
Am I Safe If I Haven't Done All That?
Unfortunately, no.
Almost every more or less visited website is getting links in a natural way — somebody links to it, shares the links on the Web, etc.
Hence, you can't but monitor your site backlink portfolio to make sure you are getting linked to trusted websites. Also, by performing regular link checks you'll be able to detect if your competitors are trying to bring your store down by linking it to some low-quality, spammy sources.
And remember, every website is getting links while it's alive. So even if you have been getting links only from trusted, relevant sources, there's no guarantee that they won't get banned for getting links that don't meet the latest Google algorithm standards.
How to Recover from Google Penguin Penalty?
The road to recovery from this penalty is pretty long and requires a lot of analytical work. So…brace yourself.
First, you need to collect maximally full amount of your site backlinks. The point is Google doesn't really show you all links that point to your website — the search engine let's you see only a small portion of them.
That's why to collection the maximum amount of links to analyze, you need to bring into play some 3rd party services, like MajesticSEO, Ahrefs, etc. These services have their own spiders that crawl the Web and store all found links in their own databases.
When you complete these step, you need to analyze each link against various SEO factors and surface those, that don't meet the criteria mentioned above.
You need to check:
a link URL pattern
its anchor text
name of the server a link comes from
website design and CMS
backlinks grows intensity of the site-donor
a linking site's whois info
presence in the Google index
and a dozen of other important SEO factors
This is rather a time-consuming activity and can take you ages especially if you have an old website with hundreds of thousands of links.
Hence, we recommend you to use some advanced backlink analyzers (e.g. LinkDetox, Ahrefs, SEO SpyGlass) that significantly simplify this work and let you quickly sort out site toxic backlinks.
Also, these tools provide you with a wealth of other valuable data, such as toxic link rate, ratio of different link types, analytical data on redirects, link statuses, growth, etc. Having all this info, you can quickly sort out the links that are holding you under Google's penalty.
Having identified potentially risky links, you need to:
reach admins/owners of linking sites and asked them to remove links to yours
OR create a disavow file and submit it to Google.
That may sound easy in theory, however, when it comes to practical implementation, it may take a lot of time and efforts.
And the most important thing is that removing toxic links doesn't guarantee that your website will jump back to its previous positions in Google search. Yes, you may observe some rankings improvements within next 3-5 months, however, compromised online stores need to completely 'whitewash' their reputation to get back to the top.
Also, if you have detected some potentially risky links that point to your website and disavowed them, you should be aware of the fact that this action may cause some drop in your site rankings. The dilemma in this case is: you can either temporary lose a little of your traffic OR leave those harmful links and completely get penalized by Google.
Is All This Stuff Over Your Head?
If everything you've read in this article makes your head reel, don't worry.
We've recently launched a new Magento Bad Link Cleaner service that will detect and remove all toxic links your website has.
Our service includes:
– Evalu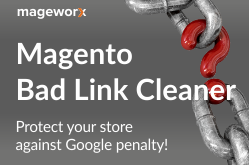 ating each backlink according to various SEO criteria
– A full audit of a website backlink profile
– Sorting out all deadly and risky back links
– Creating a Google disavow file
– Submitting the disavow file
– A detailed Backlink Clean-Up report
– Pre- and post- backlink cleanup support and consultancy
So all you need to do is just… send us your site URL — and we'll get you all covered.
Protect your Magento business from Google Penalty.