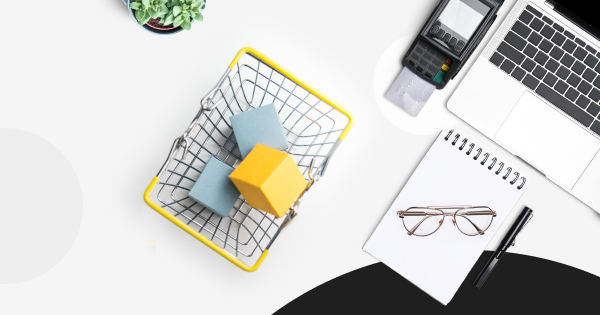 Reading Time:
11
minutes
Today, it is easy to shop without leaving your home. A large number of eCommerce companies perform on the Internet using retail SEO and provide a wide range of goods and services.
Without search engine optimization, the ever-growing offers from online retailers make visibility and reaching the target audience rather challenging.
According to Smart Insights, about 81% of present-day consumers select an online store for purchases with the help of search engines:
People enter their requests and select the best-matching eCommerce website. To drive traffic and convert Internet searchers into in-store customers, retail SEO is required.
With the help of eCommerce site optimization, it is possible to perform well in a highly competitive market and increase conversions.
A win-win marketing strategy for retailers should start with an in-depth SEO audit that is focused on the top SERPs, organic traffic growth and results in sales boosting.
Step-by-Step SEO Audit Guide for eCommerce Stores
If SEO for new eCommerce stores uses a similar clear algorithm without correction of tech errors, the online shops that have already been performing on the Internet should pay attention to the technical aspects first.
Even so, the tech audit part of an efficient SEO strategy will come in handy even for retail newcomers.
It is worth noting that the elimination of technical weak spots is a great starting point for eCommerce website performance.
This way, retailers can understand how their store is indexed, crawled, and ranked.
The tech retail SEO audit also includes analyzing the UX of the website, its structure and internal linking, as well as redirects.
Any errors relating to the technical site's background should be eliminated for higher search engine rankings and improved user-friendliness of the online store.

Tech eCommerce SEO Audit
If you would like to see your online store in the top Google search results, start with a retail SEO audit first.
Ecommerce websites usually obtain many product pages, catalog item descriptions, and other elements that should be optimized well.
Follow recommendations that will help to deal with technical issues in the most efficient way for your online visibility and SEO rankings.
Crawability & Indexability Analysis
Analyzing crawlability and indexability rates of your online store involves in-depth diagnostics of numerous technical aspects at once.
For example, the way search bots crawl an eCommerce website depends on the site structure together with the XML Sitemap listings, Robots.txt, and meta robot settings.
At the same time, indexability analysis includes a special-purpose tech audit to eliminate:
Poor redirects
Server errors
Duplicated pages
It is recommended to undertake a technical site audit with the help of tools and software for tech issue detection and necessary SEO-driven configurations.
Let's take a closer look at the tech SEO for retailers in the context of indexability and crawlability analysis.
Crawlability Analysis
When it comes to crawlability analysis, the SEO audit includes a check of the Robots.txt file, meta robots, and XML Sitemap listings.
If these technical aspects are optimized well, crawlers recognize the pages and content presented on the retailers' websites better.

Robots.txt
Some eCommerce site pages do not bring much value for crawling.
To hide some of them (like About Us, Shopping Cart) from search engine crawlers, the Robots.txt file is used.
The disallow attribute can be applied to prevent crawling.
For example, if you want to block the About Us page with the help of the Robots.txt file, the code will look like this:

Note that if you do not perform the audit to find the website sections that should be hidden from crawlers, your online store ranking can suffer from non-optimized pages being taken into account for the eCommerce website crawlability.
Add Robots.txt disallow attributes to reduce the crawling budget.
This way, your performance as a retailer on the Internet will improve.
But remember that Robots.txt stops Google spiders from crawling.
However, to prevent the indexation of some pages, you need another option.
Meta Robots
If Robots.txt is considered a supplementary option for your crawlability-driven strategy due to its blockage of crawlers' scanning capabilities, meta robots can fully control which pages should not be indexed.
They allow retailers to hide some category pages (for example, with duplicated content) from crawlers with no harm to the link building profile.
The meta robots obtain the option of the noindex attribute that looks like this in HTML code:
<html><head><meta name="robots" content="noindex" />
XML Sitemap
Using special-purpose XML Sitemap listings allows retailers to improve the online store's crawlability.
The list of category pages and other on-site elements are well-structured for content performance.
Search engine crawlers pay attention to XML Sitemap listings when it comes to content and eCommerce website structure analysis.
It is more likely that bots will not miss any page and demonstrate an adequate response based on 100% recognizable on-site elements.
Let's take a closer look at an example of the XML sitemap for Magento 2 shops:
We can see the sitemap of an online electronics store with the Computers category page.
The eCommerce website contains images of PC models.
This way, crawlers will be able to recognize the category page and imagery related to the catalog items of the online store faster.
Indexability Analisis
The Tech eCommerce SEO audit is impossible without an indexability analysis that covers the elimination of such technical issues as duplicated pages, low page load speed, and poor internal linking.
Let's start with page duplication that can harm your search engine optimization and content marketing strategy.
The main idea is that the eCommerce website ranking depends on the quality of your content.
If product descriptions or other texts are similar, search engines may consider them spammy and rank your online store lower.
Google bots push up only those eCommerce sites that provide high-quality (read unique) content.
Page Duplication & Canonical Tags
The meta robot noindex attribute was mentioned before to cope with the issue of page duplication.
One more option that can be applied after the tech SEO eCommerce store audit is canonical tags.
This way, duplicated pages will not harm the ranking of the eCommerce site.
Let's take a closer look at the Flipkart example of using canonical tags.
Here, we can see that the product page Nokia Lumia 520 is under the canonical tag.
It means that the on-page content that the Indian online retailer presents is not considered for indexation.
This way, the Flipkart ranking will not be affected by the page duplication issue.
It is worth mentioning that online stores cannot avoid duplicated content because many catalog positions have similar features in their descriptions.
The SEO tech audit for eCommerce store owners detects the range of pages that should be hidden from indexation with the help of noindex and canonical attributes.
Ecommerce Website Structure & Internal Links
One more task of the tech SEO audit for retail websites is to analyze the online store structure. An eCommerce site should follow the rule "the fewer clicks the visitor does to navigate through the website, the better." The most optimal structure for online retailer's shopping platforms is: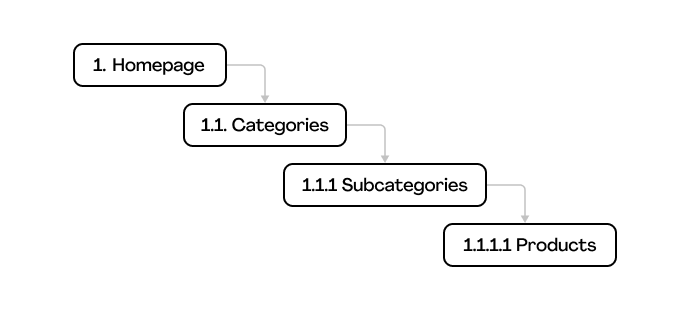 Do not forget about breadcrumbs to further enhance the navigation of the eCommerce website.
This is about UX improvements, although breadcrumbs can be mentioned here too.
Internal links matter significantly.
Well-thought-out internal linking is half the battle for getting high ranks.
Search engine bots navigate better through the eCommerce website, and so do visitors of your store.
Internal links are like pointing marks:
This page is important (for ranking as well)
This page is inessential for search engines.
Note that the final result of the internal link analysis is optimized site architecture.
Complement your SEO-friendly retail website structure with well-organized internal links.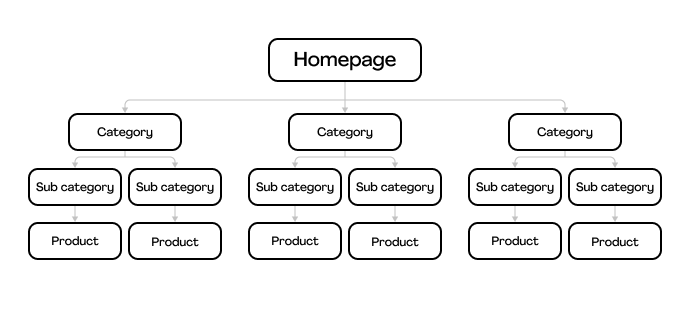 Redirect & 404
If you have broken internal links or nonexistent pages on the website, the 404 error can occur.
The tech SEO for retailers includes an audit to detect 404-pages and fix them.
Neither eCommerce site visitors, nor search engines like 404 errors.
To eliminate 404-page error, use one of the following methods:
Redirects. It is the best option for an online store is a 301-redirect. Users will be sent to the relevant page or to the homepage.
Custom 404. It's a page with links to main categories. You can apply some cute or funny designs to customize the 404-page.
Take a look at an example of a custom 404-page by Karmaloop.
Image credit: Karmaloop
It is worth noting that even the most creative and eye-catching design for the 404-page cannot solve the issue completely.
Page Load Speed
This is one of the most critical aspects of UX.
If your potential buyer enters the online store but waits too long for the page to load, they will probably leave the website.
Low page load speed affects the bounce rate and Core Web Vitals.
The main hacks in the context of tech SEO for eCommerce stores to solve the issue of low page load speed are:
Opt for browser caching and third-party hosting.
Remove unnecessary JavaScript.
Serve images in the next-gen format (like WebP, JPEG 2000, JPEG XR).
Compress images to reduce their size.
Cut off the number of 301 redirects.
Decrease the number of active plugins.
Limit lines of your CSS script.
Mobile-Friendliness
Most of your potential customers prefer mobile decision-making.
It means that more and more people shop via pocket screens. Therefore, the user-friendly online store should have a mobile-first or responsive design.
For example, the LUSH website is considered a mobile-friendly online store. Its desktop version differs from mobile.
Image credit: Lush
The store's design version for pocket screens is scroll-friendly. It has minimalistic color patterns, big fonts, easy-to-read blocks, and huge product icons.
Other hacks to make the eCommerce website more mobile-friendly are:
Follow the rule of high-grade graphical content. Images should perform well in both desktop and mobile versions.
Use eCommerce plugins and tools that have been built mobile-friendly (for example, marketing and sales extensions for Magento 2 shops with responsive design).
Put contacts and special offer popups at the top of the mobile website version. Add scrolling and touch pod interaction options.
Optimize the loading speed and compress all the imagery for immediate search response.
One more approach is to focus on social media networks.
Use social media traffic channels directed to the mobile version of the online store.
Today, every second mobile user has an account on Instagram, Facebook, or TikTok.
A mobile-friendly eCommerce website together with social media marketing campaigns is a great tool for boosting sales.

On-Page SEO for Retail Websites
In comparison with other websites, online stores have a different approach to on-page search engine optimization.
First, eCommerce sites have many duplicated pages. It means that the main focus should be on keyword optimization.
Unique content is not the biggest ally of online stores.
Even so, the content audit also comes in handy for retailers' SEO.
Plus, product page optimization is required as an on-page search engine optimization tactic.
Keyword Research & Keyword Optimization
First, the retailer should undertake keyword research.
Use SEO software, Google Search Console, and online keyword planners.
This way you will get the best-matching key phrases for your eCommerce market niche.
All the targeting keywords should be placed in:
Page titles
Headings
Product descriptions
Image alt text (tags)
URLs
Let's take a look at the particulars of eCommerce keyword optimization.
Page titles should contain the main keyphrases (targeting ones).
It is better to include the store's title here to make the keyword branded.
Sometimes the page title can appear in search results if the potential customer hits the key phrase you included in the title.
Avoid using long-tail keywords here.
It is more reasonable to add these key phrases to the text on the category page or in the supplementary pages like Blog, Our Assortment, etc.
Additionally, use long-tails for anchors, category pages, and internal linking.
In meta description, use incentives, the shop's title, and targeting keywords.
This way your website will highlight the strengths while appearing in top search results.
Make your headings and product descriptions keyword-rich as well. It will benefit your store's ranking.
Do not be limited in the type of keywords. Both short-tail and long-tail keyphrases can come in handy for website optimization if it is reasonable and appropriate for your online store content.
Do not forget about your images and URLs.
Alt tags should contain keywords to help search engines recognize pics, even if they are poorly loaded.
Alternative text should be written as if you are trying to describe the picture to a blind man.
Regarding retail, the best variant for alt tags is the product name.
Additionally, the task of alternative text is to improve the image search.
Usually, retailers use the product name for the Alt tag.
The same story is about URLs. Make them keyword-optimized. Add targeting key phrases to boost your ranking.
Note that page content should also be keyword-rich. Select key phrases with top search volumes (the most popular queries in the context of your retail niche and goods or services you offer) and provide powerful signals to search engines.
Use targeting keywords phrases that will attract your target audience. But do not make texts spammy.
Both people and search engines dislike keyword stuffing.
Follow SEO tips for eCommerce sites in the context of product page keyword optimization:
Add keywords to the product description.
Optimize URLs with key phrases, but make each one unique.
Use noindex attributes for pages with similar content.
Off-Page Ecommerce Store SEO
SEO for new eCommerce stores includes a backlinking approach.
Backlinks remain one of the most powerful ranking signals.
Spammy links can ruin your dreams of top SERPs.
Nofollow links will build your authority as the eCommerce website and brand (more recognizable signals for search engines, trust, driving traffic, healthier backlink profile).
But the most useful backlinks for online store SEO (as for search engine optimization of any other website) are do-follow links.
Retailers can build their high-grade backlink profile with the help of:
Publishing guides about your products
Running an educational section with how-to articles
Inserting links to the content with retail brand mentions
Blogger outreach (giveaways, product samples, unpackings)
Video marketing (YouTube instructional videos, etc.)
Image credit: Stanley Handcrafted
Partnering with retail product ambassadors
Guest posting
Press releases
Image credit: Cision
Another good idea is to create your own blog to make people share some useful tips and hacks.
This way your brand recognition and search ranking grow.
For example, Nike has a separate-standing blog page on the website. It is Nike News. The company uses these articles for cross-linking and for higher rankings too.
Image credit: Nike
Local SEO for Retailers
The eCommerce SEO guide is not limited to tech, on-page, and off-page search engine optimization.
Optimizing your online shop for local search is essential for sound eCommerce website performance.
Your local search engine optimization directly depends on the way you force people to discover your store locally.
Go to your website contact form. Optimize your address and telephone number according to the HTML and NAP footing aspects.
Do not forget about Google maps and Google listings.
Social media accounts should also obtain your NAP information (name, address, phones).
Start with signing up for a Google My Business account and setting it up properly―along with targeting local directories.
This is the most essential step in the context of local SEO.
Specify all the required data, including local offices, working hours, CEO, etc.
Avoid virtual offices, because search engines prefer proved addresses mentioned in Google Maps and other local directories.
A Google My Business account together with a branded Google profile, and local content strategy is the best way to acquire Google Knowledge Panel for your business and hit the top local SERPs.
Let's continue the blogging topic.
You can publish blog posts with descriptions of local places, some specials of your physical retail shops, and any funny stories that happened in the town or city you are located.
Complement this approach with geolocation-based social media posts to catch the attention of the target audience.
Press releases, participation in local events (webinars, public arrangements, live streams), and sponsored content in the local publics and local websites will make your online store more visible for people of the targeting regions. Plus, the backlink profile will be driven more by localization.
Additionally, a great idea is to try local backlinking. Find bloggers and publishers in your region. Ask them about guest posting or cross-linking opportunities. This way you will drive local traffic to your store.
Do not forget to include geolocation-friendly keywords in your online store. These are usually long-tail key phrases like "buy a leather jacket in Barcelona", or "order a silk scarf Melbourn online store".
But do not limit yourself to local keywords.
Explore your "neighboring" competitors. What keywords do their eCommerce websites obtain to drive traffic? Add targeting key phrases to compete with top-performers in your region.
One more good approach for local SEO is to analyze Google search queries. Type a question and take a look at what people usually ask regarding your matter. Research this box to get user intent-rich insights.
For example, if your store sells kitchen accessories, research Google's "People Also Ask' section.
Do not forget to take a closer look at the related searches placed at the bottom of Google search results.
Some other win-win strategies for local SEO are:
Engage your customers to review your online store (social media marketing campaigns, website forms like review reminders, etc.).
Switch on Check-In options and encourage your consumers to make geolocation marks with your store this way.
Additionally, post different stories, publications, and questionnaires on social media with notifications about your physical address at the header.
This way some of your followers will be able to use this location for their own posts (in shoes, scarves, clothes, accessories of your brand). Create unique hashtags and encourage people to use them with attractive giveaways and contests.
Image credit: Kenneth Cole
Final Word
Ecommerce market players should keep their eyes peeled.
The competitiveness among online stores is impressive nowadays.
The best way to perform well on the Internet is to drive organic traffic to your shops. That is why retailers need to focus on search engine optimization. SEO strategies may vary from case to case, but the core approaches stay the same.
Ecommerce website owners need to audit their digital platforms regularly to understand how their site is performing online. The in-depth SEO audit for retailers includes tech, on-page, and off-page search engine optimization checks, analysis, and showing monitoring.
Additionally, there is a local SEO audit that is required to hit the target audience in the specific region and increase local brand recognition.
It is also essential to keep track of marketing and SEO trends, together with Google's website ranking updates. This way you will not miss new rules and regulations.
---
Author's bio: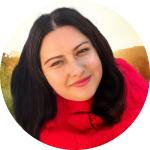 Kelly Breland is a Digital Marketing Manager at SE Ranking with experience in SEO, digital and content marketing. She is a persistent advocate of using content marketing to build a solid brand. In her spare time, she is engaged in gardening.