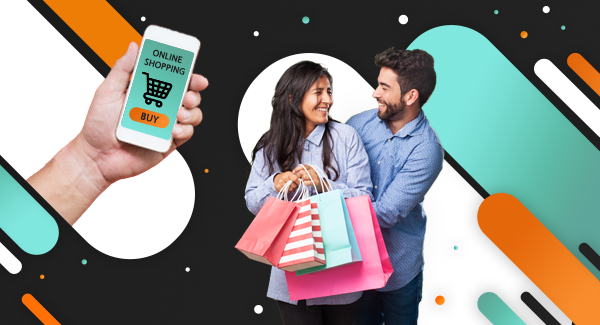 Reading Time:
10
minutes
In this post, we are providing an overview of Magento 2 third-party modules that are especially useful for merchants who run brick-and-mortar stores along with online shops.
Today, we will talk about Magento 2 store locator extensions that are built for improving users' experience on the frontend by allowing them to conveniently search for the closest stores and find directions to them on the map. All the described tools expand the default functionality and bring some unique features to Magento 2 websites, at which we have a closer look below.

Magento 2 Store Locator & In-Store Pickup Extensions Comparison Table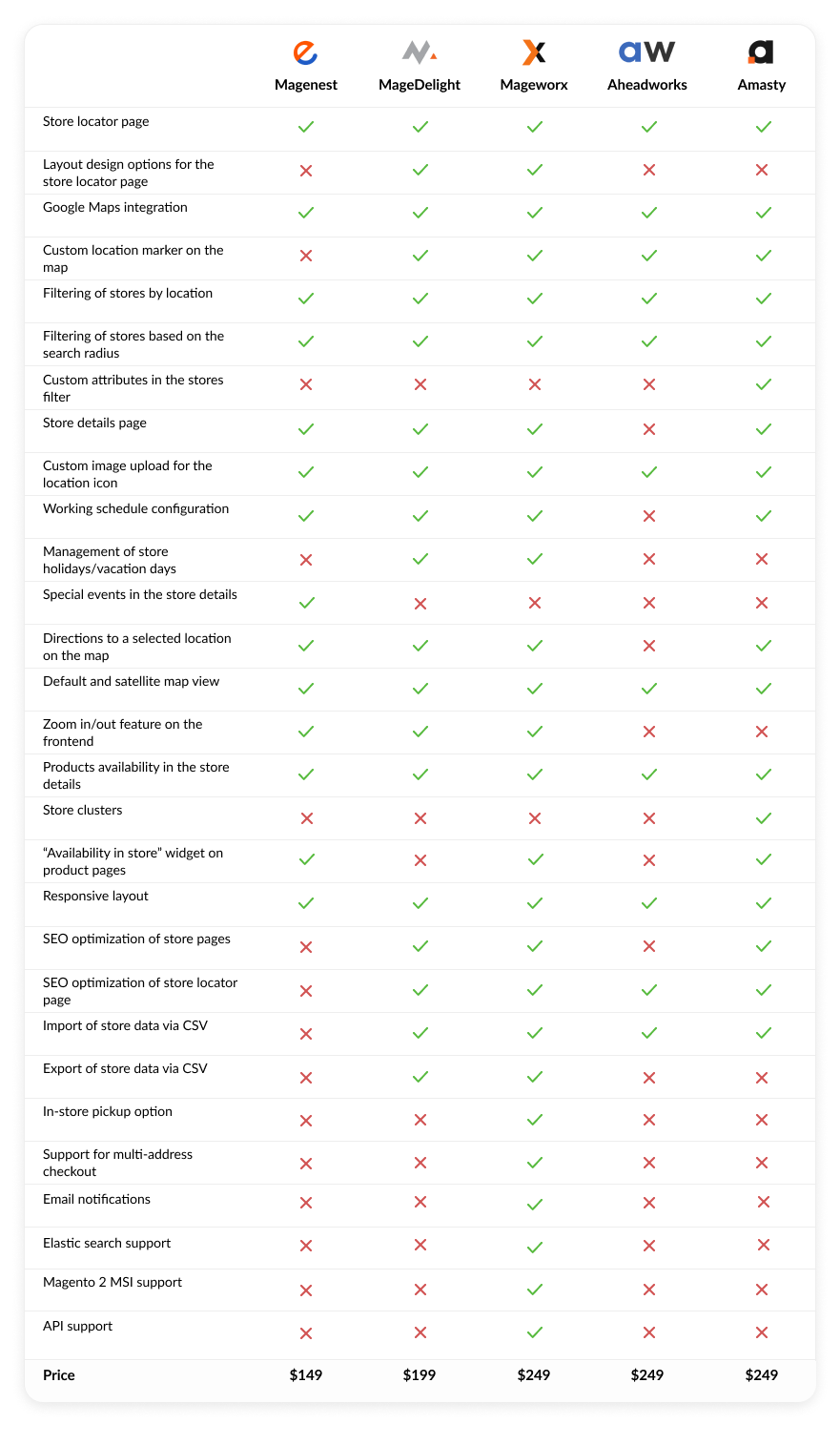 Core Features

Separate page with offline stores listing;
Display of pinned store locations on Google Maps;
Two search bar options for filtering out stores list;
Possibility to narrow down results by setting search radius;
Dedicated pages with detailed info on each store location;
Working hours and special dates configuration;
Option to add icons and images to each store page;
Directions to the selected shop based on a customer's location;
Possibility to switch between street and satellite view on the map;
Zoom in/out feature;
Options to set store coordinates manually or by detecting location directly on the map;
Offline shops list on the product description pages;
Design responsive on mobile devices.
Functionality
Magento 2 Store Locator & Map List by Magenest enables merchants to create a list of their offline stores and display them on a separate page with the Google Maps view. The module's functionality allows website visitors to filter store locations by entering their address in a search bar on the store locator page or specifying the search radius in kilometers or miles.

After finding a nearby shop, a customer can check its details by clicking the View This Store button. As a store owner, you can add the following information to each of your offline outlets: a store name and description, contact and address details, website, as well as opening hours and dates of special events. Besides, you can show a store icon, featured images, and photo slider on each location page. Store details are also displayed in the popup window that opens after clicking on the particular shop's pin on the map.

With the Magento 2 Google Maps list module, web store visitors can also get detailed directions from their locations to a selected offline shop and can check how long it takes to get there. In the same way as when using Google Maps, frontend users can allow GPS navigation to locate their position or set a custom starting point for the route.

From the backend perspective, first, users should acquire a Google Map API key to authenticate the extension with their Google account. Then, store administrators will be able to create multiple points of sale with all necessary details included, set their location on the map, and assign products from your catalog. Also, you can configure the list of stores where a specific item is available and display them on the product description page.


Core Features
Offline stores list displayed on a separate web page;
Integration with Google Maps;
Possibility to look for stores using various criteria;
Option to set a default search radius;
Route directions from the specified location to an outlet;
Sattelite and street views of the map with zoom in/out feature;
Possibility to set a store position on the map by specifying longitude and latitude;
Automatic locating of a store address in the backend;
Customizable store pinpoints displayed on Google Maps;
Separate pages with detailed info on each offline shop;
Display of workdays and opening hours on a store page;
Upcoming holidays list in the store details;
Ability to specify meta tags for each store page;
Responsive user interface;
Import/export functionality via CSV.
Functionality
MageDelight provides another solution for business owners who run both online and brick-and-mortar stores. The company's store locator module allows Magento 2 merchants to show their offline shops on a separate website page and help customers find nearest outlets on the Google map. Website visitors can search for a necessary store using different parameters.

The extension allows users to enter their city, state/province, zip/postal code in the dedicated box, as well as set radius to define a specific area to locate your outlets on the map. Besides, store admins can set default criteria to provide customers with a more convenient search. Due to the interactive map, your storefront visitors can easily find the route to the nearest shop from their current location or a position set on Google Maps.

Online shoppers can choose how they prefer to view your stores on the map, whether in the default map view or satellite view, and use zooming in or out to get a clear understanding of the shop location.

Online store owners can include exhaustive information about each of their points of sale, including address, contacts, images, page URL, store description, website, links to Facebook and Twitter profiles, and image thumbnail. Moreover, you can specify working hours for each particular day, as well as holiday dates per each store. Customers can view store details on a separate page of your website that also shows an outlet's location on the map.

As for SEO improvements, the MageDelight Store Locator extension for Magento 2 lets users specify meta data, including meta title, keywords, and description for each store page, as well as URL keys. Besides, it is possible to make the store list view page more SEO friendly by adding meta description and keywords.


Core Features
Separate CMS page with the offline stores list;
Display of store locations on an interactive map integrated with Google Maps;
5 layout options for the store locator page;
Preview of the store listing page design in the backend;
Custom icons for location markers on the map;
Filtering of store list by address or radius;
Search-by-text box on the store locator page;
Directions to a selected store from a customer's location;
MaxMind GeoIP usage for automatic detection of user location on the frontend;
Automatic detection of store coordinates in the backend;
Adjustable store pin location on the map;
Separate store pages with detailed info and images;
Configuration of working schedule for the whole week or each day of the week;
Display of store details in a popup on the map;
Products selection display in the store details;
Product availability block on the product pages;
SEO optimization of store detail and store list pages;
Responsive design of store listing and store location pages;
Pickup in-store shipping option at the checkout;
PayPal Express support;
Ability to checkout with multiple addresses;
Import and export of data via CSV files;
'Ready for pickup' email notifications to customers;
Email notifications about new orders with in-store pickup for merchants;
Ability to sort stores and offer neighboring pickup locations;
Stock status (in-stock/out of stock) and the qty of available products display;
Elastic search compatibility;
API support;
Magento 2 MSI support.
Functionality
The Mageworx Store Locator and In-store Pickup extension offers a robust solution for listing your brick-and-mortar stores on a separate page with an interactive map. The page is generated automatically and can be adjusted to your website design by selecting one of five different layouts. The Magento 2 module allows admin users to preview the customized store locator page in a live mode in the backend.

As a store owner, you decide whether to display your points of sale on the map view or not. If the function is enabled, your physical stores will be displayed as pins on Google Maps.

The MageWorx Store Locator and Pickup extension provides website visitors with a convenient view of nearby shops and allows filtering store list by country, region, or city. Customers can view the details of a store in the popup window by clicking on its pinpoint on the map or opening the Details link in the store filter block.

Furthermore, a customer can check the route to a selected shop with detailed directions right on the map. Note that the Magento 2 module utilizes the MaxMind GeoIP functionality and country and city IP database that allows detecting a user's current location instantly. This allows displaying the closest to a customer shops on the map, if enabled.
Moreover, the Magento 2 store locator module by MageWorx creates separate pages for each offline shop. Store owners can specify all essential information about each of their outlets, such as an address, contacts (including Instagram, Facebook, Skype, and Whatsapp accounts), and website URL. Besides, it is possible to add a custom image, create a store description using HTML tags, and set a working schedule per each weekday separately. Note that the Store Locator & Pickup Magento 2 extension uses AJAX when loading store details.

Another great feature you get after installing the Magento 2 store locator module is the ability to manage products in each physical shop and display them on the store details page. Store owners can select how to assign products: whether to the whole catalog, particular items manually picked out from the grid or a product selection based on the specified conditions. Besides, you can place a widget on the product pages showing the available quantity in stock and exact shops where customers can find your goods. You can choose one of the five templates for the "Availability in stores" widget that will better fit into the page layout.

As for SEO features brought by the Magento 2 store locator and pickup module, online store owners get necessary tools for optimizing both "Find a Store" page and store detail pages. With the extension, you can generate SEO friendly URLs, set 301 redirects from old URL links, add breadcrumbs and canonical tags, and configure default meta robots. It is also possible to specify meta title, description, and keywords for the store pages.

Compared to the store locator solutions described above, the Mageworx extension brings a unique function allowing customers to select in-store pickup as a delivery option at the checkout. This way, you can extend shipping methods on your online shop and allow customers to choose the most convenient store location where they want their order to be delivered. Moreover, the Store Pickup module enables customers to select different pickup points for various items in a single order due to the support for native Magento 2 multi-address checkout.

Another prominent feature of the Mageworx extension is the MSI support, which allows assigning physical stores to selected inventory sources. This way, you can streamline the management of products stock and track the availability of required products in each source more efficiently. Plus, this module lets you specify display status as in-stock/out of stock, and even display the available quantity of products.

Thus, you can generate SEO friendly URLs, set 301 redirects from old URL links, add breadcrumbs and canonical tags, configure default meta robots, as well as specify meta title, description, and keywords for the store pages.
Additionally, the extension offers the convenience of easy in-store pickup orders management for a merchant and orders receipt for a customer. This is achieved with the help of email notifications. If enabled, your shoppers will receive an email notification as soon as their orders are ready for pickup. Conversely, merchants can enjoy email notifications that inform them about new in-store pickup orders.
If Elastic search compatibility and API support are critical for your store, the extension will be a good fit for you then.

Core Features
Store search results list with an interactive map view;
Google Maps used by default for store locations display;
Possibility to customize default map markers;
Automatic detection of store location based on the specified address;
Ability to set latitude and longitude values for locating a store on the map;
Store search by address or distance on the frontend;
"Find My Location" button for auto-detection of customer location;
Options to display the map in street or satellite view;
Detailed information on each physical shop;
Custom store icons;
Meta tags for the store locator page;
Option to place a custom CMS block on the store locator page;
Mobile-friendly design;
Import of offline locations from a CSV file.
Functionality
Aheadworks brings another solution for Magento 2 web stores that allows searching for offline shops location. With the module, online shoppers can look for nearby shops within a particular area by specifying their country, region, city, or zip code in the Search by Address tab on the store locator page. Another option to search for a necessary store is to set a search radius in the Search by Distance tab on the same page. Storefront users can also leverage the automatic location detection function by pressing the appropriate button next to the current location field.

Store administrators can set the location of each store in the backend and display it on Google Maps for website visitors. With the Magento 2 store locator extension by Aheadworks, it is possible to set the default map zoom in the store backoffice and pin an unlimited number of offline locations on the interactive map.Moreover, you can make your brick-and-mortar shops easily recognizable by displaying custom markers on the map.

When creating a new offline location, you can specify all necessary details to provide customers with comprehensive information on each of your shops. The Magento 2 module lets admin users create a store title, add address and contact details, specify all essential information in the store description, and upload a custom image. Store details are shown in the list of stores displayed along with the location on the map.

It is also necessary to mention that the Aheadworks extension provides settings for the SEO improvement of the store search page with the possibility to specify meta keywords and description.
Also, it is possible to add new stores in bulk by importing a CSV file in the native Magento Data Import section.


Core Features
Possibility to display multiple offline store locations on the map;
Stores filtering based on current customer location and search radius;
"Locate Nearby" button in the store filter block;
Automatic or manual setting of location coordinates;
Customizable "find a store" page;
Support for default and satellite map view;
Automatic clustering of neighbored locations;
Extended filtering based on custom store attributes;
Ability to specify extra information for each physical store;
Gallery with store images;
Weekly store schedule configuration;
"Available in Stores" widget on product pages;
Possibility to display store locator widget on any website page;
Dedicated grid with store reviews;
Import of store location data;
Import of a CSV file with Geo IP data;
Optimized for usage on mobile devices.
Functionality

The Magento 2 Store Locator extension by Amasty is another beneficial tool for eCommerce store owners who sell their goods in brick-and-mortar shops. Similar to the modules described above, it provides the functionality for a convenient search of store locations on the Google map and allows adding a description and other important information to each offline shop.

From the admin perspective, the module provides users with an easy-to-configure backend interface, advanced geolocation settings, and allows a quick update of store info and adding new locations via CSV.

The Amasty module's functionality offers convenient search options for physical stores. Website visitors can utilize the "Locate Nearby" button to allow the system to detect their location automatically. Another option is to set a search radius in kilometers or miles to narrow down the search results to a particular area. Moreover, after installing the store locator extension, your customers will be able to check the distance to a selected shop and its opening hours on the present day. Locations in the search results are sorted by geo position and shown on the map, whether as a single store or clusters grouped by location in various colors.

Another feature of the Amasty store locator extension is related to custom filter attributes. Store owners can add extra information about their offline locations, such as parking availability, payment methods, brands, ATM availability, and a day of new arrivals.
Additional store details can be utilized by shoppers to set advanced search parameters and filter out your points of sale according to their needs.

Furthermore, the Magento 2 Store Locator extension by Amasty allows assigning the products or categories selection based on set conditions to each store individually. With this feature, website visitors can check in which shops a particular item is currently available and open the store details from the product page. Besides, the Magento 2 module enables store owners to place the map with listed offline store locations on any page of their website.

Conclusion
All the Magento 2 store locator extensions reviewed above bring merchants the possibility to guide their website visitors to their offline points of sale. By installing any of these tools, you will provide online shoppers with a convenient search for physical store locations on the map integrated with Google.

As for other features, they vary depending on the chosen module, so you can pick the one which functionality corresponds better with your business goals. In any case, implementing a store finder page on a web store improves user experience on the storefront, builds customer loyalty, and helps merchants promote their physical stores.
Please note that the presented above overview of extensions is not a "from-first-to-worst" list. All described Magento 2 store locator modules extend the default platform's possibilities and provide store owners with different features for adding missing functionality. So, it's up to you to decide which one is the best solution for your web store depending on your particular needs.