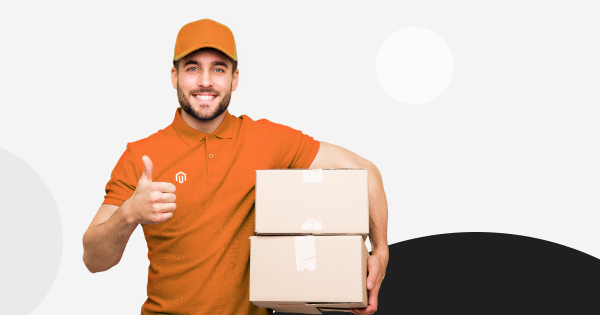 Reading Time:
9
minutes
In modern eCommerce business, merchants have to think further than selling high-quality products if they want to stay on track and stand out from competitors. It is crucial to provide online shoppers with extended services along with the goods they can buy. According to the GlobalWebIndex survey, at least 16% of online shoppers abandon their carts because of inconvenient delivery options. This way, extended shipping options should become a central point of successful sales strategy for every online merchant.
Online store owners who run their websites on default Magento 2 might face some limitations when setting delivery options. One of the missing functions of the platform is related to the shippinmagewprg calendar configuration. Possibility to select the most convenient date and time at the checkout drastically improves the logistics experience and builds loyalty to a brand. Luckily, the Magento 2 marketplace offers various solutions that add the delivery schedule functionality to eCommerce websites. Today, we present you a selection of reliable Magento 2 delivery date extensions that provide necessary tools for bringing order delivery to a whole new level and improving customer service on your web store.
Magento 2 Delivery Date Modules Comparison Table & Price Tags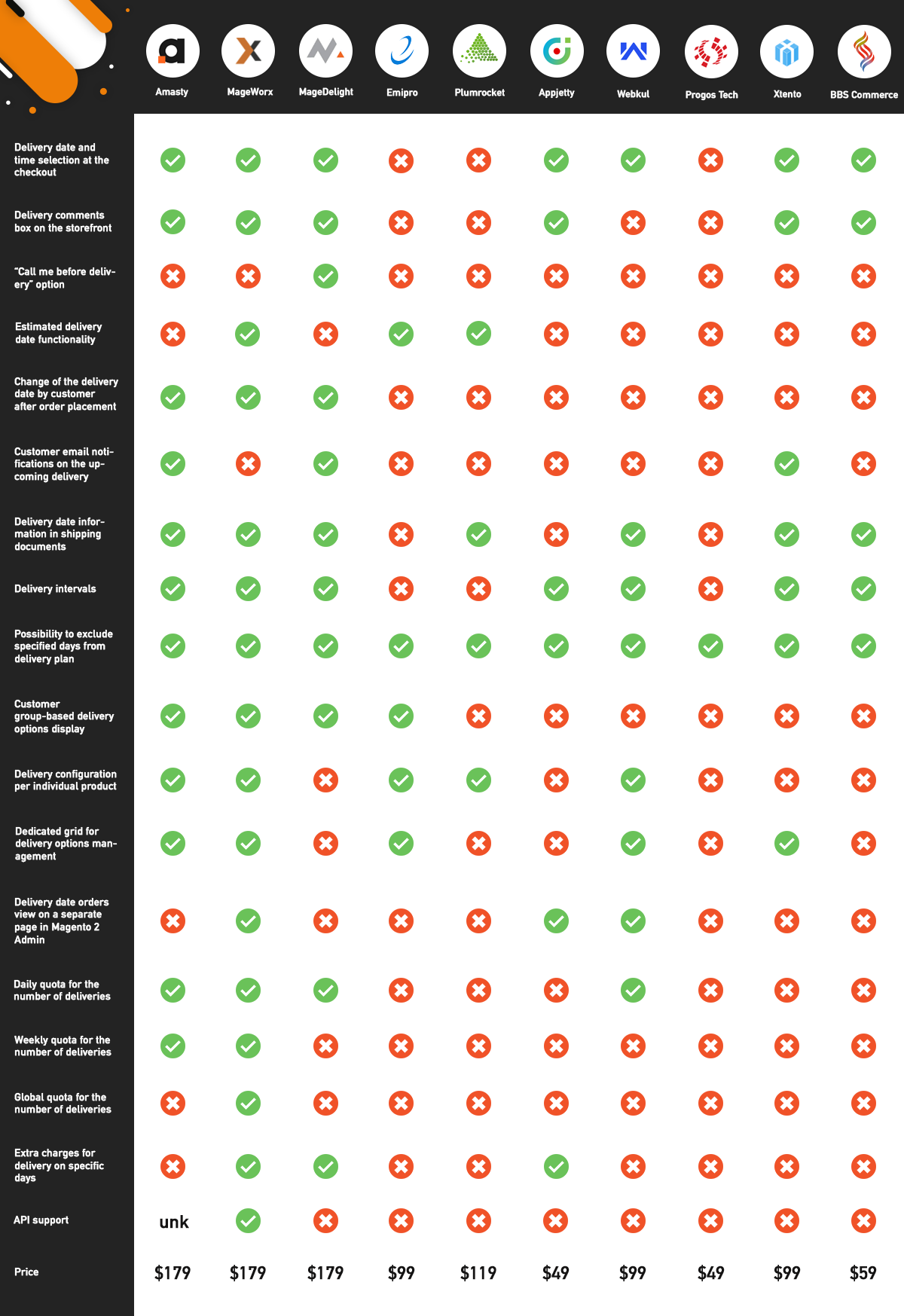 Features
Time slot and calendar view options for the delivery date and time selection at the checkout;
Comment box for additional info from customers;
"Call me before delivery" option;
Possibility to change delivery date and time by a customer after an order is placed;
Extra charges for specified delivery options;
Delivery schedule availability for selected customer groups;
Email reminders sent to customers;
Intervals between order and delivery date;
Maximum delivery quota per day and time slot;
Possibility to set selected dates and periods as days off and vacations to disable the delivery;
Delivery conditions included in shipping documents.
Functionality
Magedelight brings another solution for the flexible delivery date and time selection on the checkout page. Admins can set the shipping schedule view as handy time slots or calendar and enable comments for frontend users. Besides, the Magento 2 add delivery date to checkout module adds "Call me before delivery" option and allows customers to edit selected delivery date after they place an order.
One of the highly useful features available with the Magento 2 module is the possibility to set additional price charges for shipments on particular days, e.g., days off or next day delivery. The Magedelight Delivery Date extension also enables admin users to specify days off and vacation periods when delivery will be not available, set minimal intervals for scheduling delivery, enable or disable same day delivery option, and include additional delivery conditions in orders, invoices, and credit memos.


Features
Delivery comments box on the checkout page;
Estimated delivery date on the product page;
Ability for the customers to change the delivery date from their accounts after the order is placed;
Wide variety of options for date and time format display;
Configuration of delivery options based on customer group and shipping method;
Delivery intervals according to the order processing time;
Possibility to select particular days as unavailable for shipping;
Daily, weekly, and global quota to limit the number of deliveries;
Extra charges for delivery on specific days or during specified date intervals;
Delivery date details in the invoice and shipment PDF;
Delivery queue management in the calendar view;
Advanced API support;
Additional columns with delivery information in the Orders grid.
Functionality
The Mageworx delivery date Magento 2 extension provides your website visitors with the possibility to select the preferred date and time from the delivery schedule via a handy drop-down menu. The module also allows customers to leave additional comments in the dedicated field at the checkout, as well as adjust the delivery date from the customer account after placing an order.
The layout of delivery date and time intervals can be customized by choosing an appropriate display mode and date format according to your business targeting. The Magento 2 module offers radio buttons, a drop-down menu, and buttons inside the boxes as options for date and time intervals layout. You can also use the default calendar view for your shipping schedule.
As for the module's extended backend functionality, Magento admins get the possibility to set order processing time to define the intervals between order placement and shipment. With the Mageworx extension, you can also offer the same-day delivery to your clients, set extra charges for each delivery time interval, as well as exclude specified days from available options. This way, you will provide customers with a clear understanding of possible delivery timeframes and costs.
In addition to managing delivery options on a separate grid, the Magento 2 shipping schedule module provides a special calendar for viewing and tracking all placed orders with delivery date details. Besides, the extension adds the Delivery Date and Delivery Comment columns to the orders grid, providing store admins with an extended overview of all essential information.

Additionally, the extension offers advanced API support. It enables you to get available dates, time-slots, and quotes via API and further display the available delivery dates in 3rd party systems, such as mobile apps.

Features Overview
Delivery comments field on the checkout page;
Delivery date modification by customer after order placement;
Customer notifications on upcoming delivery;
Possibility to include delivery date in PDF documents and customer emails;
Shipping schedule display based on customer groups or shipping methods;
Ability to exclude specific days from the delivery plan;
Minimum and maximum delivery intervals;
Delivery intervals per product;
Dedicated grid for the management of date intervals.
Functionality
Magento 2 Delivery Date by Amasty allows customers to pick the most convenient date and time of delivery at the checkout and provide a store owner with additional information on their order in the comments field. Besides, the Magento 2 remove delivery time module by Amasty drastically improves user experience on the storefront by enabling shoppers to change the delivery date even after an order is placed. You can also leverage the extension's notification system to timely inform your clients about the upcoming delivery.
As for the advanced admin features offered by the Magento 2 delivery time module, store owners get full control over the shipping date display. You can decide on which website pages it will be available and in which shipment documents to include it. Moreover, it is possible to set particular days, like weekends and holidays, as unavailable for shipment, as well as exclude specified date intervals from your delivery plan.
Furthermore, the Magento 2 delivery date module allows users to specify minimum and maximum intervals for delivery after the order placement, as well as configure same day delivery options. Note that delivery intervals can be set on per product basis. With the Amasty extension, you also get the ability to set a daily limit for shipments on each day of the week.


Features
Display of delivery date or date range on the product page;
Delivery options configuration based on ZIP codes;
Estimated delivery date rules per store view and customer group;
Possibility to set rule conditions for whole catalog, category, specific products, or product attributes;
Custom text in delivery status messages;
Holidays and weekend days configuration.
Functionality
The estimated delivery date Magento 2 module by Emipro provides slightly different functionality in comparison to the tool described above. The extension allows customers to view the estimated date or date range of the order delivery without an option to select it on the shipping schedule. To check the delivery details, frontend users only need to enter their ZIP code on a product page.
As for the backend configuration of the Magento 2 estimated delivery extension by Emipro, store admins can decide which days to exclude from the delivery plan and set them as a single day, time interval, or recurring date. Besides, you can configure different delivery date rules for each customer group and store view, specify zip codes as their basis, and set rule priority to avoid conflicts for the same item.


Features
Shipping and delivery date display on multiple web pages;
Possibility to include delivery date information in transactional emails and documents;
Delivery date type as a static or dynamic date/date range or simple text;
Configuration of delivery date options on the global, category, and product level;
Holidays and days off excluded from the delivery schedule.
Functionality
The Plumrocket's Magento 2 shipping date module allows displaying estimated delivery time on a wider range of website pages, including product, category, shopping cart, and checkout page. Besides, you can leverage the Magento 2 add delivery date in sales email option and include shipping date details in the order confirmation, invoice, and shipment emails, as well as all related documents.
The Magento 2 delivery date module by Plumrocket allows store owners to set delivery dates on the global level, for categories separately, or an individual product. Besides, the extension's functionality makes it possible for products and categories to inherit estimated delivery dates from a parent category. The tool also allows backend users to exclude weekends and holidays from the shipping dates.


Features
Shipping schedule display in the calendar or time slot view;
Customer comments at the checkout;
Additional charges for delivery during specific time slots;
Minimum interval between order placement and shipment;
Possibility to select days and time intervals when delivery is disabled;
Delivery Date Orders tab on the admin dashboard;
Admin notifications on the upcoming delivery.
Functionality
Appjetty offers another handy tool for adding shipping calendar with various layout types and date and time formats to your website. The Magento 2 delivery date module allows you to set extra charges for any time slot and show them along with the delivery options for improved convenience on your storefront.
Similar to the delivery date solutions described above, Appjetty Delivery Date Scheduler enables users to set delivery intervals, select days and periods as well as time slots when you don't want to ship orders, and allow admin email notifications. One more advantage you get after installing the Magento 2 delivery schedule module is the possibility to track recent orders with the delivery date right from your admin panel.


Features
Quota for the number of deliveries per time slot;
Possibility to specify days available for delivery;
Order processing time configuration;
Delivery time details in the invoice, credit memo, and shipment PDF;
A dedicated page to view placed orders per each time slot.
Functionality
The Magento 2 delivery schedule module by Webkul allows setting delivery time slots displayed on the frontend by default, as well as custom time intervals. The extension configuration enables users to specify the maximum number of order deliveries during a time slot, select days available for shipping, set the minimum order processing time, and create an unlimited number of time slots per each day. Besides, the Magento 2 delivery time slot module improves the default functionality by allowing admins to view and manage delivery time intervals on a separate screen, as well as check all received orders per time slot.
Note that this extension is an add-on to Webkul Magento 2 Marketplace Module that should be installed to apply the delivery schedule functionality.


Features
Comments field at the checkout to get additional information from customers;
Holidays and delivery exceptions settings;
Minimal and maximal delivery time intervals;
Automated customer notifications;
Delivery information can be included in customer emails and PDF docs.
Functionality
Xtento brings another solution to Magento 2 merchants that adds functionality for the delivery date and time selection and customer comments at the checkout. The extension enables users to configure minimum and maximum delivery intervals, define days and date range as an exception for delivery, and enable email reminder to notify customers on their order shipment. Besides, the Magento 2 delivery date and comments module allows adding new columns with details on delivery conditions in the orders and shipment grid and including delivery-related data in order confirmation emails and PDFs.


Features
Exact delivery day displayed on the checkout page;
Compatible with UPS, USPS, FedEx, and DHL;
Possibility to specify days and date ranges excluded from delivery periods calculation;
Timezone configuration.
Functionality
Shipping Delivery Date by Progos Tech improves user experience on the storefront by showing an exact date of a customer's order delivery. You can leverage the extension to customize the default format of delivery date display for UPS, USPS, FedEx, DHL, and other shipping carriers that provide information on delivery day. It is also possible to create a list of holidays and exclude these periods from delivery time calculation, which will make shipping information more precise.


Features
Time slots configuration;
Delivery comments box on the checkout page;
Delivery date modification by admin;
Order processing time to define the delivery interval after order placement;
Ability to set particular days of the week and days off to be excluded from the shipping calendar;
Delivery info can be included in the order confirmation emails, orders, shipments, credit memos, and invoices;
Support for checkout with Braintree and Paypal.
Functionality
The Order Delivery Date extension by BSS Commerce adds additional fields for the delivery date and time slot selection, as well as shipping comments box to the shipping methods, review and payments, or shipping address section at the checkout. Besides, the Magento 2 module provides merchants with more control over the delivery options selected by customers. Thus, the BSS Commerce extension enables store admins to edit the delivery date, time slot, and customer comments in a couple of clicks. With the extension's functions, you can also specify order processing time, cut-off time, and exclude holidays and other days from your shipping schedule.

Conclusion
As you can see, Magento 2 marketplace offers various solutions with advanced tools for implementing the delivery schedule on an online store.
A Magento 2 delivery date module is a great investment for any eCommerce store since it drastically improves the shopping experience and builds customer loyalty. By installing one of the appropriate third-party extensions, you will be able to provide your clients with more flexibility of shipping options, timely inform them about the delivery of their orders, and gain more control over shipment procedures on your store.
Please note that the presented above overview of extensions is not a "from-first-to-worst" list.
All described Magento 2 delivery date modules extend the default platform's possibilities and provide online merchants with different features for adding missing functionality. So, it's up to you to decide which one is the best solution for your web store depending on your business goals.