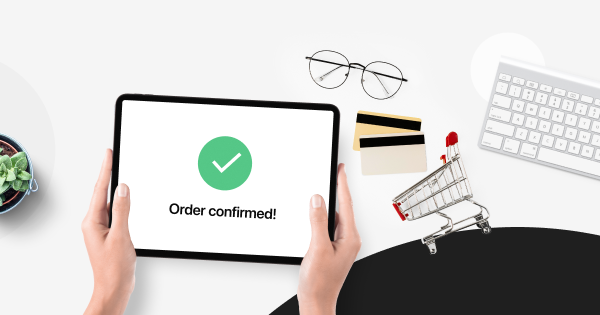 Reading Time:
5
minutes
Magento is an excellent eCommerce platform that can help you build your online stores with minimum hassle. As many as 12% of all online retailers worldwide are running on Magento.
However, increasing your Magento checkout rate isn't as simple as clicking the 'publish' button on your latest product. Seeing that zero on your checkout counter can be a bit underwhelming – and that's perfectly understandable.
But that only means you can only get better from there. To achieve that, we've compiled a series of Magento optimizations tips that can increase conversions on checkout pages. Let's get right into it!
1. Use Static Content
Checkout pages in Magento 2 sites have the largest number of static resources. This can cause a slow load speed that can turn customers away from purchasing products on their shopping cart.
A default Magento 2 site will have to load 300+ JavaScript files that add up to around 3 MB. Magento checkout pages have to load even longer since they can't work with caching.
While Magento 2 is a great platform, its automatic JS bundling isn't the best for most use cases. You can manually create an Advanced JavaScript Bundling in tandem with a good Content Delivery Network.
2. Optimize Magento Load Speed
Load speed is one of the most common causes of high bounce rates for websites, including eCommerce. The problem with load speed is that it affects your entire site, not only your Magento 2 checkout.
A Google research found that 90% of visitors would leave a web page if it takes more than five seconds to load. There are several easy actions you can take to improve your checkout page's load speed:
Remove unnecessary checkout modules and third-party scripts
Compress image and asset sizes
Optimize cookies
Set up a content delivery network (CDN)
Websites with a better load speed also perform better in search engines – especially Google. With their Core Web Vitals algorithm, which uses load speed to quantify user experience on websites.
3. Create a Faster Checkout Process
A study by Forrester found that a well-designed user experience could yield up to a 400% better conversion rate. Reducing click depth to your checkout page is another method that can help improve your conversion rate.
Fewer checkout steps signify simplicity in your user experience design. Keeping a low click count between the front page, product page, and checkout page is the best approach when designing your site.
The fewer clicks needed to reach the checkout page, the better it is for the user experience. Removing unnecessary pages between your product and the checkout page is in line with this goal.

4. Remove Unnecessary Assets from the Checkout Page
Your Magento 2 one-page checkout page should only serve one purpose: helping your customers finish their transactions. If you have third-party extensions supports, you should consider excluding them from the checkout page.
Having assets like full-size product pictures, illustrations, or fancy animated GIFs with a good copy are also great for visuals and branding. However, including them on your checkout page does more harm than good to your load speed. The negative impact of extra assets on load speed is simply not worth the trouble.
5. Optimize Magento Site for Mobile Usability
As many as 8 out of 10 smartphone users have made an online purchase through their mobile devices in the last six months. Not optimizing your Magento 2 store for mobile can be the quickest way to lose any potential business growth.
Designing your site to be responsive for mobile is one thing, but keeping the same performance is an entirely different challenge. Other than designing your site's user interface for mobile, you'll also need to do some Magneto optimization for mobile by:
Lazy loading content
Minimizing page file size
Using HTTP/2
Avoiding JavaScript bundling
Optimizing for the first byte
6. Implement One-click Checkout
Implementing Magento 2 one-page checkout is an easy way to improve user experience. Using third-party Magento extensions like one-step checkout for Magento 2 allows you to create a faster Magento 2 checkout process with much less hassle.
Unnecessary clicks between your Magento 2 one-page checkout and payment page can add significant load time for your server. But more importantly, it forces high-intent customers to wait longer – which could lead to them losing interest.
7. Offer Alternative Payment Methods
Having a one-step checkout for Magento 2 doesn't necessarily mean you'll have to skimp on payment methods. Adding alternative payment methods may not directly improve your conversions. However, it'll help give your site an edge over competitors who have fewer options.
As many as 29.8% of eCommerce transactions use digital checkout options like Apple Pay and PayPal. It also helps that most secure payment gateways these days support digital wallets. So, adding these options shouldn't be that difficult.
However, you still need to pay attention to your customers' favorite payment methods. This can help you narrow down which methods you can scrap from your site. Taking down unused payment methods will also help save significant load on your servers.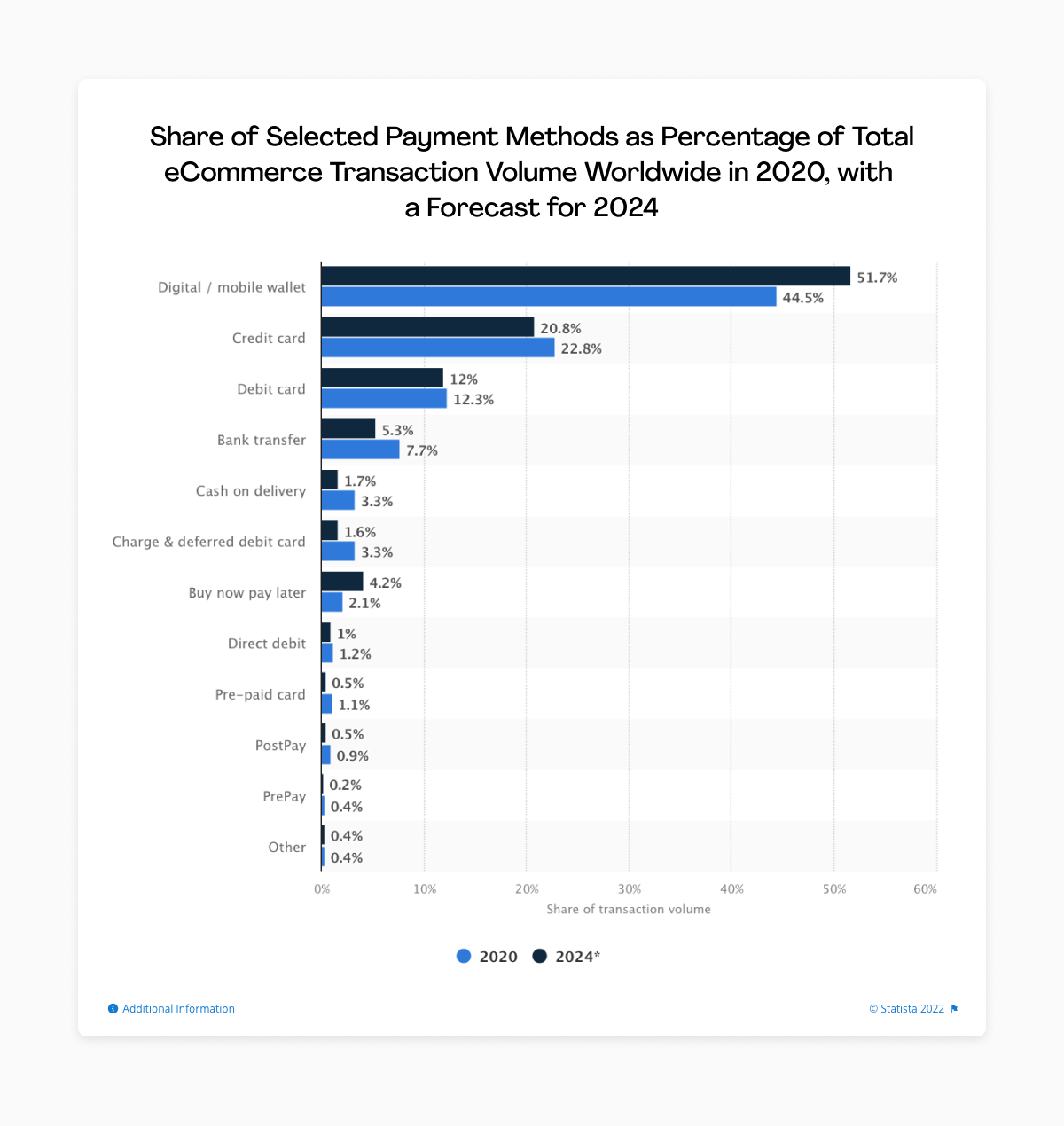 Image credit: Statista
8. Optimize Cookies
Site owners often overlook cookie optimization due to their small files that don't really impact performance. However, cookies can grow in size as more people visit and re-visit your site.
When the cookie file size reaches a certain point, it can cause a huge drop in load speed for your site. Using a cookie-less domain can help you avoid this risk and improve the load speed of your Magento checkout page.
9. Add Personalization with Data
Creating personalized shopping and checkout experience has also been proven to increase conversions on checkout pages. But within the eCommerce space, personalization can be much more than just greeting customers with their first names.
But to create personalization, you'll need to collect necessary user data beyond the basics like first name, last name, and email address.
Using information like shopping behavior, recently viewed products, and favorite categories can shape a better overall experience for your customers. Adding further personalizations like reward points can also help with customer retention.
The more they make purchases on your site, the more benefit they gain.
10. Display Social Proof and Trusted Certificates
If your site is still growing, it may be hard to convince new customers to make a purchase from you. To alleviate this problem, you can try using social proof like product ratings and reviews to add a sense of credibility to you and your products.
If you have an offline store, you can also add reviews from third-party sites like TrustPilot and Google Maps to your sites. While it's difficult to get your first reviews, you should never resort to fake reviews – that could get you banned by Google.
11. Offer Promo Codes
There are only a handful of better ways to get people to finish transactions than promo codes. Not only are they easy to implement, but promo codes also are highly effective in scoring new customers and keeping the existing ones with a great customer experience.
As many as 30% of people will make a purchase for a discounted product with promo codes – even if they didn't intend on purchasing it in the first place. Those who have access to promo codes also spend 24% more than those who don't. You can also promote your promo codes through email marketing since 81% of online shoppers say they love receiving sales and other discount offers.

Conclusion
There is no one-size-fits-all solution to improving your Magento or Magento 2 checkout conversion. Each site has a different customer persona and unique prioritization of strategies depending on its demographic.
However, you can still apply the strategies we've rounded up here to virtually any type of Magento store that you have. How effective the results largely depend on your broader marketing strategies and product quality – but these tips will help you achieve your goals faster.
Author bio: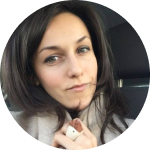 Adela Belin is a content marketer and blogger at Writers Per Hour. She is passionate about sharing stories with the hope to make a difference in people's lives and contribute to their personal and professional growth. Find her on Twitter and LinkedIn.