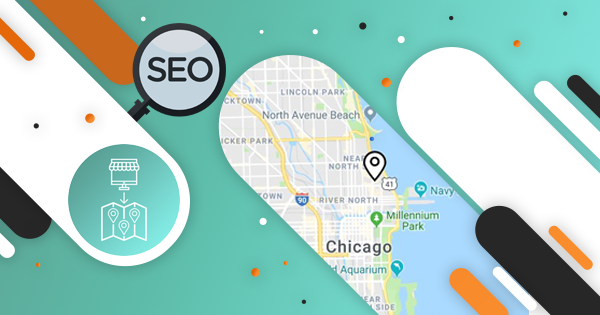 Reading Time:
4
minutes
We are excited to announce a new release of our Magento 2 Store Locator & In-Store Pickup extension. This update brings SEO-friendly pages for your stores and the import/export functionality to manage your locations with ease.

At the time of writing, none of other similar Magento 2 extensions have these features. That makes the Store Locator extension one of the most potent solutions for adding an unlimited number of physical stores.

Let's have an insight into what new functionality the extension offers.
Separate location pages
The most wanted and frequently requested feature is an ability to create separate pages for each physical store. This gives you the ability to promote pages of your brick-and-mortar stores, get more relevant traffic from the search engines, thus bringing more foot traffic for order pickup.

These pages are fully SEO-friendly. With a full set of features, you'll be able to adjust all major SEO parameters for the store pages.

Store URL configuration
Running physical stores in different cities, states, or even countries adds the necessity to build URLs that are optimized for the local markets and keywords.

Our extension gives you the full control over how URLs for your store pages will be formed: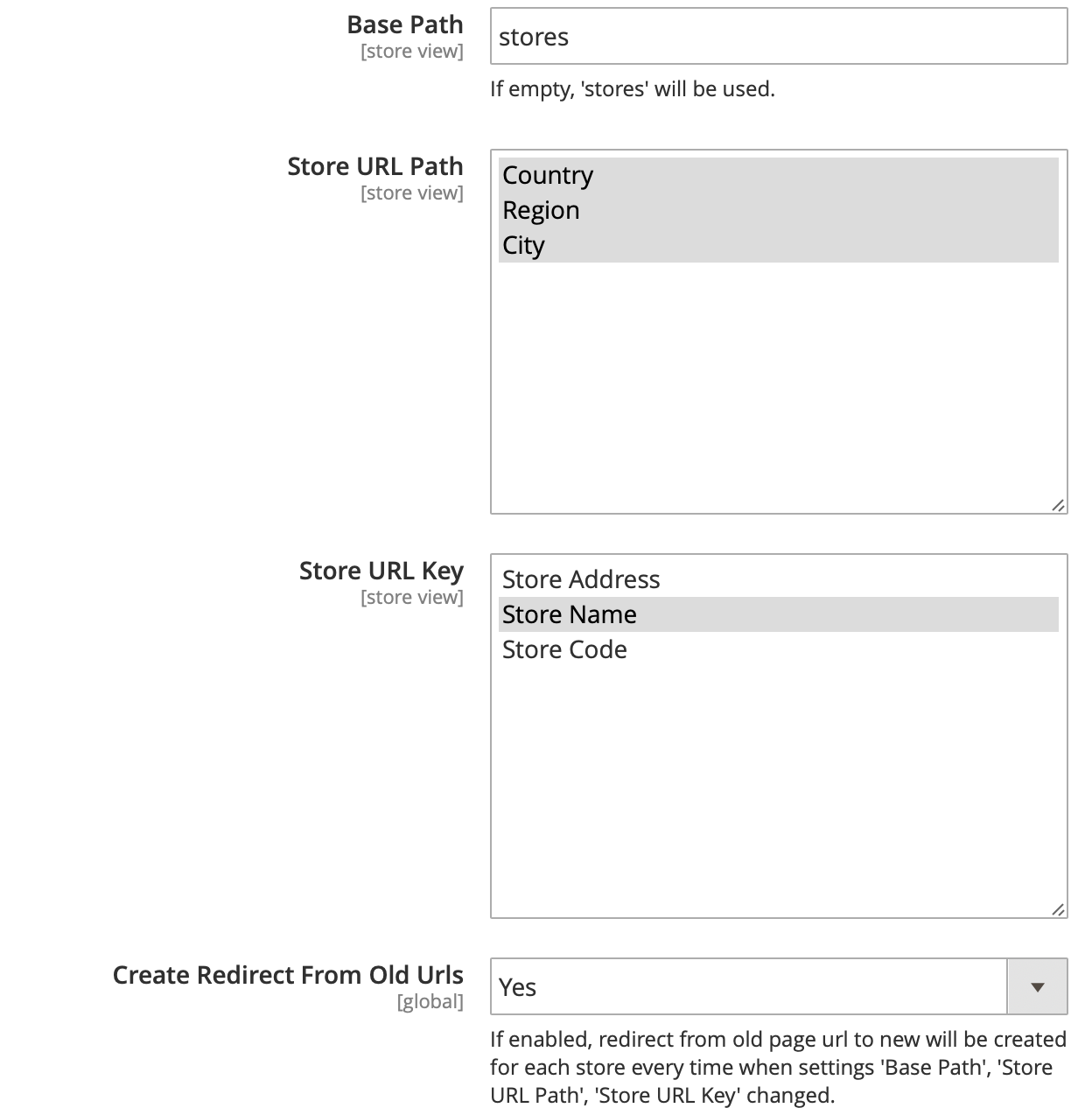 You can easily add:
city,
state/region, and/or
country right to the store's URL.
Additionally, you'll be enabled to form a store URL key as a combination of the store's address, name, and its internal code. All this allows you to build location pages URLs to meet all your needs.
The extension also creates 301 redirects automatically if anything in store URLs gets changed. This helps you avoid 404 errors if you decide to adjust the URL configuration.

Example of store URL:
http://store-locator.m2.ext.mageworx.com/stores/united-states/illinois/chicago/chicago-store.
The extension allows you to display breadcrumbs on the store pages. This feature improves SEO greatly and allows your customers to browse your stores grouped by locations.


Meta information is crucial for SEO optimization. Meta tags that are formed incorrectly may cause your pages to be poorly ranked.

The extension gives you the power to configure meta robots, meta title, meta description and meta tags for the store pages.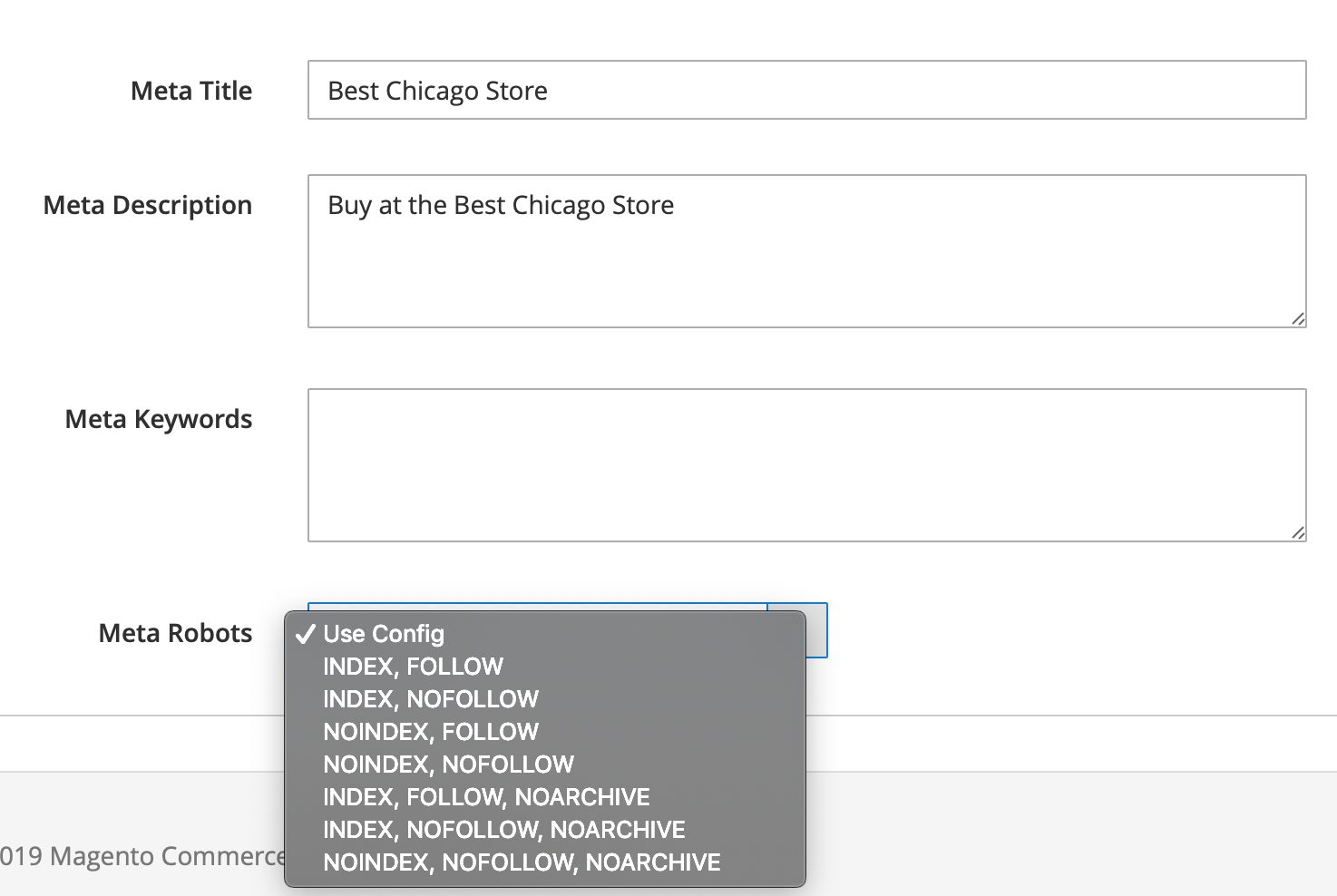 Store address & contact details
When developing store pages, we bore in mind that the most essential information about each store is its physical location, contact phone numbers, and Magento 2 store hours of operation. All this helps your customers choose, which brick-and-mortar store to choose for order pickup.

Also, MageWorx Magento Store Locator module displays the current state of each store, showing your shoppers whether the store is open right now or closed.

Moreover, your buyers get to click on the 'Get direction' link to create a route from their current location to the selected store using Google Maps.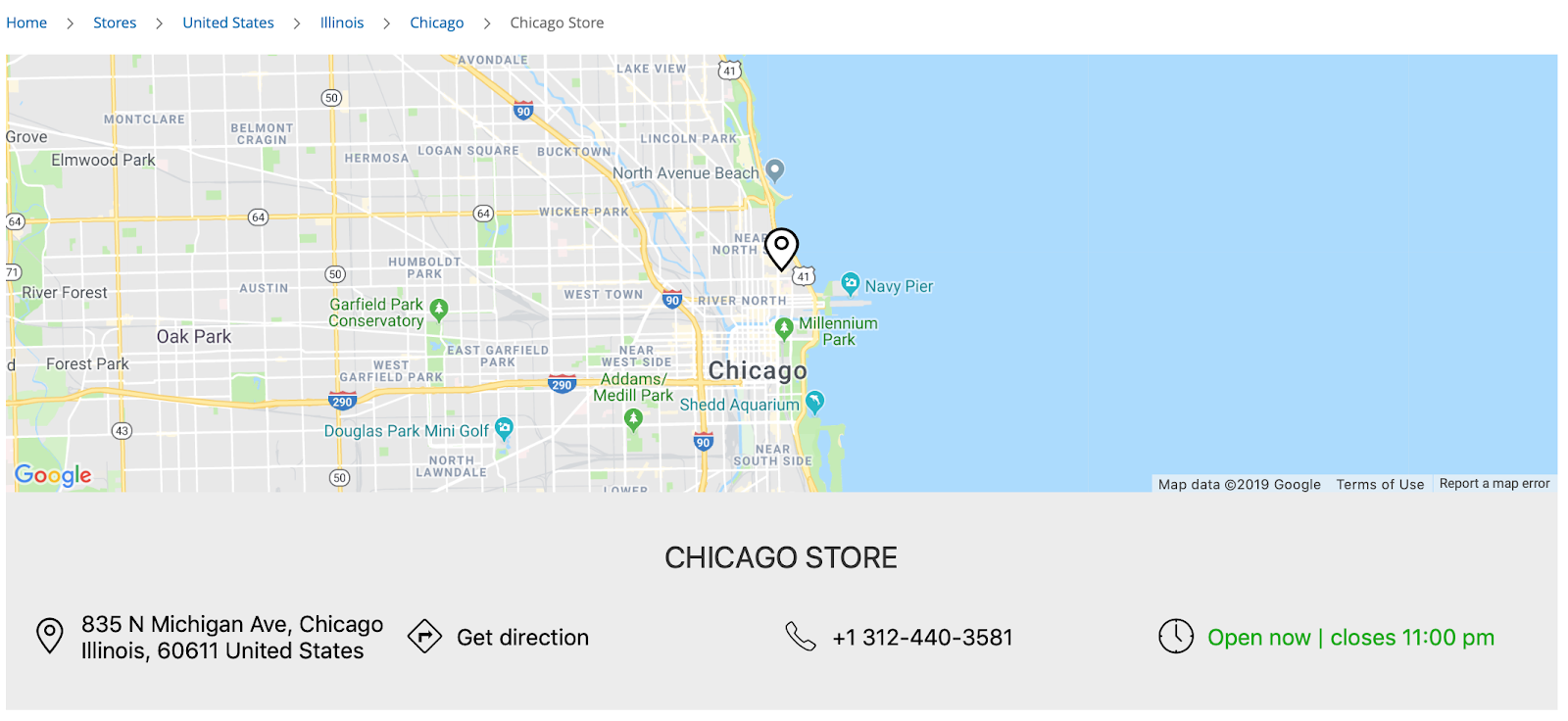 'Content is the king' – this is the first rule of SEO. The more quality content is on a page, the better for search engine rankings.

Now, you can easily add the description for your physical stores to improve SEO of such pages.

You can also display all available social profile links to allow your customers to visit/join the social networks of your stores and drop you a line if necessary.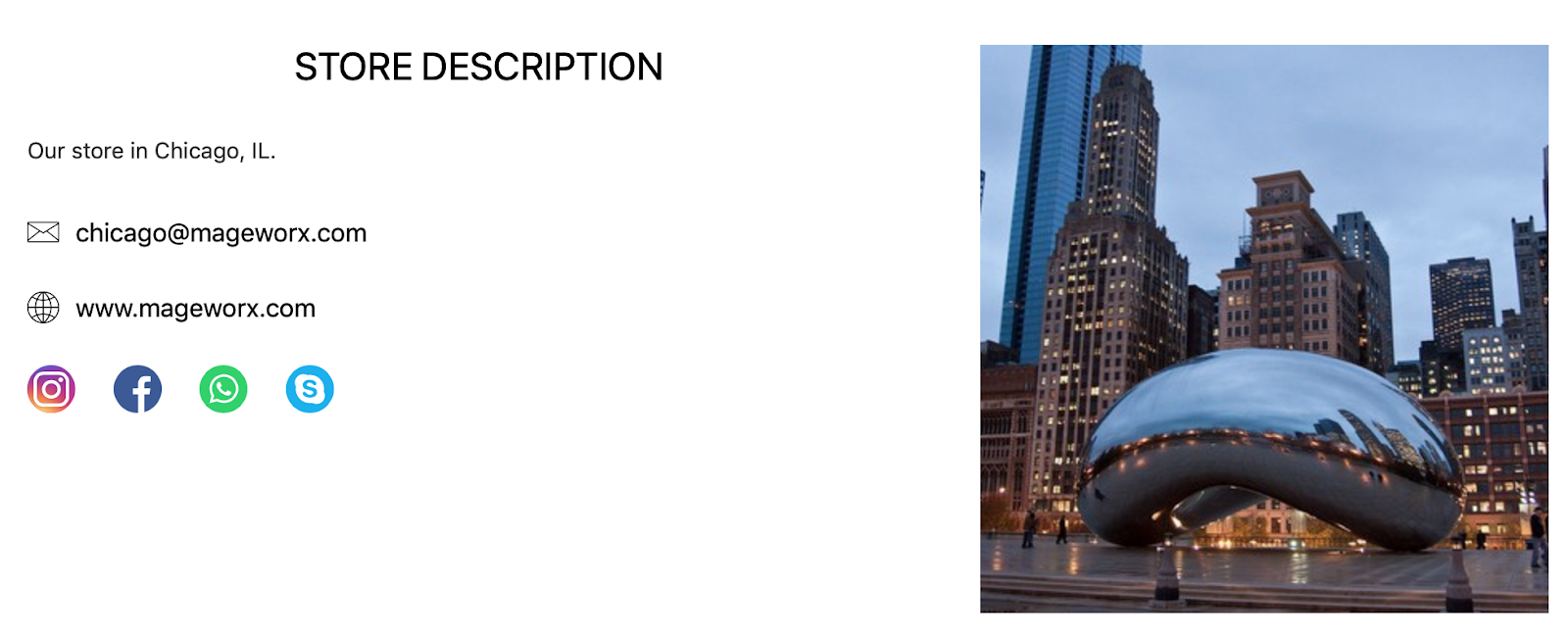 Working hours
Besides the current open/closed state shown in the top part of the page, the module enables you to display Magento store hours for each day of the week.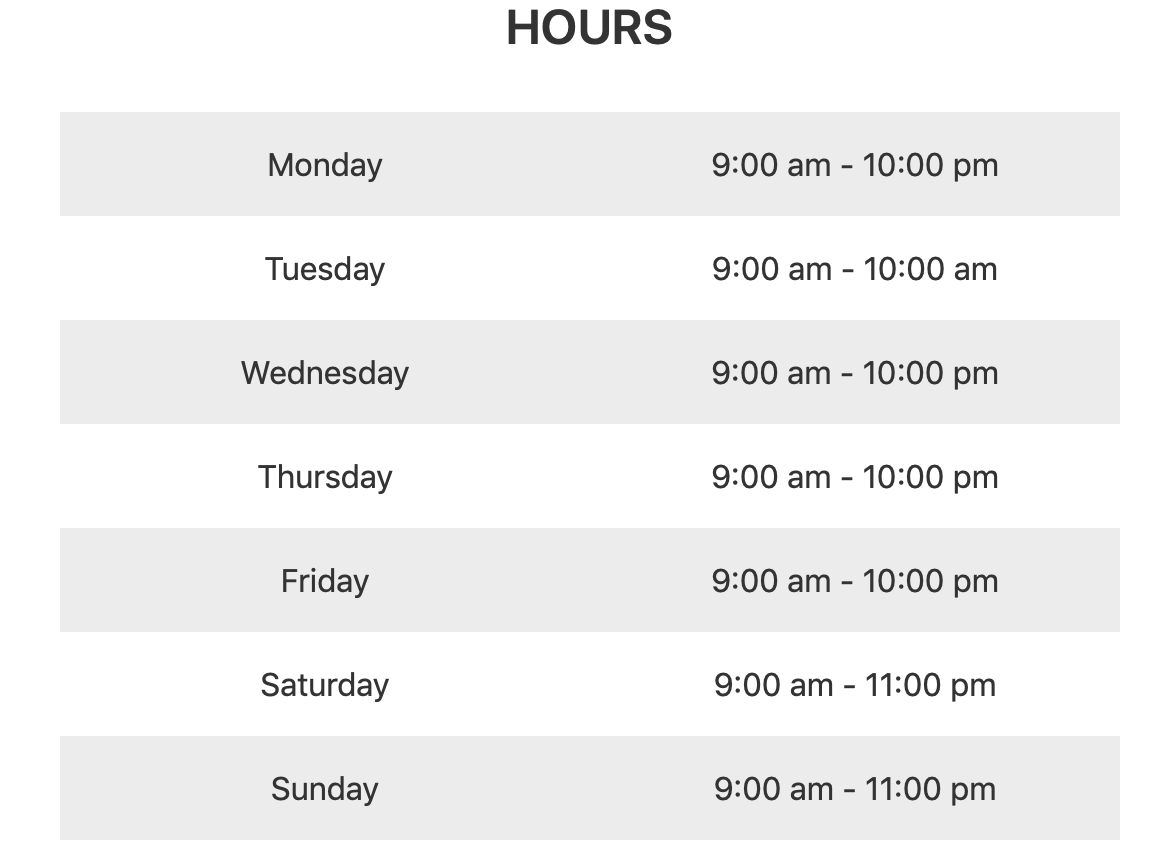 Available products
At the bottom of the pages, you get to display all products, which are currently available in a particular store. All Magento 2 native features, such as layered navigation, pager, sorting options, etc. are supported.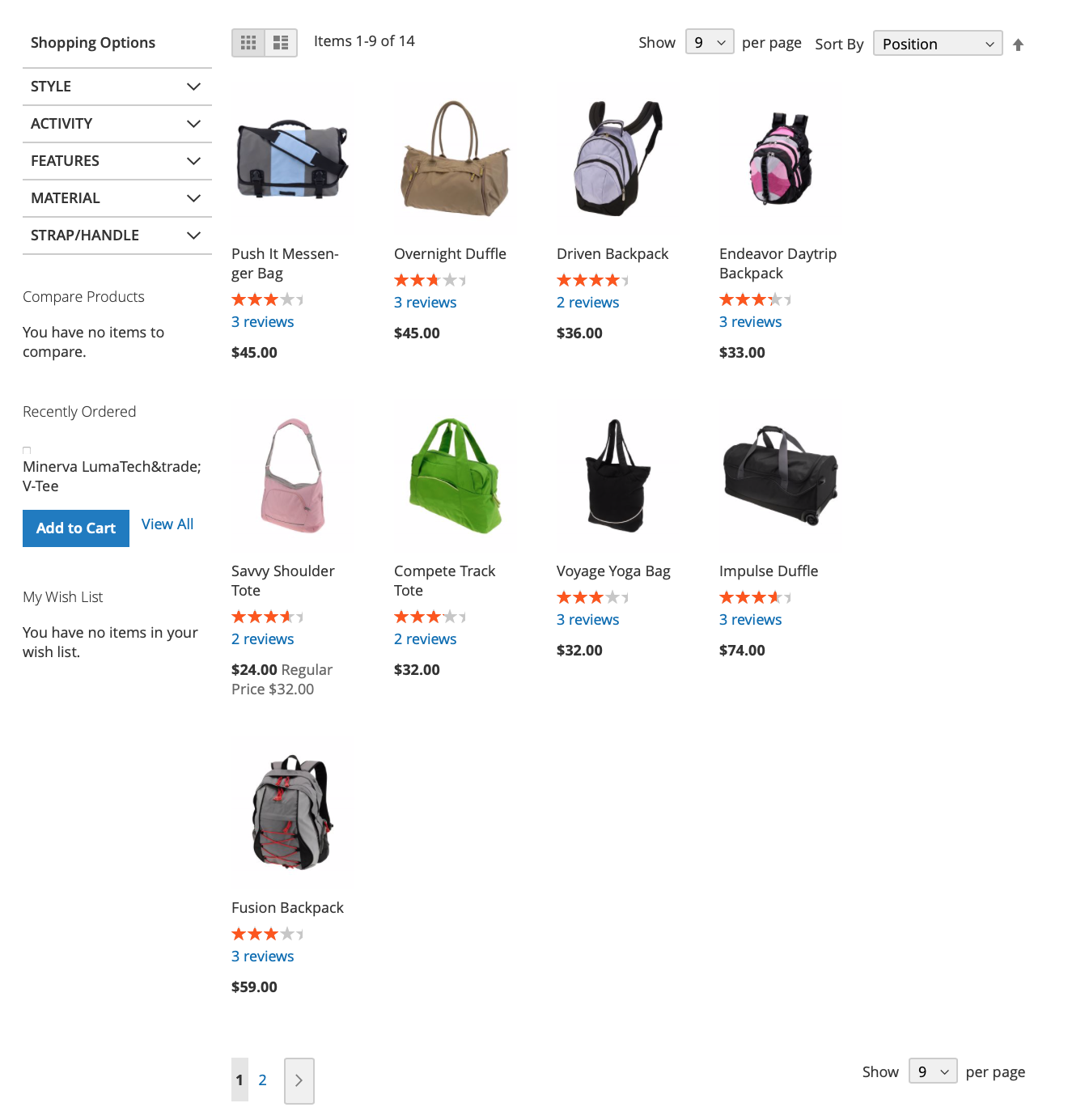 This functionality creates beautiful and powerful pages for your physical stores. Take a look at how these pages get displayed on desktop and mobile or check them on our online demo store.
Geographical list of stores
Enjoy the possibility to create separate SEO-optimized pages to display stores grouped by:
country,
state/region, and a
city.
If your customers click on a link in the breadcrumbs, they will get to the page of the particular location. Take a look at the following example:


The meta information of these pages can be easily configured from the back-end.

Sitemap
We understand the importance of adding newly created pages to the XML sitemap.

With that in mind, we've developed the functionality to add all store pages to MageWorx XML sitemap automatically. You do not need to add these pages manually to Google console. All the job will be done for you.

Import/export
Another cool part of this update is the import/export functionality.
Managing a significant number of physical stores in your Magento 2 store is a time-consuming process.
Another difficulty would be migrating from Magento 1 to Magento 2, i.e., the ability to load all your stores to Magento 2 without having to add them one by one manually.

With the extesnion, you get to:

easily list an unlimited number of your physical stores in your Magento 2 store;
effortlessly update the existing stores;
update the existing stores added in our extension by importing a CSV file. An example CSV file is available within the extension to help you check how data should be organized there.
Additionally, in case you need to import or update your store's data translations ― such as names and descriptions ― our CSV file supports this as well.

Bottom Line
For merchants who have physical stores, Magento 2 pickup in store option is another must-have alternative to shipping. Having SEO-friendly location pages, will not only improve the ranking of your eCommerce store but help you bring more targeted traffic to your brick-and-mortar stores.

Import/export functionality will be of much use when migrating from Magento 1 to Magento 2, and stores management.

---
Should you have more questions or concerns about the extension, feel free to share them in the comments below.