Reading Time:
5
minutes
Throughout the eCommerce industry January is known as a bad time for sales.
The holiday sparkle is fading out, people are trying to recover from winter holiday spending and pay their debts off. These factors trigger a steep decline in January eCommerce sales. Worse, people may start returning things purchased in excessive amounts before Christmas.

Have a look at the chart from Comscore. As you can see, right after the euphoria of the end-of-year shopping the amount of eCommerce sales takes a deep dive.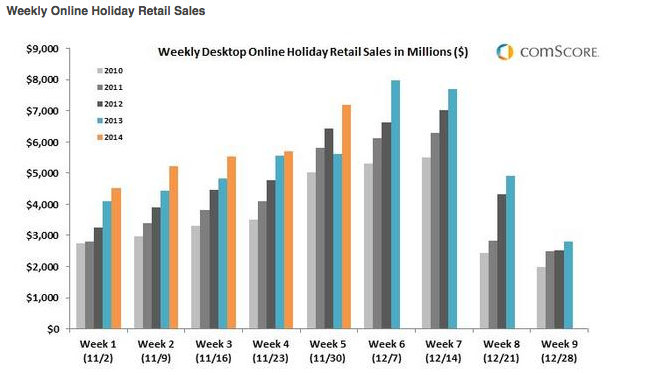 Although there are some savvy shoppers who take advantage of January sales, most of online businesses are going to lose a good chunk of traffic and sales during this month.
While there's no a universal recipe to completely stop the post-holiday sales slump, one can dampen some of its monetary fallout and overcome the seasonal slow down. Here are 7 tried and proven ways how to do that.
Don't go quiet!
According to the psychologist Linda Smith, both merchants and customers experience post-holiday exhaustion. While the former get tired of organizing and running Christmas campaigns, the letter are exhausted by the end-of-year shopping rush and intrusive holiday marketing. Hence, both are settling down for their long winter's nap, and the market goes quiet.
This can be a perfect time for you to attract attention to your business. Spark interest among your potential customers with something really unusual and appealing. This can be the launch of a loyalty program, some sort of a new freebie, or a new product/service launch.
Surely, this may often require a huge amount of preparation and development. So if you go for it, start 1-2 months before the winter holidays are over.
But even if you are not ready with that now, you can start teasing your customers with some of your future releases. Start dropping hints, create a new 'something-big-is-coming' landing page, invite people to sign up. Thus, you will not only get people interested, but also will grow your email list!
'New Year – New You'
Usually, January 1 is a magical date when most of us want to start a new life. We would like to get better, change something about our life style, bring our New Year's resolutions to life. For merchants it opens a huge opportunity for big marketing moves.
Whatever you sell, basically anything that can be logically tied into people's New Year's resolutions scheme and marketed to this type of attitude.
Here are a couple of examples:
Selling design clothes? It's time to radically change your style and get a new look in the new year!
Selling electronics? This is the year to replace your shabby iPhone 4S with a brand new, shiny iPhone 6.
Selling vehicle component? 2015 is the year when your 20-year old Mustang will get a new life!
Another point here is that a post-holiday period is the time when people don't have to spend on presents for others and can spend only on themselves. Self-gifting has been popular for years. According to the survey by the National Retail Foundation 6 out of 10 consumers got engaged in self-gifting during the winter holidays in 2014.
There are different ways you can approach a self-gifting aspect of your post-holiday marketing campaign. For example, you can create a separate landing page for that, offer individual personalized discounts to your best customers or offer great deals to certain customer groups.
Refresh your brand
The kick-off to a new year is a great time to refurbish and extend your brand.
The post-holiday period is the time when most eCommerce websites take off Christmas decorations and get back to their traditional, long familiar design. This is a great chance for you to stand out – you can surprise your audience with a new refreshed company logo, new website layout, new product design, etc.
But be careful with redesigning your brand identity. Don't refresh or redesign it simply because you want to overcome the seasonal sales slump. This should be a clear-headed business decision that has a global purpose and can help your online business grow in the long run.
And remember. Refreshing a brand is not only about a logo/design change. You can also change the ways you market yourself, promote your products to the target audience, support your customers, etc. Changing these aspects will also help you keep your brand fresh and vibrant.
Capitalize on the upcoming season
When Christmas holidays are over, we slowly start to say 'goodbye' to the cold winter weather and say 'hello' to the return of outdoor sports, holiday stays, tours and activity parks (just to name a few). So why not capitalize on that?
Start selling items for the upcoming warmer seasons. January is the perfect time when you can start marketing to customers that have yet to be exposed to spring and summer advertising.
Also, offering early bird deals on the upcoming season products and services will undoubtedly give you a competitive edge and put you ahead.
Avoid price wars
January is the month of big sales. However, when starting one, be smart with pricing as there are often some pitfalls.
When offering post holiday discounts/ announcing a clearance sale, it's important to keep your customers in mind. By all means try to avoid triggering buyer's remorse from those who just purchased something from you at the full price, and now see it with a 50% discount. This can cause a big amount of customer complaints, returns and refunds.
To avoid that, carefully analyze your December sale stats. If you see that some of your items were sold in a big amount, don't put them on sale. Instead, you may offer discounts on the complementary products and exclusive deals for the return customers.
For instance, if you sold a a huge amount of pink scarfs before the New Year, offer big discounts on the products that will complement it. That can be a pink hat and pink gloves.
Also, you can offer a huge discount on the same item for those who purchased it in December. For example, a second iPhone may come with a 20% discount for those who purchased the first one a month ago.
Make a good use of the collected emails
You have probably harvested a long list of new email addresses during the holidays. Now, it's the right time to start marketing to your new customers.
Time is a critical factor here. To keep your new customers interested, you must act while their memories of holiday purchases are still fresh. Intrigue your new subscribers with the upcoming product release, share useful content, spread valuable information about hot offers, etc. – this is what you need to keep customers' interest alive.
Provide excellent customer service
And the last but not least way to overcome post-holiday sales slow down is to provide top quality support to each of your customers.
Customers (especially the new ones) may have tons of questions concerning the products they recently purchased. Not being answered in time, people are getting frustrated, and may even return a product or ask for a refund.
Try to provide the best quality support possible. Make sure that each customer has been heard and you are addressing each issue. The combination of a your efforts and a personal touch will help you not only avoid refunds in the post-holiday period, but also turn new customers into your loyal fans for life.
* * * * *
Who said that it's impossible to boost sales in January? Surprise your customers, keep them interested, provide top-class support, and that will help you keep your sales and profits high.
Got your own ways to overcome post-holiday sales slump? Feel free to share in the comments below.