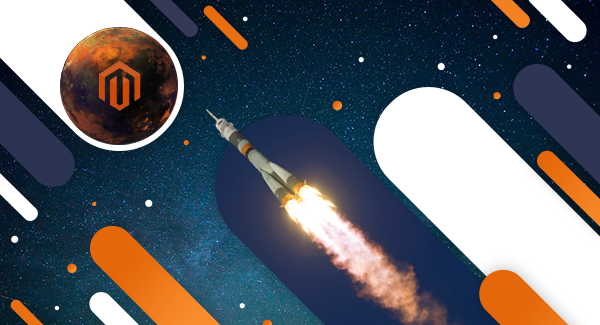 Reading Time:
5
minutes
To keep you tuned, we are happy to share all MageWorx Magento 2 extension updates for July 2019.
One of the major news for July is adding more features for our Advanced Product Options extension, optimization of Store Locator & In-Store Pickup to process a big number of stores on the fly, advanced API support for the Delivery Date extension, code refactoring in our first-class Shipping Suite Ultimate and performance improvements for more other Magento 2 solutions.
The further the better!
Advanced Product Options (+ Custom Options Templates)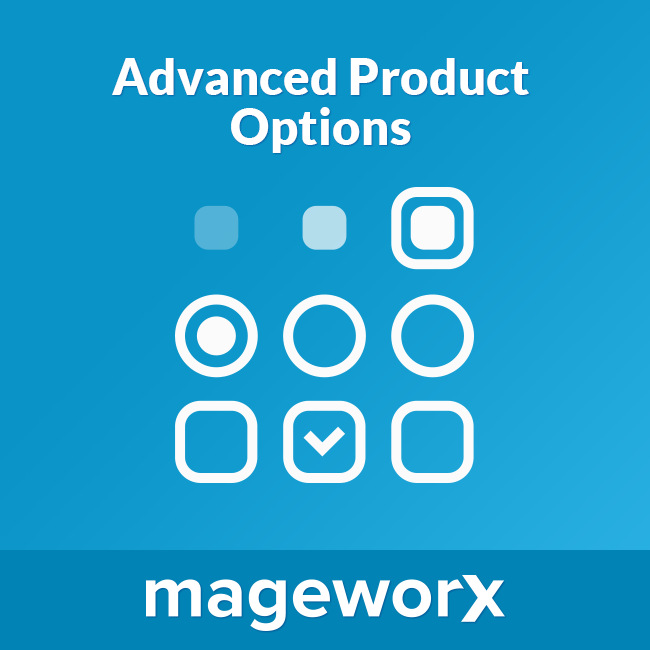 Easily overcome the default Magento 2 functionality ― add a multitude of product variations in a couple of clicks. The add-on is a have-it-all solution that brings product options customization to a whole new level, including variants' pricing, images, inventory tracking, SKU, and more.
For those, who missed our June updates roundup we keep the following June novelties for your convenience. Back then the changes have primarily affected the option templates functionality. Thus, to explore new features, go to Stores > MageWorx Option Templates > Manage Option Templates.
Admin icon tooltips
To enhance the extension users' experience, we've added tooltips to the recently created icons in the Admin Panel:
New modal popups: 'Option Settings' & 'Value Settings'
As more functionality gets added to the extension and in order to avoid user confusion, we've decided to locate product option and value configurations in separate modal popups: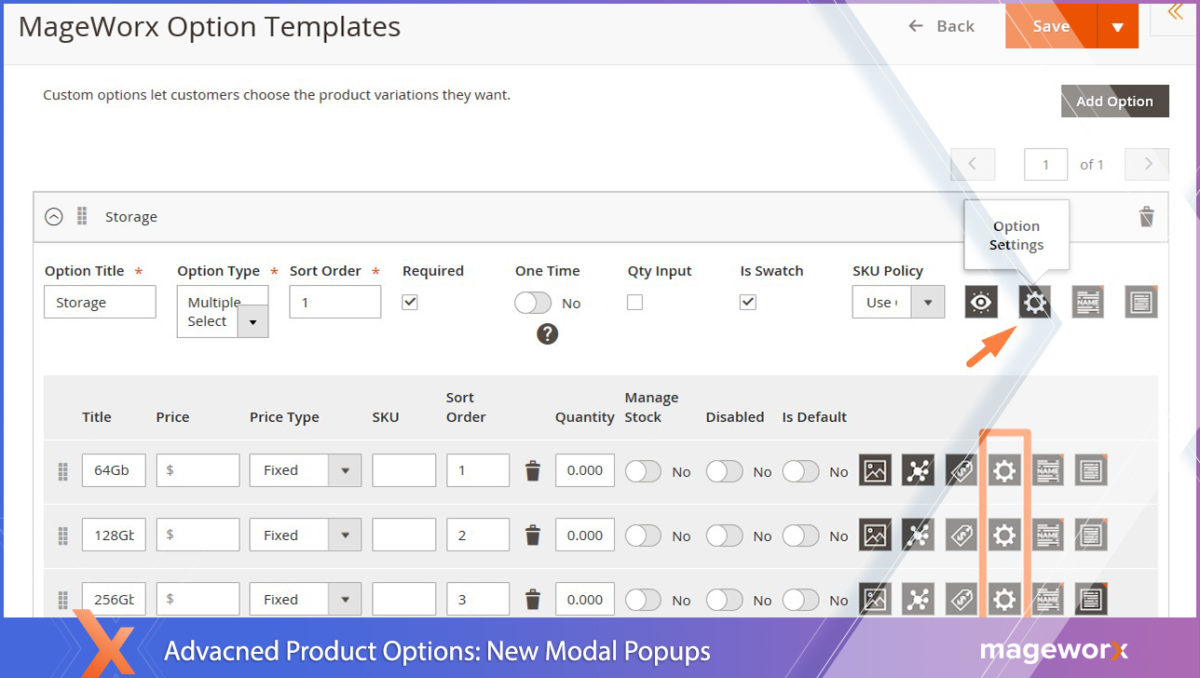 Weight type feature
The 'Weight Type' functionality enables you to specify weight type for the weight option. It can be either fixed or percentage. This will come in handy for product options which cost depends on their weight. For example, in the case of handcrafted sweaters of XL size, more crochet threads might be required. This functionality will help you specify such option's cost in the most appropriate way.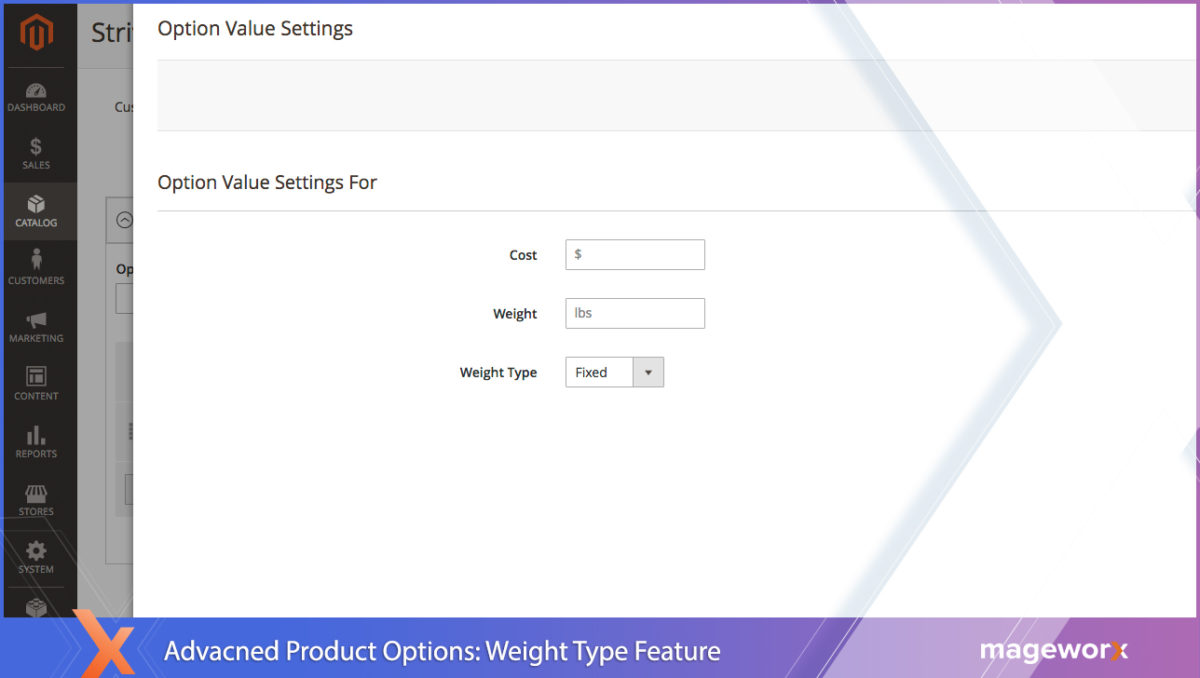 Ability to translate option & value titles
If you run an international online store, the possibility to have your product options & values conveniently translated (with no need to switch store view on the global level) is a must. With this regard, we've added an easy to configure 'Store View Titles' functionality.

Within this modal popup menu, you'll be able to either specify the titles globally or for each store views separately. The available Store Views will be conveniently displayed within the setup:
'Div Class' feature
Naturally, this new functionality brings more product options customization possibilities. The setup field can be found in the Option Settings Modal Popup: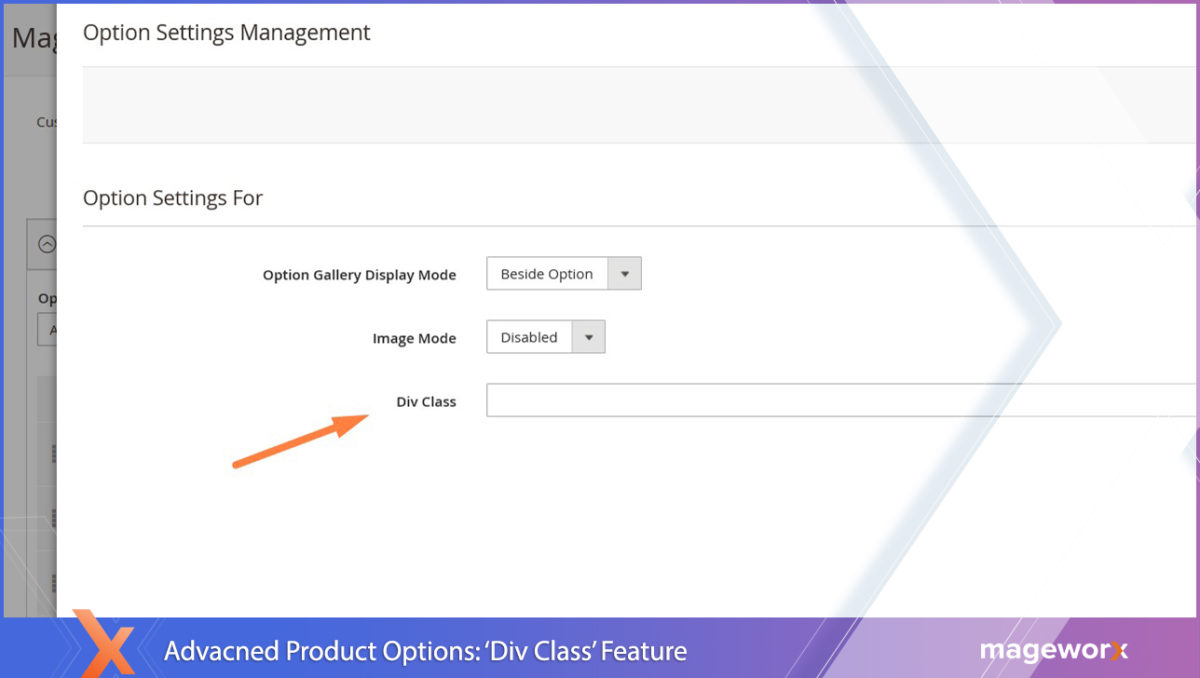 'Multi swatch' option type
Before, 'Is Swatch; functionality used to be solely available when the drop-down option type was selected. The recent update adds the possibility to choose swatches when 'Multi Select' option type is selected:
'Color swatch' option type
The configuration for the 'Color swatch' option type is available within the 'Images' modal popup. There, next to the 'Browse to find or drag image' setup, you'll find the newly added functionality. The color selection has been developed to be as close as possible to the native Magento colors setup experience, i.e., the color selection prosses is equal to the one in default Magento.
New setting for Option SKU Policy
The 'Split Independent items' setting has been added to Option SKU Policy functionality and can be done on the global level, i.e., Stores > Configuration > MageWorx > Option SKU Policy. However, upon our users' request, the configuration is planned to be transferred to the stores level.
To explain what the functionality offers, let's consider the case of Independent SKU Policy as an example. It is worth reminding that when Independependent SKU Policy type is selected, it transforms custom options into separate items in the order and keeps the original product. If you are selling gift wrap as a product option, and, for instance, your customer purchases three items and selects gift wrap only for two of them in one order, you may get confused which products should be wrapped as a gift at the end as this product options might get displayed randomly within the order. With 'Split Independent Items' functionality, you will be able to display gift wrap separately, under the parent products they belong to.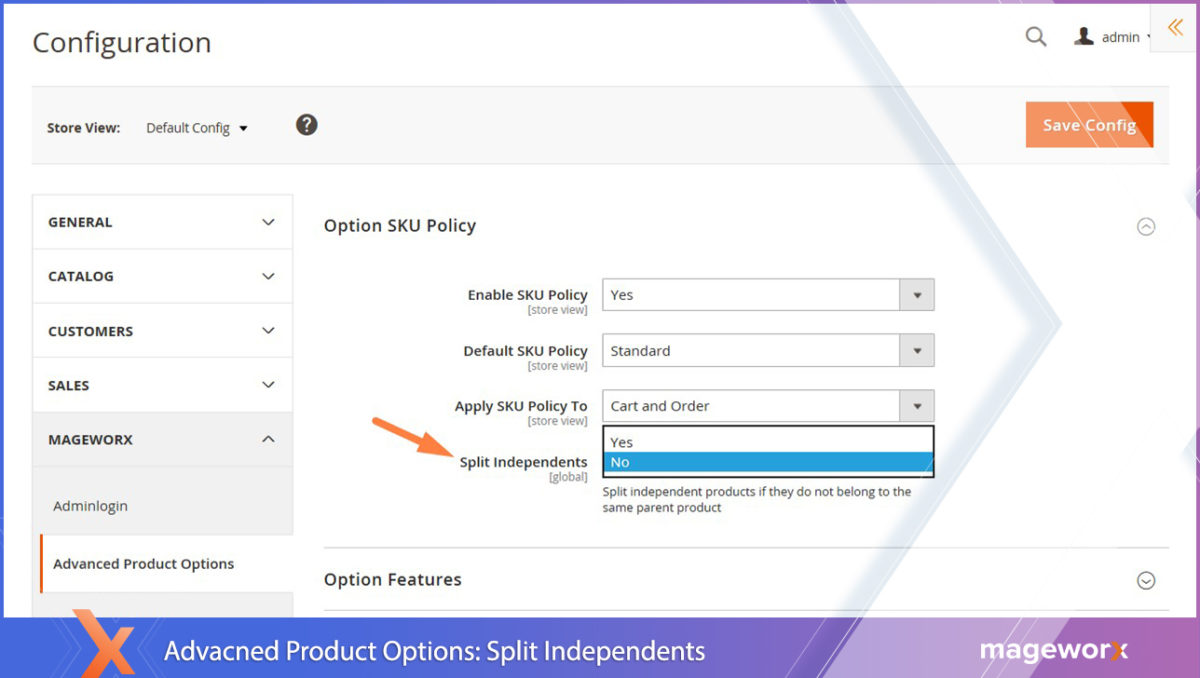 Ability to limit selection for multi-select options
In July, the extension has added the functionality to limit the number of selections (for the customer on the frontrend) for multi-select options. These configurations are located here:
Also, we've made certain perfomance improvements. In particular, fixes for the weight type's backend error for Magento v2.1.x and the template unassignment issue with several templates have been made.
---
Store Locator & In-Store Pickup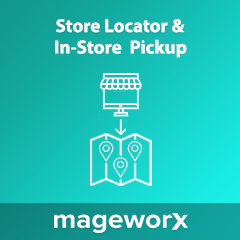 Run both online & brick-and-mortar stores? Why not introduce a trending buy online pickup in-store functionality then?
With our extension, you can offer the online shoppers to opt for a new convening shipping method at the checkout, create SEO-optimized & content-rich location pages to attract more targeted both foot & online traffic, generate a separate Find a Store page with pinned stores location on Google Maps, specify products availability for each location, and more. GeoIP & import/export functionality. API support.
Within the recent extension update, Store Locator & In-Store Pickup has been optimized to work with a big number of stores on the fly.
Additionally, the JS in the Store Locator block has been improved. The solution has started to load 'Store Details' using AJAX. 
Click here for top 7 Magento 2 delivery date extensions overview.
---
Delivery Date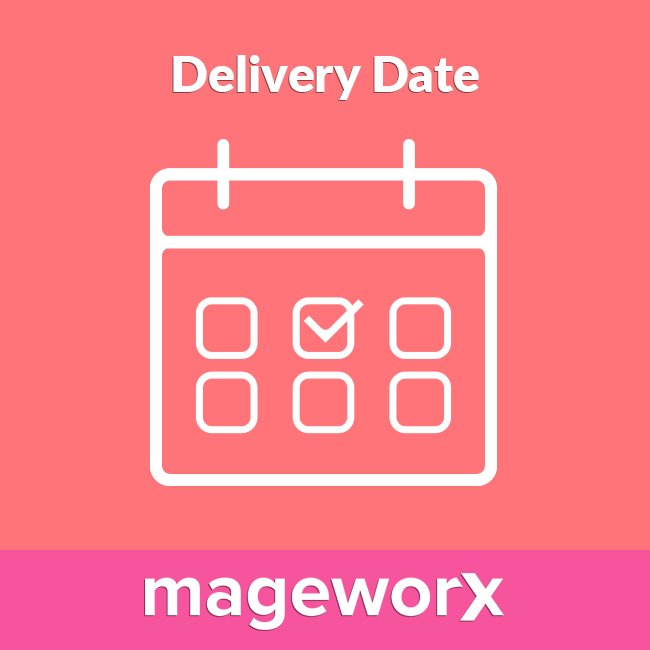 Timely delivery allows cultivating customer trust. Additionally, information about the closest delivery time on product pages helps online shoppers better organize their spare time, while reducing the possibility of second-guessing a purchase. For store managers, the extension brings the power of simplified deliveries management: delivery calendar for orders queue overview, ability to exclude holidays from delivery days, setting order limits, and so much more!
Despite this extension is relatively new in the MageWorx fleet, it has already managed to gain popularity and receive positive feedback from our customers. In July, besides performance improvements, the extension has started to support advanced API functionality.
Click here for top 10 Magento 2 delivery date extensions overview.
---
Shipping Suite Ultimate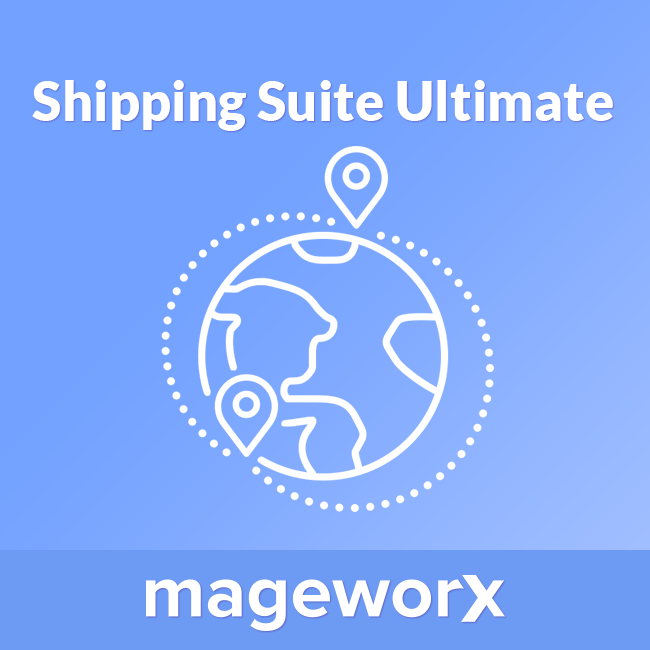 First released back in 2016, the Magento 2 Shipping extension has been tailored to include everything you might need for shipping management. Be it creating an unlimited number of carriers, methods, and rates. Be it flexible shipping rules & conditions. Be it advanced postal codes validation, including alphanumeric postal codes, and more.
Code refactoring and bug fixes for this extension in July.
Besides the above-mentioned updates, this MageWrox extension has got unexpectedly featured and reviewed by Max Pronko on his Youtube channel once again. In his video about Shipping Suite Ultimate, Max talks about 3 top features of the extension:
---
Short Category & Product URLs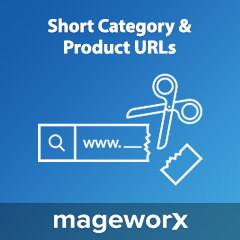 Being one of the pioneers in Magento 2 SEO solutions development, this winter we've released a new solution that helps make your site product & category pages more attractive for both the search engine crawlers & the potential shoppers ― the tool that allows optimizing sub-category & product page URLs by removing parent categories and thus increasing page priority and generating greater search convenience.
The extension has added compatibility with Magento 2.3.2.
---
Gift Cards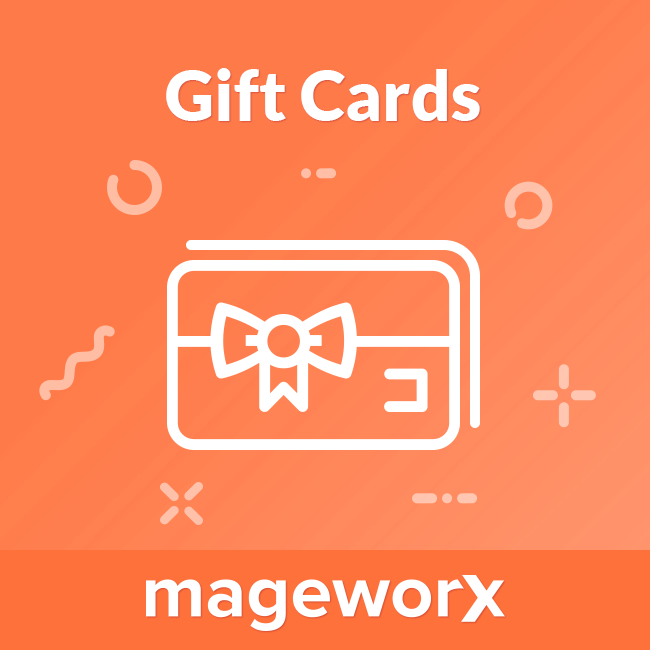 Did you know that the number of purchased gift cards in the U.S. has increased by 51% in 2018 when compared to 2006? Just as gift cards get more popular, gift-giving process optimization becomes vital for a well-operating business today.
In version 2.6.2, the problem with displaying applied gidt card codes in invoices and creidt memos has been fixed.
---
Multi Fees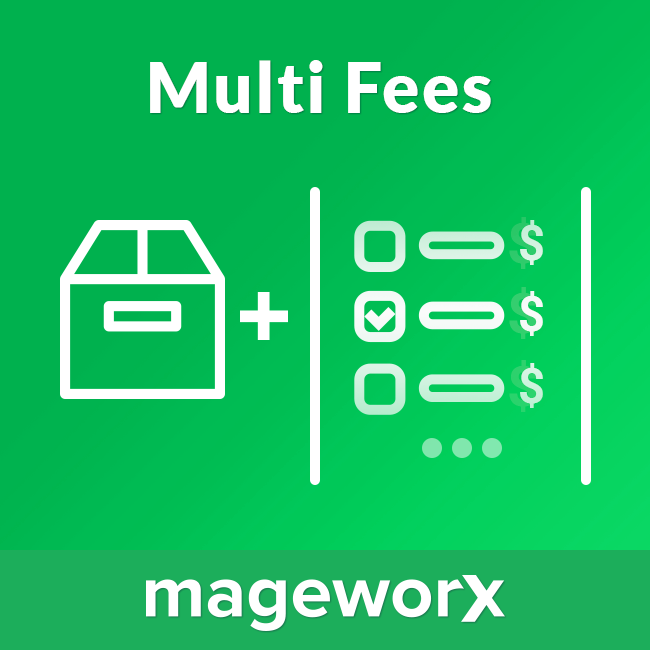 Looking for the best way to save on billing and shipping expenses? Wish to increase the average order value and drive more sales? By suggesting complementing products/services ― such as product insurance, rush delivery, extended warranty, gift wrap, etc. ― you get to drastically improve customer shopping experience.
Performance improvements for the extension in July.
---
Priority Support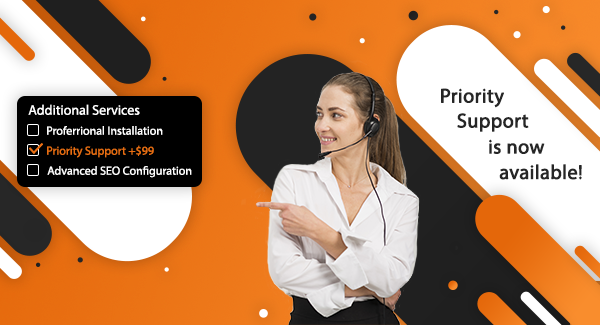 ❗️ ❗️ ❗️ Additionally, we've recently introduced the possibility to purchase priority support.
This option does not mean that we are moving towards making MageWorx support services paid. We've always offered (and will always do) FREE support.
However, most of the time it' standing in a line as our support works on the first-come-first-served basis. We've introduced priority support for those, who need their issues to be solved within a few business hours.
---
Some of the updates are based on the little hints we get from you about what we should work on next. We appreciate your feedback and welcome suggestions at support@mageworx.com.
Stay tuned as more updates are just around the corner!