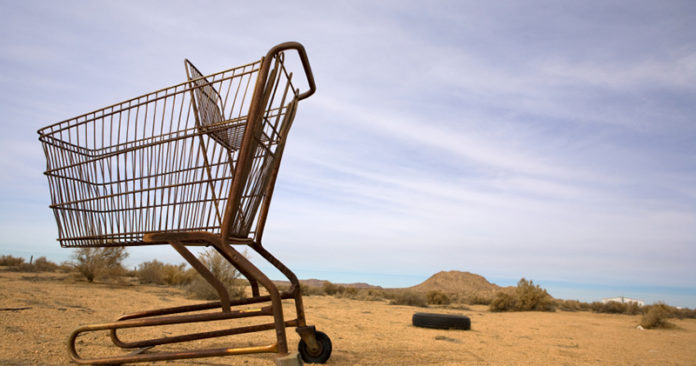 Reading Time:
5
minutes
Do you know that while you are reading this you may be losing sales? Seriously.
Every day about 60-70% of online shoppers abandon their carts without completing checkout. That, in turn, results in a staggering amount of lost revenue for many online shops. And yours can be one of them!
According to SaleCycle's founder and CEO, Dominic Edmunds: "Cart abandonment is one of the biggest challenges facing online retailers, with three-quarters of customers effectively walking away at the till".
Read on to learn how to get shoppers back to your site and recapture your lost revenue.
Why Do People Leave Online Shopping Carts?
According to Statista research (conducted last year) there are 14 main reasons why people leave E-shops without finalizing a purchase.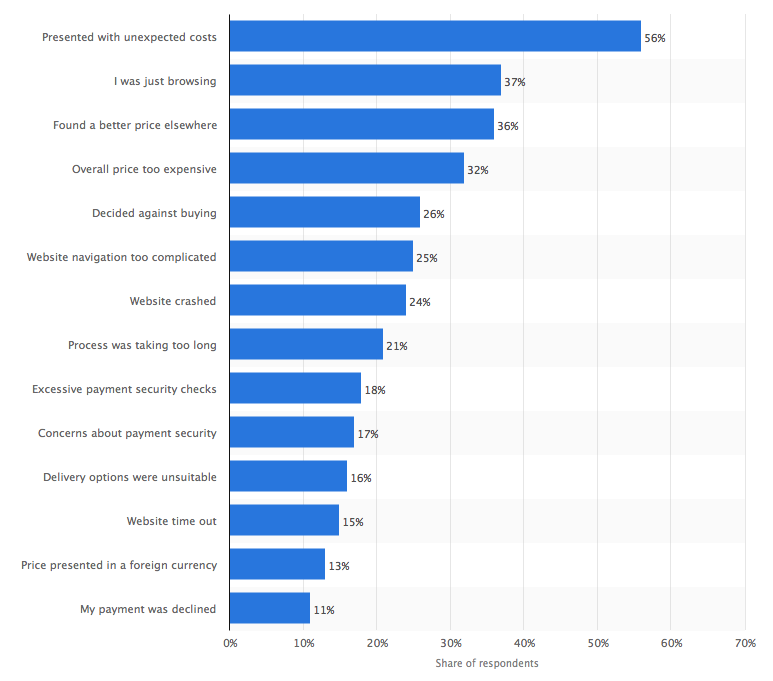 All these reasons can be grouped in 4 categories:
Pricing: unexpected and unclear costs, hidden charges, overestimated prices can be the reason why shoppers leave your store.
Payment issues: concerns about payment security, glitches in a payment system, limited or complicated payment options, declined payments, etc. can result in big amount of lost sales.
Website performance/navigation: stores that have unclear navigation, hosted on cheap, poorly performing servers and hence have slow load time, frequent crashes and a bunch of other issues that put shoppers away.
No intention to make a purchase: just like people in the physical world do window-shopping, stroll around shops and feast their eyes on different stuff, online buyers also visit E-stores just to check out products and prices. Usually, these visitors are either in the process of making a purchasing decision (they are comparing product options, choosing the best pricing offer, etc.), or they may be just browsing with no buying intention.
While the reasons for cart abandonment are endless, failure to capitalize on these lost sales opportunities can cost your online business too much!
Tackling Online Cart Abandonment Issues
Some of the above mentioned issues can partly be solved by implementing technical improvements to an online store (enhancing site speed, improving its navigation, minimizing checkout process) and changing pricing policy (being up-front with pricing and fees, offering more flexibility on pricing/payment options).
However, making a convenient and shopper-friendly E-store doesn't guarantee that people won't leave their carts in the middle of the checkout process.
And this is the case when you need to expand the scope of your activities beyond technical website improvements and onsite marketing. The best way to make up for the inevitable shopping cart abandonment is through Email Remarketing.

What is Email Remarketing?
Email remarketing is an activity that aims to re-engage people with your website. Basically, this technique is used to follow up visitors who were browsing your website but left without taking any action (completing their order).
The Effectiveness of Email Remarketing Campaigns
According to SalesCycle, in Q3 2013, cart abandonment rates averaged 74% across all sectors. But as the same research showed, conducting recovery email campaign significantly helped to get lost sales back. Here are some stats:
About a half – 46%- of all cart abandonment emails are opened.
35% of clicks lead to a purchase back on site.
AOV (average order value) of purchases from basket abandonment emails is 19% higher than typical purchases.
And the most important point is:
Every single cart abandonment email sent, delivers over $5 in revenue.
So, you see, emails can be a very effective channel to woo customers into reclaiming their online abandoned carts.
Planning Email Remarketing Campaign
Basically, such a campaign consists of 4 important stages:

Collecting Customers' Email Addresses
Emails are key asset for online remarking. Hence, the bigger amount of emails you manage to capture, the more lost sales you will be able to regain.
There are different ways to collect shoppers emails:
You can equip your online store with widgets that will encourage visitors to sign up for its email newsletter. To lure subscribers, you can promise to share info about the exclusive deals, discount coupons, or use some other incentives.
When visitors share their emails, your website, in turn, will place a tracking cookie on their computers and track their behavior on your store. When they leave their shopping carts, the script will send them an email-reminder.
Here is an example: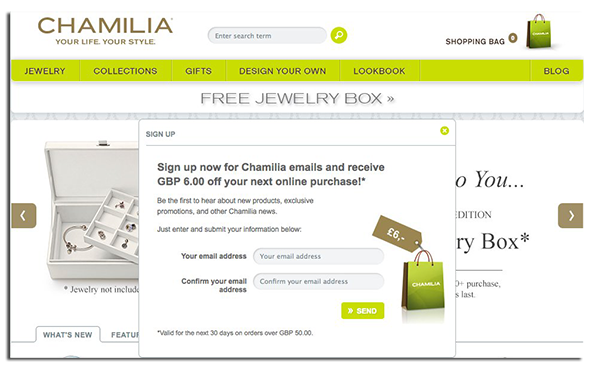 This method of collecting emails surely has pros and cons.
Pros: You can capture an email address before a customer even proceeds to the shopping cart.
Cons: This method requires knowledge of some technical know-how. Also, it's not very reliable as people are often in a rush and don't bother about subscribing to something they don't know.
Creating an Account/ Registration/ Signup
Another way to collect emails is to introduce a procedure of registration/creating an account on your site. These days, the whole process has become really simple. Store visitors can even sign up using their social accounts credentials. Or if they don't want to share their personal details, they can sign up as guests using only their email address.
Here is the examples of the websites that have all the above mentioned options: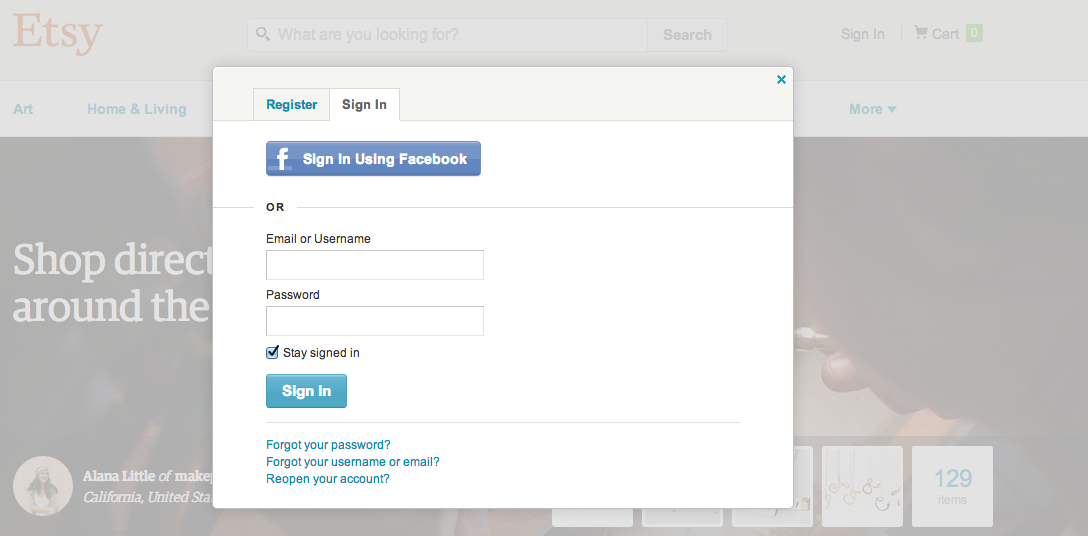 Pros: By leaving their personal details shoppers let you contact them whenever needed. Also, having this data, you can make your email campaigns more personal.
Cons: Sometimes the signup process may take quite a long time, and shoppers (especially those who are just browsing) can leave a website without completing registration. Also, some visitors may not eager to share details of their personal accounts for security reasons.
So, when emails are collected, you may proceed to the next stage: setting up a sending schedule.
How to Schedule Sending Cart Abandonment Emails for More Efficiency
When it comes to email follow-up, timing is a critical factor.
But when you get down to setting up a schedule, you should remember that every website is different, and finding that ultimate time depends on a wide range of factors.
1st email
The average advised time for sending the 1st recovery email is 20 minutes.
However, if products in the cart are pricy (for example, electronics or jewelry), 20 minutes is not enough. In this case shoppers usually need more time to think if they are on the fence. And vice versa, for quick purchases (for example, clothes or concert tickets) 20 minutes may be too long, and shoppers should get your 1st email reminder almost immediately.
So pick up the right time with the consideration of all these factors.
Also, you should remember that your first recovery email shouldn't be selling. It should be a polite reminder of what they have forgotten and a suggestion to help. Ask shoppers why they left their carts, try to find out if they faced any technical challenges while placing an order. Give them alternatives, solutions and ask for their feedback.
But don't sell!
This is a great example of the 1st recovery email: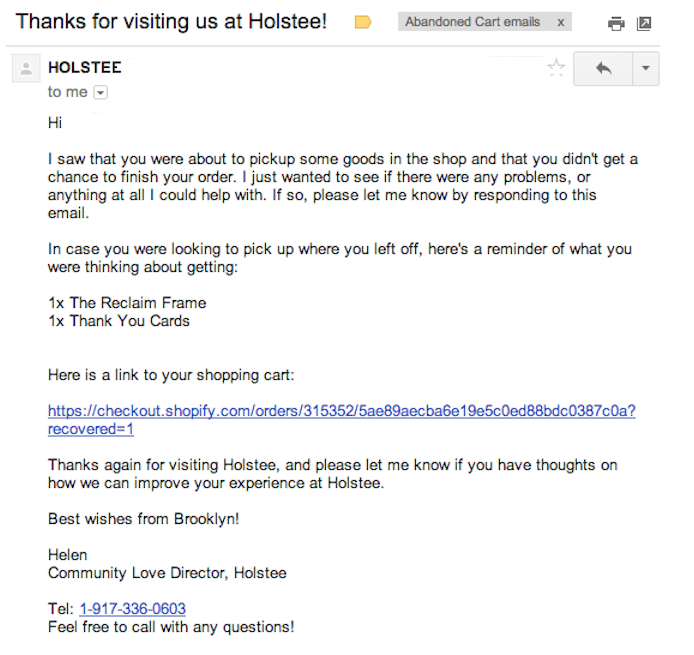 2d email
The second email should be sent after 1-2 days after the initial email.
The Forrester study showed that the top two reasons why visitors abandon shopping carts are:
they are not ready to buy yet
a price objection (including shipping and handling).
Hence, sending a second email is important because it allows you to gently nurture your prospect until they are ready to make a purchase.
At the same time, a sequence email should create a sense of urgency and a stronger call to action. Inform your shoppers that their carts may soon expire, and that any discounts or availability won't be guaranteed at a later point.
Here is the example of how you can do that: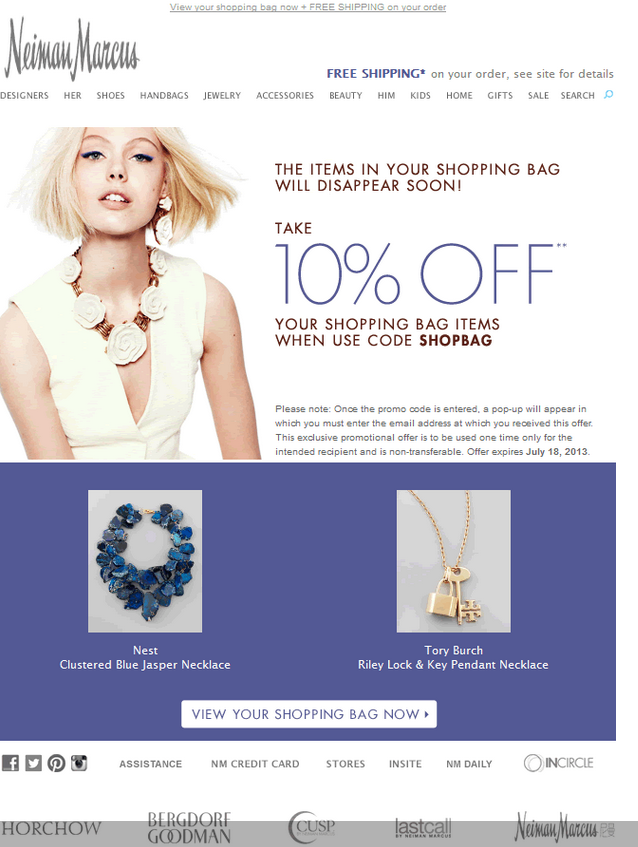 3d email
If the 2 emails didn't work, you can make the last attempt. The 3d email should be sent in 3-7 days since the moment of cart abandonment.
Clearly state that this is the last chance for your shoppers to recover their purchases.
Also, remember that sending this email you are running a risk of irritating your customers and are likely to mark your emails as spam. Hence, the third email should incentivize a shopper to complete their purchase. You may offer a time-limited discount, free shipping or some other benefits for your future-customers.
This is an example: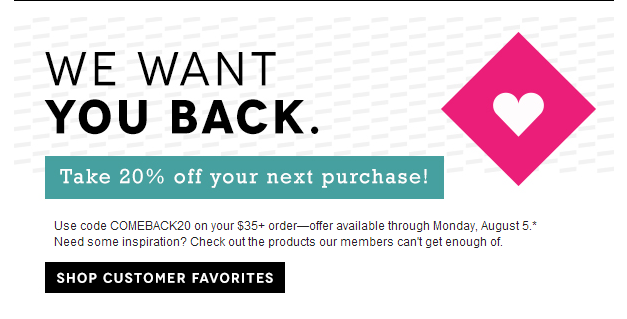 * * * * *
In the 2d part of the post we will tell more detail to you on how to craft an effective recovery email message, show more great examples of such emails and describe how to analyze effectiveness of your email remarketing campaign.