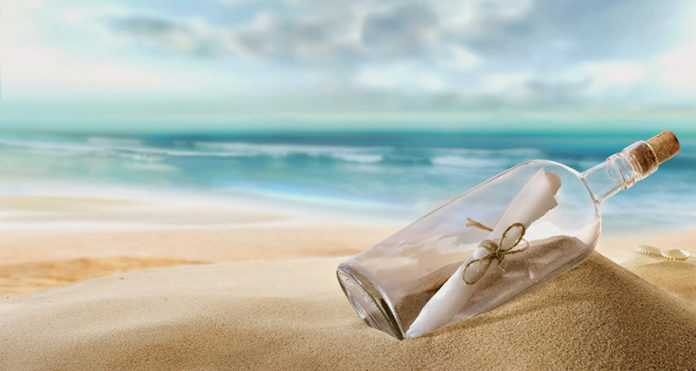 Reading Time:
7
minutes
Cart abandonment emails, remarketing emails, cart recovery emails… Whatever you call them, this type of emails is among the most effective marketing tactics that deliver an average 4-7% increase in online sales.
If you have read Part I of the series, you already know how to effectively plan the initial stages of a remarketing email campaign: collect shoppers' addresses, pick up the best time for an email shot and schedule your messages.
To make the puzzle complete, Part II will tell you how to create an irresistible remarketing email message, analyze the results of your campaign and adjust it for better efficiency (if necessary).
From this post you will learn how to:
create a killer remarketing email subject line;
craft an outstanding email copy with the right tone and calls to action;
use imagery in these emails the right way.
Also, this post will provide you with some tips on how to analyze the effectiveness of your remarking email campaign and channel it in the right direction.
So, let's get the ball rolling.
#1. Writing a Great Email Subject Line
Email subject line is a lot like a conversation starter. It's a kind of make or break statement that determines your chances for future attention and interaction with a would-be customer.
Generally, a perfect cart abandonment email subject should be:
personalized;
short but informative;
free of spam triggers;
creative.
Personalization
Basically, there are 4 ways to personalize a remarketing email subject.
1. In the first case, you can use such words as "you" or "your". It adds a more personal touch and makes readers think that an email was sent by an actual person who understands their interests or concerns.
For example:
Something you like is almost sold out!
There's still time to fetch your special deal from our store.
2. Another way to make an email subject personal is to include a recipient's name into it. But you should be very careful with this practice, as it's generally associated with spam! If you decide to use this way to personalize your message, use only a person's first name. Saying things like, "Jack Nikols, it is the time for a holiday – get your tickets now!" is a surefire way to look like spam!
These are good examples:
Vitaly, we are still holding some great stuff for you!
Dan, did you forget something in your cart?
3. You can personalize your email subject line with whatever is left in a shopper's cart. You can insert into the subject a product name, a product category, a brand name, etc. Such a subject displays personalized information about the thing shoppers actually wanted and addresses their specific needs.
For example:
Nancy, came back and get an awesome case for your iPhone.
Nicky, we are still holding your Angus Queen Bed. Act fast if you want it!
4. Finally, you can offer personalized prices and discounts for a specific segment of your email base. In Magento 2, Customer Prices Suite is a help-it-all solution.

Zooming In All Important Info in a Single Statement
When it comes to an email subject line, you have only a few seconds to capture the reader's attention. That's why it's important to make it short but informative. Besides mentioning the product put into the cart, you can also:
1. Include numbers. With their help, you can simplify any message and put the content people are receiving into terms they understand. That can be a special deal, the number of items left in stock, the number of items left in the shopper's cart and the like.
For example:
Hey! Last Chance to get 10% off on the jeans you like!
Jill, come back and get 3 lovely Nike T-shirts with a 5% discount!
Jeff, there're only 1 Angus Queen Bed left at this price!
2. Tease your customers. However hard you may try, in some cases, it's impossible to include all important details into a single short statement. But there is a solution!
People love cliff hangers. And if you manage to craft them correctly, the teaser tactic will work really well.
For example, Jill, remember those new-collection shoes? They could perfectly match your new dress!
NB! By all means, avoid CAPITAL LETTERS AND EXCLAMATION POINTS!!!! when highlighting info in the email subject. In fact, it doesn't convey excitement — it generates a feeling that you're trying too hard to get shoppers' attention.

Making It Spam-Free
The easiest way to get your remarketing email ignored is to include spam triggers into the subject line. The phrases like "100% free", "Awesome deal" or "Buy NOW!", etc.can make your message land directly into the spam folder.

Applying Creativity
Sometimes the craziest and most unusual things work best. Here are two awesome examples by Chubbies Shorts who suggest to "teleport" you to your abandoned cart and get short that are "patiently waiting" for you.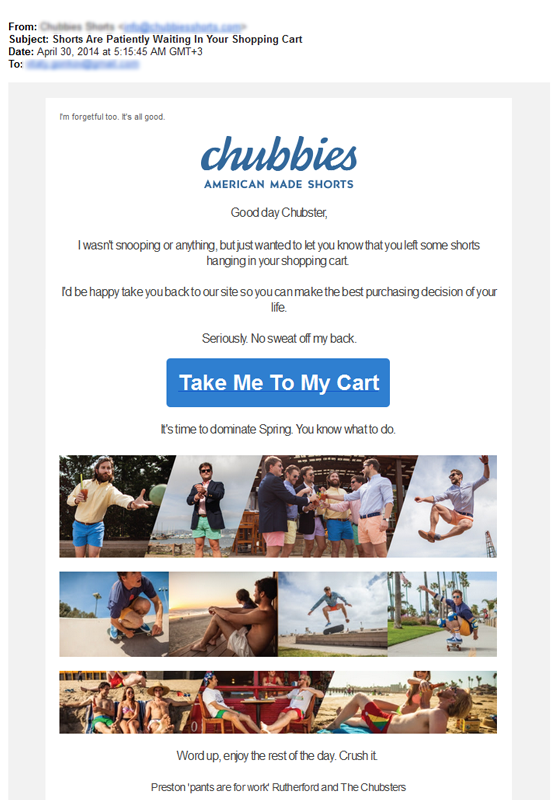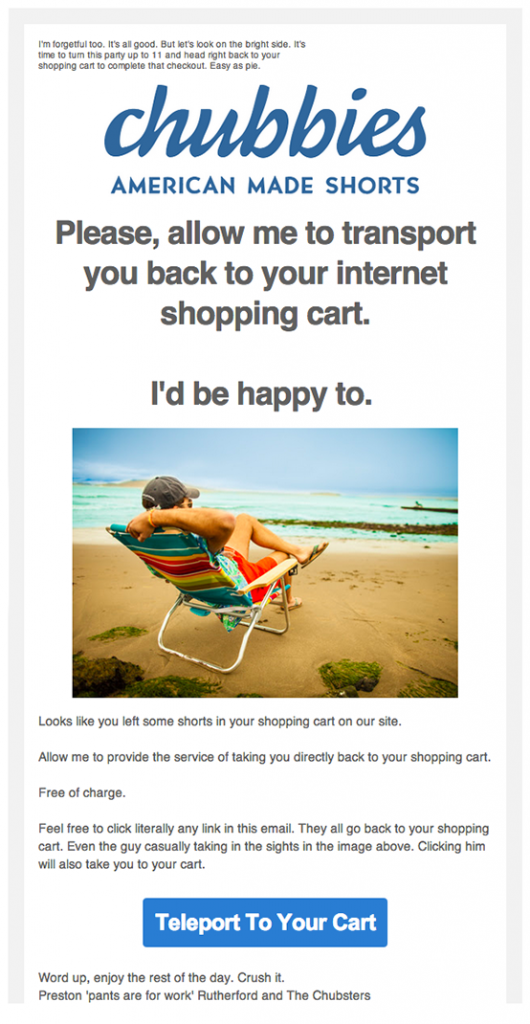 When writing a recovery email subject, you should put yourself into your customer shoes. Just ask yourself: "What action would I do if I got an email with such a subject?" If it feels ok, proceed to the next stage – creating an email copy.
#2. Crafting an Outstanding Email Copy with the Right Tone
This is the most interesting and creative part of the process.
As mentioned in Part I, there can be 3 series of recovery emails sent at scheduled intervals. Each of them has its own goal. And depending on the goal, the message of the email will vary.
1. Initial contact. When sending the 1st email, it is important that your marketing messages use a gentle, caring, service-based tone.
The first remarketing email isn't about shoving your product down customer's throat! It's about figuring out the reasons why your customer left the shopping cart and offering them your help and assistance.
To open the lines of communication, avoid strong sales language. Your message should look more like a customer service enquiry, not like a sales copy.
Be sure to provide the images and links to the products left in the shopping cart, send the contact info of your customer service (and specify the time when it's available), and don't forget to thank shoppers for visiting your store.
Here is a great example of such a recovery email by boohoo.com.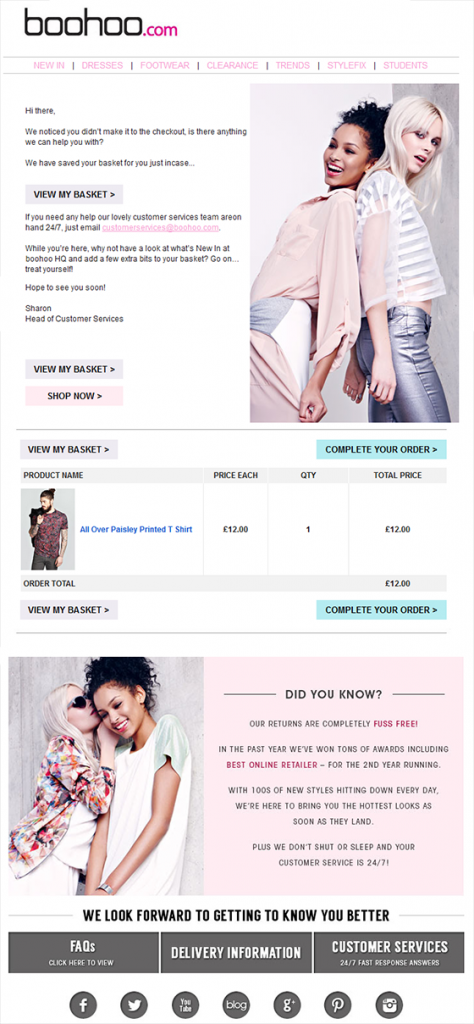 2.
A second contact. In case your first attempt to reach out the left customer didn't bring any success, make another try.
The time of sending out a second recovery email mainly depends on the website and the sensitivity of the transaction. But on average, this email is sent within 1-2 days since the moment a shopper left the cart.
This email should create urgency and have a corresponding tone.
With this message, you can inform a customer that the items he/she put into the cart are still available. But also assure them that if they don't confirm their purchase, those items will sell out quickly, so there's no time to waste.
Additionally, you may also include a more detailed description of the product and highlight its main benefits. Also, it's great to provide guarantee security for online purchasing and a little incentive (5-10% discount).
This is a great example of a second recovery email sent by Forever 21.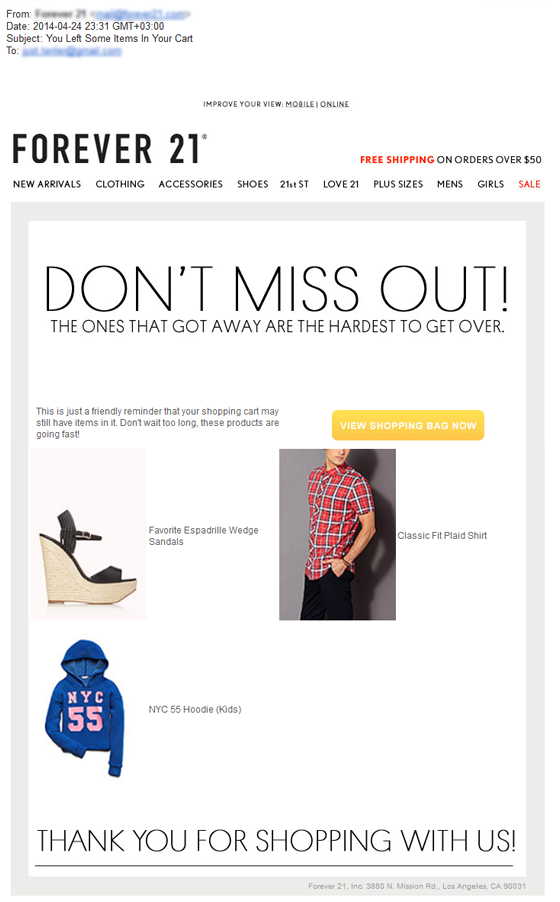 3. The final follow up. If there is still no purchase made, send the third email (5-7 days since the moment the cart was abandoned).
This email should contain an offer with a strong call-to-action and a sweet incentive. That can be free shipping or a considerable discount on the purchase itself. In addition, you can offer some related products at a discounted rate.
For better-organized shipping management, take a look at Magento 2 Shipping Table Rates.
This is the follow-up email in which you can use strong sales language.
See the example of such an email sent by SmileyCookie.Com.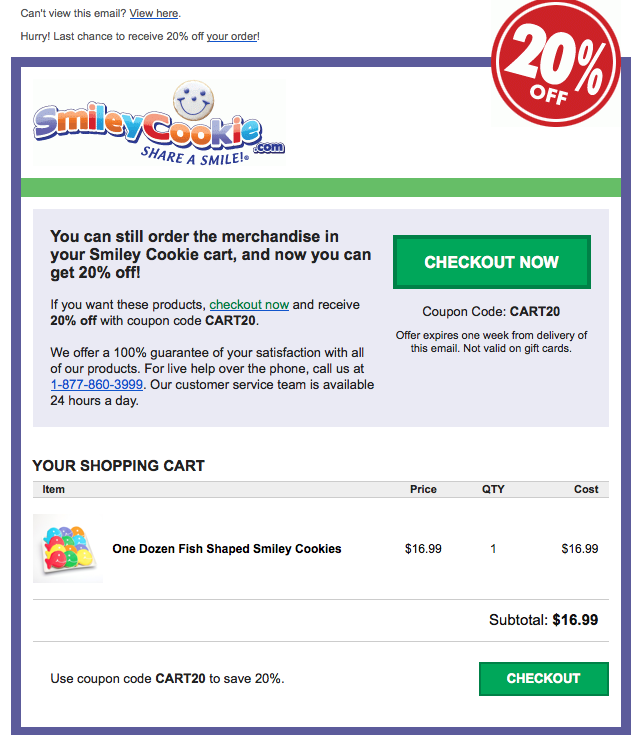 And remember! No matter whether you opt for a single follow up email, or a multiple stage campaign, keep your emails simple and focused.
A great remarketing email is about one action and should be communicated in the simple form. The last thing you want is to confuse your would-be shoppers. Offer one takeaway, indicate how your would-be customer can make use of it, and specify how you will deliver it.
#3. Image Usage: Remarketing Email Best Practices

We all know that a picture can tell a thousand words. And when it comes to email remarketing, including imagery into a message can be a great visual reminder of what they have left in the cart.
Sending a plain text recovery email is not a great idea both from branding and conversion perspective. Such an email looks unappealing, impersonal and unconvincing. Just have a look: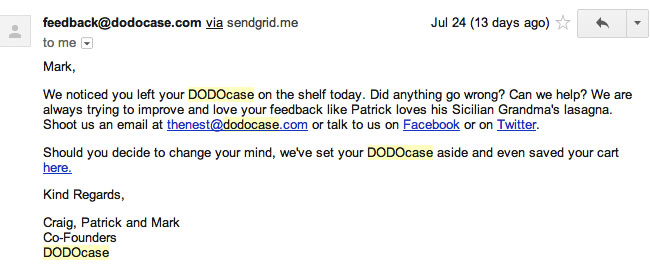 However, heavy usage of images is a challenge mainly for deliverability and display issues it can trigger.

Deliverability
Heavy image emails are most likely to end up in the last place you actually want them to see – the spam folder. The point is that if there's no content (images don't count), an email is classified as suspicious and can get into the spam filter.
So whenever creating a heavy image HTML copy of your remarketing email template, make sure you use Alt tags, all your tags nested and closed and you have all links go to the right pages. With such type of an email, everything else counts to get it in the Inbox.

Image Display
Alas, but most email clients and some email service providers turn images off by default. Hence, no matter how beautiful your remarketing email can be, if it is an only-image or heavy image one, it may not be displayed to readers at all.
That's why it's really important that such information as product description, product price, and availability, should be in plain text.
As for the ratio, your recovery email should not be overwhelmed with images. As practice shows, maintaining a ratio of 30% images versus 70% text works best.
This is a perfect example: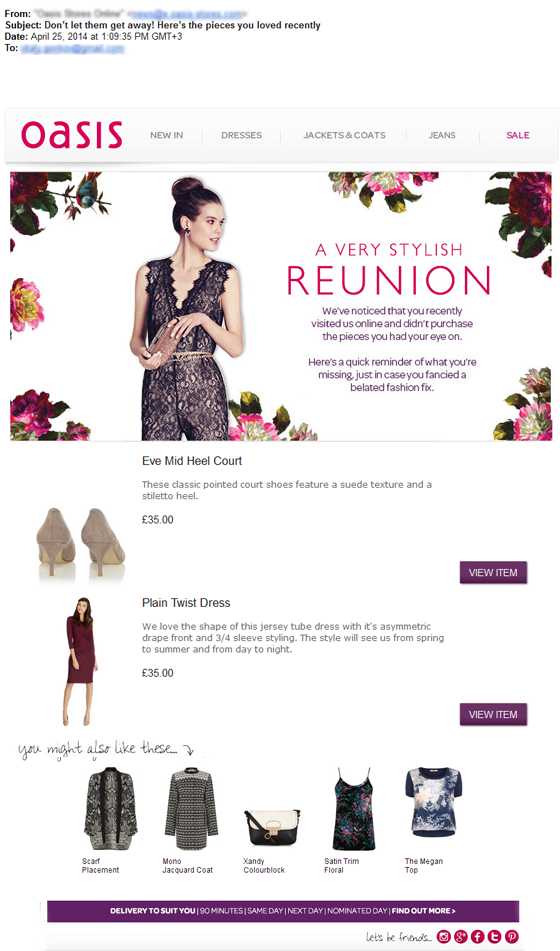 And the most important! Before you send out your email, preview it on all devices (including mobile ones!) to ensure that it looks good with images turned on and off.
#4. Analyzing the Results of a Remarketing Email Campaign
After you create and send your first portion of cart abandonment emails, you need to analyze the first results of your campaign. That will help you figure out whether or not you are doing something wrong and let you channel your whole campaign in the right direction.
Basically, there can be 4 scenarios:
1. An ideal scenario. Your 1st cart recovery email is opened, a shopper clicked on the links in it and finalized the purchase.
Sounds easy and smooth. However, by no means, all recovery emails bring the same result.
2. Your email isn't opened and read. That can happen for 2 reasons: you either didn't manage to create a convincing eye-catching email subject, or your recovery email was identified as spam and landed into the spam folder.
The solution: Experiment with email subjects, try different approaches and pick up the line that works best. Also, make sure that you don't use any spam-triggers and don't overload your email with heavy images.
3. Your email has been opened and read, but no further action followed.
That is the case when you need to re-make your message. Perhaps your email is confusing for a reader, or it is boring and doesn't evoke any interest. It can also be that you are trying to sell too hard, and it makes readers close the email without any further action.
Besides, you need to check if your email is properly displayed on all devices. If it is not, consider remarketing the email layout and adjusting the code.
All that should help.
4. Your email has been opened, read, marked as spam or unsubscribed. This is the worst-case scenario. If that happens, you need to reconsider every step of your campaign! Start with changing the scheduling time for your emails and finish with changing the wording and images in your emails.
Bottom-Line
Remarketing email campaign isn't a magic pill that will help you recover every lost sale. However, if you manage to organize it the right way, craft a perfect recovery email message, you will get most of the abandoned customers back.
P.S. Have you have organized your own remarketing email campaign? What was the result? Which tricks did you use to make it more effective?
Please share your thoughts and ideas in the comments below.