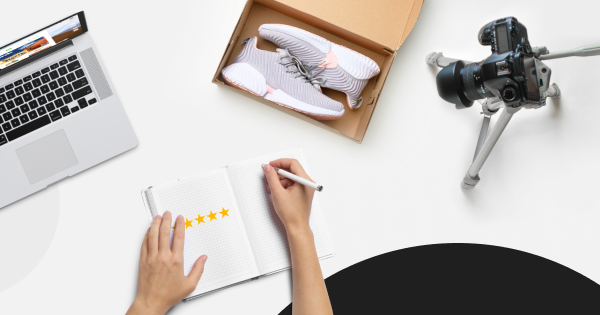 Reading Time:
6
minutes
From skincare products, kitchenware, and flights to hotel rooms, contractors, and medical services, if you're using the internet to look for anything, chances are someone has already written a review for it.
So if you're a business owner, there's a lot to consider when it comes to online customer reviews. They matter more now than in the past years. review
Why are online reviews so important?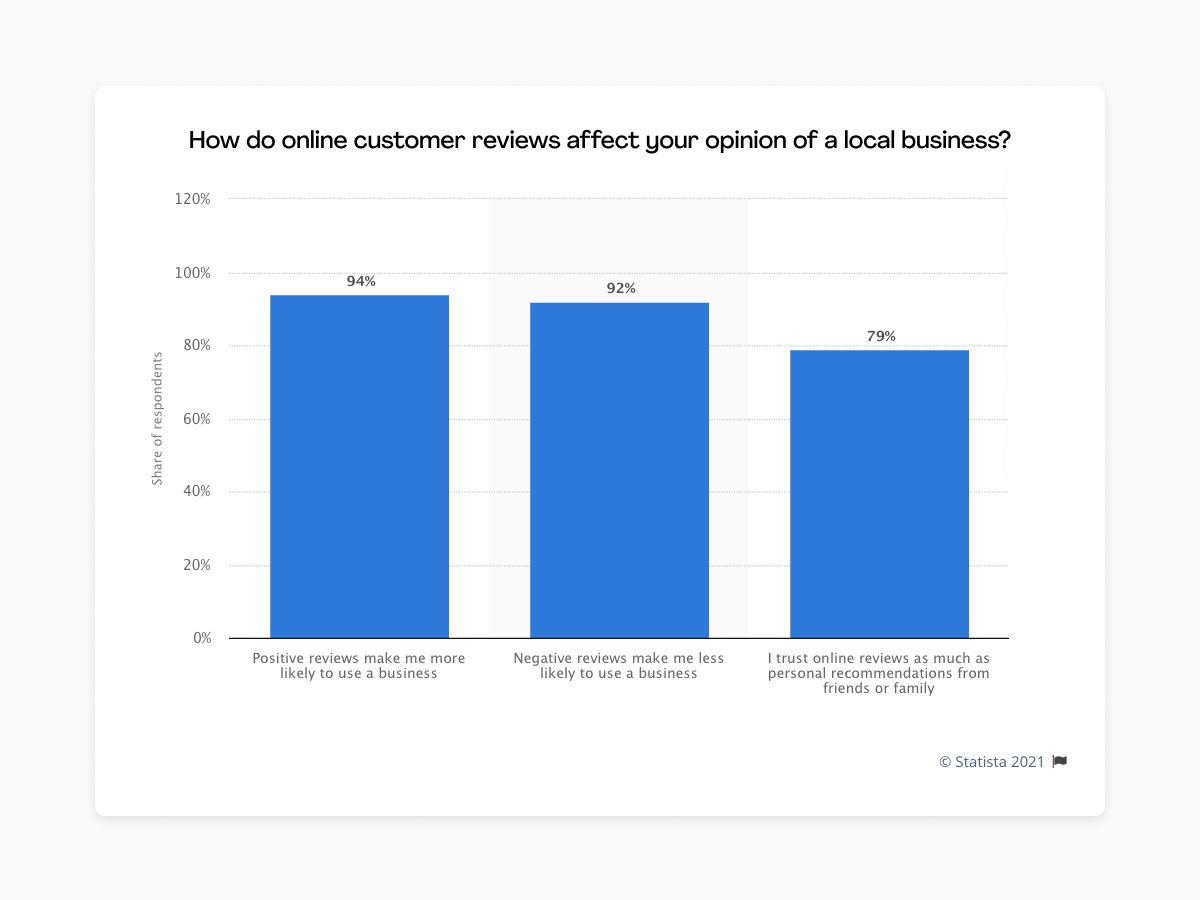 Image credit: Statista
Why Reviews Are Important?
Ratings and reviews are important for many reasons. Number one being that reviews provide proof that is highly accessible to interested and potential customers.
If you're still wondering why reviews matter to your brand, read along to find out the answers.
1. Reviews Provide Credibility and Proof
Consumers trust online reviews; 84 percent of consumers trust reviews as much as personal recommendations from family and friends. Not just that, 91 percent of online shoppers read them.
It isn't surprising, considering humans are social creatures. We want to know what other people have to say about certain products before we buy products.
2. Reviews Influence a Potential Customer's Purchase Decision
Most customers choose to read reviews before making a purchase. Research shows that nine out of ten customers use reviews as a reference before purchasing a product.
This makes reviews a part of the customer journey or the buying process. It shows how much power reviews have in engaging and influencing your buyers' decisions. So gather all of your positive reviews and showcase them on critical pages of your website, like your homepage and landing pages.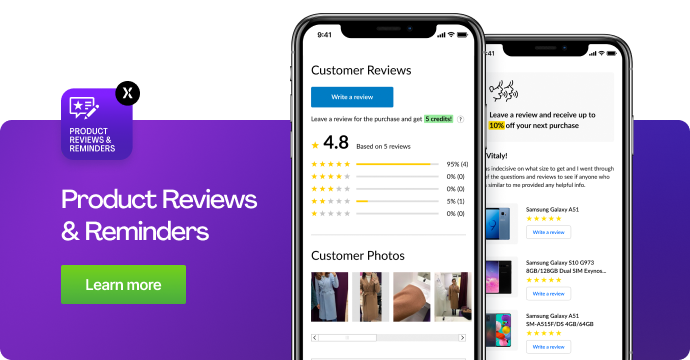 3. Reviews Allow You to Understand Your Customers Better and Improve Your Services
Feedback also gives you the data on what your customers think about your brand, business, products, and services.
Analyzing customer feedback will help you understand:
What customers need
What satisfies them, and
What you can improve in your business.
With reviews, you can resolve issues and find opportunities that are unique to your brand. It helps you create a more positive experience for your customers and align your services with the current trends.
4. Reviews Inspire Customer Loyalty By Giving Consumers a Voice
Most customers who spend time writing an online review are the ones who are potentially going to be repeat customers.
They're the ones who will likely come back.
Having a place on your website where they can leave a review or comment will make them feel like they have a voice that is heard.
This kind of feedback will enhance their relationship with your brand, thus creating customer loyalty.
5. Reviews Improve Search Engine Optimization
You want to rank high in search results, and that's what SEO and some of the best SEO tools are for.
But building an online presence and boosting organic traffic can take some time.
Customer reviews can enhance your SEO efforts without you needing to pay them or lift a finger.
When customers write reviews, they use popular keywords that consumers like them are likely to look for.
For example, they are a product name, its type, and description.
It means free content for you, which helps you in two ways:
Your name will appear more on search engines, and
People who explore your brand will see positive star ratings or reviews
It is also a bonus for local businesses as customer reviews appear to be a major ranking factor in local searches. According to a study, web pages with reviews mentioning a name or a city tend to have higher rankings in Google listings and local pack.
6. Reviews Improve Sales
Your customers are doing the marketing for you, and word-of-mouth marketing is one of the most effective forms of marketing.
Online reviews for e-commerce stores and businesses can be viewed as another form of a digital marketing campaign, only this time, it's your satisfied customers who are doing the marketing. They are shedding a positive light on your business and creating brand awareness.

How to Respond to Positive Reviews
Getting online reviews on your website, Google, social media, or other online listings has become an important part of marketing your business online.
Getting positive feedback from your customers feels like an achievement, but how do you respond to them? Should you even respond in the first place?
The answer is yes.
Acknowledging positive reviews shows your customer that you don't take them for granted.
Always reply at once and thank shoppers sincerely.
It is also a perfect time to invite them to like your social media pages or introduce an existing promo.
When replying to positive reviews:
Reply quickly
Make it short
Be sincere
Add a small call-to-action
Positive reviews are also made to be shared. If a customer left a positive review on your website, share it on your social media stories or posts. It is an efficient way to let everyone know how effective your products and services are and how your brand can help people.
How to Respond to Negative Reviews
You can't please everyone.
All businesses will, at some point, receive negative reviews.
As unhappy or frustrated as you may feel about it, you must also acknowledge the negative feedback and respond.
Responding to negative reviews allows you to turn it into something positive.
Here is how to properly handle negative feedback:
Judge if the review has a basis. First, check if the review or complaint has a foundation. If it's not a valid comment or review, don't reply but keep track of the username or account. Do more research and see if they're spreading false information on other websites or places as well.
If you see that their concern is valid, evaluate the problem.
Respond at once. Don't prolong the issue and respond at once. Respond promptly, preferably within 48 hours. Put together a plan of action and discuss it with your team.
Apologize. Show empathy and let your customers know that you understand what they're saying.
Take responsibility. Never provide excuses, except for when they require an explanation. Resolve the issue quickly and properly. If it needs to be taken offline, request a customer's number and resolve it professionally.
Give them compensation. Offer a money-back or a free product or service in return.
If you have resolved the issue, ask the reviewer to edit their rating or the review.
How to Generate Online Reviews
Have a section on your website where your customers can leave reviews. It can be on the product page itself or another separate page where customers can send you feedback.
Reward reviewers. Incentivizing your customers to leave reviews will inspire them to comment on their purchases. These rewards could be coupons, coins, or reward points. It's up to you. There are promotion tools that can help you put these reward programs into action. Another idea you can use is to have these rewards as a bonus at the end, after they leave a review, just to give them a nice surprise to add to their experience.
Inspire more reviewers by putting raving reviews on your homepage and landing pages. Place a product review and rating section on your homepage or your landing pages. You want your website visitors to see positive testimonials the moment they land on your website. It gives you credibility and gives them confidence in your products or services.
Be accessible to your customers. Be where your customers are so that they can easily find and leave comments on your page. If they're on Facebook, make sure that your business also has an account so your customers can reach you.
Automate the process of feedback collection. Consider setting up automatic reviews or email reminders to collect feedback instantly. Such emails get sent automatically after a specified period of time. Alternatively, you can choose to display a popup when the timing is right.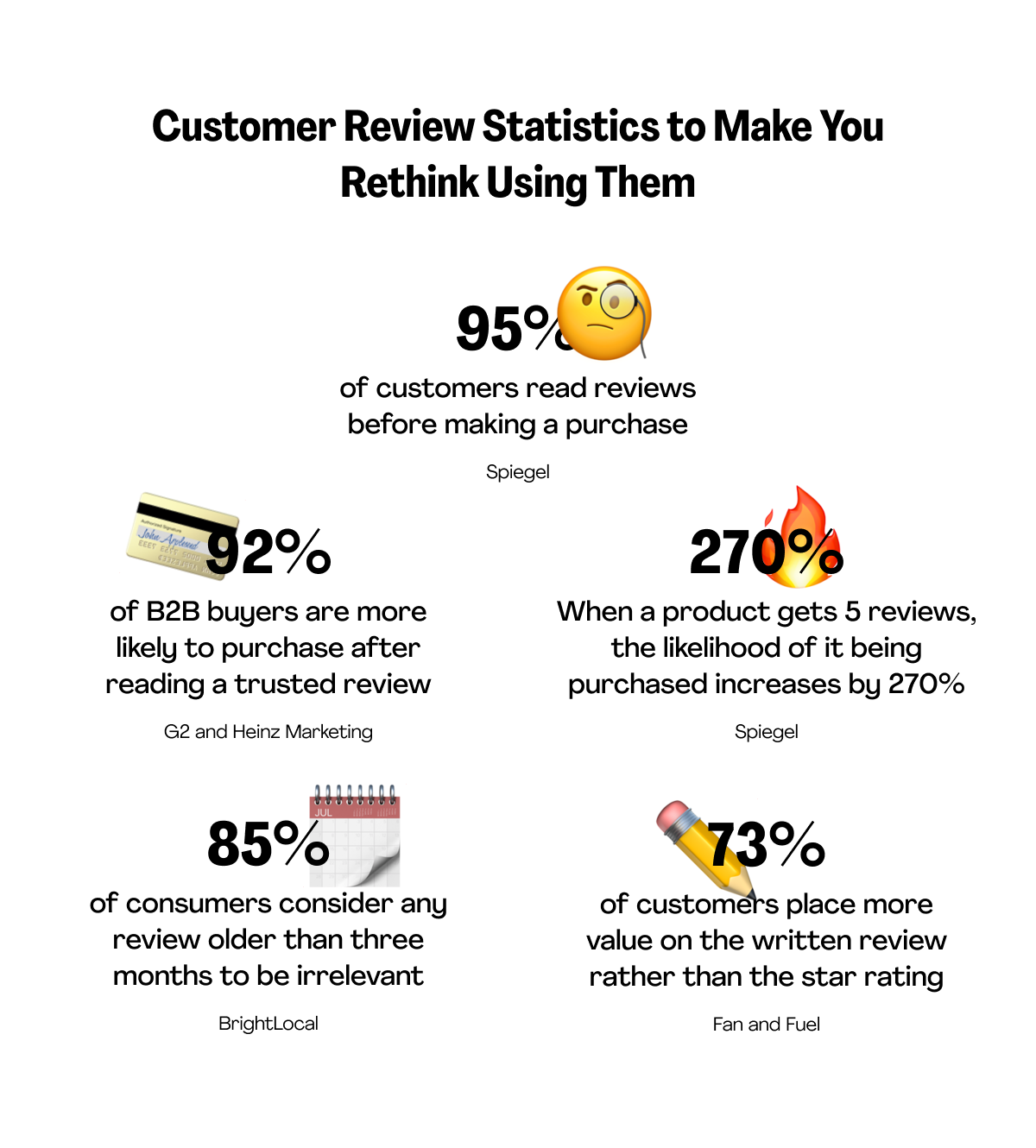 Why E-commerce is Important
The importance of eCommerce has grown over the years. It's a vital platform for businesses not just to sell their products and services to more consumers. It enables companies to operate at a much lower cost, given the right strategies.
People are shopping online increasingly.
For one, it's deemed safer because of the pandemic.
Other reasons include the convenience of online transactions and the ability to compare more products at a glance.
Your business needs to provide consumers with the best experience. Their shopping journey should be easy and enjoyable as well as secure.
Giving them a voice to communicate their observations about your business will increase customer trust and confidence in your brand.
Manage Your Customer Reviews, Generate More Business
Everyone who's ready to buy online will be reading reviews online.
A positive comment is a buyer's compass, indicating they're heading in the right direction and giving them confidence about their purchase.
On the other hand, a negative review can become a signal for consumers to turn to competitors.
Positive or negative, either review can be used to move your business forward.
Focus on helping your customers solve their problems, whether it's through providing them with the right product or services or resolving a complaint.
Although you may have to spend some time resolving the impact of bad reviews, don't overlook the importance of celebrating and sharing positive feedback about your business.
---
Author's bio: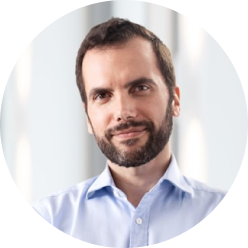 Itamar Gero is the founder of SEO Reseller, a global digital marketing solutions provider that empowers agencies and their local clients all over the world. When he isn't working, he's traveling the world, meditating, or dreaming (in code).