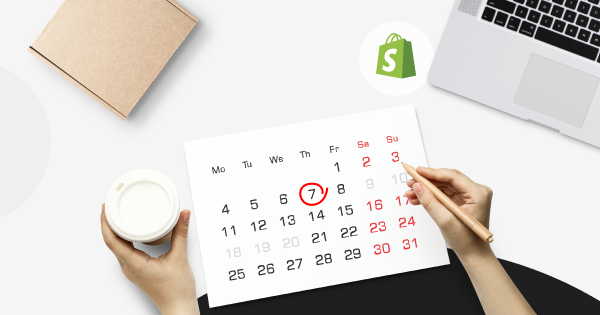 Reading Time:
4
minutes
Ecommerce is inseparably linked with shipping and delivery. They are a keystone of the relationship between merchants and customers. To fulfill delivery requirements has to be a priority for every retailer, as the main expectation of buyers is to get their orders on time or even on a certain date and time. 53% of US online shoppers won't purchase a product if they don't know when it will arrive (Narvar, 2018).

In this article, we'll find out if it's really important to offer date-certain delivery in your Shopify store.
Delivery Statistics
ConveyCo reports that 69% of consumers are unlikely to buy from the online store next time if a purchase doesn't arrive within 2 days of the date promised. At the same time, according to a survey conducted by MyCustomer, 96% of shoppers said that a positive delivery experience would encourage them to buy from this online store again. If you guarantee to ship by a certain day, you must do everything possible to implement it, otherwise, missing the fixed date can break customers' trust in your brand and these shoppers will hardly buy from your store again.

According to Econsultancy, nearly a quarter (24%) of online shoppers would abandon their order if no delivery date was provided. As for MyCustomer, 51% of customers said they had failed to complete an online order because of poor or too few delivery choices. It means that the more convenient options you offer for your customers, the better their shopping experience and expectations from your store. So, they are more likely to return shopping from you.

For every retailer, it's extremely important to make a good impression on buyers. This can be done with a perfect delivery service. It's possible when buyers choose a certain date and know when they can get their orders. According to MyCustomer, 83% expect a guaranteed delivery date, and 80% want a time slot of when to expect their delivery to arrive.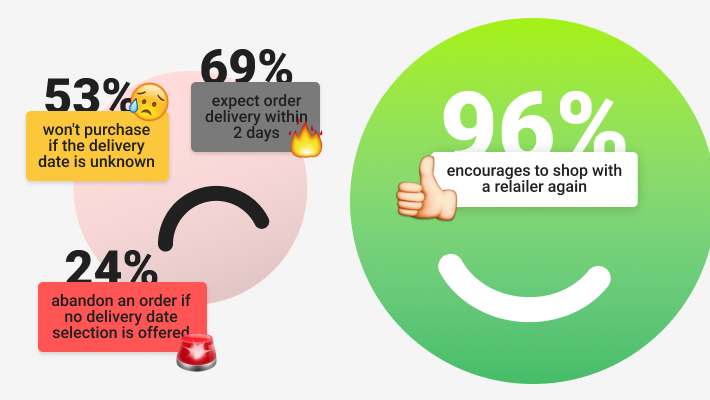 Options for Customers to Choose from
Nowadays as most customers do shopping online, the main aim of merchants is to make it easy, convenient and personalized. In order to increase shopping cart conversion, you should allow your shoppers to choose a date of delivery. It undoubtedly leads to a better shopping experience and can become a good means for shoppers' retention.

In your Shopify store, you can change conditions of shipping in the dependance of customers' choice. For example, if buyers want same-day delivery, you can get some extra fee for it. Or otherwise, if shoppers choose a date of delivery in a week or two, you can offer them free shipping for that certain date.

According to Efulfillment Service, 74% of online shoppers say that free shipping is one of the most important factors at checkout, and 94% of buyers have taken some type of action to qualify for free shipping. In this case, as customers prefer free shipping, you can offer them to buy extra items in order to get it.
Benefits of Date-Certain Delivery
When you offer date-certain delivery, you can get some benefits:

Better customer experience. Consumers are satisfied with the opportunity to choose the date they need. When customers are satisfied, they tend to share positive feedback on products and merchants. As a result, a company wins loyalty and support from shoppers, and the conversion rate is likely to increase.
Enhanced efficiency. Date-certain shipping prevents delivery failures, repeating deliveries, reduces your overhead, increases the confidence of customers in your brand, and adds transparency in work. All these lead to better efficiency in the operation of your online store.
No need for additional administration. You don't have to bear expenses for a person who should call or email buyers to arrange delivery. You'll get all this information left by customers on the checkout page.
It goes without saying that offering date-certain shipping can become a unique selling proposition of your store. According to PostNord's research, one out of four consumers abandoned their carts because of the unclear delivery method. Offering date-certain delivery you can avoid these problems.
Delivery and Holidays
Talking about the necessity to offer or not to offer date-certain delivery in your Shopify store, we can't help mentioning seasonal holidays. In this busiest period for merchants, the question of delivery is especially vital for retailers as well as customers. The first ones are full of orders to implement, and the others are in a hurry to get their goods.

So, at that time it's exceptionally useful and effective to offer your buyers a possibility to choose a certain date they want orders to be delivered.

This period is a great chance for your Shopify store to earn extra profit for same or next-day delivery. It's even more exciting for every merchant! When customers remembered to buy presents for holidays at the last moment, all they need is rush delivery. And you, of course, you can offer it with some extra payment for urgency.
Stop Scaring Your Customers Away!
Very often buyers need to get orders from online stores by a specific day. For example, a bag as a present for a friend, or a dress for a corporate party. In this case, they need to get their purchases on time. These goods can be useless if they arrive one day later.

Even though you promise shipping packages by a certain date, buyers are sometimes afraid of not receiving purchases on time they need. So, they can be without a present for a birthday party, or without a dress for a New Year celebration. Customers don't like this risk. That's why you should assure them that you take responsibility and are able to reduce those risks.

The way out is to offer different kinds of 'indemnity', which they can use in case goods are not delivered to a certain date. For example, free shipping for the next purchase. Customers will feel more confident and quiet even when you just mention such possibilities.
How to Offer Date-Certain Shipping in Your Shopify Store?
As you can see, date-certain delivery can build long-lasting relationships with your customers and convert new store visitors into buyers. So, if you want to add this option for your Shopify store, you can do it with the help of Local Pickup and Delivery Date by Mageworx.

Due to this app, you'll be able to improve customers' experience in your online store by adding the delivery date and time functionality. Customers may choose a preferred delivery date and time for their orders and leave comments. Also, you'll boost the conversion rate and offer your buyers flexibility.

Final Thoughts
As you all know, time is money. Hardly any merchant wants to lose profit. So, in order to prevent your Shopify store from losses, it's important to provide customers with a perfect delivery service. When giving your Shopify buyers a chance to choose delivery date and time, you increase their connection to brand and retention. As a result, it leads to the growth of your revenue.

So, if you are still in doubt if it's necessary to offer date-certain delivery in your Shopify store, we believe that this post will help you make the right decision.