Reading Time:
8
minutes
According to Bloomberg, 80% of entrepreneurs fail their eCommerce stores within the first 18 months after the launch and less than a second is needed for online shoppers to make the first impression. With eight-in-ten* U.S. Americans preferring to shop online, getting them hooked at the first sight is pivotal. No need to say that finding the right gap in the market, doing your homework on the target audience and keeping the online store's analytics in check are crucial.
What doesn't appeal to eCommerce users? What can demotivate them from making a purchase exactly in your online store? Here's a checklist of the major 'yuck!' moments that drive online shoppers away. If that's not your headache, make sure to check them off right here!
Common pitfalls of each and every eCommerce store
1. Insufficient marketing
I won't reinvent a wheel by saying that marketing is crucial. It should be well-thought-out before your software development company plunges into the creation of an eCommerce store. Be it content marketing, active product promotion through social media, advertising or any other marketing strategy that suits your business model. Their seamless integration will guarantee that a customer won't get distracted when navigating your online store.
Bad UX/UI
They say for a reason: a nice dress helps to impress. While UX is essential for any website, online shoppers will certainly navigate away if they are dissatisfied with:
2. Poor mobile presence
We are living in the times when people spend more than 4 hours on their mobile devices daily and 51%* of online shoppers make a purchase via a smartphone. Today, responsive design is a must, without mentioning development of a quality mobile app.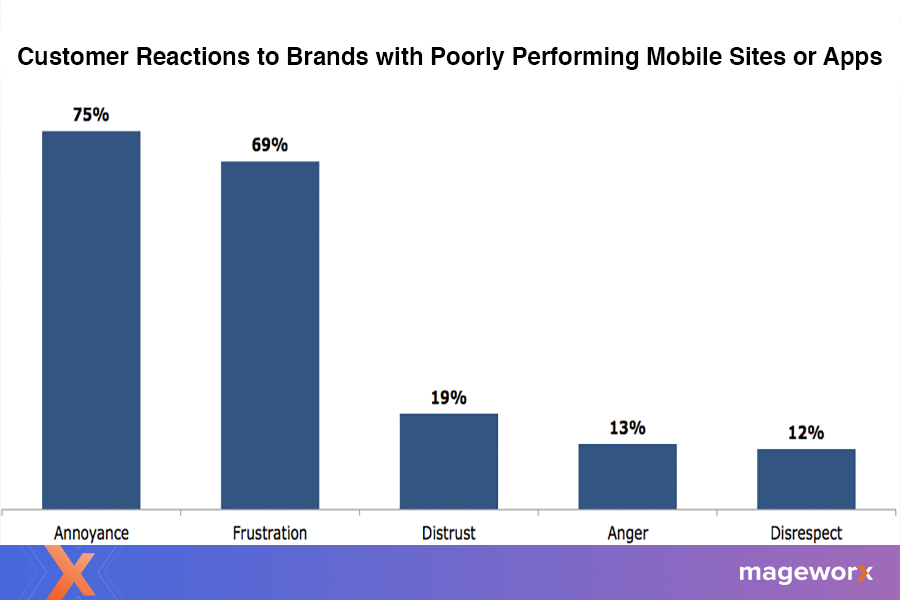 3. Low-quality images
That's what your customers see first and that's what helps them understand your product to get engaged.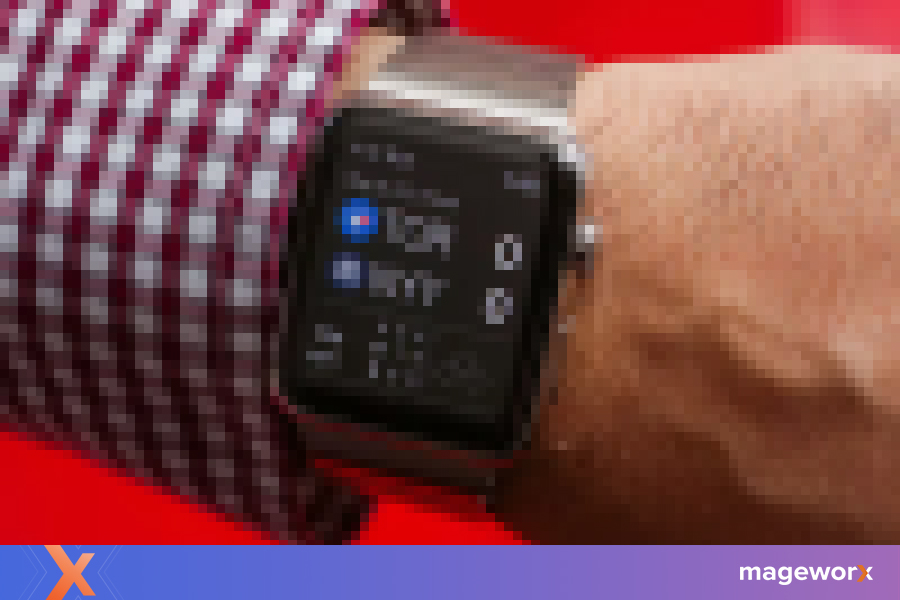 If an online shopper has landed on your eCommerce store, he must be looking for something certain. Make sure customers get highly relevant results when using your online search. According to eConsultancy, onsite search is commonly used by 30% of eCommerce visitors and converts from 5 to 6 times higher than non-site search visitors.
Having an optimized filtering is another story. Especially, if you have a wide range of products with multiple customization options (color, size, and etc.). Don't want to get your online shoppers frustrated? Customers enjoy the abundance of choice especially when offered clear steps for search and filtering (multiple filters, category-specific and thematic ones, for instance).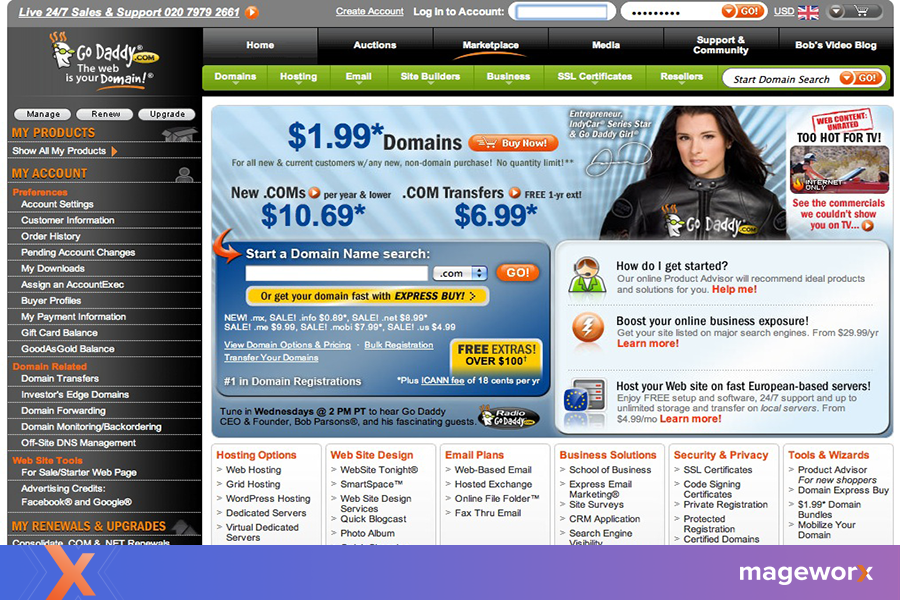 5. Unreachable customer service and contact info
84%* of online shoppers find the ability to ask questions about what they intend to purchase essential and a must-have of a better shopping experience. Don't make your online shoppers hunt for contact info as, in fact, 22% of shopping cart abandonments are for this very reason, according to comScore.
Moreover, what irritates online shoppers the most is offering them to fill in the contact form without providing them with additional contact info, such as email, cell phone number and/or fax.
When ensuring a better customer service, make sure to conduct a research of your target audience. This will help you outline channels that have the highest satisfaction levels. According to Econsultancy, 73% of customers prefer using live chats, 61% – emails and 44% – cell phones. Look beyond the traditional channels of customer service as technologies don't stand still. Thus, for instance, there is an innovative tool called Woxy that allows for taking customer service to a new level.

6. Hidden 'About' section
Having a sizzling 'about' section is another way to get noticed and hook customers with the unique story about your business and the product. Make sure it is easily accessible. Don't make you shoppers search low and high for it!
7. No personalization
According to Gartner, personalization helps online retailers to increase their profits by up to 15%. This is probably for the reason, that online shoppers are 75% more likely to complete an order when they're recommended items based on the prior shopping experience. For example, application of such tools as Woxy for Magento 2 stores can certainly boost user engagement by offering users to 'wishlist' an item to their Facebook Messenger and receive extra data on it (as well as support) further on.
Spending time on social networking websites is still the guilty pleasure of the many. Building presence on social media as well as offering online shoppers a chance to follow your eCommerce store on social networking giants can certainly play into your hands. In fact, 15%* of users make a purchase by following a link on a social media site. Nevertheless, such features must be smartly integrated in order not to distract users' shopping experience and might be offered, for example, at the checkout.
There is also a tendency towards the usage of social sharing buttons. 39%* of U.S. Americans have lately shared their online shopping experience or feelings about a commercial transaction on social platforms; some food for thought.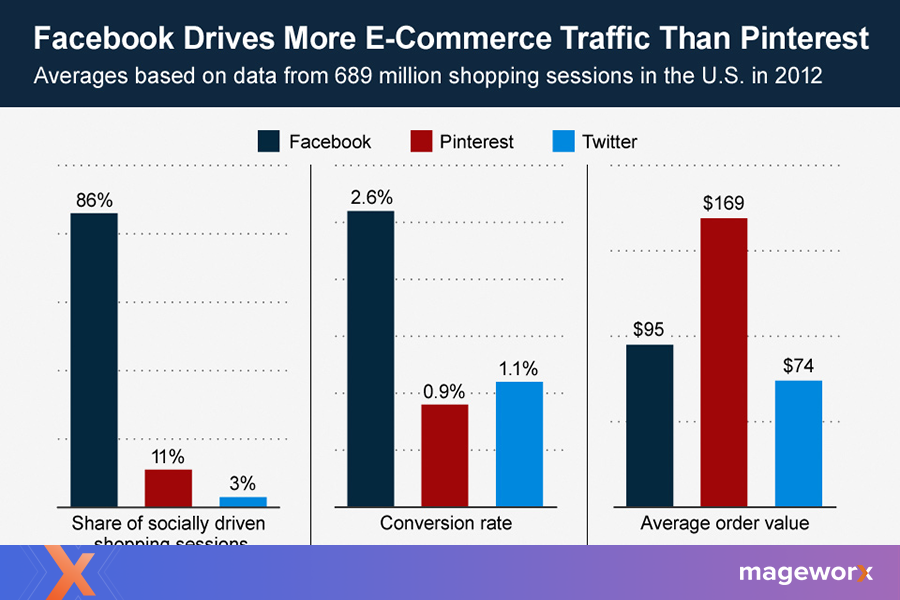 9. No loyalty programs
Points, tiers****, paid programs (discounts, rebates, free shipping, free gifts, upgrades, and free services, for instance) are just some of the options that can pitch in your customer retention. While it costs up to 10% more to acquire a new customer than to sell an item to the existing one. Therefore, if you want shoppers to come back, keep them rewarded!
By the way, while loyalty programs allow you to collect data on your customer, it is a great way to integrate your email marketing strategy with it.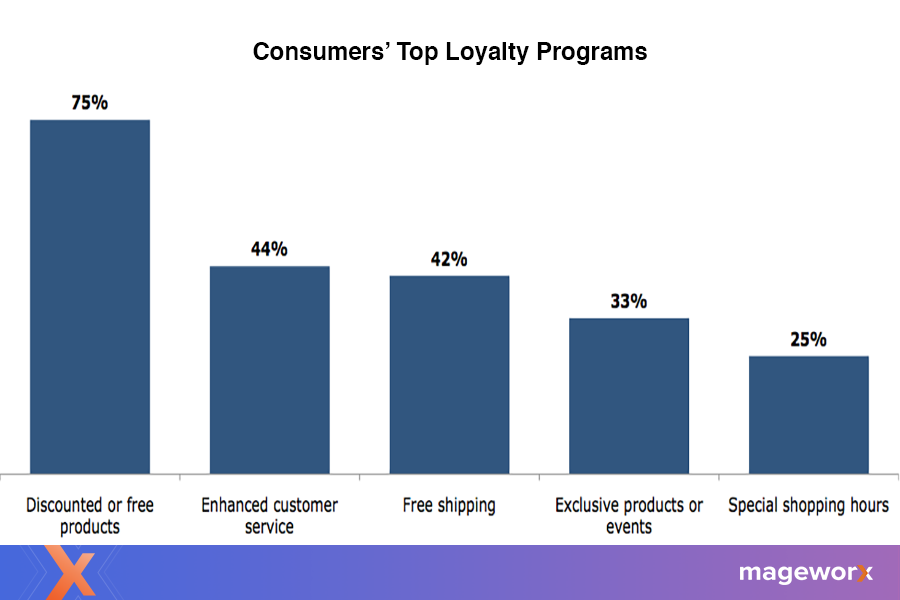 10. No or bad reviews and ratings
While 74%* of online shoppers read other buyers' reviews before making a purchasing decision and 82%* of customers consult these data before making the first purchase, this is a must for online store owners who intend to build trust and credibility of their brand. Moreover, 63% of customers are more likely to purchase an item from an eCommerce store that has customer reviews – according to iPerceptions – and 50+ reviews per product mean 4.6% higher conversion rates.
11. Overuse of popups
Being of ill report as the UX's least favorite element, popups are often considered to be on the dark side. Nevertheless, don't give up on them as multiple research studies show when designed and integrated professionally, they can drive 1,375% more email captures, in comparison to sidebar opt-in forms, for instance.

12. Immediate registration
This is actually one of the common complaints of eCommerce shoppers as the majority of online store visitors intend to leave a website when offered to register right after opening a webpage. This should be also taken into account when designing your checkout flow, i.e. 23%* of users have been proved to abandon the shopping cart upon the proposition to create a new user profile. It explains all the procrastination regarding registration proposals. Why not create an opportunity for guest checkout?
13. Sound and video autoplay
While autoplay won't surely kill your eCommerce store, it does a great job getting online users irritated. In fact, Safari or Google Chrome have already or are planning to push out updates that detect embedded in a webpage videos with audio autoplay and won't allow them to play sound automatically. And not without a reason!
Poor website performance
14. Low page load time
It's no big secret that 40% of users will leave a website that loads longer than 3 seconds. According to Kissmetrics data, a 7% reduction in conversion can be a result of just a second delay in page response. Make sure to deal with professionals (reliable hosting providers that guarantee stable website performance and optimal settings) as every second literally counts!

15. Out-of-date hosting
This entirely depends on whether if you've chosen a hosted (Shopify, BigCommerce, and PrestaShop, e.g.) or a self-hosted solution (Magento, WooCommerce, and SpreeCommerce, e.g.). Nevertheless, a self-hosted platform should be kept up-to-date in order to ensure a high level of security.
Poor SEO & Content
If you have 'launch it and they'll come attitude', then your eCommerce store has low chances to go up the Google search rankings as content and its optimization are king. A website needs to provide a reason to buy that goes well beyond its appearance.
16. Misleading and/or missing content
Besides being visually appealing and readable, – which is UX/UI (once again) – eCommerce websites must provide its shoppers with a detailed product description. It should be written in a clear and understandable manner to outline the most valuable product features.
Not having a content plan at all or using a poorly written or even stolen content can irrevocably turn users away from a website.
You've got insufficient content if you:
use vendor's marketing descriptions in product details;

put SEO articles above quality content;

use technical descriptions that are unclear to a regular user;

don't provide a brief product description;
don't offer useful content in your emails.
If you don't want a customer to get off the hook, make sure to keep all the data updated. No one wants to be taken aback when seeing not what was expected on the checkout screen. Educate your shoppers on possible additional fees. This will certainly pitch in and help to decrease the shopping cart abandonment rate.
18. Poor SEO strategy
Building a well-advised SEO strategy is a meticulous work that must not be ignored. Be it link building or be it using the same anchor text for every link. If you don't want your online store banned, deal with experienced SEO professionals or apply special tools that help search engine spiders better crawl and index your eCommerce store.
Moreover, make sure that you don't ignore:
 usage of meta descriptions, i.e. 160 character snippets that are used to summarize a web page's content that allows searching users to have a brief overview of what a web page is about;

interlinking** as one of the means to increase traffic to your websites.
Complicated checkout flow
Building an effective and profit-making sales funnel can be a toughie. Converting every window-shopper into a purchaser can become a real challenge, especially if your eCommerce store has:

19. Low security and trust
17%* of shoppers don't complete an order because of the low level of trust and fears about security breaches. Adding SSL*** can be quite handy here. It has been lately considered as an irreplaceable part of a professional UX and development. What is more, Get Elastic, an online retailer, has conducted research and found that placing a security badge on your website can increase sales by 4-6%, for instance.
20. Limited payment options
According to YouGov, an independent survey firm, customers feel more comfortable when shopping with online merchants who offer multiple payment gateways, while 50% of customers would cancel their purchases after not finding a preferred method of payment.
21. No guest checkout
Don't ruin a chance to convert as many users as possible. Shoppers (as anyone else) just hate being forced into completing certain actions You can always make gentle propositions but don't scare them by being too pushy (and these are practically 1/4 of your potential customers).

22. Unclear shipping policy
Customers just hate twisted content and lack of data, especially when it comes to extra charges. In fact, Kissmetrics has proven that unexpected shipping costs increase shopping cart abandonments by 28%, which makes it the major reason for customers' not completing an order. Therefore, make sure to provide any additional data upfront.

Social sign-ons or logins have been multiply used by forward-looking business so far as a proven strategy to boost conversion rates and user engagement. WebHostingBuzz proves the point, i.e. 86% of users are bothered by the need to create an account or to fill in an individual registration form.
24. No upselling and cross-selling
Do customers like being offered a higher-end product (upselling) or related and complementary items (cross-selling)? That totally depends on your target audience and how to integrate those techniques professionally. While there is no doubt that they help to increase revenue by 10-30% (Amazon, for instance, provides such data), this also creates a chance to build credibility and demonstrate your vast product range.
Bottom line
While it is surely the question of dealing with a professional company who has cut its teeth on eCommerce store design and development, knowing the major pitfalls of an online store will certainly help you not to pull a boner.
Having any other ideas and thoughts? Please, do share them below!
*The stats provided are based on the Pew Research Center study.
**Interlinking means linking your own eCommerce website's pages internally to another page within your website.
***Secure Sockets Layer (SSL) is the technology that helps to increase website security. It establishes an encrypted link between a web server and a browser.
****Tier is the type of customer loyalty programs which offers various rewards depending on a tier a customer is in.