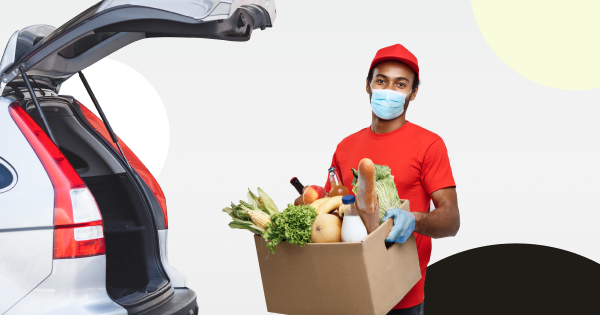 Reading Time:
5
minutes
At the moment, customers all over the world need to shelter at home under the government orders or to stay self-isolated by their own choice. Amid the coronavirus pandemic, many online businesses are currently experiencing shipping and delivery delays because of the increased demands. Regardless of any delivery complications, people need their much-needed orders delivered, and often it's the 'as soon as possible' timeframe.
Curbside pickup has recently emerged as a middle ground, allowing businesses to meet customers' demands while keeping the employees safe. Read on for more insights.
What is Curbside Pickup?
Curbside pickup is a new delivery alternative that has recently appeared as the Coronavirus pandemic continues.
For most stores, either brick-and-mortar or online, it means that offers are placed by phone or online, packaged up by a shop's employees, and either:
a) put into customers' car trunks for in-store pickup,
b) set outside for pickup, or even
c) handed over the car window by a store employee who wears a safety mask and gloves (slightly reminds the way drive-thru windows operate).
Obviously, specific order pickup methodology varies from store to store and entirely depends on the severity of the situation in a region and how a business decides to handle such a variety of the in-store pickup delivery.
In other words, curbside pickup is a drive-thru alternative for businesses that have never offered such a service. While contracting COVID-19 from a package is not zero risks, it's a much safer way for your customers than walking in-store and interacting with other people. The same can be said about the safety of your company employees.
Why is Curbside Pickup the Right Thing to Offer Today?
This buy online pickup in-store (BOPIS) modification offers several clear benefits to a business. They are as follows:
Protecting the safety of customers and employees. Doing your best to ensure the people around you stay in good health is priceless. This has become a top priority for humanity today.
Ability to stay open and keep operating. Many businesses had to close their stores after the panic buying just started. Other retailers had to switch to takeout only. Some merchants had to deal with delivery delays and the inability to fulfill because of the increased demand.
Supporting your community. Many retailers are known for being an important part of the local community. If you are offering essential services, it's critical to ensure your shoppers' safety as closing the local stores can cause significant inconvenience.
Closing locations, but keeping to serve. Curbside pickup can help some businesses keep delivering with store locations closed. This is particularly true for online merchants with brick-and-mortar stores. Thus, customers do not have to be physically in a store to make a purchase. They can shop online, and then conveniently pick up orders on the curbside of the next-door location whenever convenient. Such locations can be even closed for in-store shopping.
Keeping losses at bay. From the business perspective, curbside delivery creates the possibility to work with the existing inventory, as well as keep your employees, and continue generating revenue.
How Does Curbside Pickup Work?
Before launching curbside delivery, it's important to think through the methodology, as well as keep under steady watch how the situation unfolds. Here're some things you should consider:
Local government and public-health guidelines that are a must to follow and can differ depending on your location.
Solution for your CMS. If you do not have the BOPIS functionality yet available, do the search for 3rd party solutions that are available for your CMS, and that meet your business needs. For Magento 2 businesses, you can see the top 10 extensions overview here.
Internal guidelines for such orders processing. To make curbside pickup work for your benefit, make sure to tune up the process. Determine how such orders should be processed, assembled, and packaged. Think through the means you'd like to notify your shoppers. If BOPIS is new for you, make sure to get this organized before launching. If you've been doing in-store pickup already, just skip this step.
Also, it can be helpful to prepare a list of curbside pickups with order numbers for the employees to track such deliveries easily.
Work schedule for your employees. This is all about safety. Figure out how many employees work on a shift, for how long, and whether there will be a break between shifts (thus, your workers do not interact with each other).
Clear on-site instructions. Generating a separate landing page with step-by-step instructions for your shoppers would be surely an advantage. A big win will be to notify customers about such an option availability right from product pages too.
Additionally, pay special attention to what a customer should do when they arrive at the place of curbside pickup. What information shall they bring to verify the order? What cell number shall shoppers call to notify about the arrival? Will a store employee place the order directly to the trunk, or safely hand it over?
Intuitive checkout process. The checkout page is a decision-maker for any online business. Make sure the curbside pickup option is offered with the UX in mind. Make delivery date options, specific time frames, and a comments field easily accessible. This will ensure a positive and flawless shopping experience.
Don't forget to loop in the marketing team. Make sure your customers are notified about the new curbside delivery option. Use the primary marketing channels to spread the word, e.g., emails, social media, blog and gusts posts, etc. Such information should be easily accessible from the main page of your site too.
Curbside Pickup Functionality in Magento 2
To support Magento 2-based businesses, MageWorx has revamped our roadmap and recently released a solution aimed to help merchants make curbside pickup possible for your companies. Just as the new free No-Contact Delivery extension, this functionality has been tailored to make business operations safer and minimize losses during these challenging times.

How to Enable the Curbside Pickup?
Store Locator & In-Store Pickup, Delivery Date, and Curbside Pickup―we've combined these three standalone MageWorx solutions to ensure top-quality functionality.
You are two easy steps away from the functionality:
Step 1. Go to the Store Locator & In-Store Pickup product page. There, select the required Magento Edition, and select the both free addons―Delivery Date and Curbside Delivery. The pack is complete, and you are welcome to proceed to the checkout.
If you've already bought Store Locator & In-Store Pickup, contact our support team at [email protected], and our team members will add the packages to your account gratis.
Step 2. Complete the extensions' installation process. For installation instructions, look through the web guide. Should you have any questions or difficulties, feel free to contact our support team at [email protected]. They will be happy to assist.
Alternatively, professional extension installation services are available in the additional services section on the product page and can be requested easily.

Features Overview
Besides the combined functionalities of the Delivery Date and Store Locator & In-Store Pickup extensions, that allow you to:
Add delivery date, estimated delivery, and cut off time functionality with delivery options limits, delivery queue management, API support, and more,
Introduce advanced buy online pickup in-store functionality with SEO-friendly location pages, 'Find a store' page, products availability management, API support, and way much more,
you'll be able to:
Conveniently notify your shoppers about the available curbside delivery option on product pages.
Add a toggle to the checkout page to enable curbside pickup functionality.
Specify the description for this delivery alternative.
Include a comments field to ensure your customers get to easily specify not only the day but also some other delivery preferences.
Final Words
The global health crisis we see today is affecting everyone. No matter where your business is or what industry you are in, we can feel it and see it on the news.

Curbside pickup delivery option becomes a new way to provide the required items fast, as well as protect customers and your employees while staying open and serving the community.
By facing these unprecedented changes to our daily lives, some good planning, and with a trustworthy technical solution to rely on, the curbside pickup option will bring value today and in the future.