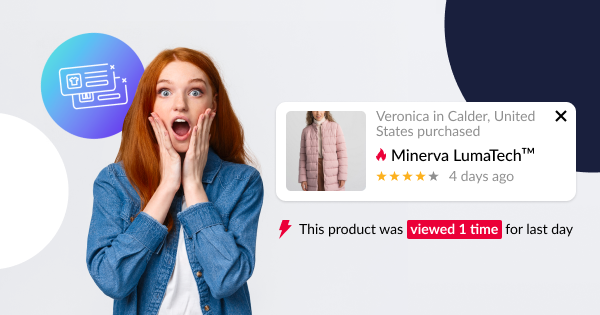 Reading Time:
5
minutes
Imagine you're having a great time with your friends and you want to order some pizza. You're thinking about a hot cheesy pizza with pepperoni and crispy crust, melting down in your mouth. So, you're surfing the Internet to find a place where you can get your delicious treat. You see that seven out of thirteen restaurants have positive reviews and high ratings. That makes you order at the one with the best reviews, right? This is how Social Proof marketing works, and it's here to stay.
In fact, Social Proof is one of the most efficacious ways to build trust and interest in your brand and products. By including testimonials and customer reviews into key pages, you can promote your eCommerce store conversion rate immensely.

Data-Driven Insights on FOMO Marketing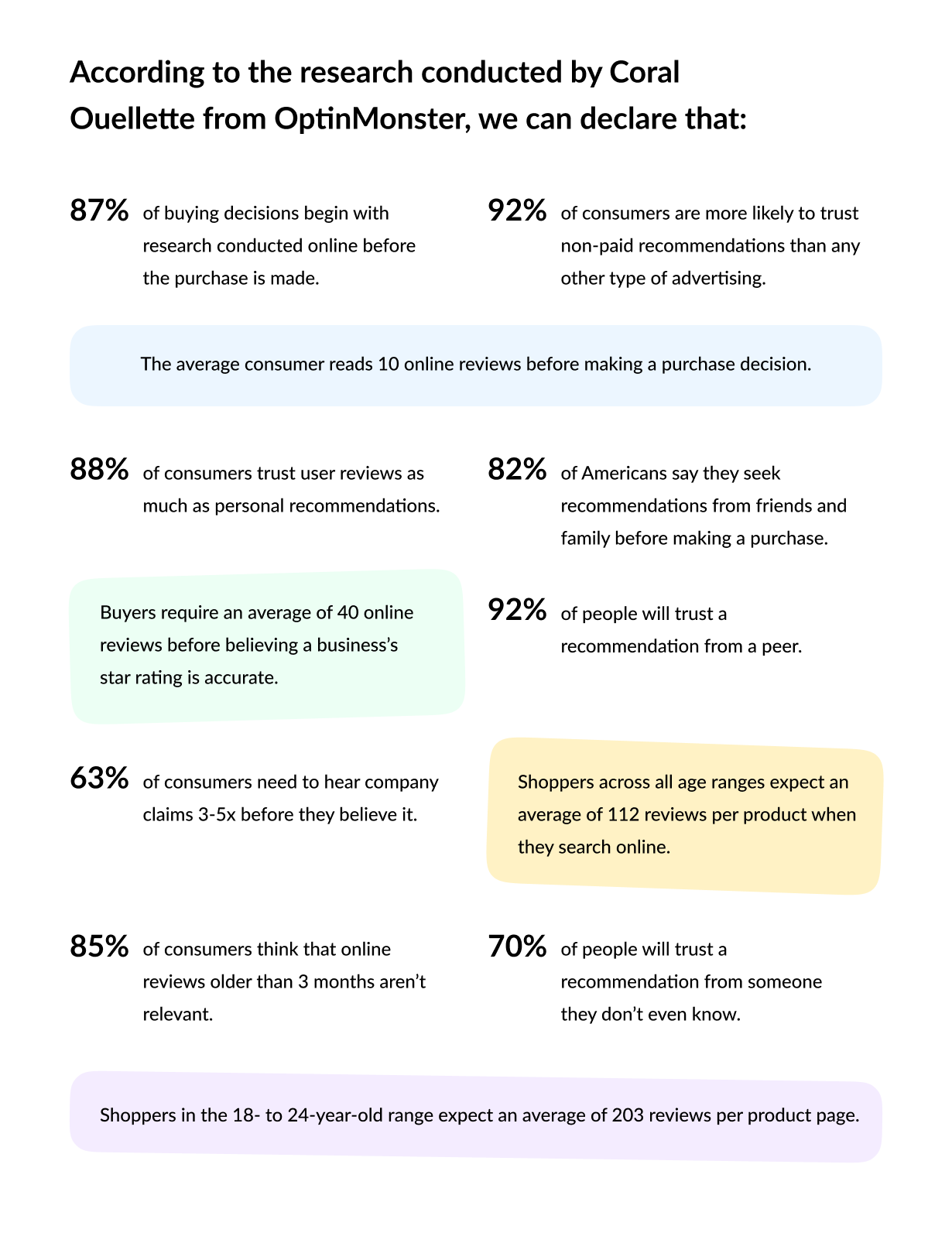 Another great technique to make your customers eager to buy from you is FOMO marketing. The fact that people have a natural fear of missing out on good deals promotes the usage of it in the eCommerce sector. Adopting this approach to your business, you can implement new ingenious ways to advance your sales. Truth to be told, it works pretty well, especially for young people.

The content quality on your Magento 2 pages helps customers reach the final decision. Boring pages drive visitors out within seconds, while enlightening and emotive content encourages them to explore more. You can enrich your landing pages and improve sales through social proof using Magento 2 extensions.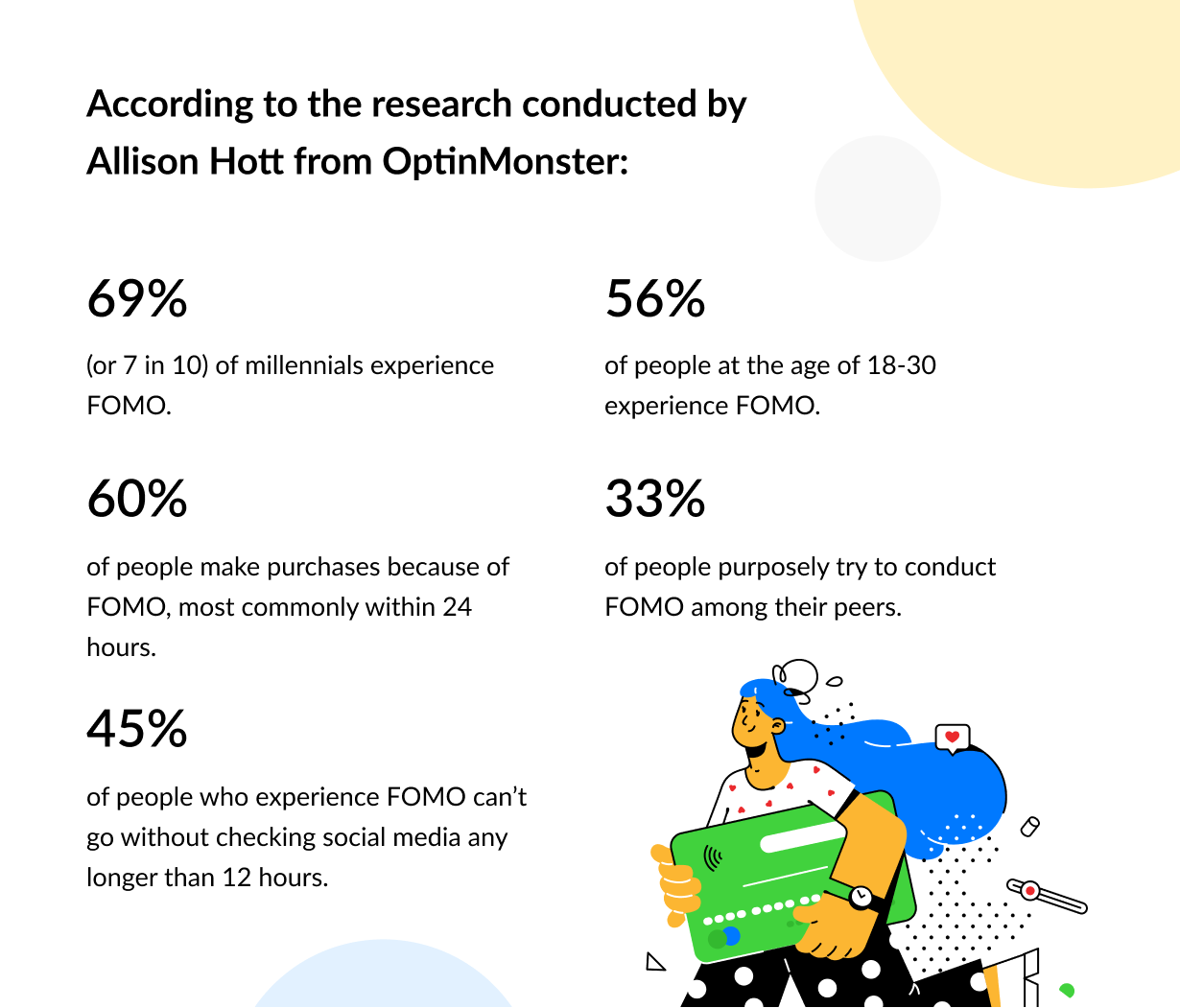 Tips to Create Fomo and Social Proof
Customers Testimonials
As we've already mentioned, customers are highly affected by testimonials. Frankly speaking, testimonials are the most convincing sales tools. These little stories written by your satisfied buyers help others know the tried-and-true experience of using your product! They enhance and maintain the trust level of customers to your Magento 2 store.
Another thing is, people cannot but be a part of a community. So, creating a network of stories on your web store helps you catch the eye of prospective customers and drive them to take action.
For instance, in the Magento Blog, there is a Customers Stories section, where purchasers have an opportunity to share their impressions and feelings. As you see, applying the positive experience of your satisfied customers and using a Magento 2 Social Proof extension, you enhance your e-store. You can request the customer service team to notify you when your customers are happy and willing to give some feedback. It'll result in some case studies or testimonials.
Reviews and Ratings
When customers visit your store, besides looking for a specific product, they also take notice of other things such as ratings and reviews. According to the BrightLocal.com research, enhancing the average review rating by one star could lead to a 5-9% increase in revenue, since customers incline towards spending 31% more on goods or services with swell reviews. Impressive, isn't it?
Magento 2 includes all the required features to create your own efficient review system. And additionally, you can find an extension that will streamline work with ratings and reviews. Using it, you can enlarge the number of reviews and promote the review rating on your pages.
Here we have a couple of efficient ways to do it:
Create a specific review space to make it convenient for customers to read reviews.
Publish various case studies, valuable articles, or amusing and unique blog posts. And it will be even more efficient if you add photos, images or videos to them, attracting the attention of customers' curious minds.
Magento 2 also allows you to empower the review and rating functionality. Remember, the more informative reviews you have, the more trustworthy visitors feel. Add the pros-and-cons section to the reviews, magnifying the rating functionality with extra custom values such as quality or price. Thus, purchasers can write more detailed reviews, promoting your social proof.
Social Advertising
Social media such as Instagram, Facebook, Twitter are incredibly popular nowadays. Use these marketing channels to engage a new audience and distribute your Magento social proof. Employ Instagram stories, promote diverse Facebook posts, and tweets.
User-Created Content
All forms of content created by users are part of user-created content (user-generated-content), starting with posts and photos, ending videos posted by your customers free of charge. This user-generated content for the stores can be a fantastic form of Magento 2 social proof. Nine times out of ten made by your brand's loyal customers, it's usually honest, enthusiastic, and intelligible.
Almost every day inestimable Magento 2 user-generated-content is created by your customers, which can lead to enlargement of your traffic and sales. However, it's incredibly important for eCommerce store owners to use user-created content in the right way.
Products photos posted by the customers perfectly capture the attention of the visitors. It's one of the best forms of user-generated content, allowing you to easily triple the conversion rate.

FOMO Notifications in Magento 2
Several FOMO Magento 2 extensions are released. A nice example of them is Social Proof Notifications. By dint of it, you can demonstrate how interactive and dynamic your store is. And by displaying notifications of what the number of customers is, viewing a certain page simultaneously, you show how popular and demanded certain products are. Moreover, you can display how many products have already been sold.
Fear Of Missing Out (FOMO) works here. The notifications create a sense of urgency for visitors. Seeing how in-demand a certain product is, customers don't want to miss it. This, in turn, urges them to buy it, increasing your conversion rate. Social Proof Notifications can become a highly effective marketing tool for any kind of business. Attract new customers, showing them that your brand and goods can be trusted and increase customer engagement.
But if you intend to use this extension more in-depth, there is a vast field for your ideas. The Social Proof Notifications extension has a range of options, including content, styling, and conditions, that allow changing the display behavior and style. Or, to create the feeling of urgency, use our new extension Product Countdown Timers. It'll help you make your customers impulse purchase your products or services.
What Tools Should I Use to Empower My Ecommerce Store?
Well, you can start with theMagento 2 extension made by MageWorx.
Recent Sales Notifications extension is aimed at increasing conversion by up to 15%. It simplifies the overall buying experience, builds customer trust, and adds credibility to your brand. In addition, the extension displays information about sales, what's trending on the product, category, or CMS pages.
The extension offers the following features:
Social proof with recent sales popups (creating FOMO campaigns and displaying information about the recent sales and specific products. It also displays the real-time activity on multiple site destinations)
Products popularity display on the product page (showing the popularity of your products and services. It enables displaying customized text on your top-selling pages)
FOMO to create urgency (FOMO helps influence your customers' emotions to make them purchase faster)
Advanced popup setup & customization (enables you to choose popup design from the template gallery and tailor it to your business needs)
Beautiful and mobile-friendly design (helps you perfect the customer experience by displaying nice and responsive sales popups)

What's the Result?
Remember the pizza example? Even after reading this article you still choose some kind of pizzeria like Domino's or Papa Johns, because social proof works equally well both for store owners and clients. It's one of the most impactful methods to enlarge sales, enhance conversion rates, and develop an active network of brand advocates.
The main task for you is to apply it in the right way. In many aspects, benefiting from social proof comes down to taking an honest look at your business and purchasers, and finding a way to capitalize upon them. By displaying information about the latest sales, orders on products, trending products and, category or CMS pages, you add plausibility to your web store and build customer trust. As a result, you can observe an increase in conversion rate and a spike in sales.
And by slightly deepening to human psychology and using the fear of missing out phenomenon, you can make your visitors eager to buy from you. While it's often a source of anxiety for many people, which can even alienate your more sharp-witted shoppers, it can also be a powerful marketing tool. Magento 2 provides you an excellent platform to supplement it in your web store, making the most of your leads and get more of them to take action.
We hope this article was valuable to you. We've explained the advantages and potential of social proof and FOMO marketing for eCommerce stores. So now, armed with operative advice, use social proof as a marketing tool, expanding your own business and getting more revenue.